In this blog post, you will get useful information about Aapkhol Waterfall, Odisha which will surely help you to get there.
Aapkhol Waterfall Overview
| | |
| --- | --- |
| Location | Banjipali, Bargarh, Odisha |
| Entry Fee | N/A |
| Best Time to Visit | July to January |
| Nearest Town | Bargarh (28.9) |
| Nearest Bus Stop | Bargarh (32kms) |
| Nearest Railway Station | Bargarh (30.8kms) |
| Nearest Airport | Raipur (242kms) |
| Famous For | Waterfall, Camping, Trekking |
| Nearby Attractions | Shri Nursinghanath Temple, Harishankara Temple, Kumuda Pahad, Gandhamardhan Hills |
Aapkhol Waterfall is in Bargarh district, Odisha. This waterfall lies in the Debrigarh Wildlife Sanctuary. Dibrigarh, which is located all along the western frontier of Odisha (India), is undoubtedly a secret treasure and a paradise for adventure seekers.
Perhaps one of Western Odisha's most gorgeous waterfalls, Aapkhol, is among the state's most breathtaking and undiscovered waterfalls. Hirakud Dam is considered to be the world's biggest large dam, measuring 25.8 kilometers across three districts and extending a distance of 55 kilometers.
Debrigarh, which is positioned on its river, is still a lesser region in the tourism of Odisha. Just a few locals are aware of it, and those who scarcely have any idea of the incredible stunning features that it contains.
This waterfall is bordered by lush vegetation. The Sanctuary's other noteworthy waterfalls are the similarly undiscovered and stunning Bada Aap, Barabakhara, and Nalichuan falls. You must see it to comprehend it.
The view of the waterfall is mesmerizing and is loved by everyone who visits there. If you are a big fan of trekking, then this place is ideal for you. You have to trek 4 km to reach this place and enjoy the scenic view. One has to invest a whole day in exploring this place and enjoy each and every second.
Suggested Read – Explore these most difficult treks of India if you are a true trekker.
Interesting Facts about Aapkhol Waterfall
In a deep jungle with no real roads, no GPS, no web, and hardly any cellphone service, you may find a few of India's purest rivers and the bluest sky & obscure waterfalls that even the majority of residents are ignorant of.
Few locals are aware of it, and those who scarcely have any concept of the incredible, stunning features that it contains.
To reach the waterfall by trekking, you have to cross around 5-6 water bodies.
This place is not totally safe for solo travelers as you have to cross forests.
It had a tranquil quality, and the natural elements blended well. The area had quite lovely weather.
Suggested Read – Explore these places in Delhi, if you are planning to visit Delhi for fun and enjoyment.
Things to do at Aapkhol Waterfall, Bargarh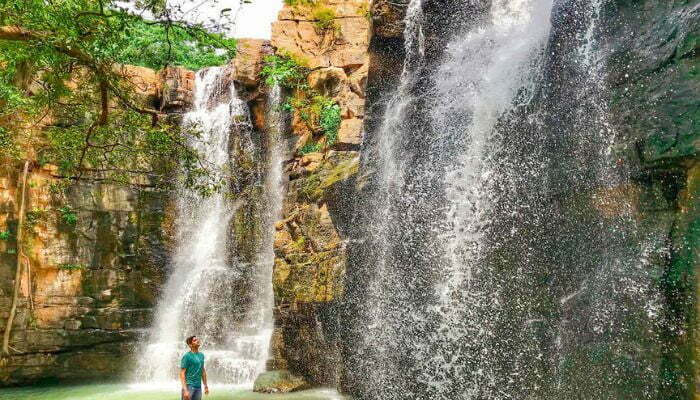 1. Trekking
The route to the Aapkhol waterfall is mesmerizing, and you will love the beauty of the path. There is a trek of about 4 km, which is quite beautiful. Being a trekking enthusiast, this place is lovely for you.
Keep in mind that you should avoid traveling the entire path alone as it is dangerous and you might find a lot of animals on your route. You should visit this place with a group of 4 or 5 mates.
2. Bathing
The water is very clear and clean, so taking a bath here is not a bad idea. People often take extra clothes with them for the same reason.
As you have to travel a long way and cross around 6 bodies of water, bathing in the waterfall may release all your tiredness and give you a lively experience.
The depth of the water is not much, so there are no worries regarding sinking, but one must take care of the weather. If it's a rainy day, it's better you do not go for a bath or visit this place because the level of the water might rise at any time.
3. Picnic
This place is a good spot for picnics with your friends and family. You can reach the Aapkhol waterfall while enjoying the beauty of this place and having a great time with your family and friends.
Spending your weekends here would be a wise decision and an exciting experience. So, I definitely recommend you to go there and enjoy a picnic with your friends and families.
How to Reach Aapkhol Waterfall, Bargarh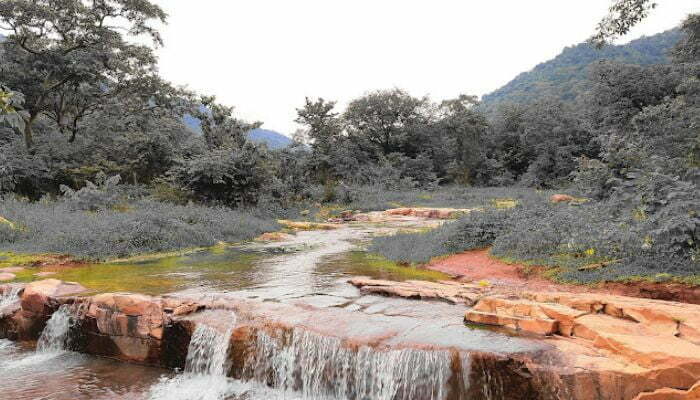 1. By Road
The nearest town to the waterfall is Bargarh, which is 28.9 km away from this place. You just need to book a bus from here and begin your journey.
The bus will drop you off 4 km away from the waterfall, and from here you have to walk there. If you travel by road, you will be able to see the beauty of Odisha while going there.
2. By Train
Bargarh railway station is the nearest to the waterfall and will allow you to cover a large distance. You will love traveling by train and enjoy all the beauty of Odisha. You can find cabs and buses outside the railway station and reach your destination.
3. By Air
Traveling via plane will save your time and help you explore the place much more. From Raipur and Bhubaneswar airports, you will be able to get cabs and buses outside the airport, which will directly take you to the sanctuary, and from there, you have to trek for 4km.
Nearby Tourist Attractions
There are many places around the Aapkhol waterfall where you can explore and have fun with your friends and family. The following are some of the places that you might love:
1. Temple of Shri Nursinghanath
A well-known tourist destination in the province that was formerly part of the Borasambar Dynasty and is now designated as the Padampur Branch is Nrusinghanath. The distance to the regional office is 150 kilometers.
2. Gandhamardhan Hills
In Odisha, here between the divisions of Balangir and Bargarh, there is a hill known as the Gandhamardan Mountains or Gandhamardan Parbat. The herbal medicines grown on this hill are well known.
3. Debrigarh Wildlife Sanctuary
One of the well-known tourist spots in west Odisha is the 347-square-kilometer Debrigarh Nature Preserve, which is situated close to the Hirakud dam in Sambalpur.
It serves as a water supply for the Debrigarh National Sanctuary's songbirds, mammals, and marine life.
4. Kumuda Pahad
Kumuda Pahad is a beautiful natural location that attracts many tourists. As its name implies, it is a hilly place wherein Lord Dhabaleswar is manifested in a very large, naturally roomy cave with a surface area of 60 meters by 20 meters.
5. Harishankar Temple
Harishankar, a site of devotion with exceptional scenic attractions, is located in magnificent scenery on the southern flank of the Gandhamardan mountains. It is also one of the best tourist attractions near the Aapkhol waterfall.
Best Time to Visit Aapkhol Waterfall
The best time to visit Aapkhol waterfall is from July to January. Enjoy your weekends with family and friends.
Travel Tips
You must take extra clothes with you as they might get wet.
You must keep something to eat because it is difficult to find edible items there.
Take some chocolates for instant energy.
Take mosquito repellent with you as well as a first aid box.
Conclusion
Aapkhol waterfall is beautiful and every person who has ever visited there is in love with the place. That's why I will definitely recommend you to visit this site.
One might need a lot of energy to reach this place and have a great time, but believe me, it's all worth it. You will fall in love with each and every moment while traveling here. If you are traveling to Odisha, then I suggest that definitely visit this waterfall.
FAQs on Aapkhol Waterfall
1. Where is Aapkhol Waterfall situated?
Aapkhol Waterfall is situated inside Debrigarh Wildlife Sanctuary which is in the Bargarh district of Odisha State. This is 28 km far from the Bargarh Bus Stop.
2. What is the best time to visit Aapkhol Waterfall?
July, August, September, October, November, December, and January are the months that are best for visiting the Aapkhol waterfall.
3. What is the nearest railway station to the Aapkhol Waterfall?
Bargarh Railway Station is the nearest railway station to the location of the waterfalls. It is nearly 30 km from the waterfall.
4. What are the other tourist attractions around the Aapkhol Waterfall?
Debrigarh Wildlife Sanctuary, Shri Nursinghanath Temple, Harishankara Temple, Kumuda Pahad, Gandhamardhan Hills, Astasambhu, and The Mighty Mandap are some of the very popular tourist attractions around the Aapkhol waterfalls.
5. Is Aapkhol Waterfall worth visiting?
There is no doubt that Aapkhol Fall is worth visiting. The waterfall is surrounded by lush greenery and amazing treks and trails. There are so many photography spots where you can capture the best moments with your camera and share them on social media platforms. If you love solitude, you should definitely visit there at least once in your life.
Video on Aapkhol Waterfall Guide
Map of Aapkhol Waterfall