This is a complete travel guide to Aharbal Waterfall Kashmir. In this guide, we've mentioned location, things to do, best time to visit, how to reach, nearby attractions, travel tips, facts, maps, etc useful information that will make your trip easier.
Aharbal Waterfall Kashmir Overview
| | |
| --- | --- |
| Location | Aharbal, Kulgam district, Kashmir |
| Entry Fee | N/A |
| Opening Hours | 24 Hours |
| Best Time to Visit | Apr, May, Jun, Jul, Aug, Sep, Oct |
| Nearest Town | Shopian (16 km) |
| Nearest Railway Station | Srinagar Railway Station (55 km) |
| Nearest Airport | Srinagar Airport (65 km) |
| Famous For | Photography, Horse Riding, Fishing |
| Nearby Attractions | Yusmarg, Peer ki Gali, Doodhpathri, Achabal, etc. |
Aharbal Waterfall is among Kashmir's most stunning waterfalls. Additionally, it is the one that is the easiest to get to and is never busy. It is a region that is incredibly lovely but does not receive the recognition that it actually deserves. It is only approximately 70 kilometers away from Srinagar. 
Sonamarg, Gulmarg, as well as Pahalgam, are among the tourist hotspots that are most popular in Kashmir. But these few names hardly scratch the surface of Kashmir. There are many more locations that are equally beautiful. Another among them is Aharbal.
Interesting Facts about Aharbal Waterfall Kashmir
Aharbal Waterfall is known as the Niagara of Kashmir.
The waterfall, which has the name of the settlement it originates from, is situated where the Veshaw River, also known as Nallah Veshaw, rushes through a small valley made of granite stones. 
Before the water runs down the valley, it drops around 25 meters at three distinct locations.
The very first fall is smaller and barely noticeable because it occurs through large rocks.
It appears that the water is simply passing through the rocks rather than falling as a waterfall.
The second one is a little higher, and the water makes a pool-like region just after it.
The highest and noisiest fall is the third one.
There are several names for the stream that the fall is located on, including Veshu River and Veshaw Nallah.
Things to Do at Aharbal Waterfall Kashmir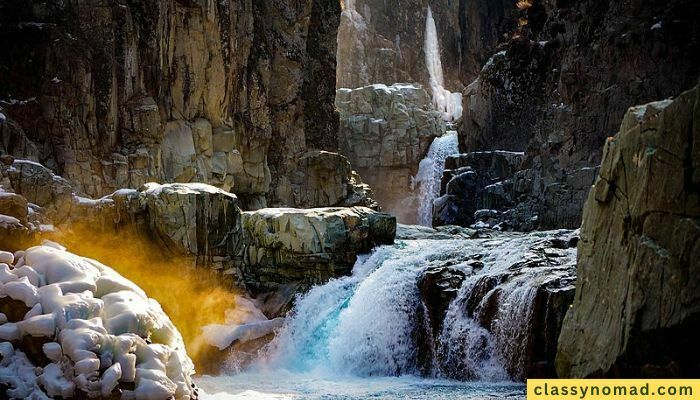 1. Photography
The hike to Kausar Nag Lake, which travels through breathtakingly magnificent elevated slopes and meadows, begins at the Aharbal waterfall. The trekker is energized by the abundance of wildlife, natural flowers, and enormous alpine trees along the route. Here, you may take beautiful photos and soak in the scenery.
2. Trekking to Kausar Nag or Kungawatan
From Aharbal, a hiking path goes towards Kausar Nag Lake and also the beautiful Kungwatan grasslands. The River Veshaw's source is Kausar Nag Lake. If you wish to try this walk, you will need 3–4 days.
3. Horse Riding
In Kashmir, horseback riding is practically always offered at tourist destinations, and the same is true here.
4. Fishing
If fishing is something that interests you, there are a plethora of fish in the river. Please be aware, however, that the Department of fisheries stationed in Aharbal will require you to obtain a license before you can go fishing.
Suggested – Explore Ganderbal Waterfall, one of the hidden waterfalls in the Indian states of J&K.
How to Reach Aharbal Waterfall Kashmir
1. By Road
Of course, you'll need to travel to Srinagar first, which is not too difficult, before you can travel to the Aharbal waterfalls. If you're driving your own car, you can simply use the standard NH44 Jammu-Srinagar route to get to Srinagar city. Another option is to travel through the Mughal road via Rajouri, Peer Ki Gali, and Shopian.
2. By Rail
The closest railroad station to Aharbal is in Srinagar. The fact that it isn't yet fully functional and connected is the issue, though. For now, you can take a train to get to Udhampur. You must then take a bus or a taxi from Udhampur to Ramban. You will then take a different train via Ramban to Srinagar once you arrive there. Then, to get to the waterfalls, you can hire a cab or cab.
3. By Air
The closest airport to Aharbal is Srinagar Airport. The distance is 65 kilometers, and it takes about 3 hours to get there from Aharbal. Jet Airways, Spice Jet, Air Asia, Air India, and Indigo are the principal airlines that offer regular service to Srinagar.
Tourist Places around Aharbal Waterfall Kashmir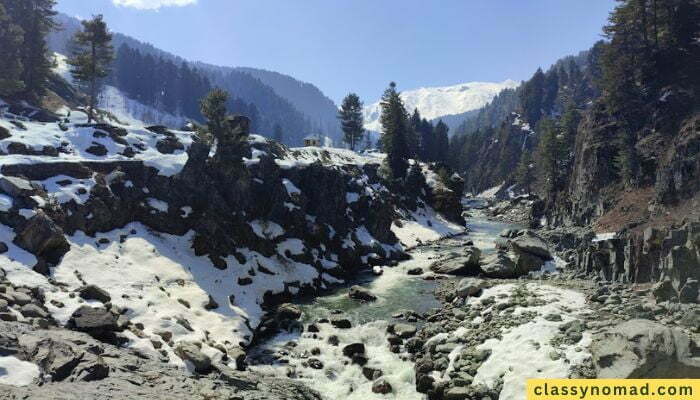 1. Yusmarg
In the Indian region of Jammu and Kashmir, Yusmarg is a mountain range located in the western portion of the Kashmir Valley. It is located 47 kilometers south of the state's capital, Srinagar.
2. Peer ki Gali
The Pir Panjal Mountain in Jammu & Kashmir contains the mountain pass known as Peer ki Galli, which is a popular tourist destination. It uses the "Mughal Road" to link the Rajouri as well as Poonch regions with the Kashmir Valley.
3. Doodhpathri
In the Indian Kashmir region, there is a hill station and tourist attraction called Doodhpathri. This is a beautiful area that was drawing numerous visitors from all around the world.
4. Achabal
Important tourist destination Achabal is located 9.1 kilometers from Anantnag. The location is remarkable for an old spring that is encircled by a Mughal-designed garden with terraces.
Best Time to Visit Aharbal Waterfall Kashmir
The best time to visit Aharbal Waterfall is from April through October. The optimal time would occur in probably be April or September throughout this season as well.
Although the landscape will be a little less interesting, you can still go out in the final weeks of November and December. Plan your trip for January or February if you want to view the waterfall with some fresh snow.
Travel Tips
Despite only having one lane, the road is generally in decent shape.
There are a few weak spots in between, but nothing that seems really problematic.
Up until Shopian, the road is primarily flat, so you won't even notice that you are passing through a steep area.
You won't gain much height in the final 15 kilometers until after Shopian.
It is a pleasant drive the entire way except for a really nasty portion immediately before the Aharbal settlement.
At Aharbal, there is no petrol station. Shopian is the one that is closest.
Here, you can only find a mechanic for quick fixes.
Both Aharbal and Shopian offer some basic medical aid.
However, if it's something important, you'll need to head straight to Srinagar.
There are no cooking arrangements.
You would actually need to travel to the village if you planned to remain the night.
The market area has a number of little eateries where you may get food.
Conclusion
Only a small number of the thousands of travelers that pass over Kashmir each year make it to Aharbal. It is still only known to the residents as a picnic location where they take their families.
So, if you wish to travel to some unusual yet gorgeous places, Aharbal waterfall is the place to go. The distance between the location and Srinagar is only about 70 kilometers, and getting there and back takes only 5 to 6 hours.
Map of Aharbal Waterfall Kashmir