This is a complete travel guide to Alkudar Waterfall Jashipur, Odisha. In this travel guide, we've mentioned location, things to do, best time to visit, how to reach, nearby attractions, travel tips, facts, maps etc useful information.
Alkudar Waterfall Jashipur Overview
| | |
| --- | --- |
| Location | Jashipur, Mayurbhanj district, Odisha |
| Entry Fee | N/A |
| Timing | 6 AM – 5 PM |
| Best Time to Visit | Monsoon & Post Monsoon Season |
| Nearest Town | Jashipur (14 km) |
| Nearest Railway Station | Bangriposi Railway Station (74 km) |
| Nearest Airport | Sonari Airport, Jamshedpur (125 km) |
| Famous For | Trekking, Bathing, Picnic |
| Nearby Attractions | Similipal National Park, Joranda Waterfall, Devkund, Barehipani Waterfall |
Alkudar Waterfall is one of the hidden waterfalls in Odisha. It is located around 14 km far from Jashipur town which lies in the Mayurbhanj district of Odisha.
It takes around 3 kilometres of hiking through the forest to get to Odisha's best-kept surprise, so adrenaline seekers should head to Mayurbhanj's Alkudar Cascade.
While trekking to the waterfall, you will be able to witness various water crossings that might provide you with a great experience. One can also take help from locals over there to guide them and help them reach the waterfall.
After reaching the waterfall, you will be mesmerised by its view and shocked by nature's magic in the dense forests.
You must try to hike over the waterfall and reach the top of it; from there, the view is superb, and you can see a small waterfall at the top, which is the origin of this giant waterfall.
Suggested – Explore Gandahati Waterfall, Odisha's one of less-known waterfalls.
Interesting Facts about Alkudar Waterfall Odisha
The Alkudar waterfall is inside the dense forests, which makes this place even more adventurous.
For trekking lovers, this place is amazing, as you have to cross a dense jungle to reach here and explore nature.
If you want to reach the top of the waterfall, you just have to hike, and there you will be witnessing the best view you'll ever see in your life.
You will have to cross several streams and walk over tree trunks while visiting this location.
This place will provide you with an amazing experience and you will love to visit this place.
Suggested – Visit Aapkhol Waterfall, Odisha's one of most beautiful waterfalls.
Things to Do at Alkudar Waterfall Odisha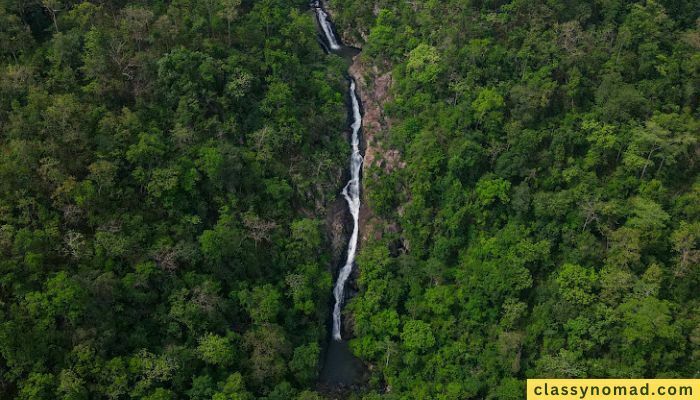 1. Trekking
The most enjoyable activity that visitors to waterfalls engage in is trekking. Although the course of Alkudar Waterfall is not very large, getting there is challenging because the trail is inside the forest.
People who go to the waterfall frequently like hiking and traverse the entire way. You may also get there on a motorcycle, however, the route contains kaccha roads. This makes driving on such roads challenging for the motorist.
2. Bathing
After a long journey to get here and some hiking, people frequently enjoy bathing by the waterfall in the pond.
The locals that reside close to the cascade frequently come here to bathe in the water and even advise others not to miss taking a soak in the cool, calming water of the autumn.
3. Picnic
One of the enjoyable things that people do when visiting a waterfall is to have a picnic. Several families visit here frequently and bring food with them, and they take in the beautiful scenery of this waterfall.
Even a group of friends travel together to this location to take in the natural splendour with their pals.
Suggested – Get to Demul Waterfalls which offer mesmerizing views of nature that will blow your mind for sure.
How to Reach Alkudar Waterfalls Odisha
1. By Road
The waterfall is only 98 km away from Mayurbhanj, which might take around 3 hours to reach. All you need to do is book a cab or bus that will take you to Alkudar (Olkudar) Village.
After reaching the village, the place from where you can start trekking is only 5–6 km away. After which you have to trek for around 3 km, and here you will be in front of the waterfall and enjoying the beauty of nature.
2. By Train
The waterfall is closest to Bangriposi Railway Station. All you need to do is book a ticket to Bangriposi, and from here you can continue your journey by road.
3. By Air
The nearest airport to the waterfall is Sonari Airport, Jamshedpur. All you need to do is book a ticket to the airport and from here you can hire a cab or bus that can take you to Olkudar Village.
Tourist Attractions Near Alkudar Waterfalls Odisha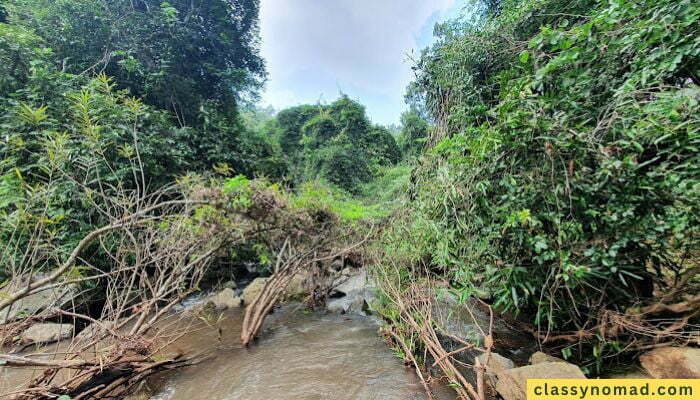 1. Similipal National Park
Wild creatures may be found in abundance in the Similipal National Park. It is around 60 miles away from Baripada and has lush trees all around.
The region comprises 275 square kilometres, together with intermittent streams and cascades. At Similpal, the Indian government has developed tiger protection along with a variety of wild animals and birds.
2. Joranda Waterfall
Approximately 60 miles from Baripada Bus Terminal, the Joranda Fall is situated in the centre of the Similipal Nature Reserve in Mayurbhanj.
This was one of India's tallest cascades. A solitary drop of water cascades over a tall cliff, expanding out somewhat as it does so.
The Joranda Cascade is over 150 metres high and cascades continuously downward. In Mayurbhanj Municipality, Baripada Joranda is a well-liked location for picnics.
3. Devkund
Devkund is a stunning religious and tourism destination. Devkund Waterfalls as well as Maa Ambika Temple are positioned in the centre of Shimlipal Nature Reserve, approximately 58 kilometres from Baripada Nature Reserve, and approximately 58 kilometres from Baripada.
Legend is, the goddess Sati submerged herself when she became unable to stand by and watch her spouse be humiliated at the Dakhya Prajapati sacrifice.
4. Barehipani Waterfall
Barehipani waterfall is situated in Simlipal Nature Reserve in the Mayurbhanj district, 67 kilometres from Baripada Bus Stop. It is the 2 biggest waterfall in India and the tallest waterfall in the state of Odisha.
Best Time to Visit Alkudar Waterfalls Odisha
The best time to visit Alkudar Waterfall is during or after the rainy season. People adore visiting this location at particular times of the month when its attractiveness is accentuated.
If you intend to go, you must use caution and avoid visiting this destination during the rainy season. During most of the wet season, the cascades' water level is quite high, making it a dangerous area.
Wintertime is the perfect time to visit this place since the water is shallow and the weather is frigid.
Travel Tips
The trail of the cascade is highly perilous, thus people must cautiously walk there on their motorcycles.
Take note of whatever locals had said and follow their advice.
The trek to the waterfall is tough; therefore, it's better to go in pairs.
Avoid leaving the place unclean and be a respectful traveler.
The only people who should visit this waterfall are those who enjoy taking risks.
Wear ground-clearance footwear due to the slick path leading up to the cascade.
Conclusion
If you are an adventure lover and love to explore hidden places, then the Alkudar waterfall is the best place for you. Here you will be able to observe nature very closely. You can relax here in peace and just enjoy the scenic view.
Map of Alkudar Waterfalls Odisha