Are you planning to explore the waterfalls of Ananthagiri Hills? Read our travel guide to Ananthagiri Hills Waterfalls, it will definitely be helpful for you.
Ananthagiri Hills Waterfalls Overview
| | |
| --- | --- |
| Location | Anantagiri Mountain Range, Andhra Pradesh |
| Entry Fee | Free |
| Timing | 24 Hours |
| Best Time to Visit | Sep, Oct, Nov, Dec |
| Nearest Bus Stop | Araku Bus Station (27 km) |
| Nearest Railway Station | Srikakulam railway station (137 km) |
| Nearest Airport | Visakhapatnam International Airport ( 82 km) |
| Famous For | Trekking, Exploring Nature, Spending Quality time, etc |
| Nearby Attractions | Borra Caves, Galikonda View Point, Katiki Waterfalls, Padmapuram Gardens etc. |
Ananthagiri Hills seems to be the ideal location to escape the cycle of routine since it has rich foliage on one part of the mountains and fresh breezes on the other. If your daily desk job is driving you crazy, grab your luggage and head to the stunning Ananthagiri Hills Waterfalls to escape into nature.
The Ananthagiri Hills also include a waterfall named Ananthagiri Hills Waterfalls as a compliment to the stunning vistas. In the Eastern Ghats, around 60 kilometres from Visakhapatnam, is where you'll find Ananthagiri Waterfalls. Araku Valley is 30 km away, while Ananthagiri Town is 3 km away.
Visitors will be taken aback by the dense woods, verdant coffee farms, undulating hills, cavernous ravines, and gushing waterfalls. It is the perfect location for newlyweds and outdoor enthusiasts to take in the magnificent dawn and sunset and lose themselves in the all-encompassing splendour of the natural world.
The major road linking the Araku Basin and Ananthagiri Municipality is 1-2 kilometres away from the waterfall. The Waterfalls are a 20-minute stroll from the major highway for tourists.
Suggested – Check out Odisha's hidden waterfall, Aapkhol Falls to be familiar with another beautiful waterfall.
Interesting Facts About Ananthagiri Hills Waterfalls
The Musi River was born in the Ananthagiri Hills, which are also the principal source of drinking water.
Ananthagiri waterfall, which is 60 kilometres from Visakhapatnam and has adequate roads, is among the top one-day excursion destinations nearby.
Due to its dancing forest and Swayambu Anantha Padmanabha Swami Mandir, its popularity has increased recently.
For trekking lovers, this place is a gem. There are two routes from which people can start trekking, i.e., from Anantha Padmanabha Swami temple and 0.5 km away from the same temple.
Things to Do at Ananthagiri Hills Waterfalls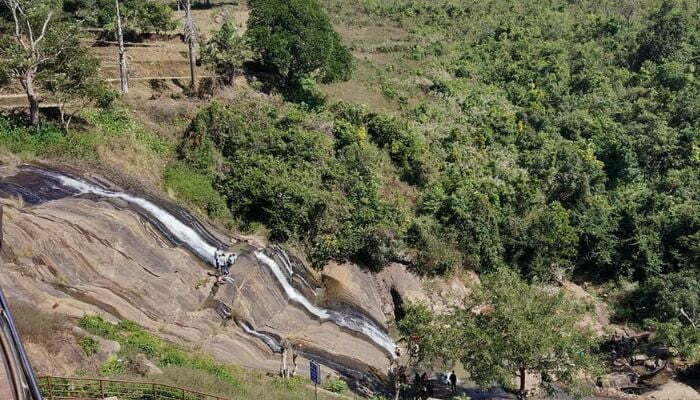 1. Trekking
This place is best for trekking enthusiasts. While visiting the waterfall, you can enjoy trekking with your family and friends. This place is so beautiful that you'll definitely fall in love with it.
2. Visiting Nearby Attractions
There are several nearby attractions that you can go to and visit during your visit to the waterfall. Many people from all around the world come here to get lost in the beauty of these hills.
3. Family Time
If you are thinking of spending your weekend at a nice place in the countryside, then this is the place for you. People from nearby places often visit the waterfall with their family and friends for great enjoyment.
Suggested – Have you heard about Gandahati Waterfalls? If you aren't, you are missing a beautiful tourist attraction.
How to Reach Ananthagiri Hills Waterfall
1. By Road
Sometimes bikers use these routes for various varieties of fun and halt where they've been instructed to do so by heart. Depending on the needs of the party size, people on family holidays can hire a cab or bus.
Road transport to this location is extremely pleasant since you may stop at several locations along the way. You may stop at a number of captivating locations on Ananthagiri Hill to take photographs with your friends and loved ones.
2. By Train
Srikakulam railway station is the closest station to Ananthagiri which passes through the dazzling Eastern Ghats, among the highest elevated long-gauge rails in the nation. It will enable you to appreciate the natural beauty of the area and make you fall in love with it.
3. By Air
There are various metropolises which are connected to Ananthagiri, such as Mumbai, Delhi, Kolkata, Hyderabad, etc. From here, you can easily book a cab and visit the waterfall.
Suggested – Check out the most difficult treks of India that every trekker should go to once in a lifetime.
Nearby Tourist Attractions to Ananthagiri Hills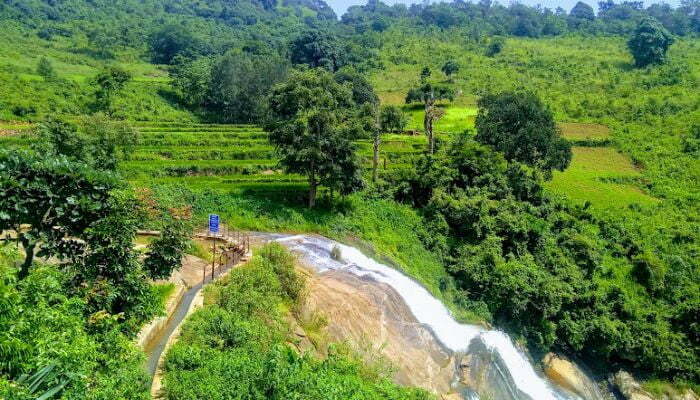 1. Borra Caves
Borra Caverns, one of the biggest caves in the nation, is home to stalactite as well as stalagmite creations that date back a million years. The magnificent caverns, which are situated at a height of 1,400 metres above sea level, provide tourists with a breathtaking sight.
2. Galikonda View Point
The peak in the Vishakapatnam district, Galikonda Lookout, offers a breathtaking sight of a beautiful green landscape, mountains, a railroad track, and villages. With an elevation of 4320 feet above means sea level, this mountain ranks as the 2 within the Eastern Ghats.
3. Katiki Waterfalls
The Katiki Falls are situated in the Andhra Pradesh province of India's Alluri Sitharama Raju constituency. The River Gosthani is the source of the waterfall. The waterfall's vicinity, Katiki, inspired its title.
4. Tribal Museum, Araku Valley
About 110 kilometres from Visakhapatnam, at Araku, a little village in a valley encircled by mountains and several waterfalls, is where you'll find the Araku Tribal Museum. The majority of museums are well-known for their exhibits and specially curated visitor galleries.
The feature that causes the Araku Valley Tribal Exhibition to stand out in my opinion is the fact that every aspect of its structure—from the architecture to the materials utilised to the colours and contours—is indigenous and completely local.
5. Padmapuram Gardens
The well-known botanical park Padmapuram Flower beds are located in Araku, 2.5 kilometres from the Araku Bus Station. It is among the most popular tourist destinations in Araku Valley.
Taking a ride on the Araku Express miniature train, which is a favourite among park visitors, is a pleasant way to tour the gardens. In addition to the toy railroad, the park has tree-top houses that visitors may rent. Ten feet off the ground, these tree homes, commonly referred to as suspended dwellings, are located.
Best Time to Visit Ananthagiri Hills Waterfall
After the rainy season is the best time to see the Ananthagiri Waterfalls. The streams that have been overflowed with precipitation run vigorously and offer a breathtaking view.
Tourists also favour going there in the wintertime. The place is open for everyone for 24*7 and there will be no charge for entry.
Travel Tips That You Should Know
Driving and trying to overtake is extremely risky since the roadways are one track with no barriers.
For about 50% of the distance, the roads are packed with terrible parts. Driving is therefore unpleasant.
There are a very small number of tourist attractions. Therefore, this does not support travelling so far for such a small reward.
The vantage point's construction is in disrepair, and there is no upkeep whatsoever.
The curvy roadways run past populated areas and villages. Thus, you must drive with extreme caution.
Nighttime travel is a disaster. With single-lane highways and total blackness, it's a disaster.
Conclusion – Ananthagiri Hills Waterfall Vikarabad
After all the discussions regarding the Ananthagiri Hills waterfalls, it is quite clear that visiting this place and investing your time won't be a loss for you. It does not matter if you want to sit silently or you want to enjoy this place as much as possible.
This place is for all types and ages of people. You can sit and enjoy the view, or you can just trek to this place and explore it as much as possible.
FAQs on Ananthagiri Waterfalls
1. Where is Ananthagiri Waterfalls situated?
Ananthagiri Waterfall is situated 30 km far from Araku Valley in the Anantagiri Mountain Range of Andhra Pradesh state.
2. What is the best time to visit Ananthagiri Hills?
Monsoon and winter seasons in particular are best to witness the amazing beauty of the waterfalls. In the summer, because of the lack of water, the water flow is reduced, so you will see a low stream falling from a cliff.
3. What are the tourist attractions near Ananthagiri Hills?
Borra Caves, Galikonda View Point, Katiki Waterfalls, Tribal Museum, Araku Valley, Padmapuram Gardens, etc are very popular tourist sites around and in Ananthagiri Hills.
4. What is the nearest airport to Ananthagiri waterfalls?
Visakhapatnam International Airport is the nearest airport to Ananthagiri waterfalls which is only 82 km from the location of the waterfalls.
5. Are Ananthagiri Hills worth visiting?
Absolutely yes, Ananthagiri Hills is a worth visiting destination for every kind of traveller. There are so many things to do and explore. You can enjoy trekking or explore forests, visit waterfalls, set up camping etc. If you are an adventure lover, you should definitely visit there.
Distance from Major Cities
| | |
| --- | --- |
| Araku Valley | 28.6 km |
| Salur | 73 km |
| Visakhapatnam | 90 km |
| Hyderabad | 688 km |
| Warangal | 554 km |
| Delhi | 1711 km |
Watch Video on Ananthagiri Hills Waterfall
Map of Ananthagiri Hills Waterfall