This is a complete travel guide to Antharaganga Waterfalls. So, if you are planning to visit there, this guide will definitely be helpful for you.
Antharaganga Waterfalls Overview
| | |
| --- | --- |
| Location | Near Hyderabad, Telangana |
| Entry Fee | N/A |
| Timing | 24 Hours |
| Best Time to Visit | Monsoon Season |
| Nearest Bus Stop | Mahatma Gandhi Bus Stand (30 km) |
| Nearest Railway Station | Kacheguda Railway Station ( 30 km) |
| Nearest Airport | Rajiv Gandhi International Airport ( 44 km) |
| Famous For | Waterfall, Adventure, Camping, Photography |
| Nearby Attractions | Mallela Theertham, Gayatri Waterfalls, Ethipothala Falls, etc. |
Being close to a waterfall has been described as a wide flood of wonderfully flowing water with sizzling and captivating music and heavenly vibes in tranquil settings. Telangana is home to numerous falls, some of which are more secretive than others and have not yet been thoroughly investigated.
One of these is Antharaganga Falls, which is only about 20 kilometers from Hyderabad. It is located in the Ranga Reddy municipality's Kawadipally hamlet. These waterfalls, which are stashed away in the woods, are a calming natural beauty that makes for the perfect mini vacation.
Suggested – You should definitely visit one of the hidden waterfalls of Telangana, Bogatha Waterfall.
Interesting Facts about Antharaganga Waterfalls
To spend the weekends with their families and friends, locals who live close to the waterfall frequently go there.
Hikers should visit this waterfall at least once; it is the best one for the activity.
You'll fall in love with the location once you've climbed to the top of the waterfall.
People may easily access the waterfall because it is connected to several important cities.
Because it is located in a small village, the environment remains unpolluted.
Things to Do at Antharaganga Waterfalls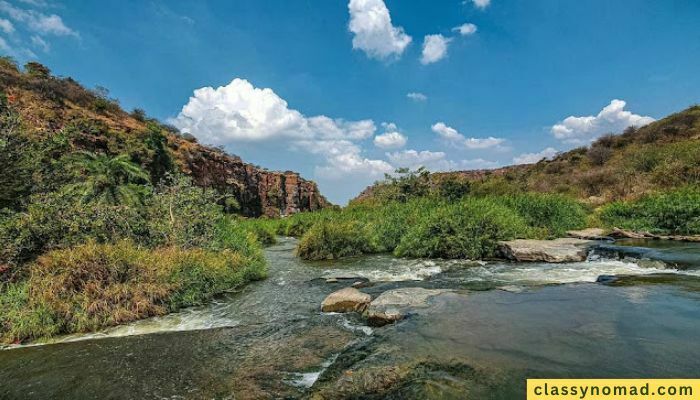 There are several activities that you can enjoy with your family and friends at Antharaganga waterfall. Some of them are mentioned below:
1. Trekking
As you all know, the waterfalls are the best place for trekking. A short hike up a steep route will bring you to the cascade.
Because of the stones and small roads, tourists may have to travel quite a distance to get there, but they will undoubtedly be rewarded with unparalleled splendor at the end of this strenuous journey, making it entirely worthwhile.
2. Picnic
Waterfalls are the best picnic spot you can ever go to. You can enjoy each and every moment by sitting here, chilling with friends and family, eating food, doing various fun activities, and much more.
People living near the waterfall often visit this place on weekends to relieve their stress and spend some time with family and friends.
3. Camping
Night camping with friends is the best thing that you can do in your 20s. Sitting with them and gazing at stars, barbecuing, and telling stories are all enjoyable activities, and this waterfall is ideal for them. You can come over here with your friends and family and enjoy camping here.
Suggested – There is a less-known waterfall in Telangana called Muthyala Dhara Waterfalls. You should definitely make a plan to visit there.
How to Reach Antharaganga Waterfalls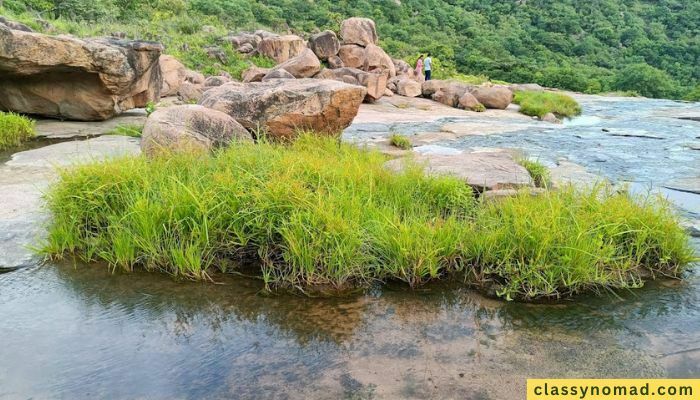 1. By Road
The nearest bus stop is Mahatma Gandhi Bus Stand which is only 30 km from the waterfalls. After taking a bus or riding a car from this location, you will arrive at the waterfall's parking area, from where the hike will start.
2. By Air
As various cities are nearer to the waterfall, it is very easy to travel to this place via air. All you need to do is book a flight ticket to Hyderabad, and from there, you can book a cab or a bus that can directly take you to the waterfall.
3. By Train
There are several train stations near the Antharaganga waterfall, such as Kacheguda railway station, Ghatkesar Railway Station, L B Nagar Railway Station, Nagole Railway Station, and many more. After reaching here, just book a cab or taxi, which can take you directly to the waterfall.
Nearby Tourist Attractions to Antharaganga Falls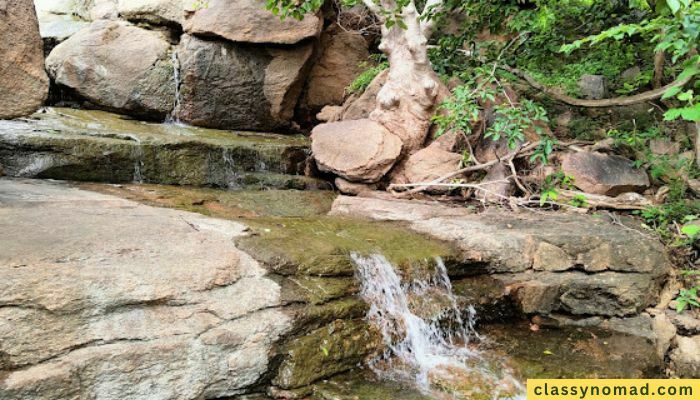 1. Mallela Theertham
In Nagarkurnool, Telangana, India, there is a cascade called Mallela Theertham that is located in the woodland of Nallamala Hills. Through this woodland, the Creek Krishna runs.
It is about 58 kilometers from Srisailam and 185 kilometers from Hyderabad. The seasons of October and February have the best flows.
From March to June, the weather is dry. The following months are wet, making driving on muddy roads exceedingly challenging. The water originates from this region and is a little rivulet.
2. Gayatri Waterfalls
Gayathri Cascades is a stunning location situated in the Adilabad region of Telangana, at a radius of 5 kilometers from Tarnam Khurd Village and 270 kilometers from Hyderabad.
A relatively little-known location called Gayatri Waterfalls is located on the Kadem Body of Water, a branch of the Godavari River.
Gayatri Falls is one of the remarkable waterfalls in the Adilabad area, along with Kuntala and Pochera Falls. This cascade is spectacular and draws lots of tourists during the rainy season.
3. Bheemuni Paadam Waterfalls
The Bheemuni Paadam Cascades are among the top tourist attractions in the Warangal region. The name Bheemuni Paadam comes from a rock that resembles Bheema's footprint and from which water flows.
A magnificent sight occurs when the rising and setting sun causes the water to reflect rainbow colors. After descending from an elevation of about 70 feet, the water creates a fool near the bottom.
In the monsoon season, there is a strong water flow. The other feature in this area is a cave next to the falls that are thought to be 10 kilometers long.
Ethipothala cascades are impressive waterfalls on Stream Chandravanka, near the downward flow of Nagarjuna Sagar Reservoir, at a range of 14 km from Nagarjuna Sagar and 177 km from Vijayawada.
This is a top tourist destination nearby Hyderabad, and there is a well-known waterfall in the area. It is one of the main attractions in Nagarjuna Sagar and one of the most popular tourist destinations in Telangana.
Best Time to Visit Antharaganga Waterfalls
The best time to visit the waterfall is during the monsoon season. At this time, the beauty of the waterfall is at its peak, and you'll be able to see a mesmerizing view from this place.
During the monsoon, you can have more fun as there are many more tourist activities going on there. In accordance with local regulations and the movement of water, the optimal time to visit Antharaganga Falls may change.
Travel Tips
Pay attention and heed the residents' suggestions.
Given how difficult the hike to the cascade will be, it is preferable to travel in groups.
Don't leave the area littered, and act like a considerate traveler.
This waterfall is only for those who enjoy the adventure.
Make sure to keep a first-aid kit for safety purposes.
Wear shoes with good traction because the waterfall's path is slick.
Conclusion
The perfect weekend getaway is the Antharaganga Waterfall. It is the ideal location for individuals seeking escape from their demanding daily routine because it is a slightly better location. It is where serenity resides. You'll enjoy and value nature. A visit is worthwhile.
Suggested – Explore some of the hidden waterfalls of India
FAQs on Antharaganga Waterfalls Telangana
1. Where is Antharaganga Waterfall located?
Antharaganga Waterfall is located 20 km from LB Nagar Junction, in the village of Kawadipally which lies in Ranga Reddy district of Telangana.
2. What is the best time for visiting Antharaganga Waterfalls?
Monsoon season and the post-monsoon season is the best time when travelers should visit there as, at this time, you as a tourist will see the lush greenery around the waterfall which will make your trip very exciting.
3. What is the nearest town or city to the Antharaganga Waterfalls?
Hyderabad, the capital city of Telangana is the nearest city to the waterfall which is around 30 km away from the Antharaganga Waterfalls.
4. What are the tourist attractions around the Antharaganga Waterfalls?
Mallela Theertham, Gayatri Waterfalls, Bheemuni Paadam Waterfalls, and Ethipothala Falls are some of the very popular tourist attractions around Antharaganga Waterfalls.
5. How far is Antharaganga Waterfalls from Hyderabad?
Antharaganga Waterfall is 30 km from Hyderabad. There are multiple ways to get there. You can either take NH 65, or Bairamalguda Rd and NH 65, or NH163 and NH 65 to reach there from Hyderabad.
Distance from Major Cities / Towns
| | |
| --- | --- |
| Ramoji Film City | 13 km |
| Vanasthalipuram | 18 km |
| Hyderabad | 30 km |
| Miyapur | 81 km |
| Warangal | 143 km |
| Khammam | 172 km |
| Nizamabad | 198 km |
| Solapur | 346 km |
Map of Antharaganga Waterfalls