It is a complete travel guide to Areekkal Waterfalls Ernakulam, Kerala. In this guide, we've talked about location, things to do, best time to visit, how to reach, nearby attractions, travel tips, facts, maps, etc useful information.
Areekkal Waterfalls Ernakulam Overview
| | |
| --- | --- |
| Location | Pampakuda Village, Ernakulam District, Kerala |
| Entry Fee | N/A |
| Timing | 8 AM – 6 PM |
| Best Time to Visit | Monsoon Season |
| Nearest Town | Piravom (10 km) |
| Nearest Railway Station | Ernakulam Junction (36 km) |
| Nearest Airport | Cochin International Airport (45 km) |
| Famous For | Sightseeing, Picnic, Photography, Adventure |
| Nearby Attractions | Aluva Manappuram, Chendamangalam, Cherai Beach, Chottanikkara Temple, Kodanad etc. |
Areekkal Waterfall, one of the less-known waterfalls in the state of Kerala is out of sight of the majority of tourists visiting kerala. Of course, reaching the location is not very easy. It is located at an offsite which is about 35 km from Kochi.
Areekkal Waterfall is situated near the village named Pampakuda which lies in Ernakulam district of Kerala. The very popular cities Kochi and Piravom are at a distance of 35 km and 10 km from the location of the waterfalls.
The silvery flowing water above rocky cliffs is a visual joy and a well-liked tourist attraction of the city, boasting impeccable surroundings, beautiful green trees, and a picturesque setting.
Suggested – Explore Mankayam Waterfalls and enjoy the scenic views around the falls.
Interesting Facts about Areekkal Waterfalls
The Ramamangalam irrigation project at Koothattukulam includes this natural waterfall.
This is the perfect getaway location to refresh both body and mind from the stress of city life. 
You will reach this modest yet spectacular waterfall after an unusual ride via rubber plantation and farming regions.
It is accessible by the Piravom – Onakal road after a 35-kilometer journey.
Suggested – Get to Marmala Waterfall which offers mesmerizing views that will blow your mind.
Things to do at Areekkal Waterfalls Ernakulam
1. Sightseeing
The sight of water cascading down from a 15-foot rock structure like white pearls would mesmerize the guests. It cascades down into three tiers and is an amazing sight to behold.
One can safely swim or fish in the stream at the base of the waterfall because it isn't very deep. The water is also very frigid.
2. Picnic
The falls are a fantastic place to visit on a family day trip. The area is surrounded by rubber plantations and a moderate amount of woodland, so you can really appreciate the calm and quiet of the surroundintogs while also enjoying the fresh air and sporadic rain.
3. Photography
Make moments that you can remember forever. This is one of Ernakulam's most scenic sights and is ideal for taking images of a traditional waterfall in Kerala. Make sure to click photos at Areekkal falls and share on social media.
4. Detox from Negative Thoughts
The waterfalls are well-known for being one of the best spots for relaxing on holidays with friends and family, and the famed Areekal Waterfall is well-known for being tucked away in the midst of lush surroundings.
Enjoy the calmness far away from the hustle and bustle of city life. If you want to detox and rejuvenate yourself, this waterfall is the best option for you to come and visit.
Suggested – Visit Valara Waterfalls if you are a true adventure lover.
How to Reach Areekkal Waterfalls Ernakulam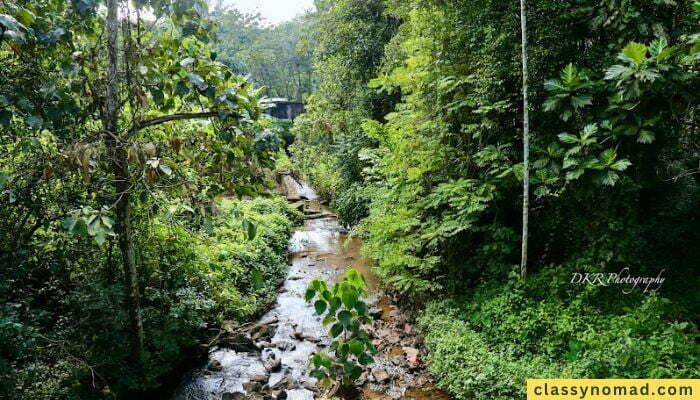 1. By Road
The Ernakulam – Thodupuzha route, which is about 35 kilometers from the major city takes you to the waterfall. From Kochi's main city, it takes one hour to drive to Areekkal Falls.
2. By Rail
Ernakulam Junction, a local railroad station, is located closest to the waterfalls. The distance between Areekkal Water Falls and Ernakulam Junction South is 36 kilometers.
Once you arrive, you can reserve a car or cab to take you to the waterfalls.
3. By Air
There are no scheduled flights to Muvattupuzha from other significant cities in the nation. Kochi Airport is the closest airport.
The town of Muvattupuzha lacks a railroad station. Piravom Road is the closest alternative. You can book a cab or taxi to reach the waterfalls.
Suggested – You will be surprised after seeing the beauty of Vattayi Waterfalls. So, make sure to explore this amazing waterfall.
Tourist Places Near Areekkal Waterfalls Ernakulam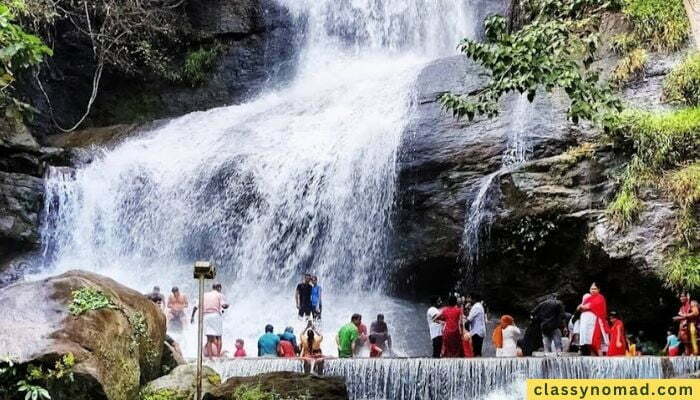 1. Aluva Manappuram
On the banks of the Periyar River sits the Manappuram or Aluva Shiva Temple. The major Lord Shiva celebration is known as Shivaratri Manappuram and bears the name of the temple.
This Keralan pilgrimage site, also recognized as Aluva Manapuram from Manal Puram (land with sand), is well-known for providing rites of passage to ancestors.
2. Chendamangalam
Chendamangalam, located near Ernakulam, is a unique geographical mixture of three rivers, seven inlets, hillocks, and huge stretches of lush plains. The location is a part of Kerala's Muziris Heritage Project.
3. Cherai Beach
The popular Cherai Beach's waters, which include the sea and backwaters, are a swimmer's dream. One of Kochi's most popular beaches is Cherai, which is well known for the quaint pictures of Chinese fishing nets that can be seen in the sand.
4. Chottanikkara Temple
It is the most significant of the 393 temples in Kerala that are managed by the Cochin Devaswom Board and are dispersed across three districts. In three different guises, Saraswathy, Lakshmi, and Durga, the Heavenly Mother called Rajarajeswari (Adiparasakthi) is honored here. 
5. Kodanad
One of Kerala's largest elephant training facilities is the Kodanad Elephant Training Centre. This training facility gained even more value after the state outlawed the capture of pachyderms. Visitors are welcome every day from 8 am to 5 pm.
6. Dutch Palace
Just on the palace road in Mattancherry, this palace can be found. It was built by Portuguese people. Later, they gave the palace to the ruler of Cochin, Veera Kerala Varma (1537–65).
7. Iringole Forest Temple
Iringole Kavu is a well-known Hindu temple in a woodland that honors Goddess Durga. This temple is among the 108 in Kerala that Lord Parasurama, Lord Vishnu's sixth avatar, is said to have dedicated.
8. Jewish Synagogue
An old Jewish place of worship in Mattancherry, in the Ernakulam district, is known as Jatappalli. Malabar Jews constructed the synagogue in 1567. The synagogue is regarded as the Commonwealth of Nations' oldest synagogue.
Suggested – One of Kerala's very popular waterfall, Soochipara Waterfall is undoutedly must vist travel destination for every kind of traveler.
Best Time to Visit Areekkal Waterfalls Ernakulam
The best time to see Areekkal Falls is between June and July (Monsoon season) when the water flow is at its highest.
Travel Tips
You have to go through the forest for a short distance to get to the falls. 
The waves are as rapid and rough and the stones as slippery as they are during monsoon season. even in the wet season. It is advised that visitors use extra caution when touring the Waterfalls. 
Pack extra clothing if you plan to visit the swimming hole closer to the falls.
Food is not offered in this location. Remember to carry food from the town or city where your adventure starts with you.
Conclusion
Don't miss this location, which offers the most fun with these waterfalls, when you are planning a vacation to Kochi. As soon as you see this waterfall, you have to wonder how the rubber plantations managed to preserve its natural beauty.
The distance between the starting location and the destination is great. There can be 50 steps down from the arrival spot. Usually referred to as the queen of the Arabian Sea, Cochi, this waterfall is crucial to the expansion of Kochi's tourism industry.
Map of Areekkal Waterfalls Ernakulam