This is a complete travel guide to Arvalem Waterfalls Goa. In this guide, we've mentioned location, things to do, best time to visit, how to reach, nearby attractions, travel tips, facts, maps, etc useful information that will help you in planning your trip.
Arvalem Waterfalls Goa Overview
| | |
| --- | --- |
| Location | Near Mapusa, North Goa |
| Entry Fee | N/A |
| Timing | 24 Hours |
| Best Time to Visit | Monsoon Season |
| Nearest Town | Mapusa (28 km) |
| Nearest Railway Station | Karmali Railway Station (21 km) |
| Nearest Airport | Goa International Airport (45 km) |
| Famous For | Picnic, Excursion, Meditation |
| Nearby Attractions | Pandava Caves, Rudreshwar Temple, Carambolim Lake, Greenyard Restaurant |
A well-liked tourist destination and picnic place in Goa is the Arvalem waterfall, which is just 50 meters high and 7 meters wide. The falls are most popular during the monsoon season when they are a rushing torrent racing recklessly into the lake below.
Although it is not as impressive a sight as the well-known Dudhsagar falls, it is less difficult to reach and is the ideal option for a pleasant vacation with family and friends.
Suggested – Get to Kumbhe Waterfall, one of the most beautiful waterfalls in Maharashtra.
Interesting Facts about Arvalem Waterfalls Goa
Arvalem waterfall is also known as Harvalem waterfall.
The Goa government built a recreation facility next to the waterfall so that visitors may get the most out of their visit.
One of the nicest locations in Goa to visit during the monsoon is here.
Teams of film crews frequently use the Harvalem Waterfalls for filming.
In close proximity to the waterfall are the fifth-century rock-cut Harvalem Caves.
According to the Mahabharata, the Pandavas are said to have lived in the caverns.
Suggested – Visit Bhaje Waterfall and get a chance to witness an amazing and stunning creation of nature in Maharashtra.
Things to Do at Arvalem Waterfalls Goa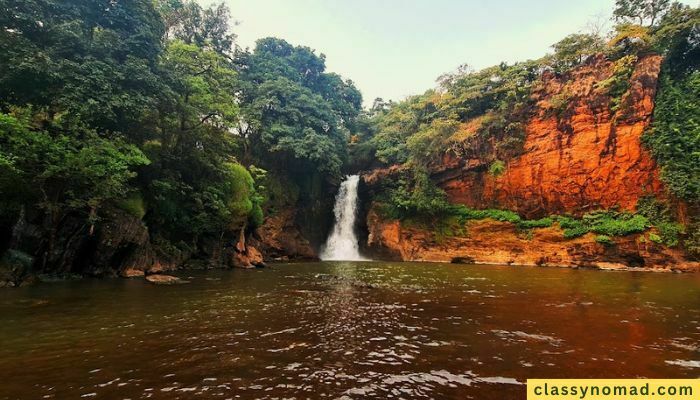 1. Picnic
The location is perfect for a picnic or weekend family adventure. Spending more than two hours at the waterfall location allows you to take part in a variety of enjoyable activities, such as swimming, wandering around the natural surroundings, snapping photographs next to the waterfall, and visiting neighboring small businesses.
2. Excursion
As the place has historical value and great geographical and geological value as well, a lot of knowledge can be gained by visiting the Arvalem Waterfalls.
3. Meditation
The place has a natural surrounding with a scenic view and the calming sound of the waterfall. Therefore, the visit to Arvalem Waterfall would be very therapeutic and apt for meditation.
Suggested – Explore Nanemachi Waterfall, one of Maharashtra's less-known waterfalls.
How to Reach Arvalem Waterfalls Goa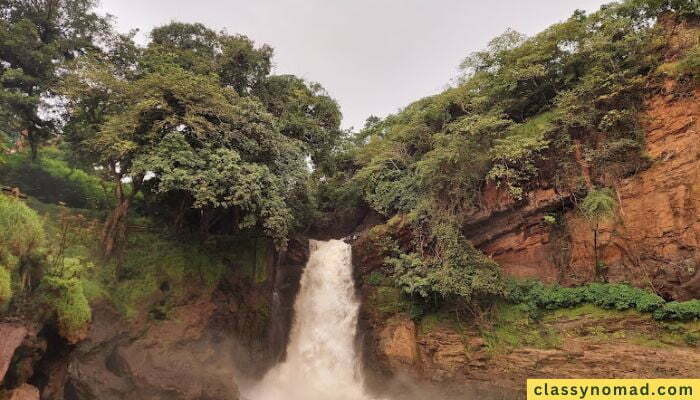 1. By Road
From Panjim, it will take you around one hour to get there. The Margao Highway Bypass Road will be crossed. You may also save money by choosing the less expensive bus trips leaving from the Panjim Kadamba bus terminal. This falls under the umbrella of government transportation.
2. By Rail
You can reach Arvalem Waterfall by arriving at Karmali Railway station which is located at a distance of almost 21 kilometers from Arvalem Waterfalls.
3. By Air
Around 45 km separate the Goa International Airport in Dabolim from the Harvalem Waterfall. In one and a half hours, the distance may be traveled using pre-paid taxis or app cabs. The Hathkhamba-Goa Road will take the autos to the waterfall spot.
Tourist Places around Arvalem waterfall Goa
1. Pandava Caves
These rock-cut caves, known as the Pandava or Harvalem Caves, are located in North Goa and are about 29 kilometers from the Panjim Kadamba bus stop. According to legend, during their exile, the well-known Pandava brothers of the Mahabharata found sanctuary in these caverns. The caverns' design is influenced by Buddhist principles.
With their basic laterite stone walls and year-round attraction, the caverns are uncomplicated but attractive, drawing hundreds of people. Since it is only 1.3 kilometers away from the Harvalem Waterfalls, you may get there quickly and conveniently by taxi or bicycle.
2. Rudreshwar Temple
The caverns are about a half kilometer away from the temple, while the waterfall is around two kilometers away. Here, people worship the ancient Shiva linga known as Rudreshwar. At this shrine, the god's statue is positioned such that it faces the waterfall.
You can see the magnificent waterfall from a distance as you descend the temple's stairs. During Shivaratri, which is celebrated in this region with tremendous splendor and joy, the temple attracts a sizable number of pilgrims. The dead are also given their last rites in the area beyond the shrine.
3. Carambolim Lake
One of Goa's most beautiful and intriguing locations for animal preservation is Carambolim Lake. The location lies on the outskirts of Carambolim, just a few kilometers to the southeast of Old Goa city.
Numerous exotic flora and hundreds of local and migratory birds, including heron, cuckoo, pintail, teal, and coot, may be found here due to their vast biological variety. For photographers and wildlife enthusiasts, the lake has a lot to offer.
4. Greenyard Restaurant
This little eatery, which is close to the Harvalem Waterfall, features a wonderful ambiance and delicious international comfort cuisine. The primary scene here is an open-air area surrounded by vegetation. All of these dishes—from chapatis and rice to kokum curry, chicken café, and Mackerel fry—are quite affordably priced.
The personnel provides excellent service, and the location is tidy and clean. Nearby amenities include a lake boating facility and local churches. After dining at this restaurant, you may go on a boat trip or take a stroll up to the cathedrals.
Best Time to Visit Arvalem waterfall Goa
The monsoon season is the greatest time of year to see the Harvalem Waterfall because the cascade of water is at its richest and fullest, providing visitors with an amazing sight.
Monsoon season in Goa lasts from late July until early September. August is when the rains are at their heaviest, with a daily streak of at least 70mm of rain.
A joy to the eyes of nature lovers is the beautiful, dense foliage that surrounds the waterfall. To see the sight in its finest light, plan your trip to Harvalem Waterfall at any time between August and September.
Travel Tips
Before you go, make sure you have enough umbrellas for your complete family if you plan to visit the Harvalem Waterfall while it is raining.
Consider packing a raincoat and wearing rubber sandals or waterproof shoes because Goa experiences monsoon rain practically every hour of the day.
As you must ascend and descend various steps to reach the waterfall, sneakers are a wise choice.
Take care of your children when approaching the site because the area surrounding the cascade is constantly slippery, especially after a sprinkle of rain or owing to the damp effusing from the waterfall.
This location is not the best to visit if you are traveling with elderly people.
Conclusion
A waterfall's beauty and grandeur are sights that we can never get tired of viewing. The senses are captivated by the water's delightful surge and beautiful descent until it happily crashes on the rocks below. Goa's Arvalem Waterfall is therefore a site that would be stored as heaven in your memories and you would never want to miss the visit of.
Map of Arvalem waterfall Goa