This is a complete travel guide to Bamanbudo Waterfall Goa. In this guide, we've mentioned location, things to do, how to reach, best time to visit, nearby tourist attractions, travel tips, facts, map, etc useful information that will help you plan your trip easier.
Bamanbudo Waterfall Goa Overview
| | |
| --- | --- |
| Location | Gaondongrim Village, Canacona, South Goa district, Goa |
| Entry Fee | Free |
| Opening Hours | 24 Hours |
| Best Time to Visit | Monsoon Season |
| Nearest Town | Netravali (13 km) & Canacona (25 Km) |
| Nearest Railway Station | Canacona Railway Station (18 km) |
| Nearest Airport | Goa Airport (81 km) |
| Famous For | Exploring Nature, Adventure, Photoshoot |
| Nearby Attractions | Dudhsagar Fall, Palolem Beach, Colva Beach, Johnny Cool, etc. |
The terms "unaffected" and "underexploited" properly characterize the Bamanbudo Waterfall. One of the oldest and most unspoiled waterfalls is located close to Old Goa. This waterfall cascades against the lovely Amba Ghat landscape.
The waterfall is without a doubt the picture-perfect location, with water cascading down the beautiful green hills. The importance of the location is enhanced by the noise of the water, the cleanness of the air, and all that is lovely.
Since this cascade is on a major road, one cannot hike to this wonderful location. Goa's beautiful countryside is frequently disregarded and underappreciated by visitors. The Bamanbudo Waterfalls, which are close to Gordongram and Canacona, are one such well-kept secret. These cascades are spotless, approachable, and kid-safe!
Suggested – Visit Arvalem Waterfall, one of the popular tourist attractions in Goa if you are in the North Goa district.
Interesting Facts about Bamanbudo Waterfall Goa
The waterfall is just off the road, which makes it very easy for people to visit.
There are several attractions near the waterfall, which helps you cover more tourist attractions in one day.
There is no trekking path; one can park their cars or bikes just in front of the waterfall.
The water in the pond in front of the waterfall is crystal clear and has a lot of fish inside it.
You will see several people taking pictures of them and their loved ones near the waterfall.
Things to do at the Bamanbudo waterfall Goa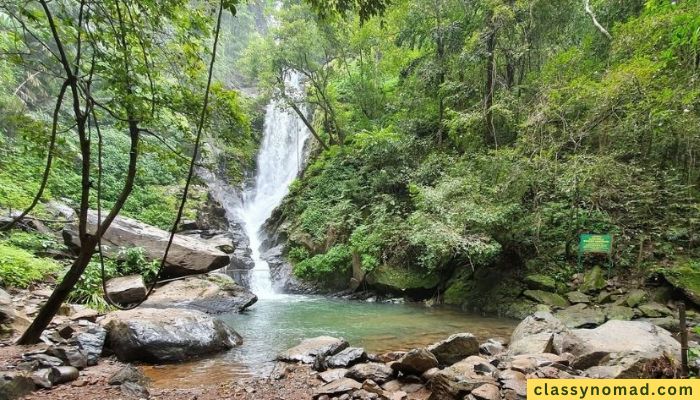 1. Exploring Nature
As the waterfall is between the woods, it makes it easy for nature lovers to explore it. The scenery is stunning in the fall, and you can see the lush green environment.
There are fish in the pond that you can easily see due to the clear water of the fall. The place is beautiful and provides you with a great experience of this stunning nature creation.
2. Photoshoots
Due to its scenic view, people usually love to take pictures near the waterfall. While visiting the fall, you can see various people taking pictures and posing in front of the waterfall.
Suggested – Also visit Netravali Waterfall which is around 16 km from Bamanbudo Waterfall.
How to Reach Bamanbudo waterfall Goa
1. By Road
Canacona and Netravali is the popular towns close to this waterfall which is around 25 km and 13 km respectively from there. Both towns are connected to major cities of the state. After reaching there, you can easily get to Bamanbudo waterfall.
2. By Train
There are several railway stations near Bamanbudo waterfall, such as Canacona Railway Station (18 km), Loliem Railway Station (27 km), and Balli Railway Station (26 km).
3. By Air
Dabolim Airport (Goa Airport) is nearest to the Bamanbudo waterfall. You can find various transportation facilities outside the airport to reach the waterfall.
Suggested – Explore Satrem Waterfall which offers awe-inspiring views of nature located near Valpoi city in the North Goa district.
Tourist Attractions around Bamanbudo Waterfall Goa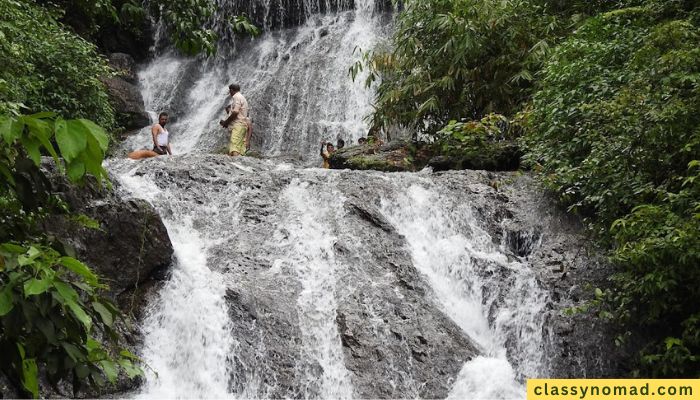 1. Dudhsagar Fall (67 km)
This captivating waterfall attracts visitors from all over the globe because of its amazing attractiveness, making it among the most popular tourist destinations in South Goa.
This waterfall, whose name literally translates as "Sea of Milk," is beautiful to look at. It is only a short 60 kilometers from the metropolis of Panaji. The 1,000-foot-tall waterfall is situated within the Bhagwan Mahavir wilderness area.
2. Palolem Beach (20 km)
One of Southern Goa's finest and most beautiful beaches, Palolem Beach is well known to the many international visitors that frequently visit.
The serene environment is an ideal atmosphere for enjoying an infrequent stroll or simply taking in this breathtaking scenery. Shacks, street vendors, cafes, and other food establishments continue to line the beach's kilometer-long crescent-shaped shore.
3. Colva Beach (58 km)
It is among South Goa's most well-liked beaches and is quite popular with Indian as well as international tourists. The beachfront is a great place to go for a variety of recreational pastimes, including sunbathing and water activities.
In particular, adrenaline junkies come here to partake in outdoor pursuits. One of the greatest spots to explore in South Goa in a day is the beach, where you can discover several shacks providing street beverages and food to sate your appetite.
4. Johnny Cool (57 km)
This location adds a fresh perspective to the eating scene, which combines a tranquil atmosphere, foreign food, and the beach. The Johnny Cool Beach Resort, located on the renowned Dover Beach, one of Goa's most appealing beaches, offers this lethal concoction.
Here, one may enjoy great Caribbean cuisine in a lovely setting while listening to calm jazz music that will make every muscle in your physique move to the relaxing sounds. It is a popular tourist destination in south Goa and offers great treatment.
5. Agonda Beach (26 km)
For those looking to have an energetic experience in the ocean, Agonda Shore in Goa is the best option. You may relax and get rid of the worries brought on by the daily routine thanks to the refreshing breeze and lovely summer sunshine.
Long and barren, this seashore is surrounded by palm and casuarina trees and engulfed by a wide hill to the south. Agonda Beach is the place to go if you're looking for a few peaceful moments.
Best Times to Visit Bamanbudo waterfall Goa
The best time to visit the Bamanbudo waterfall is during the monsoons. During this period of the year, one can see the most amazing view in front of their eyes.
A rainy journey through the forested Gaondongrim hamlet is a dream come true. The tiny road has a breathtaking beautiful greenery appearance, with hills on each side and paddy meadows all the way down it.
Suggested – If you are exploring the popular tourist attractions in Goa, you should definitely add Surla Waterfall to your bucket list.
Travel Tips
You must wear lightweight clothes while visiting the waterfall.
Because there are no gas stations nearby, keep your tank full.
Take some food and water with you, as there are no shops near the waterfall.
Conclusion
The Bamanbudo waterfall is one of the most beautiful waterfalls in Goa and is well connected to all the roadways near it, which makes it accessible for everyone. If you are ever planning on visiting Goa, then you must visit this beautiful waterfall.
FAQs on Bamanbudo Waterfall Goa
1. Where is Bamanbudo waterfall situated?
The Bamanbudo waterfall is situated near Gaondongrim Village, Canacona taluka of South Goa district in Goa, India.
2. What is the best time to visit Bamanbudo Waterfall?
The best time to visit the Bamanbudo waterfall is during the monsoon season.
3. What is the distance between Canacona and the Bamanbudo waterfall?
The distance between Canacona town and Bamanbudo waterfall is 25 km. It takes around 40 minutes to cover the distance via road.
4. What are the attractions near the Bamanbudo waterfall?
There are various places one can visit near the Bamanbudo waterfall, some of which are as follows: Dudhsagar Waterfall, Palolem Beach, Johnny Cool, Colva Beach, Agonda Beach, etc.
Map of Bamanbudo Waterfall Goa