This is a complete travel guide to Bangoru Waterfall, Himachal Pradesh. We've mentioned location, things to do, how to reach, nearby attractions, tips, etc information in this guide.
Bangoru Waterfall Overview
| | |
| --- | --- |
| Location | Bir, Himachal Pradesh 176077 |
| Entry Fee | Free |
| Timing | 24 Hours |
| Best Time to Visit | Monsoon & Winter Season |
| Nearest Bus Stop | Bir (4.4 km) |
| Nearest Railway Station | Baijnath Paprola Railway Station (18 km) |
| Nearest Airport | Kangra Airport (71 km) |
| Famous For | Picnic, Trekking, Photography |
| Nearby Attractions | Gunehar Waterfall, Dharmalaya Institute, Bir Market, Baijnath Temple etc. |
Himachal Pradesh is known for its beautiful scenic views, lakes, waterfalls, snowfall, and many more. Bangoru waterfall is among the most beautiful waterfalls in Himachal Pradesh.
Bangoru Falls is a miracle of nature located at a distance of 5.8 km from the Bir Colony in Chaugan, Himachal Pradesh.
The water running down from the fall is milky white, which dignifies the beauty of this place even more. Because the area is less frequented by tourists, the environment is still pristine, making it an ideal location for a picnic.
This place also provides you with a small trek that can be enjoyed by trekking lovers. Photographers often visit this place to take various pictures of natural beauty and enhance their photography skills.
Interesting Facts about Bangoru Waterfall
The waterfall is very quiet, which makes this place best for meditation. It is suggested that you meditate there and feel nature.
This place is unknown to many people, which makes it the best place for family gatherings and picnics.
Due to the pure environment, you can feel the fresh air that blows while touching your face.
There are several places near the waterfall, which makes it even more interesting for people visiting here.
One can see milky white water flowing from the waterfall, which makes it unique.
Suggested – Want to visit Uttarakhand as a tourist? Explore these places to make your trip more interesting.
Things to Do at Bangoru Waterfall
1. Trekking
Being a waterfall, it obviously has a trek that starts from Billing Junction and goes up to Gunehar Village. After reaching Gunehar village, you have to take some more steps, and there you will be witnessing the beauty of Bangoru waterfall.
The path while traveling is so beautiful and covered with lush green grass, which enhances the beauty of this place even more.
2. Exploring Nature
The place is less visited by tourists that's why the environment is still pure, giving you the chance to explore nature.
Being in Himachal Pradesh, i.e., a state that is famous for its various medicinal herbs and shrubs, you'll get a great chance to dive into it.
As the place is quiet, you can meditate and have some fun with your family and friends.
3. Photography
Due to its mesmerizing beauty and attractiveness, this is one of the most loved places for wildlife photographers.
They visit here to take photographs of Mother Nature and enhance their skills even more. Localities often visit this place for their pre-wedding shoots and for casual shoots.
Suggested – Explore these tourist attractions of Delhi to make your trip more enjoyable.
How to Reach Bangoru Waterfall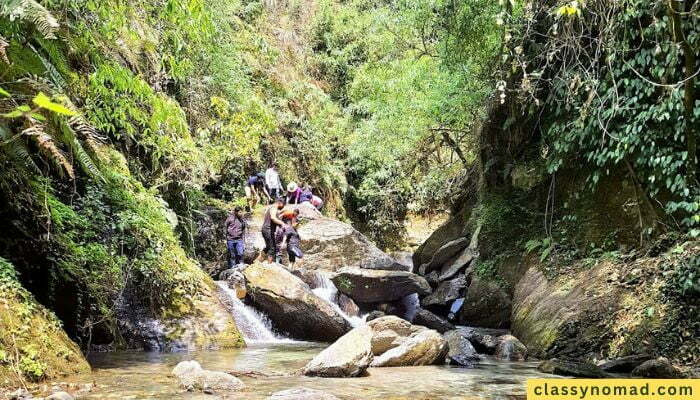 There are various ways of reaching this amazing place, which are given below:
1. By Road
The waterfall is only 4.4 km away from Bir Colony, and it takes around 20 minutes to reach the waterfall. If you are planning on doing a trek, rather than booking a cab from Bir, you can start walking. Walking to the waterfall could take about an hour and a half.
2. By Train
Baijnath Paprola Railway Station is the nearest to the waterfall. The railway station is 18 km away, which might take around 1 hour to cover the distance. All you need to do is book a ticket to there, and outside the station, you can find various transport facilities.
3. By Air
Kangra Airport is the nearest airport to Bir Chaugan, which is only 40 km away from the main city.
Nearby Attractions to Bangoru Waterfall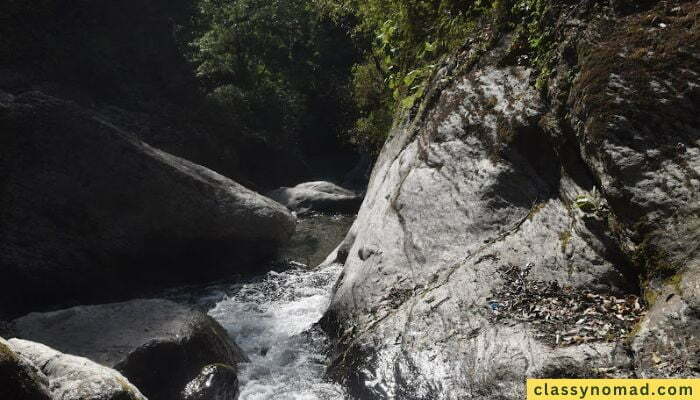 1. Gunehar Waterfall
The Gunehar waterfall is 1.5 km away from Bir and has an elevation of 100 ft, which makes this waterfall unique.
If you are an adventure lover, then you can enjoy Jeep and bike rides on the paths of this place. The best thing to do here is watch the sunset while sipping Tibetan tea.
2. Dharmalaya Institute
Someone can assist with a range of environmentalist programs at the Dharmalaya Academy, an eco-campus, including sustainable agriculture, responsible village redevelopment, green architecture, etc.
Here, you may also take classes for a variety of leisure pursuits, including relaxation techniques. One may stay here to take part in long-term programs or a smaller session.
The institution takes pleasure in its humane code of conduct, which tourists and attendees are required to follow.
3. Bir Market
A street-corner marketplace featuring a number of restaurants and businesses is called Bir Bazaar.
While travelers spend most of their time shopping for mementos, locals, and inhabitants of the adjacent areas come for essentials such as food, apparel, and other goods. On the route to Bir town, there is a market known as Bir Bazaar.
4. Baijnath Temple
One of Himachal Pradesh's very well-known shrines is the Baijnath Temple, where Lord Shiva is revered as the "God of Medicine."
The living god Shiva takes the form of Baijnath, and in this form, the patron deity frees his followers from all suffering.
As a response, this shrine is of utmost importance to all followers of Lord Shiva and is regarded as being exceedingly sacrosanct.
5. Tibetan Colony
The place is famous for various handicrafts that are sold by people. You may find various artifacts that resemble Tibetan culture at a quite reasonable price.
Best Time to Visit Bangoru Waterfall
The best time to visit Bangoru waterfall is during the monsoon and winter seasons. During the monsoon season, the water level is quite high, so one must take extra care of themselves.
During the winter season, people often visit this place to spend some time with their family and friends and enjoy their weekends.
Travel Tips
There is a very small number of people visiting the waterfall, so it is suggested that you go to this place in a group.
You should bring some woolen with you because it may get cold as the sun sets.
Take some snacks and water with you as there are no shops available near the waterfall to quench your thirst and hunger.
Keep a first-aid kit with you for emergencies.
must wear shoes with good grip as the path and surface of the waterfall might be slippery.
Conclusion
This place is known for its beauty and silence. People often visit here to enjoy their weekends and for meditation. As this place is in a state that is among seven sisters, it promises you beauty.
If you are ever planning to visit Himachal Pradesh, then add this waterfall to your bucket list to make your journey even more memorable.
Map of Bangoru Waterfall