In this travel guide, you will come to know the best hiking trails in Kazakhstan that you should definitely experience.
Hiking is a very adventurous activity that is done by people for recreational purposes. Hiking simply refers to walking outdoors on a trail, or off-trail for fun, experience, and exploring nature. Rambling, Hillwalking, Fell walking, Bushwalking, Tramping, etc are the other terms used for hiking all over the world.
Hiking has so many advantages as it improves physical strength, heals mental peace, improves blood pressure and blood sugar levels, improves sleep quality, reduces anxiety and depression, reconnects with yourself, and so on. Therefore, everybody should definitely go for a hike at least once a year.
There are lots of worth-visiting places in Kazakhstan which are popular in every corner of the world. But, are all places of Kazakhstan popular in the world? Not at all, there are also some great places that are not as popular as other places but are worth visiting. 
Are you in a hurry?
Let's have a quick look at the best hiking trails in Kazakhstan along with their location.
| Best Hikes in Kazakhstan | Location |
| --- | --- |
| Furmanovka Peak Trail | Almaty, Kazakhstan |
| The Big Almaty Peak Trail | Almaty, Kazakhstan |
| Bukreev Peak Trail | Almaty, Kazakhstan |
| Kok Zhailau Plateau | 10 kilometres from Almaty, Kazakhstan |
| Kolsay Lake | Almaty, Kazakhstan |
| Kairak Waterfall Trail | Enbekshikazakh District, Kazakhstan |
| Charyan Canyon | Uygur, Raiymbek, and Enbekshikazakh Districts |
| Mynjylky Plateau | Zailiisky Alatau mountainous region, Kazakhstan |
| Sairan Lake Loop | Almaty Province, Kazakhstan |
Best Hiking Trails in Kazakhstan
Since, in this travel guide, I am going to mention the best hiking trails in Kazakhstan, therefore, I will focus only on the best hikes in Kazakhstan rather than other tourist attractions in Kazakhstan.
1. Furmanovka Peak Trail
Furmanovka Peak Trail is one of the best hiking trails in Kazakhstan, which ranks at No. 1 in Almaty and even in the entire Kazakhstan. It is a 16-kilometre-long trail located in Almaty province. In terms of difficulty, it is intermediate to difficult. The trail is a good introduction to the Zaili Alatau Mountains, so you can enjoy its beauty.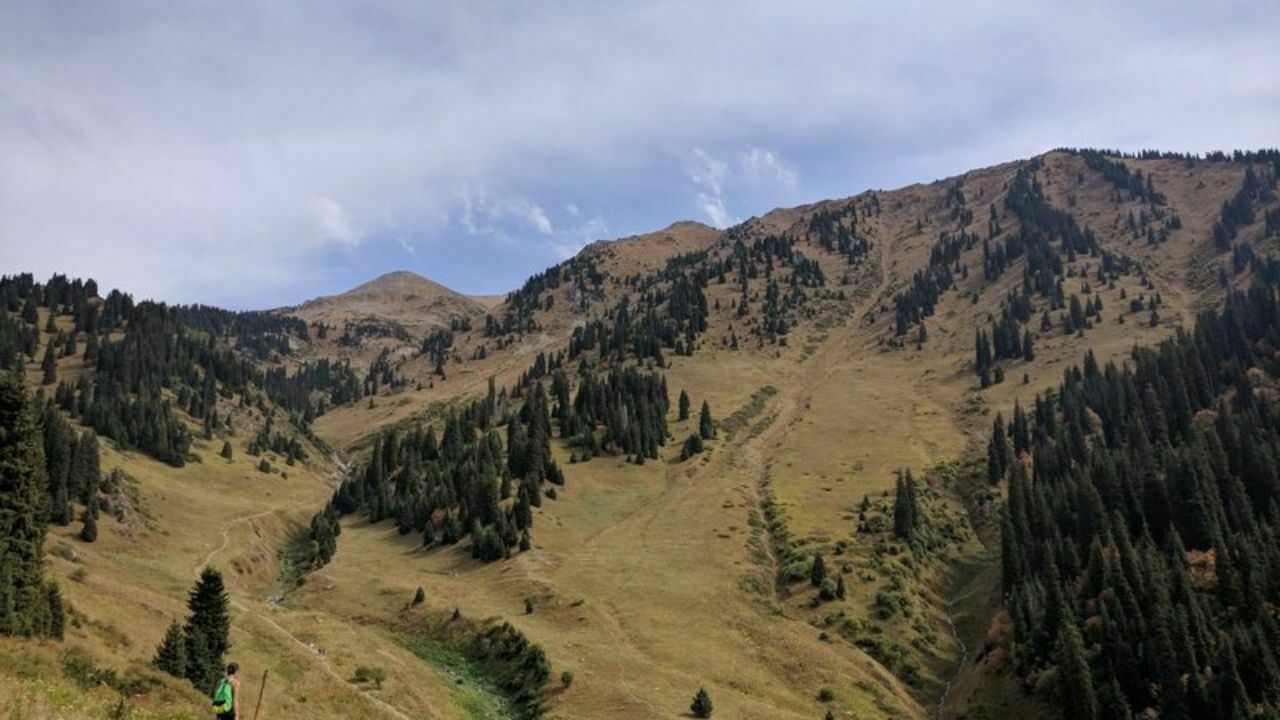 Initially, the trail is easy to walk, but as you move further it becomes steeper. Near the summit of Furmanovka Peak, the trail becomes too steep; therefore, it might be tough to get to the summit, but there are nice views along the trail. If you are a camera person, the beauty along the trail is worth seeing. It may be a good place for you.
How to visit Furmanovka Peak Trail?
You can reach Furmanovka Peak Trail by bus # 12 from the Hotel "Kazakhstan" in Almaty.
Related: Best Playgrounds in Kazakhstan
2. The Big Almaty Peak Trail
The Big Almaty Peak Trail is the next hiking trail that is worth exploring in Kazakhstan. This hiking trail is located just 15 km from Almaty city in Almaty province, Kazakhstan. The height of the peak is 3680 metres above sea level. There is a very beautiful Almaty lake to the east of the peak, which gives an amazing view to tourists.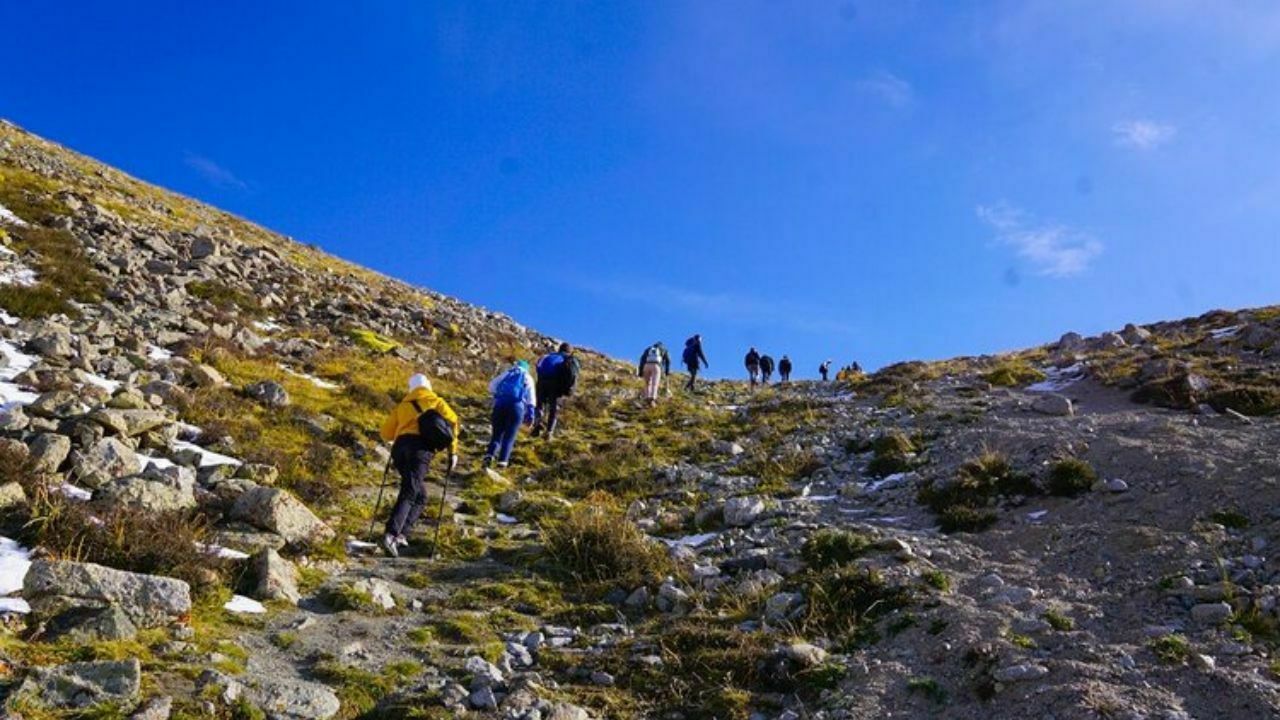 There are lots of photo spots along the trail that need to be captured. These spots are very beautiful and mind-blowing. Nature has spread its beauty along the trail. Thus, on the way to hiking, you will experience very positive vibes that will also heal your mental health.
How to visit the Big Almaty Peak Trail?
You can visit the Big Almaty Peak Trail by taxi or any other public transport from Almaty city.
Related: Nur-Sultan Tourist Sites
3. Bukreev Peak Trail
Bukreev Peak Trail is also located in the Almaty region, Kazakhstan. It is a 17km circular trekking route in the foothills of the Trans-Ili Alatau mountains. Tourists often take one day to complete this adventurous trip. This hiking trail starts from the Almatau tourist base in Kotyrbulak gorge and ends at Bukreyev peak.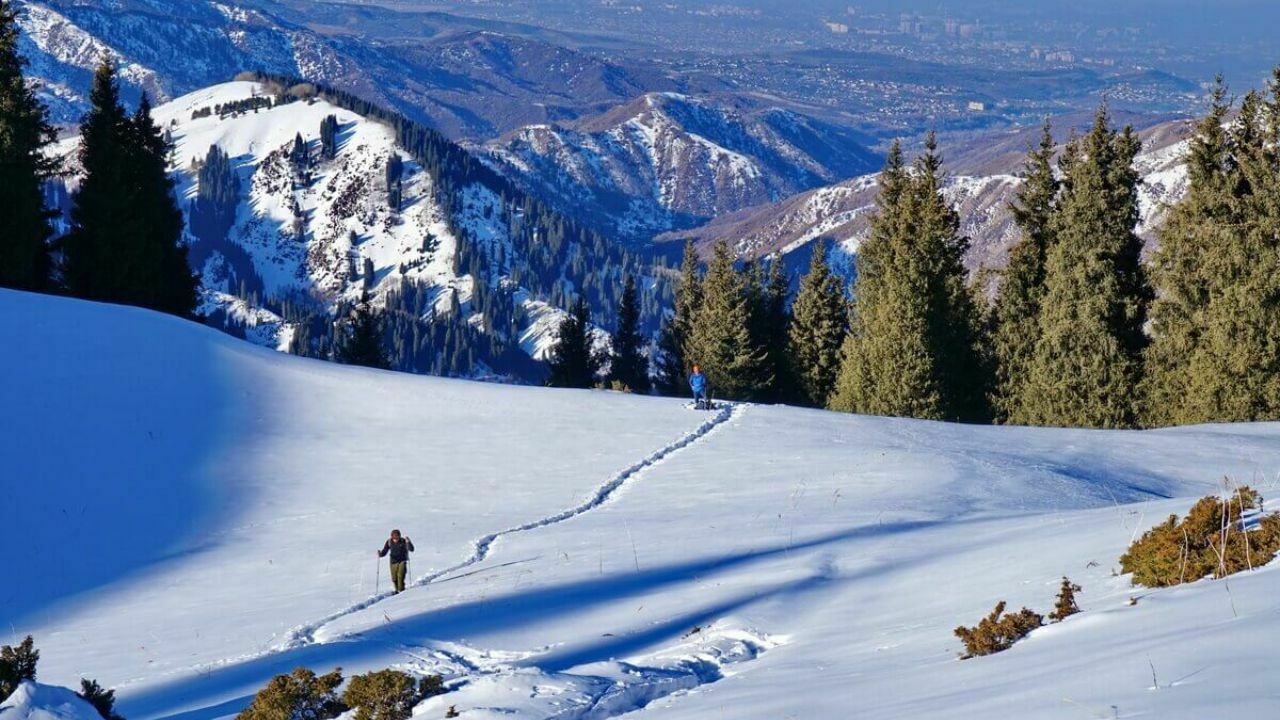 The environment along the trail is nature-wealthy. The long and gigantic trees, the vegetation, the different coloured flowers, the waterfalls, and even the entire landscape are worth seeing. There are several beautiful spots that are good for photography along the trail. So, I definitely recommend that you have an experience on this hiking trail.
How to visit Furmanovka Peak Trail?
There are many local tour companies that continuously provide services to tourists. You can find one of them here. You can also reach there by taxi or hitchhiking.
4. Kok Zhailau Plateau
At an elevation of 2251.2 metres, Kok Zhailau is a hilltop in the Ile-Alatau Federal Public Nature Reserve. It is located 10 kilometres from Almaty, in between the small and big Almaty Ravines (in Kazakhstan). The ridge rises from 1450 to 1740 metres high. From the hilltop, you can view Almaty, the Shymbulak ski resort, Medeu, and the Big Almaty summit. The plateau of Kok-Zhailau is a popular tourist destination in Almaty.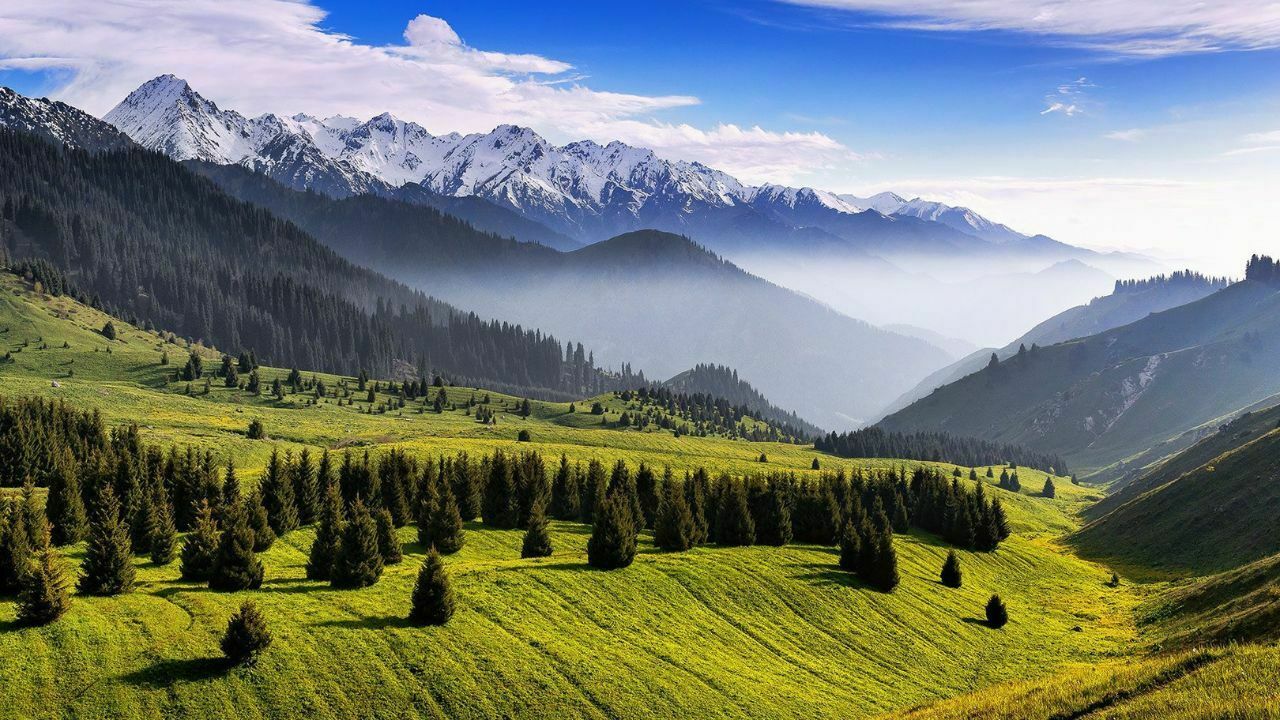 Climbing, biking, snowboarding, and horseback riding are all possible in the vicinity. Inside the Ile-Alatau National Park, it is a solely accessible region. Because of its natural beauty, the region is a popular tourist destination. The area is known for its ecotourism. Medical environmentalism, intellectual environmental conservation, birdwatching, floral trips, video and picture outings, cultural tourism, and other things are included in this category.
How to visit Kok Zhaylau Trails?
Kok Zhailau can be visited first from the western entrance gate. A further two-hour climb up to Kok Zhailau leads to Mount Kumbel as well as the Three Brothers, a rocky outcropping.
5. Kolsay Lake
Kolsay Lakes Park is situated in southeast Kazakhstan, on the northern slopes of the Tian Shan Hills. It is one of the most popular lakes in Kazakhstan. The park's primary attraction, the Kolsay Waters, is situated between both the Raiymbek District and the Talgar District of Almaty District and is sometimes called the "Jewels of Tien Shan." The area also includes the lakeside town of Kaindy. Almaty lies 120 kilometres (75 miles) south of both the resort's perimeters.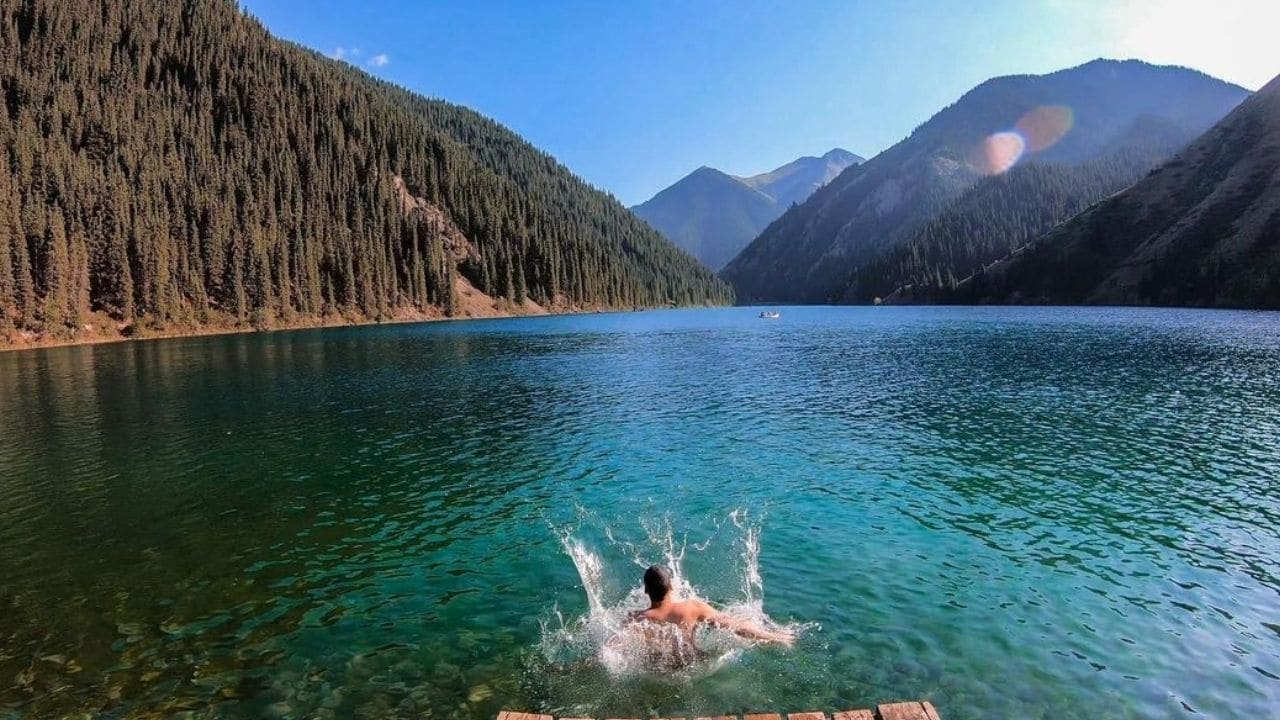 Just on Kaindy and Kolsay streams, resounding victory lakes developed roughly between 1887 and 1911. The park's aim includes wildlife preservation, with 72% of the land under stringent preservation and 13% given out for commerce and pleasure. The park has been included in the Global Ecosystem of Biosphere Reserves by UNESCO.
How to visit Kolsay Lake?
The Kolsai Ponds are roughly a six-hour drive from Almaty. A bus runs from Almaty's transportation hub to Saty, the settlement nearest to the water.
6. Kairak Waterfall Trail
Kairak Falls is a cascade on the Kairak River, the right bank of the Turgen River, within Kazakhstan's Enbekshikazakh District, inside the Almaty Area. [requires reference] The lake's origin lies at the boundary of Almaty's Enbekshikazakh and Talgar regions, in the mountains of the middle portion of the Zailiysky It provides the most effective ridge. It runs through all of the Ile-Alatau Nature Reserve, with the predominant direction of flow being north-northwest.
The main branch of the Turgen Bozgul river burst through a hole in the stones some 10,000 years ago, generating the T-Ili Alatau's most spectacular and distinctive ravine. In the OI-Karagay tract, the Kairak cascade is situated on the north side of the Zailiysky Alatau mountainous region. The waterfall sits at a height of 2,130 metres. The waterfall is roughly 55 metres high, with 74-meter-high barriers. With a height of 53 metres, it surpasses North America's iconic Niagara Falls. The name of the waterfall was not chosen at random.
How to visit Kairak Waterfall Trail?
The Bozgul Creek, a right branch of the Turgen River, is home to the Kairak Cascade. If you're travelling towards Almaty, follow the Talgar route to Batan, which is roughly thirty-five kilometres away.
Related: Tourist Attractions in Akmola
7. Charyan Canyon
Charyn Canyon is perhaps a valley on Kazakhstan's Sharyn Watercourse. The canyon is approximately 154 KM (96 miles) long. It is included in the Charyn Nature Reserve, which was formed on February 23, 2004, and is also situated in the Uygur, Raiymbek, and Enbekshikazakh districts.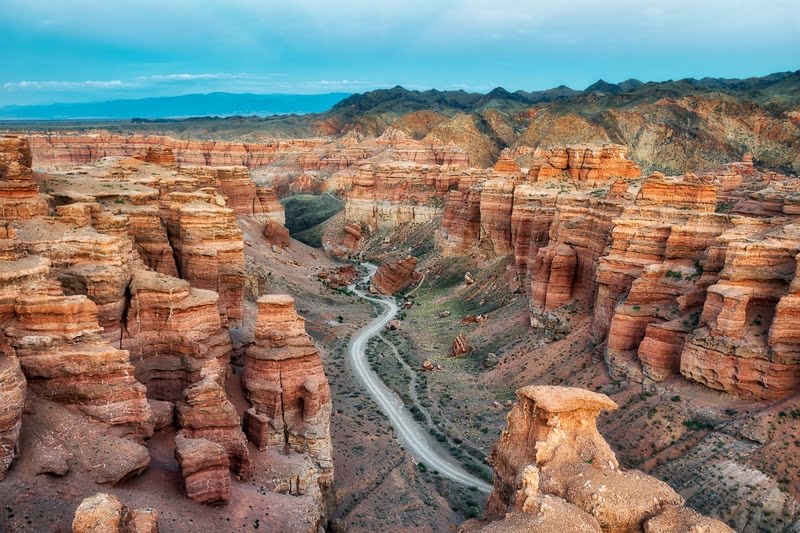 The valley has developed a variety of colourful structures of all forms and factors throughout time. Despite being much smaller than the Gorge, it is said to be just as spectacular. Charyan Gorge is a one-of-a-kind naturally occurring phenomenon with unusual relief formations like churches, castles, and creatures, which were produced by the erosion of sedimentary.
How to visit Charyan Canyon?
Visitors can select modes of transportation defined as the ease of transportation and their spending plan. Think that public mobility beyond Almaty's central town is non-existent.
8. Mynjylky Plateau
The Mynzhylky Peak Plains are a highland in Kazakhstan's Almaty Province that is situated on an elevation plain. It features an irregular terrain bordered by separate cliffs from the nearby lowlands. The phrase translates literally to "a hundred horses" in Kazakh, signifying a location suitable for feeding a large number of ponies.
The Mynzhylky Mountain Plateau, situated at an elevation of 3000 metres on the northern edge of the Zailiisky Alatau mountainous region, is the origin of the Malaya Almatinka stream. Trekkers can ascend from Mynzhylky to the glacier sites of Tuyuksu-1 (3400 m) and Alpengrad (3450 m), from where they can go to the Maloalmatinsky node's peaks as well as the Titova pass.
How to visit the Mynjylky Plateau?
To visit Mynzhylky, first, you need to go to Medeo. Then take the car up to Cimbulak and then walk at least 5.7 kilometres.
Related: Best Places to visit in Shymkent
9. Sairan Lake Loop
Sairan is an artificial lake and basin in Almaty, Kazakhstan. At a review conference in 2011, Almaty mayor Akhmetzhan Yessimov stated that an oceanarium could be built on the reservoir. The Sairan transit unit is situated on the northwestern side of the lagoon, whereas the Sairan train station is located on the southernmost tip. It is a very beautiful place and people often visit it while doing tourism in Kazakhstan.
This is one of the attractions for tourists, as it is quite amazing to create a reservoir in one of the most beautiful places in the country. People who live near this lake frequently spend their weekends here, relaxing with their families and trekking.
How to visit Sairan Lake Loop?
Sairan Lake is in Almaty city, so to reach it you can take local transport, and for convenience, you can visit there by your vehicle.
Conclusion – Best Hikes in Kazakhstan
Kazakhstan that you must visit. You will have a wonderful experience after visiting there. One thing that you must keep in your mind is that do not forget to take your camera there, otherwise, you will miss out on capturing a lot of beautiful moments.
If you found this article helpful, share it with your friends.
Thank you.
FAQs – Best Hikes in Kazakhstan
1. What national parks in Kazakhstan have hiking trails?
Sayram-Ugam National Park, Katon-Karagay National Park, Bayanaul National Park, Burabay National Park etc are some of the national parks in Kazakhstan that have hiking trails.
2. What is the longest trail in Kazakhstan?
Kolsay Lake trail is the longest hiking trail in Kazakhstan which is 25.6 km long and takes an average of 9 h 36 min to hike.