Do you want to explore Monterey as a tourist? Here, we've mentioned the 15 best things to do in Monterey, California that every tourist visiting there must explore.
Having one of the richest marine habitats on the globe, Monterey is definitely worth travelling to for both the year-round possibility of whale viewing and the family-friendly Monterey Bay Aquarium.
Together with a fascinating past, Monterey has beautiful hiking routes. One of the popular vacation destinations on the California Central Coast is Monterey, which is situated along the southern edge of the incredibly beautiful Monterey Bay.
You may plan a lengthy vacation in the region since there are so many exciting things to do in and around Monterey. A week or more will pass quickly as you visit Monterey and the quaint nearby villages.
Here are the 15 best things to do in Monterey to make the most of your trip to the beautiful city of Monterey.
Best Things to do in Monterey, California
1. Whale-Watching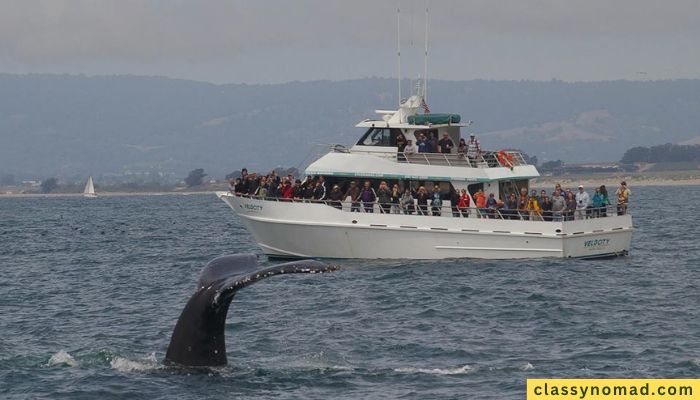 In November and December, as they migrate south from the Arctic Ocean to the warm waters of Baja California to mate, grey whales pass near Monterey Bay.
They travel back up north in March and April while pulling their young calves. On their trip south, they supposedly pass by closer to the coast, so that is when you are most likely to see them from shore.
Spouts are easier to see on clear, quiet days. Year-round whale viewing tours are available from Monterey to the bay.
You could witness grey whales, humpback whales, blue whales, or killer whales depending on the time of year. Minke and fin whales are less frequent.
2. Monterey Bay Aquarium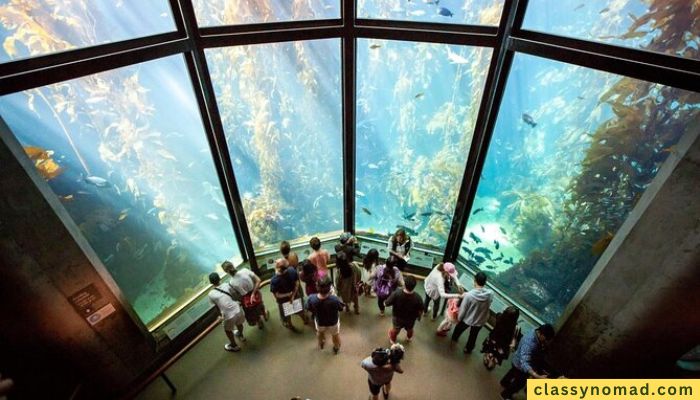 A building on Cannery Row, along the water, is home to the renowned Monterey Bay Aquarium. One of the most well-liked things to do in Monterey, for both children and adults, is going to the aquarium.
You may see a variety of marine ecosystems at the aquarium, including kelp forests, the open ocean, and rocky coasts.
Also, you may witness a variety of amazing animals, such as sharks, sea bass, a big octopus from the Pacific, and colourful invertebrates that live in tidal pools.
When it's nice outdoors, people like to sit on the outdoor deck. On the viewing platform, you may glimpse otters in the local water or whales in the distance.
The aquarium does get busy during the day during peak season, particularly on weekends. If at all feasible, schedule your visit during the week and come before the store opens.
3. Stand-up paddleboarding or kayaking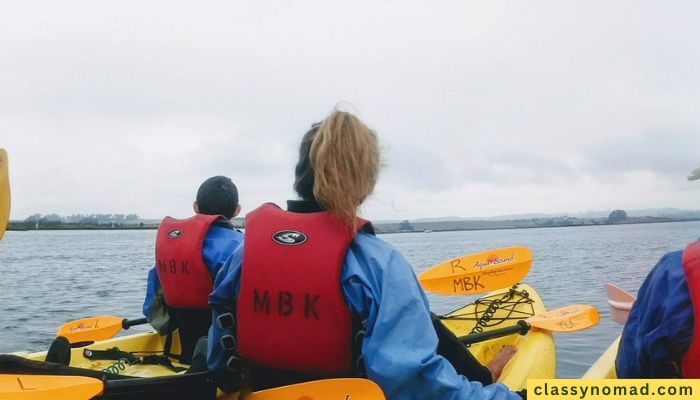 Choose kayaking or stand-up paddleboarding if you're seeking for a fun way to explore Monterey Bay's stunning waterways.
Monterey Bay's protected and calm waters make it a wonderful place to go paddling. Several locations in the city provide rentals.
Look for harbour seals swimming in the water or relaxing on rocks as you paddle through the Monterey Bay National Marine Sanctuary, as well as a variety of birds soaring overhead or resting on rocks.
4. Wander around Downtown Monterey's Cannery Row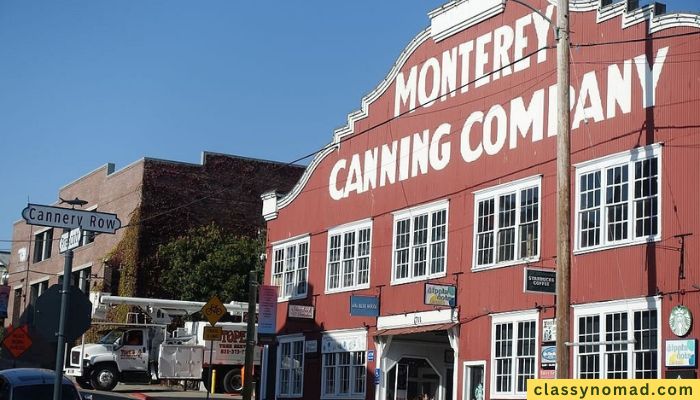 Cannery Row was previously the hub of a sizable sardine canning business but is now lined with eateries, stores, and hotels.
Cannery Row, the setting of John Steinbeck's book of the same name, was once known as Ocean View Avenue.
Developers redeveloped the neighbourhood and turned it into a tourist destination in the late 1960s, adding a tonne of dining, accommodation, and retail options.
It is now booming once more, and most tourists to Monterey feel that taking a stroll along the street is essential.
5. Walk The Coastal Recreational Path On Monterey Bay
The Coastal Recreation Trail has two lanes, one in each direction, and is made of pavement. It offers stunning vistas as well as the opportunity to watch wildlife and birds.
The route may be started from Cannery Row and be followed for about three miles to Pacific Grove, where it ends.
Instead, you may ride a surrey or a conventional bike in either way. Kids will like riding a bike in Surrey if you are visiting with them!
Keep in mind that the route has designated bike and pedestrian lanes in some areas.
6. Enjoy Monterey's Old Fisherman's Wharf
Take a stroll along the wharf to take in the stunning views of the port and the ocean, peruse the stores, and eat fresh seafood outside.
The starting place for Monterey whale viewing boats is Fisherman's Wharf. At the dock, you may take advantage of sailing excursions, fishing charters, and glass-bottom boat cruises.
Photographers' favourite subjects to shoot are vibrant facades.
7. Monterey Museum of Art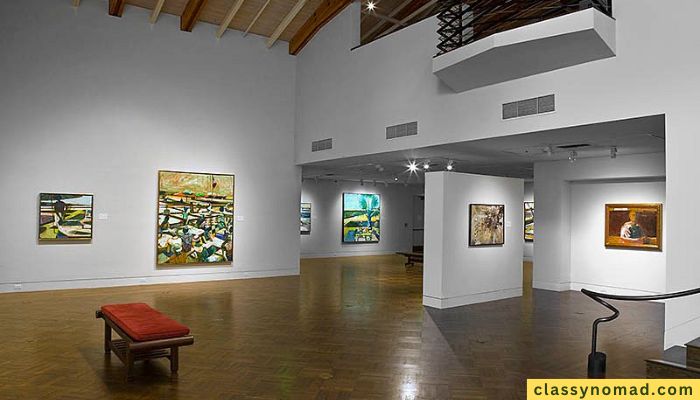 The Monterey Museum of Art has a permanent collection of works by American and Californian artists, as well as works by contemporary artists and photographs. It also provides other transient exhibitions.
The early California artwork created before 1945, which highlights the region's past as an art colony, should not be missed.
The collection contains creations by artists including Raymond Dabb Yelland and Jules Tavernier.
The museum's collection of modern art features creations by world-famous painters including Picasso, Matisse, and Dali.
8. The Salvador Dali Museum
Salvador Dali Show at the Monterey History & Art Association, situated in the Custom House Plaza, is another attraction for art enthusiasts.
An amazing selection of Salvador Dali's sculptures, lithographs, tapestries, and etchings may be seen in the permanent show. On the US West Coast, it is the biggest private Dali collection.
The exhibit is open daily from 11 a.m. to 8 p.m. Adult general entry is $18.48.
9. San Carlos Cathedral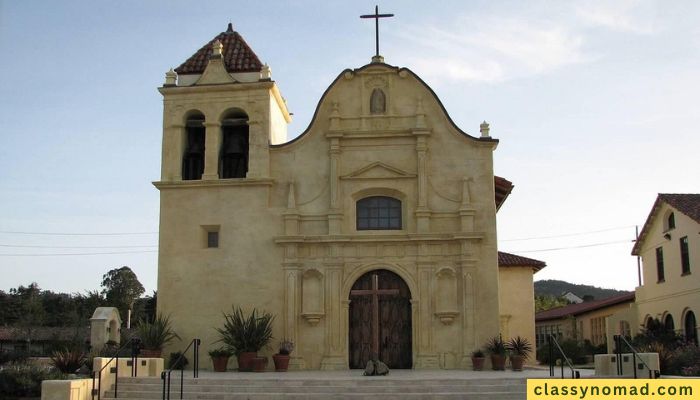 In 1849, San Carlos was made a cathedral. Early in the twenty-first century, the church underwent substantial repairs and restoration.
San Carlos, the oldest continually operating church in California, was constructed in the Spanish Colonial style, and it is still in use today.
If you like history, culture, art, and architecture, you should visit the San Carlos Royal Chapel, a National Historic Landmark that is beside Fisherman's Wharf in downtown Monterey.
10. Monterey Coast Guard Pier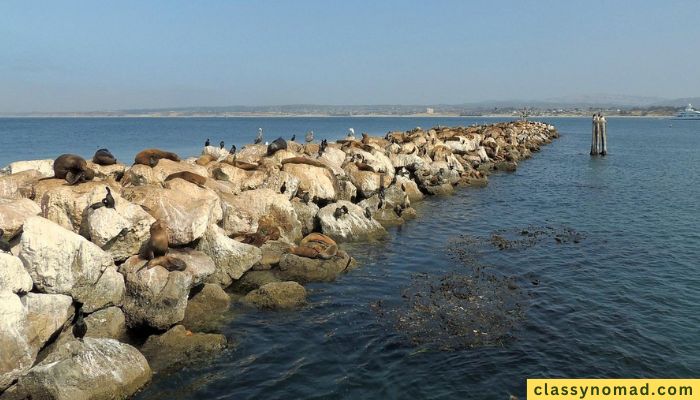 A great place to search for marine life and seabirds is the Monterey Coast Guard Pier. From here, you may see and hear sea lions, as well as perhaps see and hear harbour seals, otters playing in the water, and a variety of birds.
For the finest view of the sea lions basking on the rocks, go during low tide. Moreover, you'll hear their amazing barking!
You may expect to encounter deer, wild turkeys, a variety of land birds, and, if you go early in the day, possibly even a bobcat or a coyote, away from the busier areas of town, along trails and inland.
11. Visit different Beaches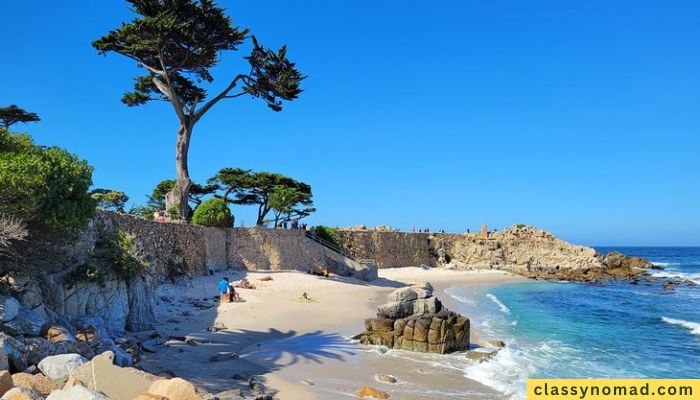 If you don't want to venture farther, there are numerous gorgeous beaches around Monterey, including two beaches that are just along Cannery Row.
McAbee Beach is a little beach with some rocks where you may relax and take in views of the water that is located right in the middle of Cannery Row.
You may stroll along the ocean or unwind on the grassy grounds of San Carlos Beach, which is close to the Coast Guard Pier.
Although it can get crowded on weekends, Monterey Municipal Beach, which is next to Municipal Wharf 2, has a wonderful stretch of sand.
12. Enjoy the scenic floral views
The hills surrounding Monterey are covered in wildflowers in the spring. No matter where in Monterey you walk, there are likely to be wildflowers by the side of the road and beside pathways.
Wild mustard and poppy patches may be found everywhere.
Wildflowers may be seen in abundance at Toro Park and the slopes along Highway 68. When sky lupines are in full bloom, entire hillsides are covered in the colour purple.
13. Taste the delicious local wines
Downtown Monterey has a number of tasting venues where you may try Californian wines.
In Cannery Row, there is a restaurant called A Taste of Monterey that serves meals and has a stunning coastal location.
The tasting room at Pierce Ranch Vineyards is located on Wave Street in the heart of Monterey. The limited-production estate wines from their San Antonio Valley vineyards are available in the tasting area. Their wine is top-notch.
Cannery Row and Santa Cruz both have tasting rooms run by the Santa Cruz Mountains-based Bargetto Winery. Their dessert wine is fantastic!
14. Scrumptious Ice-Cream at Ghirardelli
One of the best places to visit on Cannery Row is the Ghirardelli Ice Cream and Chocolate Store.
Despite the fact that the business was started in San Francisco, the Monterey location is a delightful place to visit if you like sweets.
To eat your ice cream outdoors, sit on the balcony. Excellent ocean views may be seen from the balcony, and birds occasionally rest on the railing. Their sundaes are creamy and delightfully rich.
Also, a range of Ghirardelli chocolate pieces in different flavours are available at the store, and you could even get a sample as you enter.
15. Monterey State Historic Parks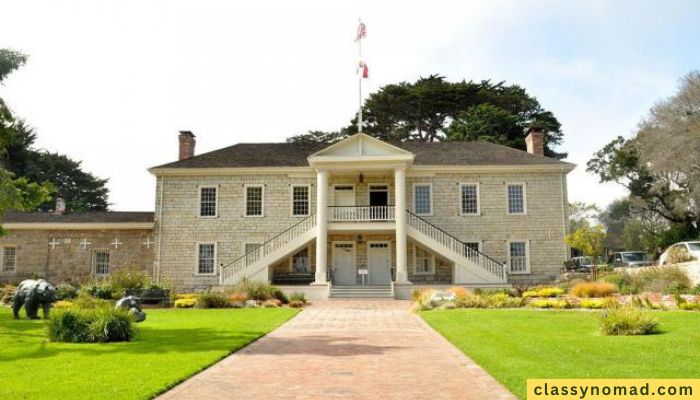 If you like local history, you must visit Monterey State Historic Park, a collection of several old structures.
If you can, take part in one of the "The Monterey Walking Trail of History" guided tours available whilst you are there for an interesting look into the city's past.
Up to a dozen old structures and adobe homes, lovely historical gardens, and even a whalebone boardwalk may all be seen during the stroll.
Before your stroll, check out the exhibitions in the Pacific House Museum.
Conclusion – Best Things to do in Monterey
Beautiful Monterey is famed for its abundance of marine life and delectable seafood. Its extensive coastal history also means that it is full of different areas of interest, making it challenging to decide what to do among your possibilities.
The things mentioned in this article are undoubtedly the best things to do in Monterey. We'll definitely recommend everyone visiting Monterey to explore those things.
FAQs – Best Things to do in Monterey
1. What are the top attractions to visit in Monterey?
The top attractions in Monterey are the Salvador Dali Museum, San Carlos Cathedral, Monterey Bay Aquarium, Monterey Coast Guard Pier, and Monterey Museum of Art.
2. What are the best restaurants in Monterey?
The best restaurants in Monterey are East Village Cafe, Schooners Monterey, Rosine's Restaurant and Ghirardelli Ice Cream and Chocolate Store.
3. What are the best accommodation options in Monterey?
Monterey Plaza Hotel & Spa, Monterey Bay Inn and Hotel Abrego have the best accommodation facilities.
4. Is Monterey CA worth visiting?
Exploring Monterey as a tourist is totally worth your time and money. It has so many things to do, see and experience. You will find museums, art galleries, parks, beaches, etc there that offer mesmerising views.
Suggested – Do you want to explore more tourist sites in California? In previous posts, we mentioned the guide on the best things to do in Inglewood, San Mateo, Santa Monica, Santa Clarita, Sonoma, and Stockton.