Are you planning to visit Santa Cruz? Here, we've shortlisted the 15 best things to do in Santa Cruz that you should definitely explore as a tourist.
This classic California beach town is a byword for fun in the sun, sand, and summertime. Most visitors stop only at the neighboring sand beaches and fishing pier before heading directly toward the boardwalk. Santa Cruz, though, has a lot more to offer.
Visitors who investigate further are rewarded with breathtaking beachfront views, a historic mission church, and a lovely city.
The breathtaking Highway One route with breathtaking coastal views runs beside Monterey Bay and is only a short drive from Santa Cruz. Seals play in the clear seas of this marine preserve while surfers ride the Pacific's pounding waves.
Here is a list of the top 15 things to do in Santa Cruz that are worth exploring while visiting the city. Let's discuss them one by one.
Book this Surf Tour in Santa Cruz.
Best Things to do in Santa Cruz, California
1. Santa Cruz Wharf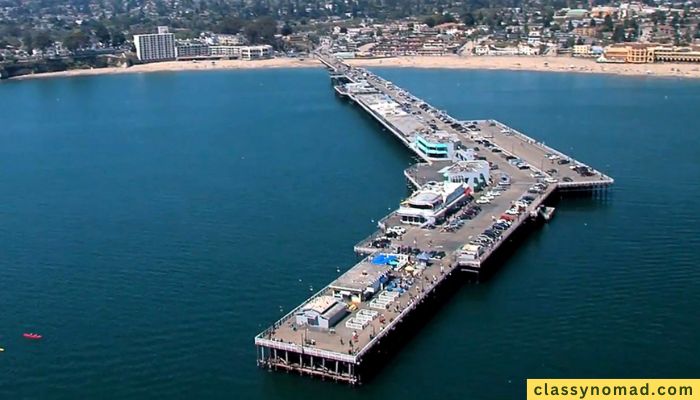 The Santa Cruz Wharf was constructed in 1914 to accommodate deep-water boats, but it is now utilized as a fishing pier and vantage point for tourism.
The wharf is a great spot for tourists to buy and discover things to do, and it's also one of the best sites to try the local seafood.
Stagnaro Bros., one of the top eateries on the pier, offers mouthwatering views of the bay while serving fresh seafood favorites like fish and chips.
Further factors for the wharf's popularity with tourists include the opportunity to observe birds and sea lions. We can undoubtedly say that it is one of the best things to do in Santa Cruz.
2. Santa Cruz Beach Boardwalk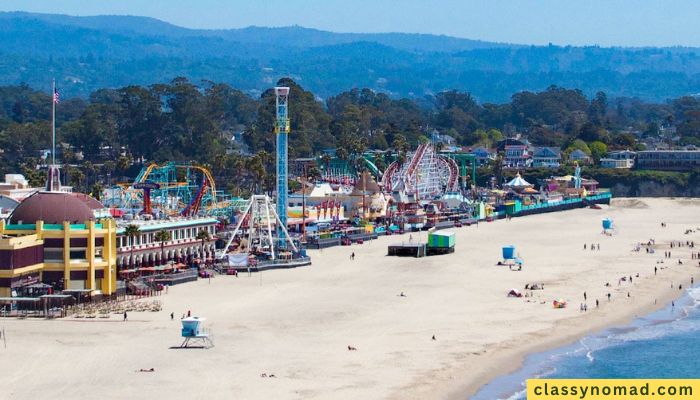 With its amusement park rides, interactive activities, and tourist attractions, the Santa Cruz Beach Boardwalk offers traditional summertime entertainment.
The large coastal amusement park is free to visit, and you may choose between a Season Ticket, a pay-as-you-go MyBoardwalk Play Card, or all-day unlimited rides (ideal for those who are not staying the whole day).
Since 1907, the park, which boasts a view of the Main Beach, has delighted tourists. It's regarded as one of the top coastal theme parks in the entire globe.
3. Main Beach & Cowell Beach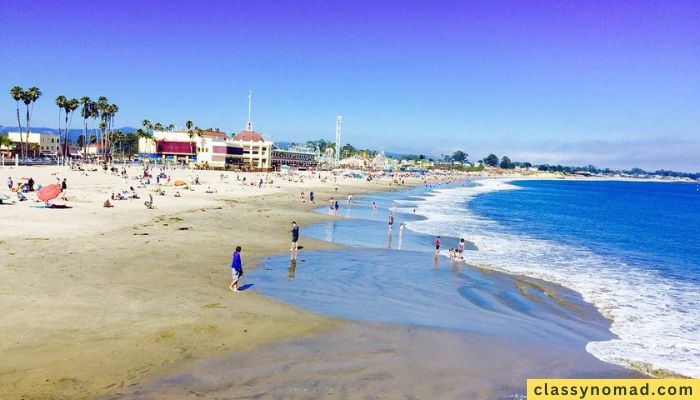 The two most popular beaches available to visitors are Main Beach, which is close to the Boardwalk, and Cowell Beach, which is located next to Main Beach on the opposite side of the wharf.
Main Beach is well-liked for swimming and sunbathing, and it's fantastic for youngsters. Little ones may spread out and build sandcastles in the ample space, and because the beach is in a protected cove, it is safe to wade in the water.
Cowell Beach is a well-known surfing location and is located in the same cove as Main Beach on the other side of the wharf.
4. Santa Cruz Museum of Art and History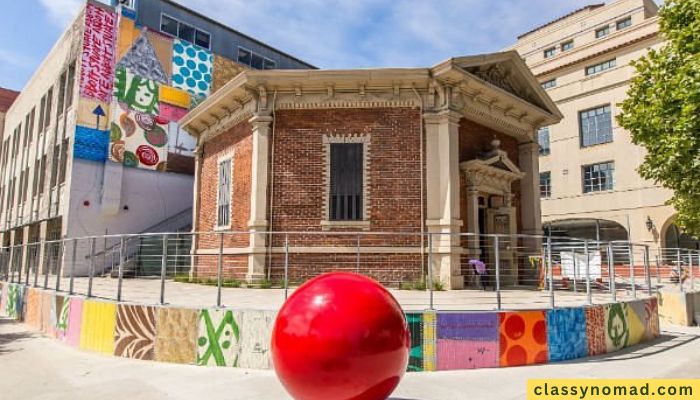 A range of art exhibits and cultural activities are offered by the Santa Cruz Museum of Art & History, with an emphasis on California landscapes and local history.
Paintings of the Monterey Bay and stories of people who lived in Santa Cruz County in the nineteenth century are also on display.
The Mary and Harry Blanchard Sculpture Garden on the museum's rooftop is a feature. Interesting modern sculptures are on show in this bright outdoor patio area, which also offers sweeping views of Santa Cruz.
5. Wilder Ranch State Park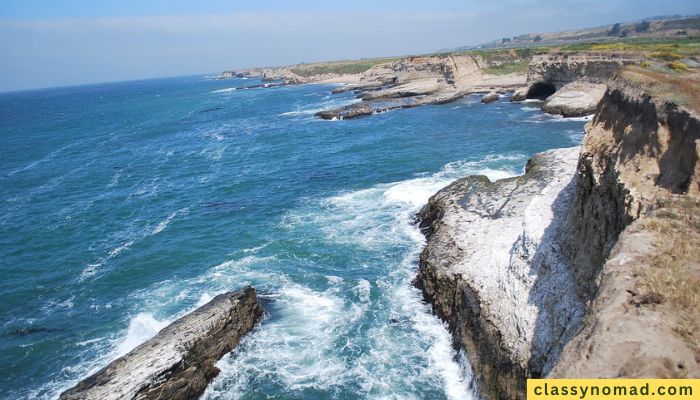 Four miles north of Santa Cruz's center, right west of Highway One, and adjoining the UC Santa Cruz campus is Wilder Ranch State Park.
This pristine natural area offers 7,000 acres of trail space with 35 miles of hiking, bicycling, and equestrian riding routes. With breathtaking ocean vistas, the picturesque pathways traverse across valleys and seaside terraces.
6. Seaside Town and Beach of Capitola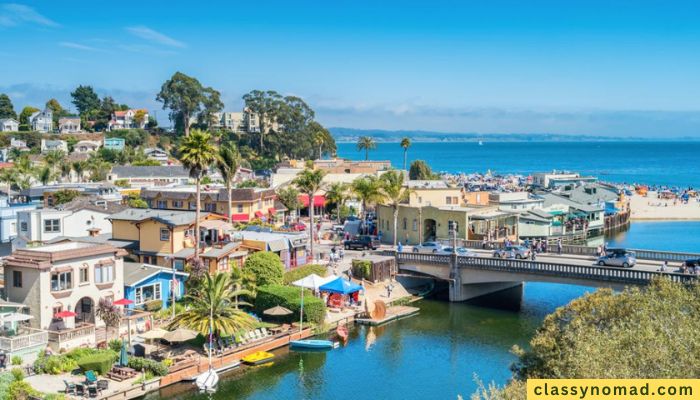 This little seaside community, which was California's first beach resort, has been a top holiday spot for travelers for more than a century because of its scenic location.
Capitola's modest central center, which looks out over the ocean and provides the community with a refreshing feel, is surrounded by a number of charming streets. Ocean views may be seen in many of the town's cafes and eateries.
Tourists like taking leisurely strolls around the town to peruse the stores and strolling along the esplanade that runs along the bay.
7. Santa Cruz Mission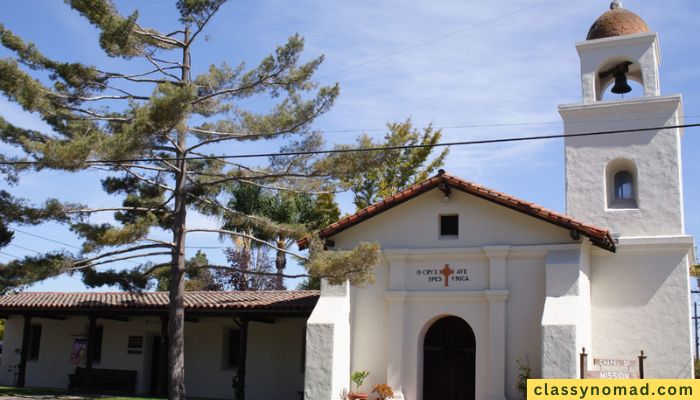 The Santa Cruz Mission is located on Mission Hill in a State Historic Site, just a short stroll from the heart of Santa Cruz.
The Exaltation Mission of Santa Cruz was established by Franciscan Christian missionaries from Spain in 1791, making it the 12th mission built in California.
Just one little adobe building from the original mission remains today since a terrible earthquake that struck the area in 1857 caused considerable damage to the mission.
The Ohlone, Costanoans, and Yokuts people, who lived in this area at the time the missionaries came, are also included in the Santa Cruz Mission State Historic Park's displays.
8. Santa Cruz Shakespeare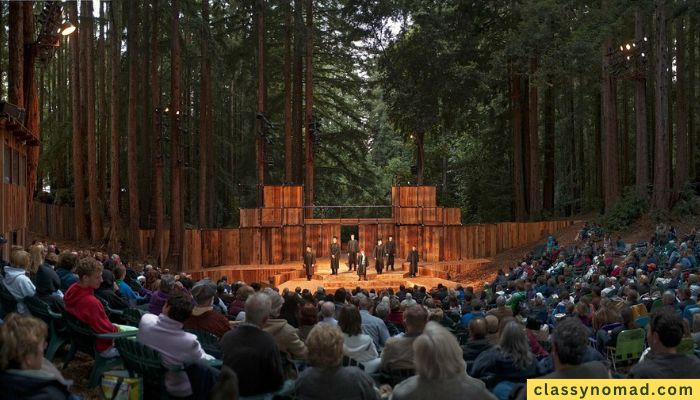 Theatre enthusiasts may have a memorable evening in a redwood glen while enjoying the performances of outstanding Shakespeare performers.
Shakespearean plays and other theatre performances with Shakespearean themes are presented by the Santa Cruz Shakespeare company.
The Audrey Stanley Grove, in the center of Santa Cruz's DeLaveaga Park, hosts performances. Visiting there is undoubtedly one of the best things to do in Santa Cruz.
9. Seymour Marine Discovery Center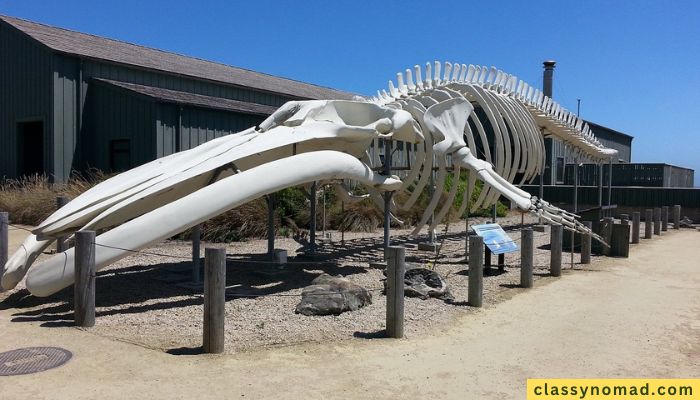 The Seymour Marine Discovery Center, located next to Natural Bridges State Park, immerses guests in the fascinating world of aquatic life. The educational center, run by UC Santa Cruz, emphasizes the value of conservation.
In addition to hosting often changing exhibits, the Exhibit Hall informs visitors about maritime research and subjects like elephant seal behavior and the environment of sea otters.
The facility is also home to an aquarium where visitors may see a broad range of aquatic life, both large and little, including sharks.
10. Downtown Santa Cruz
Santa Cruz's downtown area is pleasant, with lovely, tree-lined streets perfect for an afternoon stroll. Pacific Avenue, the major thoroughfare, is dotted with eateries, coffee shops, ice cream parlors, bakeries, and retail stores.
Several of the eateries and coffee shops provide sidewalk tables for outside dining so that visitors may enjoy the sunlight while taking in the sights.
Name-brand businesses and a broad range of distinctive locally owned stores, many of which feature one-of-a-kind things made by local designers, can be found in downtown Santa Cruz.
11. Mystery Spot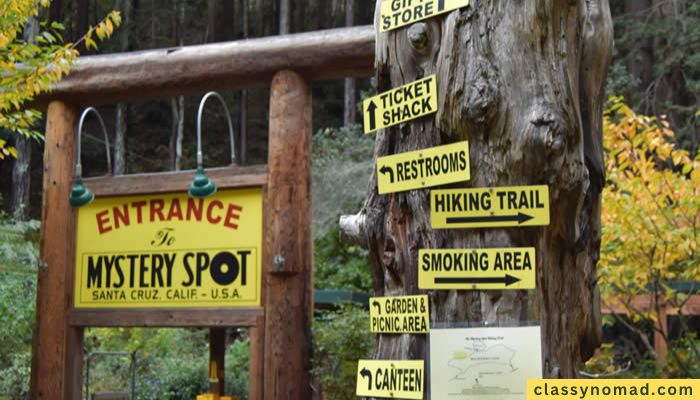 You must visit this amazing sight to believe it. The Mysterious Spot is situated in a 46-meter-diameter circle of the redwood forest where gravity does not normally operate.
Even while attempting to stand up straight, objects and people appear to be slanted, and the gravitational anomaly causes visitors to doubt the principles of physics.
Since the phenomenon at Mystery Spot was discovered in 1939, scientists have been baffled by the effect and have been unable to explain it.
12. Santa Cruz Harbor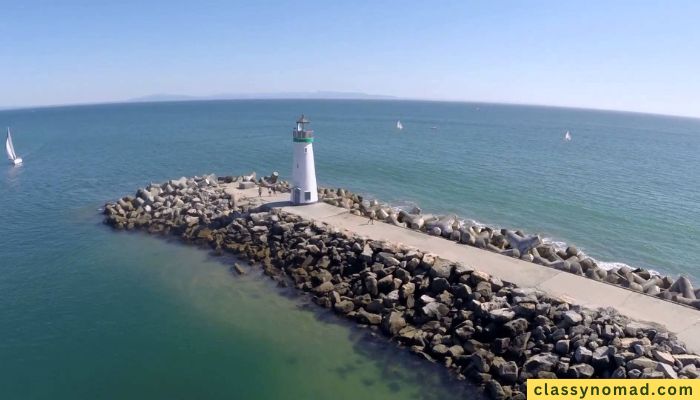 Two sizable marinas are housed at the Santa Cruz Harbor, which also offers boat access to the Monterey Bay National Marine Sanctuary.
Sailing, kayaking, and other leisurely water activities like stand-up paddleboarding are popular in the harbor. Tourists can hire paddle boards and kayaks.
Numerous businesses in the port provide yacht charters, private sailing outings, and charter-boat fishing excursions.
Whale gazing and ocean animal observation are the main priorities of the Sea Spirit Ocean Safari.
13. UC Santa Cruz Arboretum and Botanic Garden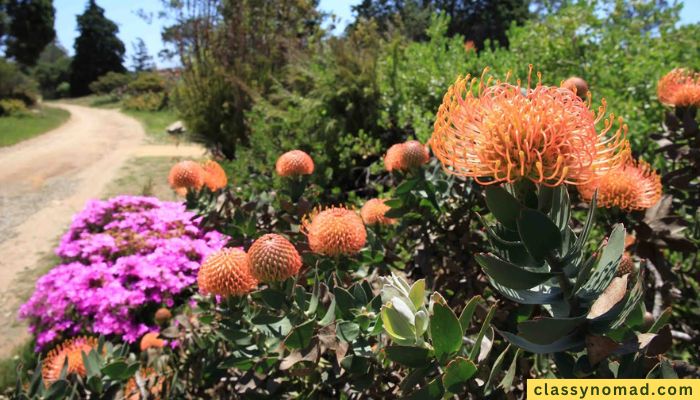 The UC Santa Cruz Arboretum & Botanic Garden is located in the Santa Cruz Mountains on an old coastal terrace.
This outstanding location on the university campus serves as a sizable outdoor classroom for scientific research as well as a tourist attraction for those who enjoy gardening and the outdoors.
The atmosphere and topography of the 135-acre location are perfect for Mediterranean plant growth.
14. Dolphin and Whale Watching Cruises
Santa Cruz is located next to the Monterey Bay National Marine Sanctuary, one of the biggest marine sanctuaries in the United States, and is only a 45-minute drive from Monterey, a historic seaside town.
36 marine animal species and 525 fish species have a habitat in this protected maritime ecosystem, which stretches for 276 miles along the coastline.
One of the greatest spots in California to go for whale watching and ocean wildlife tours in this region, which is located off the coast of Monterey.
15. Roaring Camp Railroads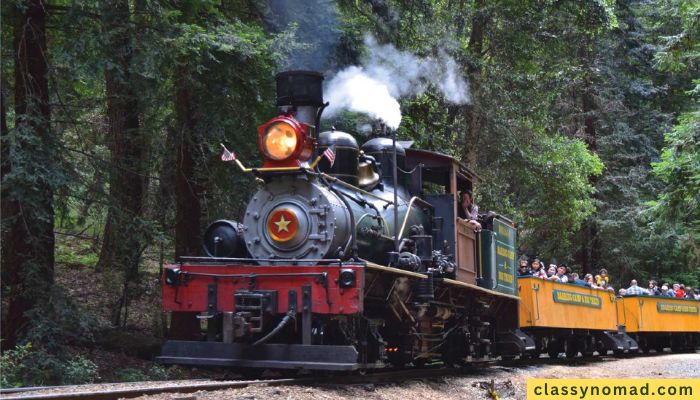 Passengers are taken through Santa Cruz's stunning natural setting by Roaring Camp Railroads. Both young and elderly enjoy taking these picturesque train journeys.
There are two separate routes that Roaring Camp Railroads offers: one goes from Roaring Camp to the Santa Cruz Beach Boardwalk and the other goes from Roaring Camp to Bear Mountain.
Leaving from Felton in the Santa Cruz Mountains, the Santa Cruz Beach Railway takes a breathtaking path through the majestic Henry Cowell Redwoods State Park and into the San Lorenzo River Gorge, passing via an 1875-built tunnel.
The journey comes to a conclusion at the Santa Cruz Beach Boardwalk, after which it starts its return journey.
We love this Mermaid Experience & Photoshoot activity in Santa Cruz.
Conclusion – Best Things to do in Santa Cruz, CA
Santa Cruz is a place where you may find surf, mountains, a hippie culture, redwood-covered mountains, and a laid-back atmosphere that makes you want to unwind.
It includes everything you imagine a traditional California beach town would have, including the world-famous Santa Cruz Beach Boardwalk.
Suggested – If you are interested in exploring more cities in California, we have also created a travel guide on the best things to do in Monterey, Inglewood, San Mateo, Santa Monica, Santa Clarita, Sonoma, Pasadena, Hayward, Redwood City, Riverside, and Needles.
Explore a few Amazing Tours in Santa Cruz.
FAQs – Best Things to do in Santa Cruz, CA
1. What are the top attractions to visit in Santa Cruz?
Mystery Spot, Santa Cruz Shakespeare, Main Beach & Cowell Beach, Roaring Camp Railroads, and Santa Cruz Wharf are the best attractions in Santa Cruz.
2. What are the best restaurants in Santa Cruz?
Benihana, Hula's Island Grill, Oswald Restaurant, Laili Restaurant, and Crow's Nest Restaurant are the best restaurants in Santa Cruz.
3. What are the best accommodation options in Santa Cruz?
The best accommodation options in Santa Cruz are Hotel Paradox, Chaminade Resort & Spa, Dream Inn, Beach Street Inn and Suites, and Hyatt Place Santa Cruz.
4. Is Santa Cruz worth visiting?
Santa Cruz has a lot of things to offer for every kind of tourist, so it is undoubtedly worth visiting.