This is a complete travel guide to Bhaje Waterfall Lonavala. You'll find the location, timing, how to reach, the best time to visit, tips, etc information here.
Bhaje Waterfalls Lonavala Overview
| | |
| --- | --- |
| Location | Lonavala, Maharashtra |
| Entry Fee | N/A |
| Timing | 24 Hours |
| Best Time to Visit | Jun, Jul, Aug, Sep |
| Nearest Bus Stop | Lonavala MSRTC Bus Stop (9 km) |
| Nearest Railway Station | Malavli Railway Station ( 2 km) |
| Nearest Airport | Pune International Airport (63 km) |
| Famous For | Waterfall, beautiful scenery, greenery |
| Nearby Attractions | Bhaja Caves, Lohagad Fort, Kune Falls, Rajmachi Fort |
As you probably know that Maharashtra is home to so many beautiful waterfalls like Kumbhe Waterfall, Nanemachi Waterfall, Sawatsada Waterfall, etc. Bhaje Waterfall is among them.
This enormous waterfall is so breathtaking that it will steal your heart. The very well-known Bhaje waterfalls are the treasures of Maharashtra as well as the nation.
These cascades are one of the best locations in Kamshet (a village situated in Mawal taluka of Pune district in the state of Maharashtra) to enjoy the verdant scenery and crystal-clear water that cascades from the steep, rocky hills.
This Kamshet locale will be well worth the money to visit and take in mankind's exotic beauty because it gives you the impression of a fantastic filming setting.
Interesting Facts about Bhaje Waterfall Lonavala
This place is near major cities like Mumbai and Pune, which makes it more feasible for people who visit here.
People often visit this place with their family and friends to enjoy their weekends.
There are several places within 100 kilometers of this waterfall, which makes it even more fun.
People visit this place for trekking.
Reaching this waterfall is so easy, which makes it a great tourist destination.
Things to do at Bhaje Waterfall, Lonavala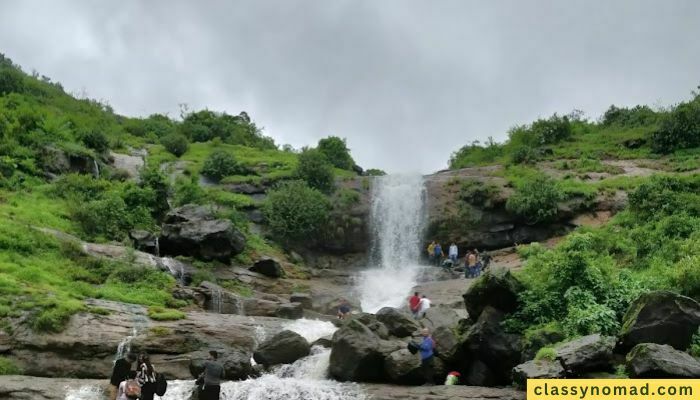 1. Trekking
The Visapur Fort, among the tallest garrison in the state, is home to the greatest waterfall in Maharashtra, which is situated at an altitude of more than 1000 meters.
The Visapur waterfall is an essential component of one of the famous trekking paths, one of three that take you to the top of the fort.
This is considered one of the greatest experiences that tourists can undertake during the rainy season in Maharashtra. It is popularly known as the Visapur Cascade Trek among outdoor enthusiasts, hikers, and campers.
2. Picnic
A waterfall is the ideal setting for an outdoor meal. You can make the most of every minute by sitting here, unwinding with family and friends, dining, taking part in numerous exciting activities, and much more.
Locals that reside around the waterfall frequently visit this area on the weekends to relax and spend time with family and friends.
3. Camping
Night camping with friends is the coolest activity that you can do there. They might enjoy activities like stargazing, barbecuing, and story-telling here at the cascade. You are welcome to set up camp nearby with your friends and family.
How to Reach Bhaje Waterfall, Lonavala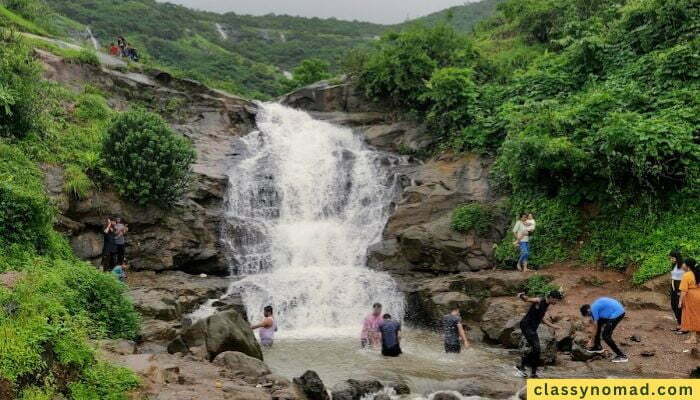 1. By Roads
The nearest bus stop is Lonavala MSRTC Bus Stop which is around 9 km from the waterfall. People from Mumbai and Pune rent bikes to visit this place, making for a great road trip. One can also reach this place via bus, which will drop you at Malavli station.
2. By Train
Malavli railway station is nearest to the Bhaje waterfall. Local trains transport visitors from major cities to this waterfall. From here, the waterfall is within walking distance.
3. By Air
Chhatrapati Shivaji Maharaj International Airport and Pune International Airport are the closest to Bhaje waterfall. Book your flight tickets, and from outside the airport, you can find various transportation facilities.
Nearby Attractions to Bhaje Waterfalls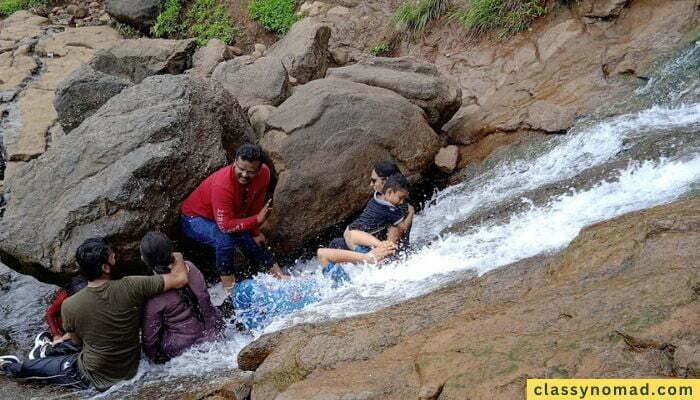 1. Bhaja Caves (450 m)
The caves are 450 meters from the Bhaje waterfalls. In terms of architecture and aesthetics, the Karla Caves, as well as the Bhaja Caves, are comparable.
The Chaityagriha is the excavation that is most noticeable. The Chaityagriha is regarded as the first structure of its sort.
It has a sizable apsidal hall that is flanked by 27 pillars that form the components of the integrated and lateral aisles. The nave's domed ceilings are supported by a fixed ancient timber frame.
2. Lohagad Fort (6 – 7 km)
The fort is around 6-7 km from Bhaje Waterfall and is one of the best places for trek lovers. For hikers visiting from Pune and Mumbai, Lohagad is the ultimate setting because of its proximity, ease of trip, and lush environment.
The Lohagad hike is highly popular, particularly in the rainy season. The trek's starting point, Malavli, is located around 7 kilometers from Lohagad. It is a short, beautiful, and straightforward trip that takes around two hours to complete between Malavli and Lohagad.
3. Kune Falls (17 km)
At a height of 622 meters, Kune Falls is situated in front of the breathtaking Sahyadri Hills. It is indeed a three-tiered cascade with a 200-meter drop that is a must-see attraction on Lonavala trip itineraries.
The waterfall is split into two portions, and its three tiers have a maximum plunge of around 100 meters. The area offers fantastic visuals because it is entirely surrounded by lush greenery.
Even during monsoon season, when the cascade is at its pinnacle and rushes down with a tremendous splash, the falls draw significant crowds of visitors.
4. Rajmachi Fort ( 28 km)
This fort is around 28 km away from Bhaje Waterfalls. Shrivardhan, as well as Manaranjan Forts, are the two artillery emplacements that makeup Rajmachi Fort.
It is a well-known fort close to Pune and is among Lonavala's most important historical landmarks. This fort, which is encompassed by a broad plateau, has views over the Bor Hills.
With numerous waterfalls, waterways, and lush, verdant woodlands and grasslands, this area is even more lovely during the monsoon season.
5. Karla Caves (15 km)
These caves are about 15 kilometers from the Bhaje waterfalls. The Chaityagriha is located in cave 8 of the 16 rock-cut structures that make up the Karla cluster.
The Karla Caves complex features windows that provide indoor lighting. The rock formations at Karla Caves are not as elaborate as their contemporaries at Ajanta and Ellora.
The big Chaityagriha of Karla, meanwhile, is the biggest and finest of almost all of the Chaityagrihas in India and one of the top attractions in Lonavala.
Best Time to Visit Bhaje Waterfall
The best time to visit the Bhaje Waterfall is during the monsoon season, which is from June to September. During this period of the year, the weather at this place is most beautiful and mesmerizing.
People from Mumbai and Pune often visit this place during the monsoon season to spend some time with their family and friends.
Travel Tips
If you are taking children with you, then make sure to protect them and take care of them.
Wear shoes with a good grip, as the path of the waterfall is slippery.
Keep some snacks with you for emergencies.
Keep a first-aid kit with you for emergencies.
Do not make the place dirty.
Conclusion – Bhaje Waterfall Lonavala
Bhaje waterfall is one of the most beautiful waterfalls you will ever see. So if you are planning on visiting metropolises like Mumbai and Pune, then you must visit this place to make your journey more adventurous.
FAQs on Bhaje Waterfall Lonavala
1. Where is Bhaje Waterfall located?
Bhaje waterfall is situated at a distance of 11 km from Lonavala, Maharashtra. It takes around 20 minutes from Lonavala to reach Bhaje Falls through NH 48.
2. What is the best time for visiting Bhaje Waterfall?
June, July, August, and September are the best months in the year when you should visit Bhaje Waterfalls. However, you can visit there whenever you want, it offers different views of nature in every season.
3. What is the nearest town to the Bhaje Waterfall?
Lonavala is the nearest town to the Bhaje waterfall which is around 11 km from the location of waterfall.
4. What are the tourist attractions around the Bhaje Waterfall?
Bhaja Caves, Lohagad Fort, Kune Falls, Rajmachi Fort, Karla Caves, Bhushi Dam, Duke's Nose, Tikona Fort, and Pawna Lake are some of the best tourist attractions near the Bhaje Waterfalls.
5. How far is Bhaje Waterfall from Mumbai?
Bhaje Waterfall is 95 km away from Mumbai, the capital city of Maharashtra. It takes around 2 hours to cover the distance between Mumbai and Bhaje falls.
Distance from Major Cities / Towns
| | |
| --- | --- |
| Lonavala | 11 km |
| Kamshet | 13 km |
| Lohagad | 13 km |
| Vadgaon | 22 km |
| Khopoli | 26 km |
| Pune | 60 km |
| Mumbai | 95 km |
| Nashik | 230 km |
Map of Bhaje Waterfall Lonavala