This is a complete travel guide to Bhalu Gaad Waterfall Mukteshwar, Uttarakhand. Here, we've mentioned location, things to do, how to reach, best time to visit, nearby attractions, travel tips, facts, etc useful information.
Bhalu Gaad Waterfall Overview
| | |
| --- | --- |
| Location | Mukteshwar, Uttarakhand |
| Entry Fee | Free |
| Opening Hours | 24 Hours |
| Best Time to Visit | Sep, Oct, Nov, Dec, Jan, Feb, Mar |
| Nearest Town | Mukteshwar (12 km) |
| Nearest Railway Station | Kathgodam Railway Station (44 km) |
| Nearest Airport | Pantnagar Airport (78 km) |
| Famous For | Picnic, Bird-Watching, Adventure |
| Nearby Attractions | Chauli ki Jali, Seetla, Nathuakhan Village, Dhokaney Waterfall, Peora, etc. |
Bhalu Gaad Waterfall is located at a distance of 12 Km from the town of Mukteshwar in the Indian state of Uttarakhand. It is an amazing destination to target for a trip.
The mesmerising beauty of this location will make you go head over heels in love with the Bhalu Gaad Waterfalls.
When the water flow increases during the rainy season, the waterfall does really fully change shape to a plunge.
Interesting Facts about Bhalu Gaad Waterfall
The Bhalu Gaad waterfall is a beautiful location because of the dense forest that surrounds it.
From the entrance gate, a trek is required to reach the waterfall.
While trekking through the hills, you pass across substantial forest stands.
There is also a hidden place along the path leading to the main falls. Its shape resembles a hybrid between a plunge and a horseshoe.
The water flows continuously throughout the whole year, staying close to the granite bed until transforming into a Plunge at the bottom.
Things to do at Bhalu Gaad Waterfalls
1. Picnic
A picnic with friends and family is the perfect activity to do at Bhalu Gaad Waterfall. People commonly come here for many different occasions, such as birthdays and wedding anniversaries.
2. Bird Watching
Wander through the solitude of Bhalu Gaad Falls as you take in the beauty of nature and the clamour of the singing birds.
3. Hiking
If you're a dedicated hiker as well as a trekker, Bhalu Gaad Falls is the place for you because it provides the best settings and environment for hikers.
How to Reach Bhalu Gaad Waterfalls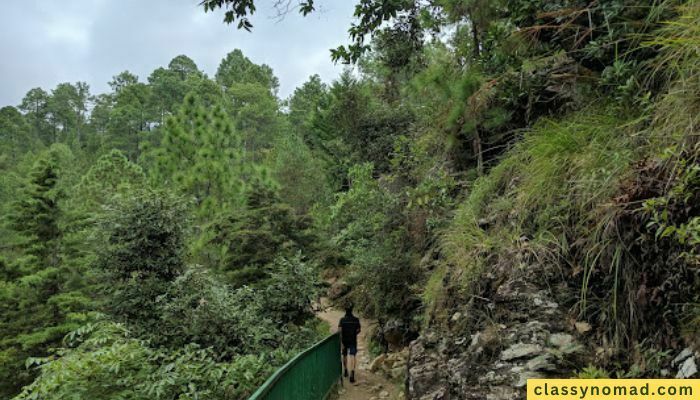 1. By Road
Bhalu Gaad Waterfall is located at a distance of 12 Km from the town of Mukteshwar. You can take a bus from Mukteshwar Bus Stop and reach the waterfall.
2. By Rail
The Kathgodam Railway Station, which is located at a distance of 44 Km from the Bhalu Gaad Waterfall, is the nearest railway station to the falls. You can reach here via train and then set off towards the falls accordingly.
3. By Air
The Pantnagar Airport at a distance of 78 Km from the falls, is the nearest airport. You can land at the airport and then move towards the falls from any mode of transportation.
Tourist Places near Bhalu Gaad Waterfalls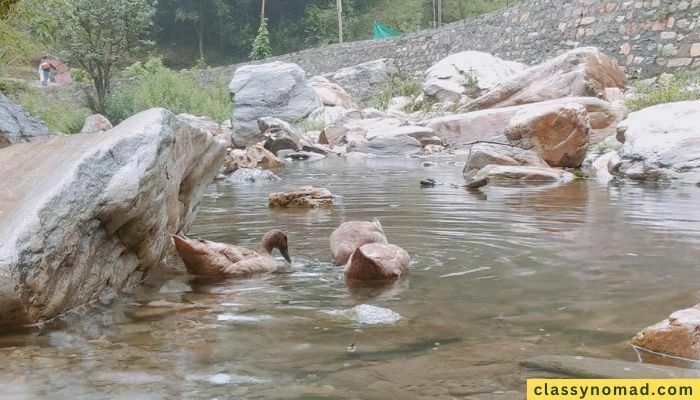 1. Chauli ki Jali
One of the most picturesque locations in the whole Nainital district of Uttarakhand is Chauli ki Jali. There is a stone with a hole in it in Chauli ki Jali. Numerous urban legends have been made around this pit.
One of the most well-known urban legends states that if someone passes through this stone hole on the day of Shivratri, they would undoubtedly be successful in producing a child.
But countless local ladies who came here to seek God's assistance and were eventually blessed with children have proven that this rumour is true.
2. Seetla
Seetla is a village located in Ramgarh Tehsil of Nainital District. It is close to Bhalu Gaad Waterfalls. You will enjoy the calmness, peacefulness and beauty of this quiet village situated in the beautiful hills of Uttarakhand.
Seetla is a perfect destination if you want to spend your holidays without any hustle and bustle of crowded cities.
3. Nathuakhan Village
In close proximity to Mukteshwar and Nainital is the hamlet of Nathuakhan. The town is located in the Himalayan Mountains, which are home to a wide range of flora and animals.
Here, you'll notice a variety of trees, including oak, pine, deodar, and many others. Additionally, there are wooden cottages that add to the village's allurement.
You'll also get to view the magnificent Himalayas gleaming in the sunshine in this town.
4. Dhokaney Waterfall
Kumaon's Dhokaney waterfall is a well-kept secret. The Kumaon region's best-kept secret is the gorgeous waterfall known as Dhokaney WaterFall, which is concealed behind pine woods.
This could be the key factor for why it is less crowded here. The tranquillity of the location was the first thing that attracted our attention.
5. Peora
The Indian town of Peora, which is one of the best places to do ecotourism, is located in the valley of the great Himalayas. It is located in Uttaranchal, a hill state in northern India, in the Kumaon area, 10 kilometres from Mukteshwar and 23 kilometres from Almora.
Peora is nestled in the Kumaon outer Himalayan Shivalik peaks and has a beautiful background. It is best defined as a little hamlet with an oddball characteristic that is covered in a thick layer of mostly pine and oak natural flora, and it is located at a height of 6600 feet/1997 metres.
For those with wandering eyes, this location gives an unbroken view of the nearly 350 kilometres of high, snow-capped Himalayan mountains.
6. Ramgarh
Ramgarh, a tiny hill town known as the Fruit Bowl of Kumaon, is perched at a height of 1789 metres above sea level.
A wide range of exotic fruits, including peaches, apples, plums, pears, strawberries, and apricots, are cultivated here, enriching the area. These orchards are numerous in the region and delight tourists' senses.
This location, which formerly functioned as the British Army Cantonment, is now a place where travellers may unwind and renew their spirits.
Even Rabindranath Tagore and Narain Swamy, whose ashrams are located here, were unable to resist the alluring beauty and calm of the location.
Best Time to Visit Bhalu Gaad Waterfalls
The Bhalu Gaad Waterfall may be reached at any time of the year, although September through November and March through May are the ideal times to go.
Travel Tips
Considering that you have to cross a creek and climb a rock in between, the hike is of relatively easy difficulty. Visit the fall just from sunrise to dusk, ideally.
It's extremely nice that there aren't any shacks close to the fall.
Bring your water bottle and some snacks with you. Don't forget to pick up after yourself. To keep the trails and autumn clean, bring your empty bottles and wrappers back.
The price of the guide is merely INR 200 at the hut. Only use him if you don't want to take the incorrect paths and arrive at uncharted communities.
The Bhalu Gaad waterfall is open all year round and admits visitors free of charge.
Conclusion
Bhalu Gaad Waterfall is an ideal picnic destination for you and your family. The clean and natural environment of this place is a major point of attraction for tourists across the world. If you visit Mukteshwar, then taking a visit to Bhalu Gaad Waterfalls is a must for you.
FAQs on Bhalugarh Waterfalls
1. Where is Bhalu Gaad Falls situated?
The Bhalu Gaad Falls is located near Uttarakhand's Mukteshwar town.
2. What is the best time to visit Bhalu Gaad Falls?
The duration between September to November and March is the best suitable time to visit Bhalu Gaad Falls.
3. What are the nearby tourist attractions to Bhalu Gaad Falls?
The nearby tourist attractions to Bhalu Gaad falls are Chauli ki Jali, Seetla, Nathuakhan Village, Dhokaney Waterfall, Peora and Ramgarh.
4. What is the distance between Dehradun and Bhalu Gaad Falls?
The distance between Dehradun to Bhalu Gaad Falls is 147 Km.
Map of Bhalu Gaad Waterfalls