Want to explore Bodakonda Waterfalls Hyderabad? Go through this travel guide, here you will get useful information like location, things to do, best time to visit, how to reach, nearby attractions, travel tips, facts, etc that will make your trip easier.
Bodakonda Waterfalls Hyderabad Overview
| | |
| --- | --- |
| Location | Near Ibrahimpatnam, Hyderabad, Telangana |
| Entry Fee | Free |
| Opening Hour | 24 Hours |
| Best Time to Visit | Jul, Aug, Sep, Oct |
| Nearest Town | Ibrahimpatnam (26 km) |
| Nearest Railway Station | Kacheguda (58 km), Secunderabad (63 km) |
| Nearest Airport | Rajiv Gandhi International Airport (58 km) |
| Famous For | Picnic, Bird Observation, Trekking, Adventure |
| Nearby Attractions | Sanghi Temple, Bahubali Sets, Taj Falaknuma Palace, Chilkur Balaji Temple, etc. |
Bodakonda Waterfalls is a spectacular location with breathtaking scenery and verdant farmlands. This location, which is among the least travelled in the vicinity of Hyderabad, astounds everyone with its pristine beauty.
For Hyderabad residents, this location is ideal for weekend getaways and trips with friends and family. It takes around two hours to drive the 60 kilometres to reach this lovely waterfall from Hyderabad.
Since Ibrahimpatnam, the closest town, is only around 26 kilometres away, this location may be included in lists of waterfalls within 50 kilometres of both Ibrahimpatnam and Hyderabad.
Interesting Facts about Bodakonda Waterfalls
Spending time there with your loved ones is wonderful.
Bodakonda Falls is set amidst lush greenery and scenic views.
You can also opt for various activities such as swimming and bird watching.
The waterfall is an absolutely perfect destination to spend your weekend at.
The vicinity around the falls is not very developed and it is a lesser-known tourist destination.
Things to do at Bodakonda Falls Hyderabad
1. Picnic
The waterfalls at Bodakonda are the ideal location for a picnic with friends and family. For many different events, including birthdays and wedding anniversaries, people frequently visit this place.
2. Bird Observation
Walk up the terrain, take in the splendour of nature, and listen to the clamour of the singing birds as you explore the wilderness of Bodakonda Falls.
3. Trekking
Bodakonda Falls offers the ideal surroundings and habitat for hikers and is the destination for you if you are a serious trekker.
How to Reach Bodakonda Falls
1. By Bus
There are several buses that go to Ibrahimpatnam Town from Hyderabad; from there, Loyapally buses are usually available to reach the falls.
2. By Train
This location is not close to a train station. The only train stations that are close to Hyderabad are those in Secunderabad and Kacheguda, which are at a distance of around 63 Km and 58 km respectively from the falls.
3. By Air
Rajiv Gandhi International Airport in Hyderabad is the closest airport at a distance of 58.4 Km.
Tourist Places near Bodakonda Falls Hyderabad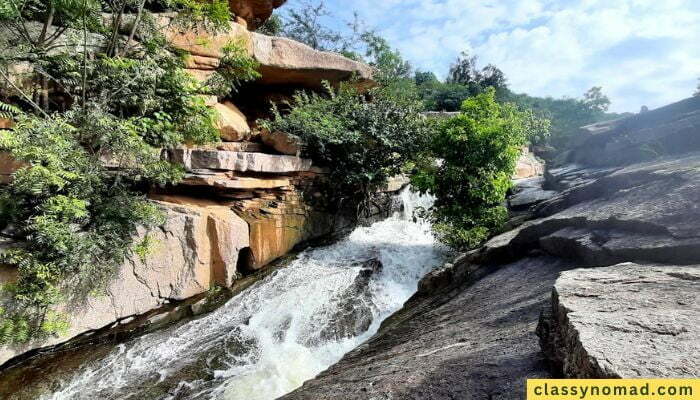 1. Sanghi Temple
Sanghi Temple is situated in Sanghi Nagar which is at a distance of 35 Km from Hyderabad. It is located on a hill called Paramananda Giri, and when one approaches it, a massive Maha Dwaram, or doorway, welcomes them.
The spectacular temple complex, which was built in the Chola-Chalukya architectural style, is home to all prominent Hindu God statues.
Due to its serene settings, the Temple exudes spirituality. It has been visited by thousands of people, especially on lucky days and on New Year's Eve.
2. Bahubali Sets
In spite of the fact that India doesn't have Universal Studios, Disney Land, or Harry Potter World, Ramoji Film City draws visitors from all over the world. Even better, the Bahubali set from SS Rajamouli's landmark film has been preserved at this famous location.
The public is welcome to explore everything from exquisite pillars, mystical stairs, life-size horses accompanying chariots, elephant statues, the Shivalinga, and the underground jail to the wall paintings of important figures like Devasena, Kattapa, Baahubali, and Bhallaladeva.
3. Taj Falaknuma Palace
Falaknuma Palace, one of India's greatest palaces, is a well-liked luxury heritage hotel in Hyderabad. This 32-acre mansion was once part of the Paigah Hyderabad State until being acquired by Mohammed Abeed, a Nizam of Hyderabad.
The prime minister of Hyderabad, Nawab Vikar-ul-Umra, and the uncle and brother-in-law of the Nizam VI, Nawab Mir Mahboob Ali Khan Bahadur, both ordered the construction of this magnificent building.
The palace, 2000 feet above the city, served as the Nizams of Hyderabad's previous home. Falaknuma's grandeur and splendour transport you to the era of the Nizams and Begums.
4. Chilkur Balaji Temple
About 30 kilometres from Hyderabad, in the charming town of Chilkur, is where you'll find the Chilkur Balaji Temple. It is also known as the VISA Temple and is located close to Vikarabad Road, on the shores of the Osman Sagar Lake.
The presiding deity, Lord Balaji Venkateswara, together with Sridevi and Bhoodev, are thought to be able to fulfil your requests for receiving a USA visa. The Visa Balaji, or Visa God, resides at the temple. A few students who had their visa applications denied came here and prayed, and as a result, their applications were approved, giving rise to the notion.
5. Kasu Brahmanandha Reddy National Park
Kasu Brahmananda Reddy National Park, is a sizable expanse of verdant gardens with a diverse array of flora and wildlife. It is situated in Jubilee Hills, the centre of Hyderabad.
This park, which bears the name of one of the state's most well-liked politicians and a former chief minister of Andhra Pradesh, Kasu Brahmananda, promises to restore a sense of the natural world amidst the dense concrete jungles and frantic city traffic.
6. Qutb Shahi Tombs
The beautiful Qutb Sahi Tombs were built in honour of the deceased monarchs of Golconda and have defied the ravages of time and nature.
They are magnificent works of exquisite architecture that serve as a constant reminder of the magnificence of the Golconda rulers who are interred nearby.
These tombs, which were constructed by the Qutub Shahis, are regarded as among Hyderabad's oldest historical sites.
Best Time to Visit Bodakonda Falls Hyderabad
The monsoon season is the ideal time to view these waterfalls. Typically, the ideal months to visit this location are from July through October.
Travel Tips
Due to the area's isolation and underdeveloped tourism industry, it is advisable to bring your own food and water.
At Bodokonda Waterfall, swimming should be done very cautiously. Special consideration should be given to children and the elderly.
Bring a backup set of clothing with you because there is a potential that the ones you are wearing at the waterfall may become wet.
Wear appropriate footwear as individuals are highly likely to slide and hurt themselves near the waterfall.
Children and the elderly should be given extra caution since they are more prone to injury.
Conclusion
The Bodakonda Falls are a well-known tourist destination in Ibrahimpatnam, a charming town close to Hyderabad. If you want to spend some quiet time in the middle of nature, far from the rush of city life, you are welcome to visit Bodokonda Falls.
Other Popular Waterfalls in Telangana
FAQs on Bodakonda Waterfalls Hyderabad
1. Where is Bodakonda Falls situated?
The Bodakonda Falls are located near Ibrahimpatnam town of Telangana.
2. What is the best time to visit Bodakonda Falls?
The duration between July to October is the best suitable time to visit Bodakonda Falls.
3. What are the nearby tourist attractions to Bodakonda Falls?
The nearby tourist attractions to Bodakonda falls are Sanghi Temple, Bahubali Sets, Taj Falaknuma Palace, Chilkur Balaji Temple, Kasu Brahmanandha Reddy National Park, Qutb Shahi Tombs, etc.
4. What is the distance between Hyderabad and Bodakonda Falls?
The distance between Hyderabad to Bodakonda Falls is 58 Km.
Map of Bodakonda Waterfalls Hyderabad