Are you looking for a beautiful but less-known waterfall in Telangana? Bogatha Waterfall is a very beautiful and less-known waterfall that you should definitely explore.
Bogatha Waterfall Overview
| | |
| --- | --- |
| Location | Mulugu district, Telangana |
| Entry Fee | Rs: 10/- |
| Best Time to Visit | Jul, Aug, Sep |
| Nearest Town | Eturnagaram (23 kms) |
| Nearest Bus Stop | Eturnagaram Bus Stand (24 Kms) |
| Nearest Railway Station | Bhadrachalam Station (121 km) |
| Nearest Airport | Hyderabad (330 km) |
| Famous For | Picnic, Trekking, Greenery |
| Nearby Attractions | Pandavula Gahalu, Ramappa Lake, Laknavaram Lake, Kotagullu |
Bhadrachalam is 120 km and Hyderabad is 329 km away from Bogatha Waterfall. The freshly built Eturnagaram overpass on Main Road 202 has reduced the distance from its previous distance of 440 kilometers.
The second-largest waterfall in the state of Telangana and a stunning waterfall in the Khammam region, the Bogatha waterfall is fittingly called the Niagara of Telangana because it offers a spectacular display of cascading waters as well as a rich environment. Visitors must hike a fair distance because there are no paved roads.
For individuals who are enthusiastic about trekking and seeking an opportunity to engage in adventurous activities, this waterfall provides a good possibility. Despite the fact that water runs here year-round, the best time to visit is July, August and September.
Visitors must go a fair distance on foot to get to the waterfall because there is no roadway infrastructure. There is a well-kept park and a watchtower nearby, making it a pleasant place to explore.
Suggested – Check out Odisha's one of the most beautiful yet hidden waterfalls, Aapkhol Falls.
Interesting Facts About Bogatha Waterfall Telangana
Bogatha Waterfall is the second-biggest waterfall in the state of Telangana, which makes this place a nice adventure for people who visit there with family and friends. 
People from all over India love to visit the places like Bogatha Waterfall.
This is a good place for a lot of adventurous activities.
The lush greeenery arround the waterfall will definitely make you fall in love with it.
Bogatha Waterfall is well known for hiking as well as trekking among tourists.
Suggested – Have you heard about Ananthagiri Falls? If you aren't, you are missing one of the best tourist attractions of the nation.
Things to do at Bogatha Waterfalls Telangana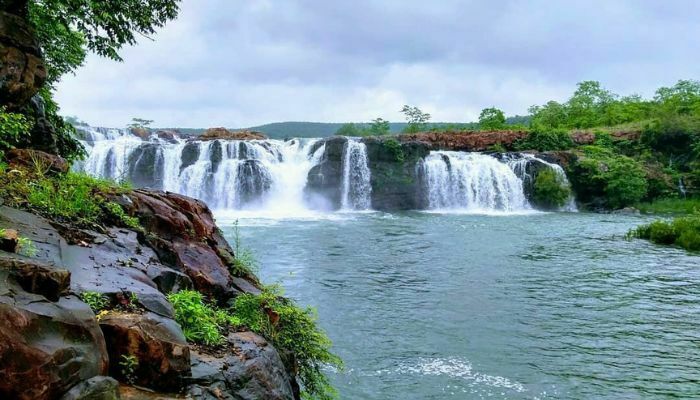 1. Picnic
A picnic against the picturesque background of the Bogatha scenery is ideal. You may take in some peace and quiet while eating delectable meals next to the waterfall. You will feel refreshed as little drops of cool water brush over your skin.
The Butterfly Pavilion is another location where you can enjoy delectable meals while sitting among lush trees. The ideal way to unwind and devote time to your family and friends is to go on a picnic.
2. Trekking
You would need to go for around 2.5 kilometers to get to the spectacular waterfall. There are lush trees and breathtaking scenery along the path up to the waterfall.
Your respiratory system will finally be able to inhale fresh air thanks to this excursion, and it will exhale a sigh of relaxation. Trekking will also raise your blood pressure and give your vacation a little more excitement.
3. Swimming
Travelers' favorite pastime is swimming in the sizable water pool that develops at the waterfall's base. Your body as well as your spirit will be revitalized by the waterfall's chilly, clear water.
Although the pond is full of water, it is totally safe to jump in and appreciate the chilly water. Bogatha Waterfalls seems to be a wonderful location to come and take in the plentiful water and breathtaking natural magnificence.
Suggested – Checkout Gandahati Falls which is also one of the most popular falls in Southern Odisha.
How to Reach Bogatha Waterfall Telangana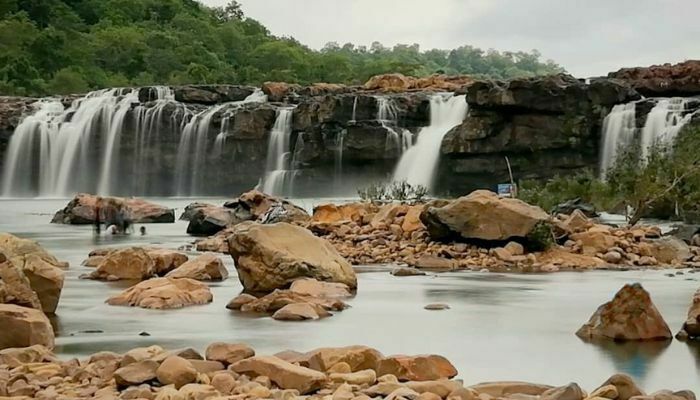 1. By Road
Road access to Bogatha Waterfalls is excellent from a variety of places, including Bhadrachalam, Khammam, Hyderabad, etc. Using either of these locations, you may simply hire a car or use your own vehicle to go to your location.
2. By Train
Bogatha Waterfall may be reached by train from Bhadrachalam Highway Train Station, which is 120 kilometers away. Renting a car to transport you where you want to go is simple from the train station.
3. By Air
Bogatha Falls may be reached from Hyderabad, which is really 330 kilometers away, as the closest airport. There are several rental vehicles accessible at the terminal that can transport you where you need to go.
Nearby Tourist Attractions Bogatha Waterfalls
1. Hemachala Narasimha Swamy Temple
The Lord Narasimha shrine at Hemachala is devoted to this manifestation of Lord Vishu, Lord Narasimha. The shrine is located 50 km far from waterfall on Puttakonda (a mound) in the center of a forest at a height of around 1,500 feet.
As per folklore, the mighty Rama destroyed over 14,000 monsters under the leadership of Khara Dushana at Shurpanaka, which the monster king Ravana gave to his adored sister as a present. The sanctuary's present name, Hemachalam, was given by the renowned sage Agastya.
2. Pandavula Gahalu
An ancient settlement called Pandavula Guhalu is perched atop Pandavulakonda, aka Pandavula Gutta. In 1990, the location was initially uncovered.
Here, Paleolithic cave artworks have indeed been discovered that provides a unique look at the rock art created by prehistoric humans and seen on the walls and floors of caverns, rocky outcrops, and solitary stones. These cave drawings, according to scientists, date from at least the seventh century.
3. Ramappa Lake
Ramappa Lake is a remarkable specimen of the drainage achievement of the Kakatiya Rulers. 10,000 hectares of land may still be irrigated using water from the lake.
Magnificent hill ranges create a breathtaking view all around the lake, especially after dusk. One may come here and unwind in the shadow of towering trees or stroll around admiring the wonders of nature; it's a great spot for a picnic.
4. Laknavaram Lake
In the thirteenth century, the Kakatiyas constructed Laknavaram Lake. Over 50,000 hectares of land continue to be irrigated using its water. The lovely lake is encircled by the dense Eturnagaram Reserve trees.
An interesting highlight is the suspended bridge that spans the land. One of the greatest spots to visit near Warangal is Laknavaram, which is a great getaway spot for family time. On both motorboats and speed boats, there are boating opportunities accessible on the lake.
5. Kotagullu
These shrines are built within a granite enclosure with two walls, exhibiting Kakatiya artwork and architecture. The shrine honoring Lord Siva is the center of interest in these buildings. The statues in Sabhamandapam are well-sculpted and quite lovely.
These shrines are deserted and ruined, and the Siva shrine in the middle is particularly badly damaged with a fallen roof. There are countless sculptures all throughout the city, and several significant statues have been stolen.
Best Time to Visit Bogatha Waterfalls
The stunning Bogatha waterfalls are located not far from the Chattisgarh-Telangana line. It is around 270 kilometers from Hyderabad. The monsoon season, which runs from July through September, is the best time to go.
The water at the waterfall is bursting with a lot of speed during the monsoon season. For this reason, the place looks so amazing and lively. People living near the waterfall often visit it during the rainy season, and even people from all over India wish to visit the waterfall during this season.
Travel Tips that You Should Know
Always keep a first aid kit before visiting the waterfall, as there are several rocks and elevations present from which you might get injured.
Wear shoes while visiting the waterfall. It'll help you a lot in trekking and other activities.
Take something to eat with you on the way so that you don't feel sick.
Conclusion – Bogatha Waterfalls Telangana
The second-largest waterfall in the state of Telangana is Bogatha Falls which is five hours journey from the city. It lies in the Mulugu district of the state.
It is appropriately referred to as the Niagara region of Telangana since it offers a magnificent display of cascading waterfalls and a lush landscape.
Since there is no motorable road that can take you to the exact location of waterfall, you must climb few distance to get to the waterfall. Whenever you go into the water for swimming, use caution because it contains a number of pebbles.
Watch Video on Bogatha Waterfalls Travel Guide
Maps of Bogatha Waterfallls Telangana