This is a complete travel guide to Demul Waterfalls which is located in the Sundargarh district of Odisha. We've mentioned all information like location, the best time to visit, timing, tips, facts, nearby tourist attractions, etc in this guide.
Demul Waterfalls Overview
| | |
| --- | --- |
| Location | Chandiposh, Sundargarh, Odisha |
| Entry Fee | N/A |
| Timing | 24 Hours |
| Best Time to Visit | Monsoon Season |
| Nearest Bus Stop | Rajgangpur Bus Stand (17 km) |
| Nearest Railway Station | Rajgangpur Railway Station (16.8 km) |
| Nearest Airport | Rourkela Aerodrome (55 km) |
| Famous For | Trekking, Camping, Scenery |
| Nearby Attractions | Vaishno Devi Temple, Mandira Dam, Shree Hanuman Vatika, Vedvyas Temple etc. |
Odisha is home to many beautiful and mesmerizing waterfalls, such as Gandahati Waterfall, Aapkhol Waterfall, etc. Demul FWaterfalls is one of them.
Demul Waterfall is a stunning waterfall that is not frequently visited due to being less popular. It flows via a large rock tunnel and provides a wonderful perspective of the cascade.
Demul Waterfalls is located in Chandiposh which is approximately 20 kilometers from Rajgangpur town. The waterfall lies in the Sundargarh district of Odisha state.
It is advised to visit this place with a group of people because the path is a little bit dangerous. People come here to enjoy the lush green environment and beauty of nature.
If you are thinking about visiting Odisha, you must add this waterfall to your bucket list. It will definitely make your trip even more adventurous.
Interesting Facts about Demul Waterfalls
If you are a trekking enthusiast, then this place is surely for you.
You have to travel a lot on 2-wheelers to reach this place because the roads are narrow.
Visitors visit this place in a group of 10–15 people because the path is dangerous and there are usually very few visitors at this place.
While trekking, you'll also find various agricultural fields across the roads.
Reaching this waterfall is not so easy; you have to travel a lot, which is why it is less visited.
Things to Do at Demul Waterfall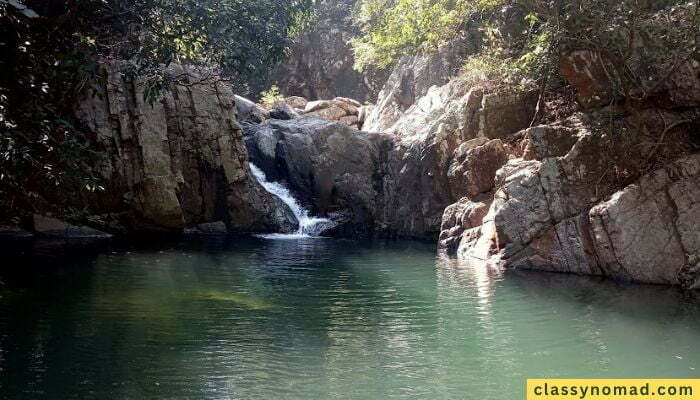 1. Trekking
Trekking is the best thing that one can do while covering the path of the Demul waterfall. You have to park your bikes a few kilometers away from the waterfall and then cover the distance by walking.
The main thing to keep in mind while trekking is that there are no shops available along the path of the waterfall, so you must keep water and snacks with you. Crossing a dense wood to reach the waterfall will be worth it.
2. Bathing
After trekking, one must take a refreshing bath in the water of this fall. The water is cold and clear, which feels refreshing and soothing at the same time. Visitors should bring extra clothes with them, as there are no shops from which you can rent clothes for taking a bath.
3. Picnic
A picnic is one of the most common activities done at waterfalls. After trekking and taking a bath, this is what everyone loves about waterfalls. People often visit here with family and friends to spend their weekends playing games, eating food, gossiping, and much more.
4. Camping
Setting up a tent and gazing at stars near waterfalls feels so amazing. People often set up a tent and enjoy their whole night with friends and family by indulging in several activities such as dancing, singing, barbecuing, etc.
How to Reach Demul Waterfall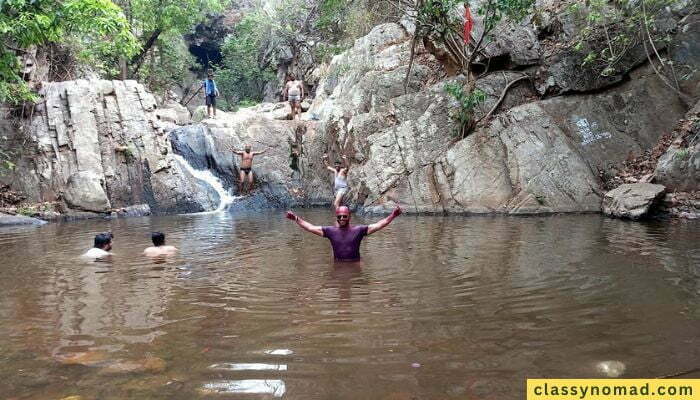 1. By Road
The distance between Rajgangpur and Demul waterfall is only 18.2 kilometers, but the path is not very good, so it is recommended to visit this location on a 2-wheeler because there is no path for 4-wheelers.
2. By Train
Rajgangpur railway station is nearest to the waterfall; all you have to do is book your ticket and reach the town. From here, outside the station, you can find various transportation options that can take you to the Demul waterfall.
3. By Air
Rourkela Aerodrome is a domestic airport near Demul village, from where you can easily reach the waterfall.
Nearby Attractions to Demul Waterfalls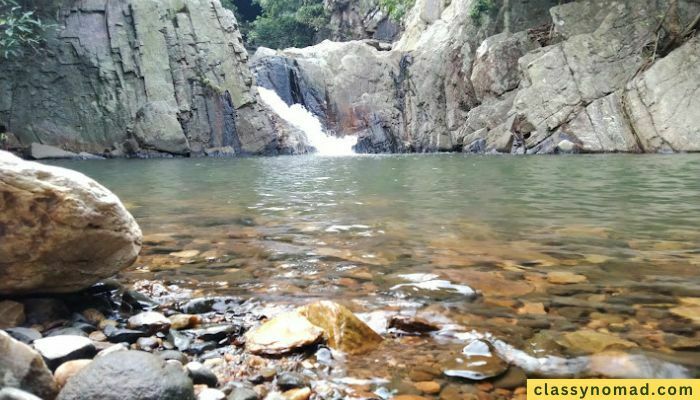 1. Vaishno Devi Temple ( 57 km)
The Vaishnodevi Mandir in Rourkela is a duplicate of the Trikuta Hills in Jammu's ancient Vaishnodevi Temple which is located atop Durgapur Hill, looking forward toward the Rourkela Steel Factory.
On a hilltop, Bhairavnath Temple is close to Vaishno Devi Temple. The summit of the hill's Shrine of Devi Durga was made accessible to guests in 2007.
2. Mandira Dam (37 km)
In the Indian state of Odisha's Sundergarh district, the Mandira dam is close to Kansbahal. It is constructed across the Sankh River, 16 kilometers downstream of Mandira.
Rourkela Steel Plant uses water from either the dam or the river. After 1957, work on the dam's development started. Only 843 of the 2400 families that the dam uprooted were relocated. This dam provides the steel factory with all the electricity it requires.
3. Shree Hanuman Vatika ( 50 km)
Hanuman Vatika is named after one of Hanuman's tallest statues established in 1994 by Biju Patnaik, Orissa's then-chief minister. A 75-foot-tall sculpture of Hanuman was built at this location.
There are also numerous temples built here for the followers, such as Bata Mangala, Vaishnodevi, Sarala, Siva, and Maa Lakshmi. A large number of locals come to this location every day due to the beautiful surroundings and lush terrain.
4. Vedvyas Temple (45 km)
Vedavyas is not just a location of stunning features; it is also regarded as a tirtha, a place of religious purity.
It is located at the mouths of the rivers Sankha and Koel, which later flow into the river Brahmani. It is said that a plunge into convergence can wipe away all misdeeds.
5. Khandadhar Waterfalls ( 165 km)
Within a few kilometers of its source, a continuous stream known as Korapani Nala created the sparkling waterfall Khandadhar, which is set amidst the dense jungle.
At 244 meters high, it is reputed to be one of the best places to visit in Odisha. It is reachable via a reasonable road for 19 kilometers from Bonaigarh, but the final two kilometers must be walked.
Best Time to Visit Demul Waterfalls
The best time to visit the beautiful Demul waterfall is during the monsoon season. At this time, the weather and environment of the waterfall are at the peak of their beauty.
Villagers living near this place own agricultural fields around this area, which are quite fertile. During monsoon season, people have to pass 4-5 bodies of water before reaching the waterfall.
Travel Tips
You must visit this place in a group because the path to the waterfall is quite dangerous.
Must wear shoes with good grip because the trekking path is slippery.
Keep some snacks with you, as there are no shops on the way to the waterfall.
One must keep a first-aid kit with themselves for emergencies.
If you are planning on taking children with you, then take better care of them.
Conclusion
If you are planning on visiting Odisha, then this is one of the best places that you should visit. The waterfall is deep in the woods, which makes the environment at this place pure. People from various metropolises visit the Demul waterfall to enjoy their time away from pollution and crowds.
Map of Demul Waterfalls