This is a complete travel guide to Dudhdhara Waterfall Amarkantak, Madhya Pradesh. In this travel guide, we've mentioned location, things to do, best time to visit, how to reach, nearby attractions, travel tips, facts, etc useful information.
Dudhdhara Waterfall Amarkantak Overview
| | |
| --- | --- |
| Location | Amarkantak, Anuppur district, Madhya Pradesh |
| Entry Fee | N/A |
| Opening Hours | 7 AM – 5 PM |
| Best Time to Visit | Jul, Aug, Sep, Oct |
| Nearest Town | Amarkantak (6 km) |
| Nearest Railway Station | Pendra Road Railway Station (35 km) |
| Nearest Airport | Jabalpur Airport (221 km) |
| Famous For | Trekking, Bathing, Picnic |
| Nearby Attractions | Narmada Udgam Temple, Kapil Dhara Waterfall, Sone Udgam Temple, etc. |
The second waterfall on the Narmada River after Kapil Dhara Waterfall is Doodh Dhara Waterfall, which is generated by the revered Narmada River. Dudh Dhara or Doodh Dhara waterfall is 6 kilometers away from the Amarkantak bus stop.
Extremely white, the stream is 10 feet tall. This waterfall is roughly 200 meters away from Kapil Dhara and descends from it.
Here, the sage Durvasa lived in a cave where he meditated. In this cave, there is a Shivling as well, on which water is continuously dropping. Every day, Sage Durvasa would dedicate Shiva with water from the Narmada River.
The mind and brain get cool as soon as you enter the cave. This waterfall is located in a lush forest and thick woods on the western border of the Amarkantak valley.
This waterfall is the greatest location for a picnic, however, getting there requires walking a few hundred meters from Kapil Dhara Waterfall and is not reachable by road.
Suggested – Visit Astang Waterfall to enjoy the beautiful creation of nature in Madhya Pradesh.
Interesting Facts about Dudhdhara Waterfalls
The stream is 10 feet tall.
It is located 6 kilometers away from a bus stop in Amarkantak.
It is one of the most well-liked destinations on the Amarkantak Tour.
Here, the sage Durvasa also had a cave where he used to meditate.
In this cave, there is a Shivling as well, on which water is continuously dropping.
Things to do at Dudhdhara Waterfall Amarkantak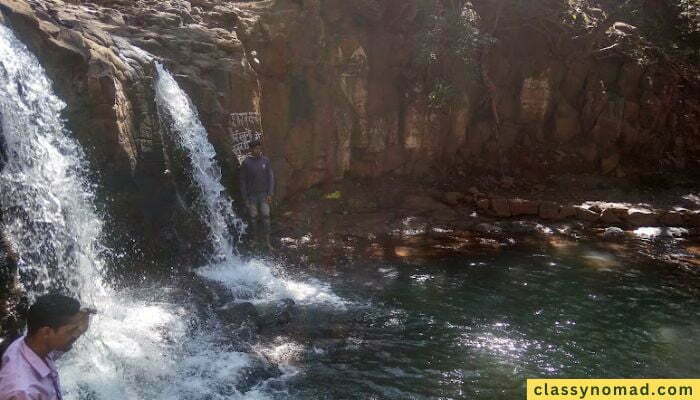 1. Trekking
Dudh Dhara is the second fall on the same sacred Narmada stream shortly after Kapil Dhara, about 200 to 225 meters at distance. This little, peaceful stroll to Dudh Dhara was one of our favorites.
You will observe how the water cascades down from a height of only a few feet, creating a lovely spray of water that resembles the bubbling flow of milk.
2. Bathing
One or two small caverns can be found if you travel a little further. Even though many locals can be seen taking bathe. The locals who live close to the waterfall frequently come here to take baths and even welcome visitors to do the same to experience the cold, calming waters of the fall.
3. Picnic
One of the enjoyable things that people do is bring a picnic when they visit a waterfall. Since there are no hotels nearby, many families that frequent this location bring their meals, and they have lunch while taking in the gorgeous surroundings.
Suggested – Get to Bhoora Khon Waterfall and feel the positivity amidst the calm nature.
How to Reach Dudhdhara Waterfall
1. By Road
Amarkantak is the nearest town to the waterfall which is easily accessible to the major cities of the state. The closest national highway is NH45 which will get you there more quickly.
2. By Train
You will have to reach Pendra Road (35 km) railway station first then there will be a 50-minute journey by road to the waterfall.
3. By Air
Jabalpur Airport is the closest airport to Dhudhdhara waterfall. It is around 221 km away from the location of the waterfalls. After reaching the airport, you can book a taxi to get to the waterfalls.
Suggested – Gangulpara Waterfall is one of the less-known waterfalls in the Balaghat District of Madhya Pradesh.
Tourist Attractions near Dudhdhara Waterfall
1. The Ancient Temple of Kalachuri
This is a must-see location if you're in Amarkantak. It's located behind the Narmada Temple and has a variety of temples as well as a Surya Kund. The elderly have access to wheelchairs.
If you ask the staff or guide to open a locked temple, you will find a shivling from which water from the Ganga and the Narmada rivers flow together. You'll adore this if you enjoy historical sights and antique architecture.
2. Narmada Udgam Temple
Amarkantak Temple or Narmada Udgam is a very well-known pilgrimage destination in Madhya Pradesh's District Anuppur.
The Vindhya and Satpura Ranges meet at the Amarkantak region, which is a special natural heritage site. The Maikal Hills serve as the meeting point. The Narmada River, Son River, and Johila River all start here.
3. Kapil Dhara Waterfall
The Rivulet descends more than 150 feet and runs over Kapil Muni's lotus feet. A minor fall named the Dudh Dhara is located downstream of the Kapil Dhara.
4. Sone Udgam Temple
Even though it might be quite challenging to determine the river's origin, this waterfall is not particularly impressive. One of the 51 shaktipeeth is located here, according to legends Sonakshi Shaktipeeth is located here.
Travel Tips
The pathway is rough.
The time needed to explore the place is 2-3 hrs.
Open timings are from 7 am to 5 pm.
Carry binoculars since the sceneries are breathtaking.
Travel with an umbrella.
Conclusion
The onlooker's eyes are pampered by this wonderful combination of natural splendor and elegance. Locals commonly go there for weekend getaways as it makes a great picnic location. The greatest time to see the Dudh Dhara Waterfalls is during the rainy season when the river's water level is at its highest and the weather in the forests is nice.
FAQs on Dudhdhara Waterfall Amarkantak
1. What is the best time to visit Dhudhdhara Waterfall?
Between July and October is the ideal time to explore this location. The monsoon brings much-needed fervor to the stream at this time.
2. Where is Dhudhdhara Waterfall situated?
Dhudhdhara Waterfall is located near Amarkantak in the Anuppur district of Madhya Pradesh.
3. What is the distance between Bhopal and the Dudhdhara Waterfall?
The distance between Bhopal and Gangulpara waterfall is 610 km i.e 11hrs if you'll take the route of NH45.
4. What are the nearby tourist attractions near Dudhdhara Waterfall?
In addition to the Dhudhdhara waterfall, the Balaghat district is home to several interesting sites, including near By Places are Kapildhara, Sarvodaya Jain Temple, Ancient Temples Of Kalachuri group, Narmada Anandam, Shri Yantra Mandir, Mai Ki Bagiya.
Map of Dudhdhara Waterfall Amarkantak