Want to explore Gandahati Waterfall in Odisha? This complete travel guide will definitely help you in making your trip easier.
Gandahati Waterfall Overview
| | |
| --- | --- |
| Location | Gajapati District, Southern Odisha |
| Entry Fee | N/A |
| Best Time to Visit | October to February |
| Nearest Town | Paralakhemundi |
| Nearest Bus Stop | Paralakhemundi ( 28 km) |
| Nearest Railway Station | Paralakhemundi (29 km) |
| Nearest Airport | Biju Patnaik International Airport (260 km) |
| Famous For | Picnic, Greenery, Park, Photoshoot |
| Nearby Attractions | Santoshi Maa Temple, Mahendragiri Hills, Mankadadian Waterfall, Chandragiri |
Gandahati Waterfall which is 30 km far from Paralakhemundi is situated in the Gajapati District of Odisha. It is a well-known waterfall in Odisha with sparkling, crystal-clear water that is surrounded by a lush, green forest.
The river flow at these falls is constant all year round. There are a lot of wild creatures, including elephants, that come to this waterfall from the hill's top side to drink water. Not far from this cascade is a beautiful Hindu temple.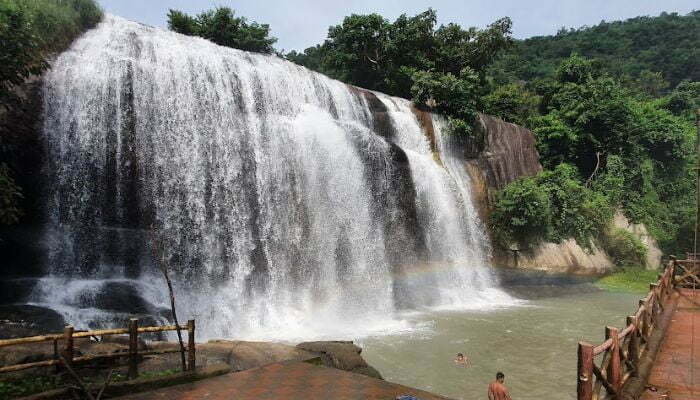 It is accessible by train and road. The distance from Paralakhemundi to the closest train station, Palasa, is 44 kilometers. All trains that run between Howrah and the southern region pass via Palasa and stop there. The campus of JITM is located 7 kilometers from Paralakhemundi.
Throughout the year, a lot of people travel from various areas of Odisha to see this magnificent waterfall and its surrounding forest. This is a popular vacation destination in Odisha and one of the best places for picnics.
Interesting facts about Gandahati Waterfall
This place is best known for its beautiful waterfall, which might blow your mind and help you relax during your weekends.
Gandahati Waterfall is a family picnic spot that will allow you to spend your weekends with them on a low budget.
If you want to explore more than just by doing a little trekking, you can reach the top of the waterfall and will be able to enjoy a nice view.
There is also a small park which also has various swings and benches near the waterfall. You should go there with your children, as they will love this place for sure.
You can also find a beautiful temple just by covering some stairs. People often get confused about the path of this temple and the path of the waterfall's top.
Suggested Read – Explore these places in Delhi, if you are planning to visit Delhi for fun and enjoyment.
Things to Do at Gandahati Waterfall, Odisha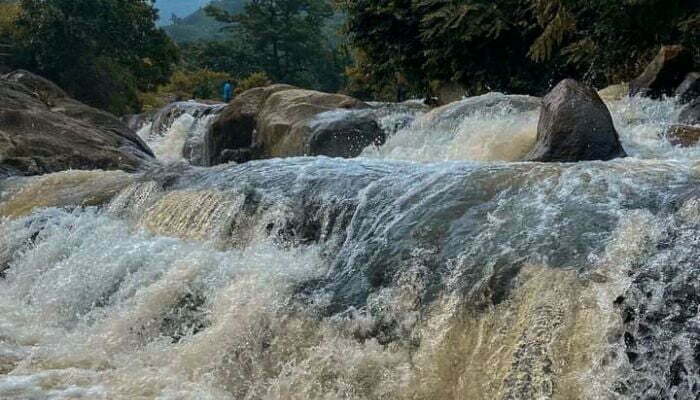 1. Leisure Time
This location is ideal for spending time with your family during the holidays. People living near the waterfall often visit this place for some quality time with friends and family.
You can visit this place and get lost in the beauty of the waterfall and enjoy each and every moment. For people who want some peace and want to enjoy their weekends in the countryside, this waterfall will be the best-suited place for them.
2. Amusement for Children
If you are a parent and want your children to explore nature and enjoy their holidays under the bright sunlight with a nice waterfall view, then this place is for you. There is also a small park with a lot of swings and benches, which might attract children.
The place is so clean that you can let your children play there without being concerned about them getting infected. Even some schools take students to this place to help them learn new things outside of the classroom.
3. Photoshoot
Several newly wedded couples visit this place for pre-wedding shoots and take good pictures for their marriage album.
Due to its mesmerizing view and loving environment, couples usually find this place appropriate for their shoots. While shooting, they also enjoy the view with their family and friends, as well as get more time to get close to each other.
Suggested Read – Explore these most difficult treks of India if you are a true trekker.
How to Reach Gandahati Waterfall, Odisha
This place is excellent and many people love to visit it. People from a distance come here for tourist purposes, but the main question in everyone's mind arises is how to reach Gandahati Waterfall by different means of transportation.
Here are some of the routes and ways by which you can reach Gandahati falls and enjoy your day.
1. By Road
The easiest way by which you can reach this waterfall is by taking the roadways from Paralakhemundi. It is a town and a municipality that is 30 km from the waterfall. All you have to do is book a cab and begin your journey.
The best part is that the cab will drop you where the waterfall is located, so if you're not a big fan of trekking, you'll love this place.
2. By Train
The only train station nearest to the waterfall is Paralankhemundi Railway Station. This station is around 27 km away from the waterfall.
All you need to do is book a ticket to Paralankhemundi. There are several cabs available outside the railway station that will take you to the waterfall.
3. By Air
Traveling by plane is a nice experience, as you will be able to save a lot of time and explore much more. The closest airport to the waterfall is Biju Patnaik International Airport, Bhubaneshwar which is 260 kilometers far from there.
It is easy to find a cab outside the airport which will take you to the Paralakhemundi district, and from there you can get several transportation facilities.
Nearby Tourist Attractions to Gandahati Falls
1. Santoshi Maa Temple
Santoshi Maa Temple is on the premises of this waterfall. You just have to climb some stairs and here you will be able to see a beautiful temple.
2. Mahendragiri Hills
Located 40 km far from Paralakhemundi town, Mahendragiri is an ideal destination for nature lovers. The interesting thing about these hills is that it is the second-highest peak in Odisha.
The hills are filled with green and lush greenery that will definitely make you fall in love with them.
3. Mankadadian Waterfall
It is another stunning waterfall that is about 55 km far from Gandahathi falls. The Gajapati district is home to a few famous cascades. Sialilati's most well-known neighborhood is located in R.Udayagiri Ward, next to Mankadadian Waterfall.
4. B. N. Palace
This was the Maharaja of Paralakhemundi's former summer residence. It is bordered by tall teak trees and is located on the Mahendratanaya River's borders. It is located 28 km far from Gandahathi Waterfall.
5. Chandragiri
Chandragirii is situated in the Mohona Block's Lobarsing Village Panchayat. It is located 88 kilometers from Paralakhemundi and 80 kilometers beyond Brahmapur. The area provides additional refuge for Tibetan refugees.
Best Time to Visit Gandahati Falls, Odisha
The best time to visit the waterfall is from October to February. This place looks so beautiful during this time. The rainy season could be scary as the level of water might increase, which has caused several casualties in the past.
Travel Tips That You Should Know
One must keep a first aid kit with them.
If you are thinking of taking a good bath, take some clothes with you.
Keep something to eat and drink on hand to keep your energy levels up.
Wear sports shoes to be more comfortable at this place.
Do not allow your children to go near the fall without the guidance of an adult.
Conclusion – Gandahati Waterfall, Odisha
If you want to enjoy your day at a beautiful place, leaving all your worries behind, then there is no better place than this waterfall. Several people visit this place during the weekends and enjoy it with their families and friends.
The water is pure and fresh, which will make you feel alive. It is not difficult to reach the waterfall, which is the best part about this place. So, if you are thinking of visiting a nice place, then you must try visiting Gandahati Waterfall.
FAQs on Gandahati Waterfall Odisha
1. Where is Gandahati Waterfall located?
Gandahati Waterfall is located around 30 km far from Paralakhemundi town which lies in the Gajapati District of Odisha.
2. What is the best time for visiting Gandahati Waterfalls?
Gandahati Waterfall offers scenic views in every season of the year but we highly recommend you visit there in the months of October, November, December, January, and February.
3. What is the nearest town to the Gandahati Waterfalls?
Paralakhemundi which is around 30 km away from the location of the waterfall is the nearest town to the Gandahati Waterfalls.
4. What are the tourist attractions around the Gandahati Waterfall?
Santoshi Maa Temple, Mahendragiri Hills, Mankadadian Waterfall, Chandragiri, etc are some of the popular tourist attractions around the Gandahati Waterfall. If you are planning to visit Gandahati Waterfall, you should definitely add these sites to your bucket list.
5. How far is Gandahati Waterfall from Bhubaneswar?
Gandahati Waterfall is around 265 km away from Bhubaneswar. You can get there via NH16 and Chennai – Kolkata Highway from Bhubaneswar. It will take around 5 hours and 40 minutes to cover this distance.
Distance from Major Towns / Cities
| | |
| --- | --- |
| Palasa | 29 km |
| Paralakhemundi | 30 km |
| Mandasa | 32 km |
| Srikakulam | 53 km |
| Brahmapur | 97 km |
| Visakhapatnam | 210 km |
| Bhawanipatna | 230 km |
| Bhubaneswar | 265 km |
Watch Video on Gandahati Waterfall
Map of Gandahathi Falls