This is a complete travel guide to Gangulpara Waterfall, Balaghat, Madhya Pradesh. In this guide, we've mentioned location, things to do, best time to visit, how to reach, nearby attractions, travel tips, facts, etc useful information.
Gangulpara Waterfall Balaghat Overview
| | |
| --- | --- |
| Location | Gangulpara, Balaghat District, MP |
| Entry Fee | N/A |
| Opening Hours | 24 Hours |
| Best Time to Visit | Jul Aug, Sep, Oct |
| Nearest Town | Balaghat (17 km) |
| Nearest Railway Station | Dhapewara Railway Station (11 km) |
| Nearest Airport | Nagpur Airport (190 km) |
| Famous For | Trekking, Bathing, Picnic, Adventure |
| Nearby Attractions | Dr. Ambedkar Park, Lanji Temple and Fort, Bhamodi Ghat, etc. |
Madhya Pradesh, considered to be the center of India, is the best example of how beautiful nature can be. Madhya Pradesh is known for more than just its history, art, and culture; some cascading wonders draw enormous numbers of nature lovers.
Madhya Pradesh's waterfall is as vibrant as its culture. There are a number of waterfalls you can find in the state that offers breathtaking views of nature. Gangulpara Waterfall is an excellent example of it.
Gangulpara Waterfall is situated in Gangulpara village. The village of Gangulpara is located in Madhya Pradesh's Balaghat district, about 14 kilometers from the provincial seat of Balaghat (city).
There is a spectacular water body in this village's man-made lake or cistern. A stunning natural landscape envelops both of these things. People utilize the area for picnics. The Ghysri Nala water is collected in the cistern and utilized to irrigate the farms.
Suggested – Visit Bhoora Khon Waterfall, one of the less-known waterfalls in Madhya Pradesh.
Interesting Facts about Gangulpara Waterfall Balaghat
These waterfalls have exquisite natural beauty, and nature lovers and photographers like them all for their never-ending scenery.
It is located 14 kilometers away from Balaghat.
This waterfall is located along Baihar Road.
The combination of natural magnificence and beauty is amazing, feeding the eyes of everybody who sees it!
It is a favorite picnic location for locals, who usually go there on weekends.
The farmers in the adjoining village of Tekadi receive all the irrigation they require from this water reservoir.
Things to do at Gangulpara Waterfall Balaghat
1. Trekking
To get there, you must park your car close by where there are parking spaces. Before arriving at the destination, there will be a subsequent 2-3 km hike through the jungle with a single or two minor waterfalls in between.
2. Bathing
People enjoy bathing under the waterfall in the pond frequently after making the hard travel to get there and hiking for a bit. The residents who reside nearby the waterfall routinely visit this location to take baths and even invite tourists to do the same so they can experience the cool, calming waters of the fall.
3. Picnic
Taking a picnic when seeing a waterfall is one of the fun things that people do. Many families who are frequent this place bring food for themselves, and they have lunch while admiring the lovely surroundings of this place. It's possible to find even a group of friends here who get together to enjoy the surroundings.
Suggested – Want to enjoy an adventurous trip? Go to Sultangarh Waterfall which is one of the stunning waterfalls near Shivpuri, Madhya Pradesh.
How to Reach Gangulpara Waterfall Balaghat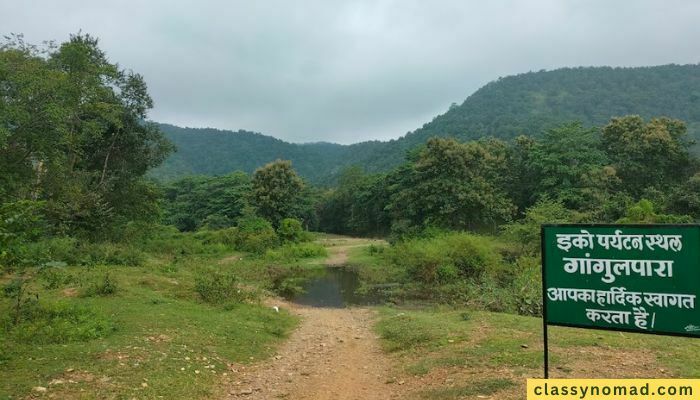 1. By Road
Balaghat is the nearest town to the waterfall. The town is connected to major cities of the state. The closest national highway is NH32, but NH45 and NH44 will get you there more quickly.
2. By Train
Dhapewara Railway Station is the one closest to the Gangulpara waterfall which is only 11 km from the location of the waterfall. The station is connected to major cities, so you can easily reach the station and from there, you will find various transit options to get to the waterfalls.
3. By Air
Nagpur Airport is the closest airport to Gangulpara waterfall which is around 190 km from the location of the waterfall. You only need to book your airline ticket to the airport; from there, you may choose from several transportation options to go to the waterfall.
Tourist attractions near Gangulpara Waterfall
1. Dr. Ambedkar Park
The beauty and calmness of the place are appreciated by the public. Good place for evening and morning walks and an amazing place to hang out with family and friends.
2. Lanji Temple and Fort
According to an inscription from 1114 CE that was discovered in Bilaspur, Raja Malukoma, the great-grandfather of Rajkumari Hasla, a martyr who is still honored for her service to her father and people, is supposed to have built this fort.
3. Moti Garden Balaghat
It is one of the top locations in Balaghat. When they have some free time for a stroll, a lot of individuals come here with their families and friends. Many individuals spent the evening here.
In Balaghat, there is a prime location for watching the sunset. In front of the garden is a CHAUPATI for fast meals.
4. Bhamodi Ghat
Balaghat's Bhamodi Ghat is a popular tourist destination. People from Madhya Pradesh are very familiar with this location. This scene gives the impression of being in heaven as you are showered with drops of water.
The best scene is the one you've never seen. Additionally, boats are accessible for use to enjoy the river. The rocks around here are spectacular.
5. Goji-Somji Temple
One of the most significant religious sites in the area is the Gomji-Somji Temple, which has a sister temple called the Jwaladevi Temple and is situated on the mountain peak of the Bharveli region, somewhere 10 kilometers from Balaghat.
Every year, thousands of pilgrims from MP and Maharashtra visit Jwaladevi, particularly during the Navratri Festival. The celebrations of the Navratri festival at this temple draw thousands of followers from all around the state of Madhya Pradesh.
Travel Tips
Parking difficulty is high in that area.
The time needed to explore the place is 2-3 hrs.
It is open 24*7.
Carry binoculars since the sceneries are breathtaking.
Travel with an umbrella.
Conclusion
The onlooker's eyes are pampered by this wonderful combination of natural splendor and elegance. Locals commonly go there for weekend getaways as it makes a great picnic location. As said by some of the reviewers: "The walk is amazing and the waterfall is fun to dip your legs into."
FAQs on Gangulpara Waterfall
1. Where is Gangulpara Waterfall situated?
This place is specifically located in Gangulpara village, Balaghat district of Madhya Pradesh.
2. What is the best time to visit Gangulpara Waterfall?
Between July and October is the ideal time to explore this location. The monsoon brings much-needed fervor to the stream at this time.
3. What is the distance between Bhopal and the Gangulpara Waterfall?
The distance between Bhopal and Gangulpara waterfall is 470 km if you'll take the route of NH45 and NH44.
4. What are the tourist attractions near Gangulpara Waterfall?
In addition to the Gangulpara waterfall, the Balaghat district is home to several interesting sites, including the Dhuti Dam, Rampaily Temple, Lanji Temple, and Fort, Kanha National Park, Nahlesara Dam, Hatta Bawali, Bajrang Ghat, Gomji-Somji Temple, Kaliputli, Malajkhand Copper Mines, old Ram Mandir, and Kosmic.
Maps of Gangulpara Waterfall Balaghat