It is a complete travel guide to Handawada Waterfall, Chhattisgarh. All the information like location, how to reach, timing, nearby attractions, the best time to visit, facts, tips, etc you will find here.
Handawada Waterfall Chhattisgarh
| | |
| --- | --- |
| Location | Bijapur, Chhattisgarh, 494441 |
| Entry Fee | Free |
| Timing | 24 Hours |
| Best Time to Visit | Monsoon Season |
| Nearby Bus Stop | Gidam Bus Station |
| Nearest Railway Station | Jagadalpur Railway Station |
| Nearest Airport | Swami Vivekananda International Airport, Raipur |
| Famous For | Dense Forest, trekking, Picnic |
| Nearby Attractions | Indravati National Park, Bhadrakali Temple, Bhairamdev Temple etc. |
Handawada Waterfall is one of the largest and highest waterfalls in Chhattisgarh which is close to the Barsoor area of Bijapur. The Goyedhar Tunnel's emergence from the slopes creates the waterfall.
From the Barsoor settlement, one may simply hike up to the waterfalls by crossing the Indravati Riverbed.
While monsoon season offers the opportunity to take in this exotic magnificence, it is recommended that visitors to the falls go there afterward because there won't be any water in the summertime and the falls will be thicker during the rainy season.
Interesting Facts about Handawada Waterfall
For weekend fun, people frequently travel here with their families and friends.
People come here to go hiking.
This waterfall is very accessible, which makes it a popular tourist spot.
You can also visit this waterfall if you enjoy solo travel.
The roads are tiny, so it takes a long time to get here on two wheels.
Few people spell it as 'Handavada' on the other hand few people spell it 'Handawada'.
Things to Do at Handawada Waterfall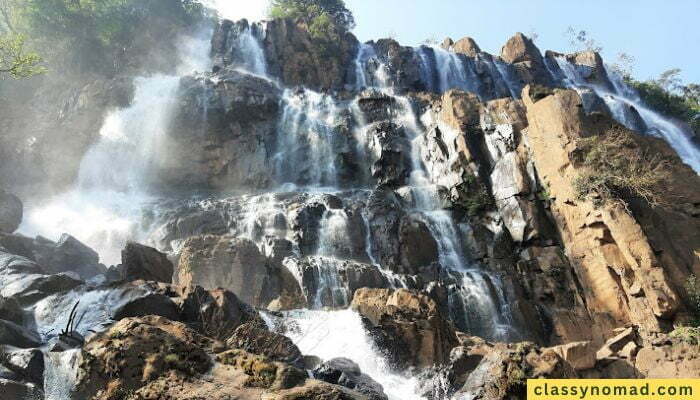 1. Trekking
If you love trekking, then this place will be perfect for you. The waterfall is open 24/7, so you can visit there any time, but the recommended hours are from 7:00 a.m. to 7:00 p.m.
The trek is approximately 5 kilometers long and may take 2-3 hours to complete depending on your speed and number of stops.
The trek starts from a village near the Indravati River and goes up to the Handewada waterfall. If you are confused about the trek, you can even rent a guide that will take you to the waterfall.
2. Bathing
After finishing the trek of 5 km, the next best thing will be to take a soothing bath in the waterfall. One thing that you must keep in mind is that the water at the falls rises during the monsoon, so it is suggested that you take care of yourself and avoid bathing if you do not know how to swim.
3. Picnic
The first thing that comes to everyone's mind after hearing about a waterfall is 'picnic'. The Handawada waterfall is one of the least visited places by locals for spending their time with family and friends and doing various activities.
People often bring card games, food, and many more things to enjoy their time with their loved ones.
How to Reach Handawada Waterfall
1. By Road
There are various cities/ towns near the waterfall from which you can begin your road journey to reach the Handawada waterfall. Cities like Gidam, Jagadalpur, and Raipur are closest to the waterfalls.
2. By Train
Raipur and Jagadalpur railway stations are the closest train stations to the waterfall. Outside the railway station, one can find various transport facilities that can take you to the waterfall.
3. By Air
The nearest airport to the waterfall is Swami Vivekananda International Airport, Raipur. All you need to do is book your ticket to the airport, and outside the airport, you can find various transport facilities that can take you to the waterfall.
Nearby Attractions to Handawada Waterfall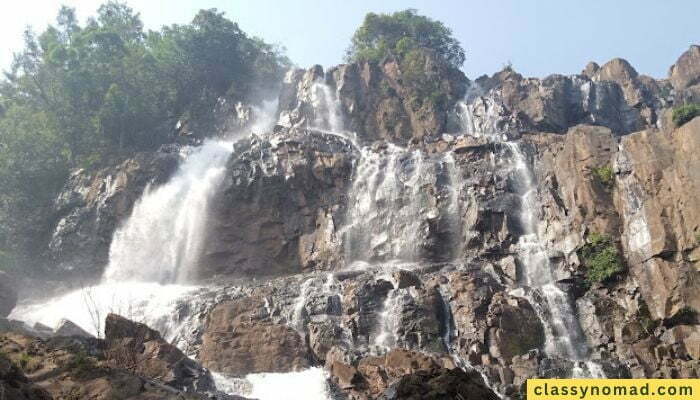 1. Indravati National Park
Indravati Regional Reserve is a state-owned park in India's Chhattisgarh state, in the Bijapur region. The adjacent Indravati River serves as the source of its name. Animals of the last wild buffalo species in the world can be found there.
The greatest and most renowned safari park in Chhattisgarh is Indravati Nature Reserve. Indravati Nature Reserve is one of the two designated tiger habitats in Chhattisgarh, the other being Udanti-Sitanadi. It is situated in the district of Bijapur.
The park gets its name from the Indravati Riverbed, which runs from east to west and forms the bank's northern border with both the Indian province of Maharashtra.
2. Sakal Narayan Cave and Temple
From Bijapur, the Sakalnarayan mountains are about 50 kilometers away. A cavern can be seen after navigating 1 km of topography and woodland. The people can access it on Gudi Padva.
The main cave entrance leads to a number of additional passageways with sculptures of God Krishna and Sesh Nag.
Although Bijapur's Shankanpalli Mines, Usur Tunnel, and Usur Falls have all seen very little exploration, these are wonderful sites to visit.
3. Bhadrakali Temple
Bhopalpatnam is 20 kilometers away from the shrine in Bhadrakali village. Goddess Kali is honored in the temple. Locals think that the picture was first placed here by the Kakatiya monarch, who was a devotee of the deity Kali.
The area where the shrine now stands was once a cave hidden deep within the jungle. On Vasant Panchami, a sizable fair is held, drawing pilgrims from as far away as Chhattisgarh, Telangana, and Maharashtra. That is where the Agni Kund is performed, where attendees walk through some kind of field of blazing coal.
4. Bhairamdev Temple
One of the most important temples in the Bijapur district, it necessitates extensive research to fully comprehend. The temple, which features a rock-cut Ardhanariswar sculpted on sizable stones, is situated near Bhairamgarh in Bijapur.
The picture dates to the 13th or 14th century AD. It is a manifestation of Lord Shiva as Maa Danteshwari. Several monuments of historical significance that are associated with Naga Kings may be seen within 500 meters of the temple.
Best time to Visit Handawada Waterfall
The best time to visit the Handawada waterfall is during the monsoon season. During this time of the year, the beauty of this waterfall is at its peak, and people love to visit this place during this time.
People living near the waterfall often visit this place during this period of the year to enjoy their weekends and spend some time with family and friends.
Travel Tips
The waterfall is quite dangerous during the monsoons due to the overflow of water.
One must wear shoes with good grip to avoid accidents.
This place is good for trekking, so keep every necessary item with you.
Keep a first-aid kit with you for emergencies.
Take some food and water with you.
Conclusion
In the Bijapur region of Chhattisgarh, there are undiscovered waterfalls. For hikers and environment enthusiasts, Handawada waterfalls are the most magnificent and soothing. Visitation to this location requires navigating rough terrain, rivers, and dense forests. The Indian people should absolutely visit this location if they are fans of adventure.
Suggested – Gandahati Waterfall is one of Odisha's hidden waterfalls that is worth exploring.
FAQs on Handawada Waterfall
1. Where is Handawada Waterfall situated?
Handawada Waterfall is one of the highest as well as largest waterfalls in Chhattisgarh. It is situated close to the Barsoor area of Bijapur.
2. What is the best time to visit Handawada Waterfall?
Monsoon is the best season to visit Handwara Falls because at this time the lush greenery around the waterfall makes the falls very beautiful.
3. What is Handawada Waterfall famous for?
Handawada Waterfall is a very beautiful waterfall in Chhattisgarh which offers mesmerizing views of nature. It is famous for trekking, photoshoot, exploring nature, bathing, etc. Due to its location, it has remained hidden from the sight of tourists still today.
4. What are popular tourist attractions around the Handawada Waterfall?
Some of the popular tourist attractions around the Handawada Waterfall are Indravati National Park, Sakal Narayan Cave, and Temple, Bhadrakali Temple, and Bhairavdev Temple. If you are planning to visit there, make sure to put these sites on your bucket list.
5. What should you know before visiting Handawada Waterfall?
Handawada Waterfall is an offsite location that is visited by only a few tourists. There is no concrete road to reach the fall. So, it's very difficult to reach there in monsoon season as the road becomes muddy and the probability of falling down from bikes eventually increases. Apart from it, it is believed that this place is the area of Maoists, so, always visit there in groups.
Map of Handawada Waterfalls