This is a complete travel guide to Jalagamparai Waterfalls Yelagiri, Tamil Nadu. In this guide, you will find travel information like location, things to do, the best time to visit, how to reach, nearby attractions, travel tips, facts, maps, etc.
Jalagamparai Waterfalls Yelagiri Overview
| | |
| --- | --- |
| Location | Yelagiri, Tirupattur district, Tamil Nadu |
| Entry Fee | N/A |
| Opening Hour | 24 Hours |
| Best Time to Visit | Nov, Dec, Jan |
| Nearest Town | Yelagiri (37 km) |
| Nearest Railway Station | Jolarpettai Railway Station (19 km) |
| Nearest Airport | Chennai Airport (225 km) |
| Famous For | Trekking, Photography, Bird Watching |
| Nearby Attractions | Punganoor Lake, Swamimalai Hill, Velavan Temple, etc. |
Jalagamparai Waterfalls, one of the most prominent natural attractions in Tamil Nadu's Yelagiri Hills, is frequently visited by both residents and visitors.
About 37 miles from Yelagiri Town, the Attaru River, which flows through the valleys of the Yelagiri Hills, creates this stunning waterfall.
This magnificent waterfall, which cascades from a height of 15 meters, is also a great location for landscape and wildlife photography.
Interesting Facts about Jalagamparai Waterfalls Yelagiri
The Jalagamparai Waterfall is a primary source of the River Attaru. 
The North Eastern Monsoon often provides water for the Ataru River, which is not a perennial river.
The river flows through Yelagiri's hills, which are home to a variety of herbs and medicinal plants. According to legend, the water from this waterfall is extremely helpful and heals a variety of skin conditions.
The neighboring Murugan Temple is where you may offer your obeisance. This temple receives a lot of devoted visitors all year long. It is impressive to see the temple, which is designed like a lingam.
It takes 1.5 to 2 hours to hike the 6 kilometers to get to the waterfall.
Things to do at Jalagamparai Waterfalls Yelagiri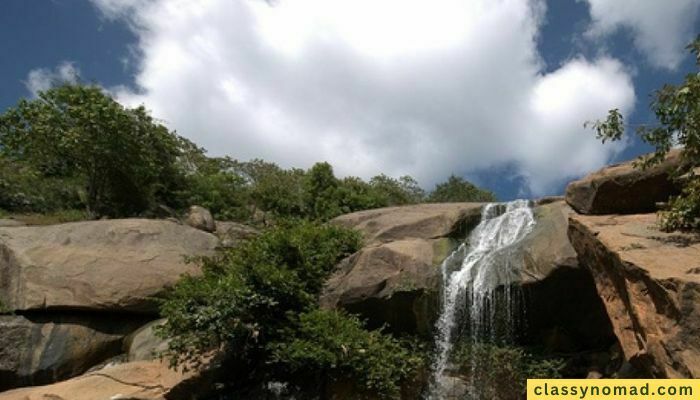 1. Trekking
If you enjoy trekking, the path that leads to this thundering waterfall will be a paradise for you. You will be surrounded by deep, dark woods as you set out on this expedition, which will heighten the suspense of the whole thing.
2. Photography
It's always a good idea to take several pictures while you are in such a beautiful location, surrounded by nature. Take shots of the stunning scenery, the hill's waterfall, and the charming route that leads to the fall.
3. Bird Watching
Yelagiri has a wide variety of bird species and is renowned for its high biodiversity. Therefore, going to Jalagamparai Waterfalls provides you with the chance to view many bird species and photograph them.
How to Reach Jalagamparai Waterfall Yelagiri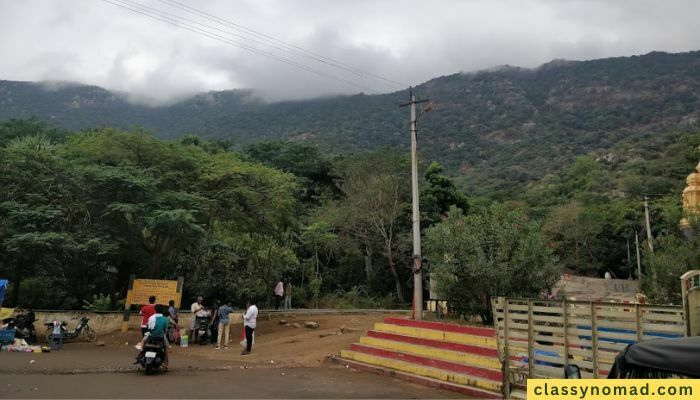 1. By Road
Around 37 kilometers separate the Yelagiri bus stop from Jalagamparai Waterfalls. To go to Nilavoor, you may take a bus or a taxi.
To go to Jalagamparai Waterfalls, one must hike about 6 kilometers after arriving at Nilavoor. Additionally, there is a motorable road that leads to the fall, although it is usually closed.
2. By Rail
The nearest railway station near Jalagamparai Waterfall is Jolarpettai Railway Station which is almost 19 km away from the waterfall. 
3. By Air
Chennai Airport is around 225 Km from Jalagamparai Waterfall. After reaching the Chennai Airport, you can take a road route or a rail route towards the waterfall. 
Tourist Places around Jalagamparai Waterfall Yelagiri
1. Punganoor Lake
Punganoor Lake, an artificial lake, looks stunning against the magnificent Yelagiri Hills in the distance. Enjoy boating in the lake's crystal-clear waters and let the lake's breathtaking scenery enchant you. As your boat gently glides on the calm waters, you can see a lot of fish on the lake.
Kids may also spend some carefree, enjoyable times at the play area near the lake. And if you're hungry, there are many restaurants with a view of the lake where you may have a delectable snack or dinner. Punganoor Lake is a terrific place to be whether you're searching for a picnic location or just want to spend some time taking in the peace and quiet of nature.
2. Swamimalai Hill
Swamimalai Hill, the tallest summit in the Yelagiri Hills, rises 4626 feet above sea level. Swamimalai Hill, a two-hour hike uphill, will reward you with expansive vistas of the region below.
It is a lovely trip to take part in due to the lush hills, swaying orchards, peaceful surroundings, and stunning landscapes. Don't forget to sample some of the organic fruits the villagers are selling along the walk. The hike to Swamimalai Hill will not dissatisfy adventurers, nature lovers, or photographers.
3. Velavan Temple
Velavan Temple, also known as Murugan Temple, was constructed in 1962 and is located on a hill. This well-maintained shrine is devoted to Lord Murugan. At the temple's entrance, there is a sizable statue of Ghatothgajan which is also the main draw.
In addition, the presence of a Lord Ganesh shrine here makes the temple complex a sacred location for Hindus. Every day of the year, throngs of worshippers come from all over the nation to this temple to pay their respects to the Lord. Additionally, you can see the entire Yelagiri Valley from the summit, which makes for an absolutely stunning panorama.
Best Time to Visit Jalagamparai Waterfall Yelagiri
November to January is the finest season to visit Jalagamparai Waterfalls since this is when the North-East Monsoon hits this area and assures that the cascade is in full bloom. The fall generates a pool underneath it during these months as it cascades down from a height of 15 meters.
There isn't much rain in this area. This waterfall is transient, and the pool likewise evaporates in the summer. Summer would not be the ideal time to see Jalagamparai Waterfalls since the River Attaru, a seasonal water stream, feeds them.
Travel Tips
Don't forget to bring along an additional set of clothes so you won't have to miss out on enjoying a relaxing dip beneath the waterfall.
Wear strong shoes for this trek because the route to the waterfall is 6 kilometers long.
Record all of the joyful times. Keep your camera close at hand to capture these moments in great detail so you may remember them forever.
It is best to visit this waterfall in November, December, or January because the water stream is at its peak during these months.
Take a picnic while you are there and bring some refreshments. While trekking and close to the fall, you won't pass any stores or eateries.
Conclusion
The waterfall is removed from the typical crowds found at other nearby tourist sites because of its isolated position. At the Jalagamparai waterfall, guests can participate in a variety of activities. A soothing bath is an ideal thing to unwind in the clear water of the stream that winds through a dense forest of luxuriant, beautiful greenery.
Map of Jalagamparai Waterfall Yelagiri