This is a complete travel guide to Kaigal Waterfalls Chittoor. If you are planning to visit there, this guide will definitely be helpful for you.
Kaigal Waterfalls Chittoor Overview
| | |
| --- | --- |
| Location | Chittoor district, Andhra Pradesh |
| Entry Fee | N/A |
| Best Time to Visit | Monsoon Season |
| Nearest Town | Baireddipalle (6 km) |
| Nearest Bus Stop | Kaigal Waterfalls bus stop |
| Nearest Railway Station | Melpatti Railway Station (44 km) |
| Nearest Airport | Bangalore Airport ( Approx 100 km) |
| Famous For | Scenic Views, Waterfalls, Picnic |
| Nearby Attractions | Kolar Lake, Horsley Hills, Sri Venkateshwara National Park etc. |
The Kaigal waterfall is tucked away in Andhra Pradesh's Chittoor district, among the Koundinya Nature Reserve. The Kaigal settlement, which is located around the waterfall, gave it its name.
Kaigal Falls are continuous and are commonly regarded as Dumukurallu waterfalls (a Telugu term meaning a sound that sounds like stones falling from above).
Water tends to fall from an altitude of around 40 feet and cascades down three separate falls at the waterfall. At the bottom, the water creates a number of little ponds.
The Kaigal Creek, among the extremely flowing tributaries that run through Koundinya Nature Reserve, is primarily responsible for creating the falls.
The existence of the multicoloured birds, plants, animal shelter, and an abundance of trees spread out all around the waterfall enhances its breathtaking splendour.
There are well-known pilgrimage sites nearby with Shivalingas. The massive ritual is held in conjunction with the Shivratri celebration.
Note – Have you ever heard about Gokak Falls? If you haven't, you are missing one of the most beautiful waterfalls of India.
Interesting Facts about Kaigal Falls Chittoor
The weekends are best spent here with friends and loved ones.
Many locals who live close to the waterfall come here to enjoy themselves and have a good time with their friends and family.
There are several tourist attractions around the waterfall that might also attract you.
The waterfall is well connected to several major cities, which is a benefit for tourists.
This place has a beautiful view, which will make you fall in love with it.
Note – If the waterfalls excite you, make sure to visit the Sawatsada falls and see the majestic beauty of nature.
Things to do at Kaigal Falls Chittoor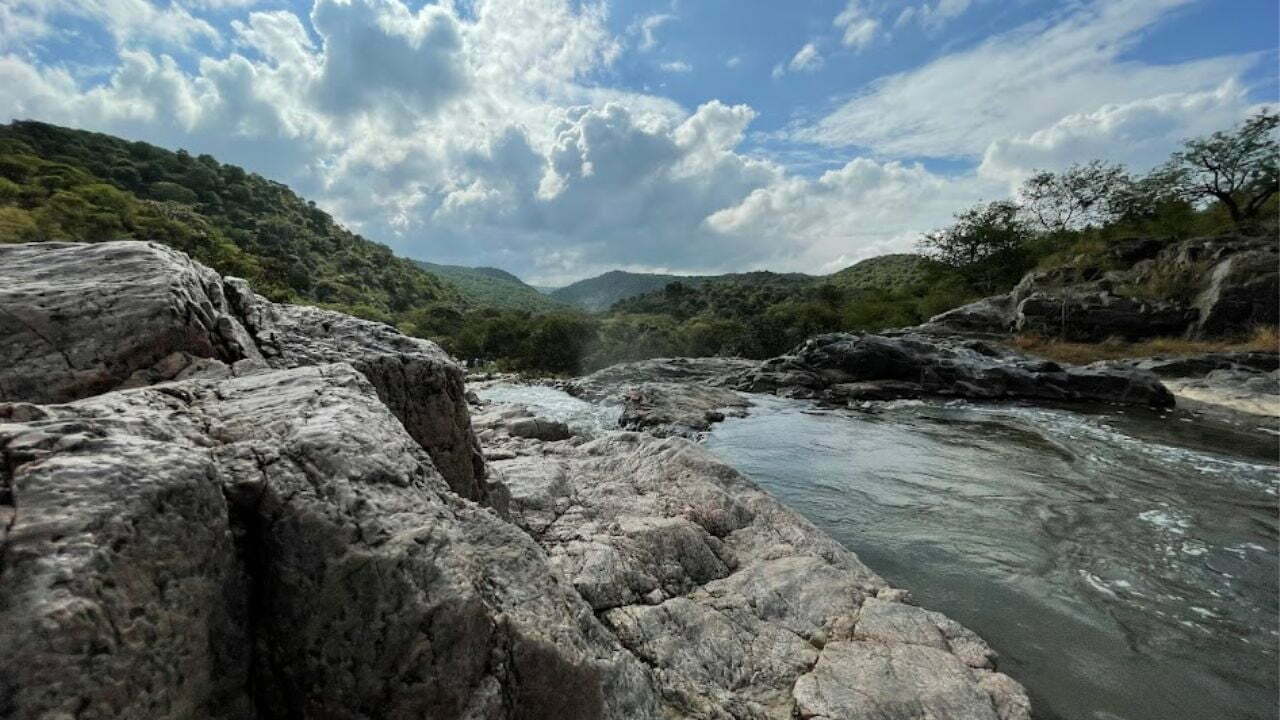 1. Trekking
Don't be fooled by the Google recommendations if you want to visit Kaigal Falls. Be prepared for a 1-kilometre, moderately challenging trek and the lack of a waterfall.
Yes, all of the images you see online are either from somewhere else or were taken during the height of the monsoon season.
2. Bathing
Because of the water's chilly temperature, you could feel more alive. If you have plans to visit this location, your family and friends are welcome to try taking a bath there and enjoying themselves.
3. Picnic
This location is ideal for family outings and quality time with the children. People who live nearby frequently go to the waterfall to unwind and spend time with their loved ones.
Note – If you want to explore one of the amazing waterfalls of the nation, you should definitely visit Bogatha Waterfall.
How to Reach Kaigal Waterfalls Chittoor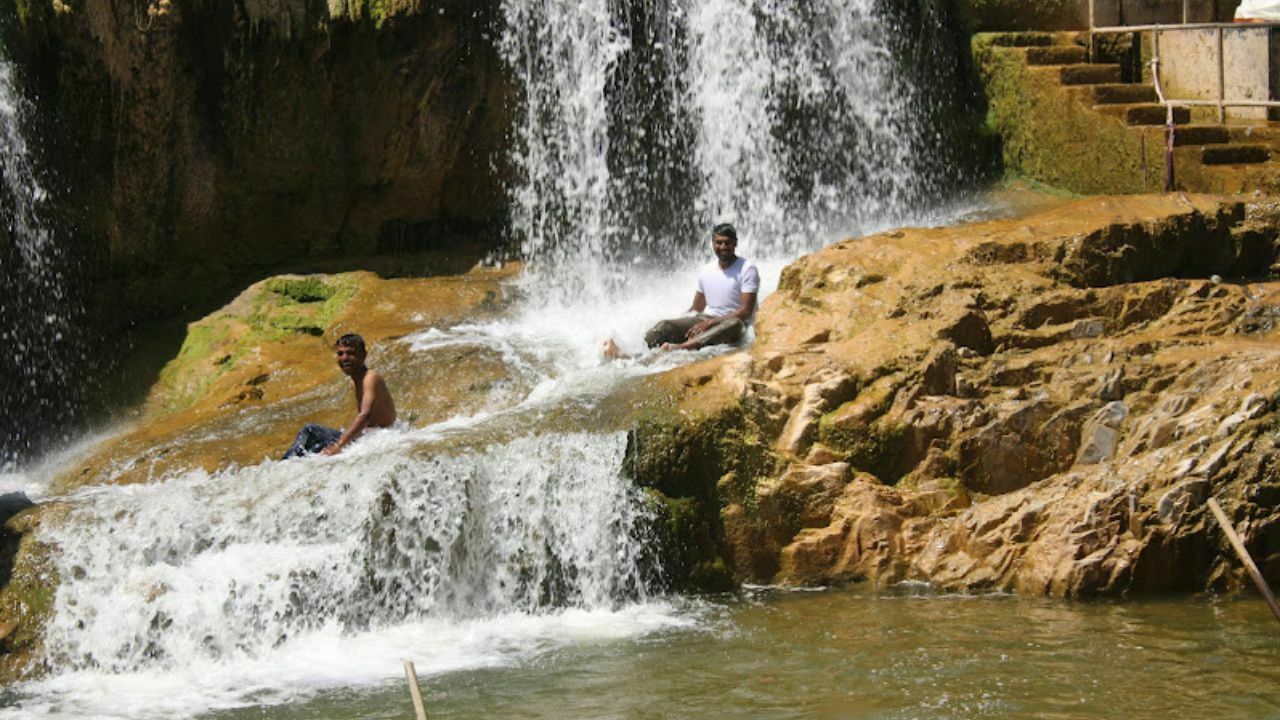 1. By Road
Bangalore is just 100 kilometres away from the Kaigal waterfall. If you are planning to visit this place, you can book a car or bus to the waterfall in Bangalore.
As the city is well connected to all the major cities of the country, it will be quite easy for everyone to reach Bangalore and from there continue their journey.
2. By Train
There are several railway stations near the waterfall, such as Melpatti, Panchchakuppam, Coromandel, etc. You just have to book a train from your city to one of these stations. You will be able to find several cabs outside the station that can take you to the waterfall.
3. By Air
Bangalore Airport is the nearest to the waterfall. Book your flight from any city in the country, and outside the airport, you'll be able to find cabs that can lead you to the waterfall.
Note – Wanna explore hidden waterfalls in Odisha? Make sure to visit Gandahati waterfalls.
Nearby Tourist Attractions to Kaigal Waterfall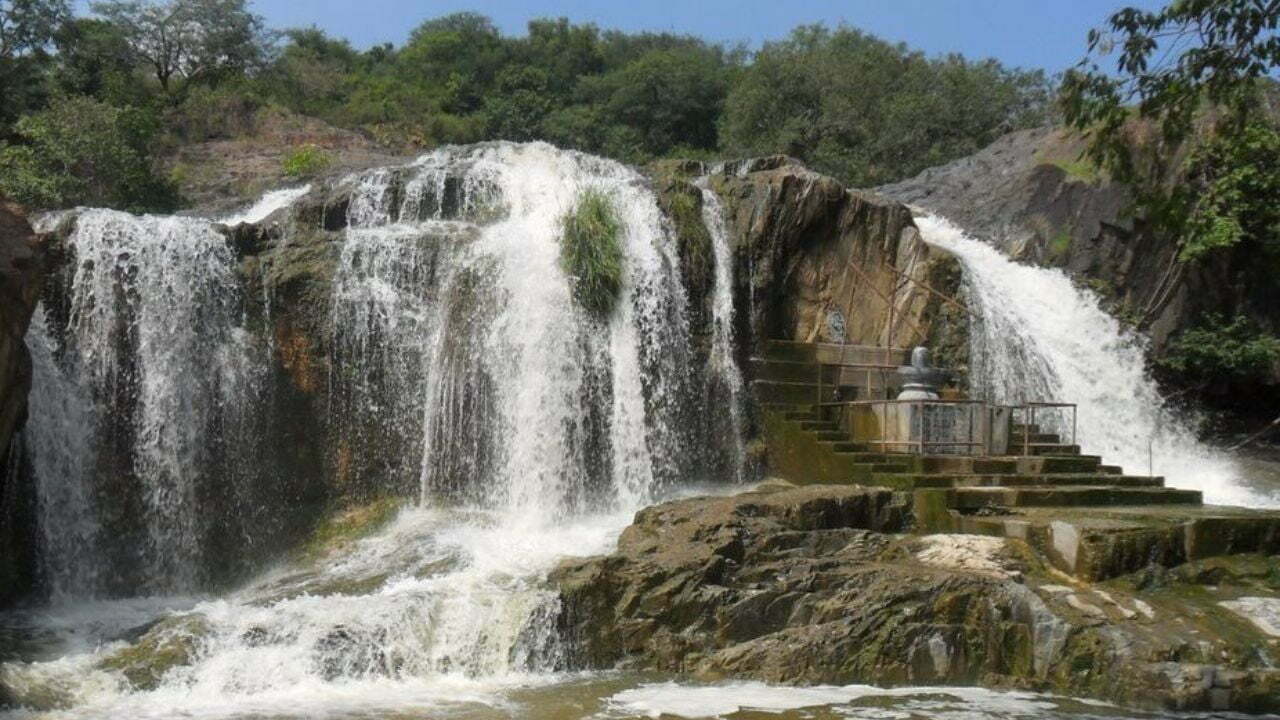 1. Kolar Lake
As we passed Kolar, we were welcomed with breathtaking vistas, but a sight that was impossible to ignore was the presence of a sizable lake in Nagalapura, which was ocean green.
Strangely, Google Maps doesn't even indicate that there is water nearby. After sliding onto the service road, we made a U-turn and parked our car by the lake. You may have never seen this particular type of lake before.
2. Horsley
Horsley Hills Access is a one-lane, well-maintained roadway. Enormous canopies lined the road for the whole of the journey from the mountains to the Horsley Highlands resort.
It is really a group of nine hills in Andhra Pradesh's Chittoor Division, around 14 kilometres from Madanapalle town.
According to local lore, it was once named Yenugu Mallama Konda. It was the vacation home of British collector W.D. Horsley in approximately 1870 and was eventually given his title.
3. Sri Venkateshwara National Park
Venkateshwara National Park and Nature Reserve is home to remarkable fauna varieties like Slender Loris, Forest Shrews, Stray Dog, etc.
It is situated on the Eastern Ghats, around 10 km from Tirupati. The spotted venom eagle, Indian roller, woodpecker, and other fascinating birds are also available to bird enthusiasts.
4. Srikalahasti Temple
Devotees frequently go together to Chittoor's Srikalahasti Shrine and the nearby, highly regarded Tirupati Temple (36 kilometres away).
Krishnadevraya, a monarch of the Vijayanagara kingdom, built the Kalahasti shrine, dedicated to Lord Shiva, in 1516. It is of great religious significance to Hindus.
5. Nagalapuram
Nagalapuram is a quiet and tranquil location that is tucked away like a pearl behind the beautiful green trees of Andhra Pradesh.
It is well-known for the many exciting activities available in this picturesque region and is also referred to as the Nagala Mountains.
The Nagalpuram Falls are another famous feature of Nagalpuram. It is a trio of cascades that provides fantastic hiking opportunities and a breathtaking vista.
Note – Aapkhol Waterfall is among the most beautiful waterfalls of the country which is surrounded by lush greenery and thick forest.
Best Time to Visit Kaigal Falls Chittoor
The best time to visit the waterfall is during or just after the monsoon season. During this time, the view of the fall is so beautiful and mesmerizing. ]
Nearby residents and people from all around the country visit this place at this time and enjoy nature's miracle.
Travel Tips That You Should Keep in Mind
Avoid carrying any expensive or important belongings with you since they might get misplaced when you are appreciating the waterfall.
Since one can get injured when visiting these locations, it is advisable to carry a first aid package just in case.
The most vital item to carry is hand sanitizer.
Wearing athletic shoes when visiting locations like waterfalls would undoubtedly increase your enjoyment.
Conclusion – Kaigal Waterfall Chittoor
The Kaigal river, one of the two streams that run through Koundinya Wildlife Sanctuary, is responsible for creating the falls. For those who enjoy nature, this is a good site to visit because there is a large pond below the waterfalls.
It is surrounded by a thick forest full of trees, plants, birds, and other species. People from nearby communities flock to the falls for picnics in particular. During the Shivaratri holiday, a shiva linga constructed next to the falls draws pilgrims from neighbouring villages.
FAQs on Kaigal Waterfalls Chittoor
1. Where is Kaigal Waterfall located?
Kaigal Waterfall is located near Kaigal village which lies in the Chittoor district of Andhra Pradesh state, India. It is 2.5 km at a distance from the Kaigal village.
2. What is the best time for visiting Kaigal Waterfalls?
Monsoon season is the best time to explore the Kaigal waterfall because at this time, you can enjoy the lush greenery around the waterfalls.
3. What is the nearest town to the Kaigal Waterfalls?
Palamaner and Mulbagal are the nearest towns to the Kaigal waterfalls which is about 29 km and 25 km away from the waterfall respectively.
4. What are the tourist attractions around the Kaigal Waterfalls?
Horsley Hills, Kolar Lake, Sri Venkateshwara National Park, Srikalahasti Temple, and Nagalapuram are some of the very popular tourist attractions around the Kaigal Waterfalls.
5. How far is Kaigal Waterfalls from Amaravati?
Kaigal Waterfall is about 551 km far from the capital city of Andhra Pradesh, Amaravati.
Distance from Major Towns / Cities
| | |
| --- | --- |
| Mulbagal | 25 km |
| Palamaner | 29 km |
| Kuppam | 49 km |
| Punganur | 56 km |
| Chittoor | 71 km |
| Vellore | 94 km |
| Tirupati | 138 km |
| Amaravati | 551 km |
Watch Video – Kaigal Waterfalls Chittoor
Map of Kaigal Falls Chittoor