This is a complete travel guide to Kapildhara Waterfall Amarkantak, Madhya Pradesh. In this guide, we've mentioned location, things to do, how to reach, best time to visit, nearby attractions, travel tips, facts, etc useful information.
Kapildhara Waterfalls Amarkantak Overview
| | |
| --- | --- |
| Location | Amarkantak, Anuppur district, Madhya Pradesh |
| Entry Fee | N/A |
| Opening Hour | 24 Hours |
| Best Time to Visit | Monsoon & Post Monsoon |
| Nearest Town | Amarkantak (5.5 km) |
| Nearest Railway Station | Pendra Road Railway Station (36 km) |
| Nearest Airport | Jabalpur Airport (221 km) |
| Famous For | Bathing, Adventure, Photography |
| Nearby Attractions | Narmada Udgam Temple, Kapil Dhara Waterfall, Sone Udgam Temple, etc. |
Madhya Pradesh is home to several waterfalls like Astang Waterfall, Bhoora Khon Waterfall, Gangulpara Waterfall, Keoti Waterfall, and Sultangarh Waterfall, etc that offer amazing views of nature to its visitors. Among them, Kapildhara Waterfall is a worth-visiting waterfall that should be explored by you.
Kapildhara Waterfall is located in the northeastern region of the state of Madhya Pradesh. It is situated in the Amarkantak district, which is also the origin of the Holy Narmada River.
The district is about 100 meters above sea level and offers a tranquil atmosphere. Sage Kapil used to live in this location and engage in strict religious penance, due to which the waterfall got its name, which is Kapildhara.
The waterfall is formed when the rivers Kapil and Erandi join the holy river, Narmada. One can also find a temple of the Narmada goddess near the waterfall. There are several shops and restaurants near the waterfall.
Suggested – Dhudhdhara Waterfall is another waterfall located in Amarkantak that you should also explore.
Interesting Facts about Kapildhara Waterfall
The waterfall is one of the most beautiful waterfalls in the state.
Several people visit the waterfall during the monsoon and post-monsoon seasons.
The waterfall is formed by the confluence of three rivers.
The place where the waterfall is situated is around 100 meters above sea level.
There are various religious beliefs related to the waterfall.
Things to do at Kapildhara Waterfall Amarkantak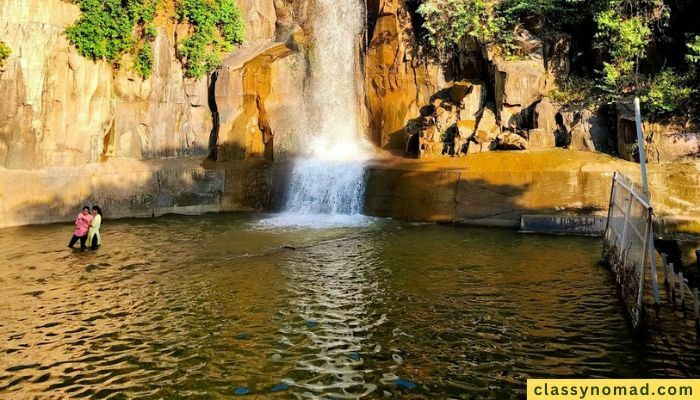 1. Bathing
Taking a bath at the cascade is the next enjoyable activity to undertake there after a long journey and walk. You may take a bath next to the waterfall in the lagoon, where the water falls from a considerable height and is cleansing.
People who live close to the cascade frequently come here on weekends to go dipping because of the cool, calming water.
2. Discovering Nature's Secrets
If you enjoy the outdoors, discovering nature's mysteries will be an enjoyable hobby for you. Nature exploration will not only broaden your understanding but also teach you more about who you are. You can concentrate and realize your true feelings in a tranquil setting.
3. Picnic
When visiting a waterfall, one of the pleasurable things people do is pack a picnic. Many households that frequent this site pack their lunches because there are no motels nearby, and they enjoy lunch while admiring the stunning surroundings.
How to Reach Kapildhara Waterfall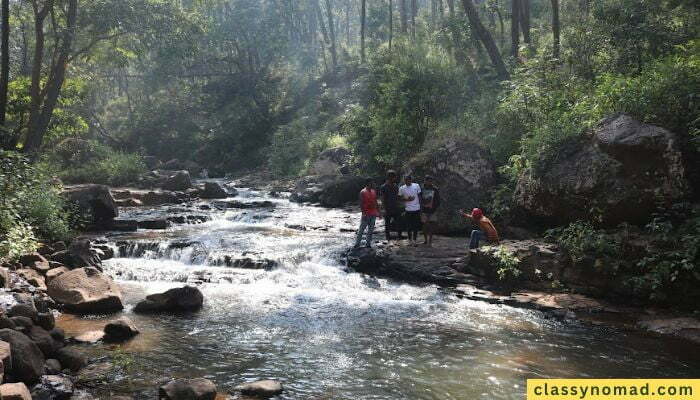 1. By Road
Amarkantak has a well-connected network of roads, with the help of which one can reach the waterfall quite easily. The city is really close to Gujarat and Uttar Pradesh.
2. By Train
There are several railway stations near Amarkantak, such as Pendra Railway Station, Bhanwar Tonk Railway Station, and many more.
3. By Air
The nearest airport to Amarkantak is Jabalpur Airport.
Tourist Attractions near Kapildhara Waterfalls
1. Trimukhi Temple
One of the ancient temples in the country is the Trimukhi complex, which is located in the town of Amarkantak on the summit of a hill. It is sometimes referred to as "Karna Mandir," just after the Kalachuri monarch who erected it, King Karnadeb Mahachandra.
According to Hindu tradition, Lord Shiva, who destroys the cosmos, is the main god of the mandir.
2. Sonakshi Shaktipeeth Temple
This mandir was built in honor of the goddess Sonakshi, as its name implies. Even during the Navratri holiday, hundreds of visitors go to the temples since it is said that Devi Sonakshi rewards anyone who comes to see her.
The surroundings of the temple are wonderful, and from within there is a stunning view of the Son Riverbed and the adjoining kund.
3. Shri Jwaleshwar Mahadev
A temple called Shri Jwaleshwar Mahadev is devoted to the God Shiva, one of the three Hindu deities. It is located 10 kilometers east of the Narmada Mandir and 10 kilometers from the town of Amarkantak.
A black Mahadev lingam, termed Jwaleshwar Mahadev, is housed at this temple. Another interesting fact is that the deity Shiva, as well as Parvati, resided here due to the area's beauty.
4. Mai Ki Bagiya
Mai ki Bagiya, which translates to "Mother's Gardens" in English, is a forest-covered tree trunk grove that is located around 5 kilometers from Narmadakund and is consecrated to the Devi Narmada.
Alongside Gulbakavli, flowers, and other floral plants, this park has mangoes and bananas, as well as other fruits.
5. Shiv Chaturdashi
During the months of February and March, Amarkantak is visited by saints from all across the nation as part of this celebration, which is commemorated with great fervor. Coming here to visit throughout that period is a joy.
Best Time to Visit Kapildhara Waterfall
The best time to visit Kapildhara is during the monsoon and post-monsoon. During this time, the level of water in the Kapil and Erandi rivers is high, due to which one can witness a big and beautiful waterfall. If you are willing to visit the waterfall during the summertime, the waterfall won't disappoint you. During summer, the waterfall also looks beautiful and alive.
Travel Tips
You must bring additional clothing with you while visiting a waterfall since you could take a bath but there are no showers or bathrooms close to the waterfalls.
When seeing a waterfall, cotton clothing is required.
An umbrella is a requirement because it could rain close to a waterfall.
A first-aid kit has to be carried about at all times for emergencies.
Wear shoes that have a good grip so that it will be easy for you to walk and explore more.
Conclusion
If you are planning on visiting Amarkantak, then you must surely visit Kapildhara waterfall. Many people come to Amarkantak to worship Devi Narmada and to bathe in the holy Narmada River. While visiting the Narmada, you must also visit the waterfall so that you can see a beautiful view of the state.
FAQs on Kapildhara Waterfall Amarkantak
1. Where is Kapildhara waterfall situated?
The Kapildhara waterfall is situated in a small town in the state of Madhya Pradesh known as Amarkantak.
2. What is the best time to visit Kapildhara Waterfall?
The best time to visit Kapildhara waterfall is during the monsoon and post-monsoon.
3. What is the distance between Bhopal and the Kapildhara waterfall?
The Kapildhara waterfall is around 550 km away from the capital of Madhya Pradesh, i.e., Bhopal. It takes 11 hours to reach the waterfall via road.
4. What are the tourist attractions near the Kapldhara Waterfall?
There are several tourist attractions near the waterfall that tourists can visit, such as Narmadakund, Trimukhi Temple, Sonakshi Shaktipeeth Temple, Shri Jwaleshwar Mahadev, Sonemuda, and many more.
Map of Kapildhara Waterfall Amarkantak