This is a complete travel guide to Keoti Waterfall Rewa, Madhya Pradesh. In this guide, we've mentioned location, things to do, best time to visit, how to reach, nearby attractions, travel tips, facts, maps, etc helpful information.
Keoti Waterfall Rewa Overview
| | |
| --- | --- |
| Location | Keoti, Rewa district, Madhya Pradesh |
| Entry Fee | N/A |
| Opening Hour | 24 Hours |
| Best Time to Visit | Monsoon Season |
| Nearest Town | Rewa (37 km) |
| Nearest Railway Station | Rewa Railway Station (41 km) |
| Nearest Airport | Allahabad Airport (115 km) |
| Famous For | Trekking, Picnic, Nature Exploration |
| Nearby Attractions | Deur Kothar, Purwa Falls, Rani Talab Meyer, Astang waterfall, etc. |
Being one of the top cascades in Madhya Pradesh, Keoti Fall is unquestionably the 24th tallest cascade in India and was masterfully crafted by the environment to provide an unforgettable experience.
The Headwaters Mahana, a branch of the Tons Rivers, flows from the Rewa Plains near Keoti Waterfall. You may even use your video cameras to capture the captivating drop that cascades from an elevation of 130 meters.
As the 24th tallest cascade in India, it is renowned for being a split-fall kind of fall with something like a single descent. For enthusiasts of nature, it is among the top locations to visit in Rewa. To find the Knick spot, search for the segmentation hillsides.
Suggested – Bhoora Khon Waterfall is one of the less-known tourist sites in Madhya Pradesh.
Interesting Facts about Keoti Waterfall Rewa
The Keoti waterfall is the 24th highest waterfall in all of India.
Due to the lack of tourists, this waterfall offers a tranquil setting.
You may have fun with your pals while enjoying the outdoors.
Weekends are popular times for people to visit the waterfall to take in the natural beauty of the area.
The place is near major cities of the state, which makes it easier for people to visit here.
Things to do at Keoti Waterfalls Rewa
1. Trekking
Trekking is the activity that tourists who visit waterfalls like the most. Despite the path's small size and concealed placement inside the trees, it is difficult to access Keoti Waterfall. The entire trail is hiked by frequent visitors to the waterfall.
2. Picnic
One of the enjoyable activities people engage in when seeing a waterfall is having a picnic. Many of the families that frequent this location bring food for themselves, and they have lunch here while taking in the gorgeous surroundings. A network of locals who come together to take in the scenery may be found here.
3. Nature Exploration
If you like being outside, taking a nature stroll next to a waterfall will be a lot of fun for you. Exploration possibilities abound in nature. Children may experiment with ideas and learn by doing when they interact with natural habitats. Children naturally ponder, form theories, and ask questions, which fosters the development of curious minds.
Suggested – If you are planning to explore Delhi, these are the places that you must visit.
How to Reach Keoti Waterfalls Rewa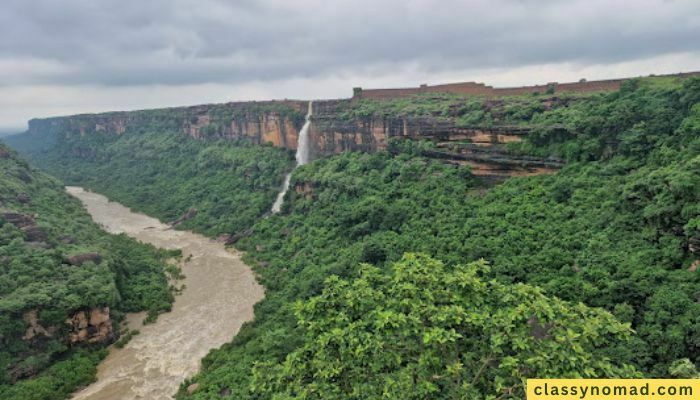 1. By Road
By the Major District Route, Keoti Falls may be reached from the Rewa city center in slightly more than 37 kilometers. You may use public transit or a taxi to get to this magnificent location. The best choice is to take a cab. The area is highly linked, and once you get there, you may visit a lot of other locations as well.
2. By Train
Rewa railway station is nearest to the Keoti waterfall; all you need to do is book a train ticket to the station, and outside it, you can find various transportation facilities.
3. By Air
Allahabad Airport is the nearest to the Keoti Waterfall. All you need to do is book a ticket to the airport, and outside it, you can find various transportation facilities.
Suggested – Add these places to your bucket list if you are planning to visit Uttarakhand.
Tourist Attractions around Keoti Waterfalls Rewa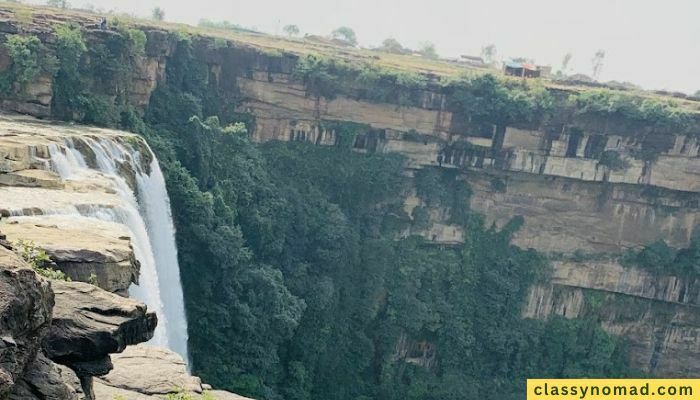 1. Deur Kothar
In addition, Deur Kothar has 5,000-year-old stone tunnels that are unquestionably pretty intriguing to view.
Throughout the reign of Ashoka, the remains of the Lord Buddha were scattered in order to construct numerous stupas in an effort to spread Buddhism all throughout the Vindhyan region.
Buddhists erected stupas at Deur Kothar, one of the most significant Rewa tourist sites, when this ancient site was found.
2. Purwa Falls
The 70-meter-high Purwa Fall is a breathtaking site to see. Another classic Knickpoint will definitely be of interest to geography enthusiasts.
Purwa Topples' water originates from the Tons Riverbed and also flows down first from the Rewa Plateau.
Tales of this fall may be found in the Hindu epic Ramayana, which makes it a perfect location for lunch.
3. Rani Talab Meyer
Rani Talab Meyer is one of the key places to visit in Madhya Pradesh and is one of the oldest water bodies in the region.
The extremely well-maintained freshwater is used for a variety of purposes, notably cultivation, angling, and household chores.
This man-made lake is crowded with worshippers on significant days, especially around dawn and twilight.
4. Astang waterfall
In Madhya Pradesh, the waterfall is located close to the Rewa district. The Astang waterfall is a well-kept secret, and people adore going there on the weekends.
Because Astang waterfall is close to Bahuti waterfall, one must proceed straight to get to Astang waterfall rather than turning left to get to Bahuti waterfall.
It is challenging to stand close to the waterfall due to the wind's speed, which is between 60 and 70 km/h. It will be one of your finest decisions ever to go see the waterfall.
Travel Tips
Pack an umbrella in case it rains while you're at the waterfall.
Don loose-fitting shoes so you won't have to worry about shifting positions.
When visiting the place, use cotton clothing to remain cool.
Always have a pair of binoculars with you so you can view distant objects.
Avoid getting too close to the waterfall since it might be hazardous.
Conclusion
After viewing the magnificent Keoti waterfall, you will feel revitalized and alive. People come here to escape city life and spend time with their loved ones while taking in the scenery. Around 1-2 groups can be seen coming here frequently. There aren't many individuals at the waterfall since it is still mostly undiscovered. You'll adore this location, I'm 100% sure.
FAQs on Keoti Waterfalls Rewa
1. Where is Keoti Waterfall situated?
The Keoti waterfall is situated at Keoti in Rewa district, Madhya Pradesh, India.
2. What is the best time to visit Keoti waterfalls?
The rainy season is the ideal time to view the waterfall. The waterfall's splendor is at its height during the rainy season when the wind is blowing quite quickly. Although the waterfall is accessible all the time, it is advised that you go during the day.
3. What is the distance between Bhopal and Keoti waterfalls?
The distance between Bhopal and Keoti waterfalls is around 580 km, which might take 10 hours to reach the waterfall from Bhopal.
4. What are the tourist attractions near the Keoti waterfalls?
There are various places that you can visit near Keoti waterfalls, such as Astang Falls, Deur Kothar, Purwa Falls, Mukundpur Zoo, Rewa Fort, and Govindgarh Palace.
Map of Keoti Waterfalls