This is a complete travel guide to Khandadhar Waterfalls Sundargarh, Odisha. Here, we've mentioned location, things to do, best time to visit, nearby attractions, how to reach, travel tips, facts, etc useful information.
Khandadhar Waterfalls Sundargarh Overview
| | |
| --- | --- |
| Location | Bonaigarh, Sundargarh, Odisha |
| Entry Fee | Free |
| Opening Hours | 24 Hours |
| Best Time to Visit | Oct, Nov, Dec, Jan, Feb |
| Nearest Town | Bonaigarh (20 km) |
| Nearest Railway Station | Barsuan Railway Station (42 km) |
| Nearest Airport | Ranchi Airport (260 km) |
| Famous For | Bird Watching, Trekking, Picnic |
| Nearby Attractions | Tensa Valley, Gudguda Waterfall, Sanaghagara Falls, Handibhanga Falls, etc. |
Among Odisha's beautiful falls, Khandadhar Waterfall is situated 20 km from Bonaigarh town in the Sudargarh district of Odisha.
Within a few kilometres of its source, a perennial torrent known as Korapani Nala formed the sparkling waterfall Khandadhar, which is set within a dense jungle.
Khandadhar Waterfall is reputed to be the 2nd tallest waterfall in Odisha at 244 metres high after Barehipani Falls in Mayurbhanj.
It is accessible through a fair-weather road for 20 kilometres from Bonaigarh, but the final two kilometres must be traversed on foot.
Interesting Facts about Khandadhar Waterfalls
Khandadhar is the 11th-highest waterfall in India.
The indigenous people in the area of Khandadhar falls revere a goddess known as Kanta. The waterfall's name comes from the fact that it resembles a sword (khanda) waterfall (Dhara).
The rich green picturesque forest enhances the waterfall's beauty, creating an amazing spectacle.
When you visit Khandadhar, the enjoyment factor is increased by the fact that the final section of the waterfall must be travelled on foot through the jungle.
Things to do at Khandadhar Waterfalls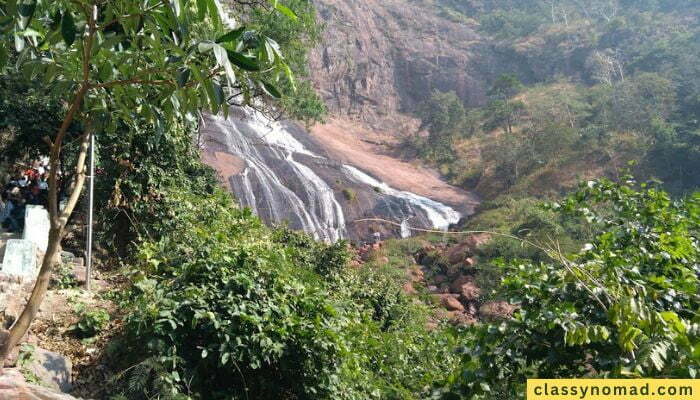 1. Bird Watching
While exploring Khandadhar's wildness, listen to the clamour of singing birds, walk up the terrain, and take in the beauty of nature.
2. Trekking
If you are really into trekking, then Khandadhar Falls is the right place for you as it provides the best surroundings and environment for trekkers.
3. Picnic
You can come here along with family, friends and children and carry along snacks and some interesting games to have the best picnic ever.
How to Reach Khandadhar Waterfalls Sundargarh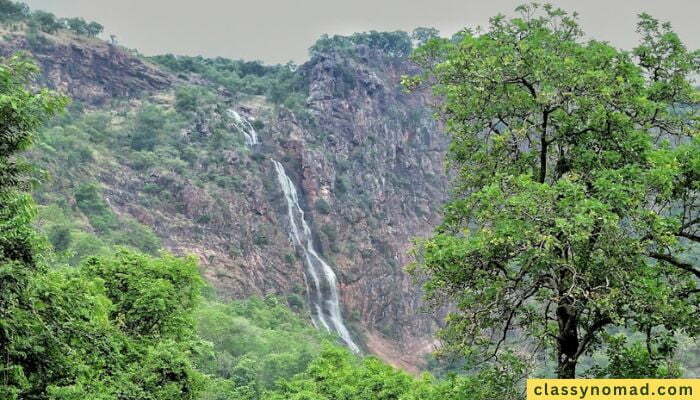 1. By Road
You can reach Khandadhar Waterfall by reaching Rourkela which is at a distance of 86 Km from the falls. From the Rourkela Bus Stand, you can opt for a road journey to Khandadhar Falls.
2. By Rail
The nearest railway station to Khandadhar Falls is the Barsuan Railway Station which is located at a distance of around 42 Km. After reaching the station via rail, you can reach the falls by any mode of transport.
3. By Air
Ranchi Airport is at a distance of 260 Km from the falls, which is the nearest airport. After landing there, you can take any route towards the falls.
Tourist Places near Khandadhar Waterfalls Sundargarh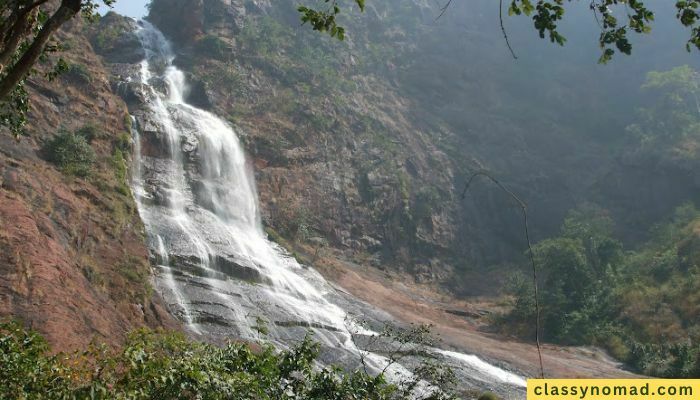 1. Tensa Valley
The Sundargarh District's Bonai Forest Division is home to Tensa Hill Station. Iron mines, hills, and woods surround this picturesque hill station and nature camp. The height of Tensa Ghati is approximately 3700 metres above sea level. The iron ore mines there are well-known.
2. Gudguda Waterfall
It is one of the most picturesque places is Gudguda, which is located in the Sambalpur District. Three step-by-step waterfalls, which have been exquisitely sculpted out of the rocks, may be found here.
Mountain hiking is another activity you may enjoy here. When planning a trip to this location, don't forget to bring hiking boots. One further thing to note is that the water flowing in these falls is quite cold, mostly due to the fact that it is shielded from the sun on all sides.
3. Sanaghagara Falls
At a distance of around 8 kilometres from Keonjhar, Sana Ghagara Water Fall is situated in the Keonjhar area. It is situated in an area of hills with typical mixed deciduous and other types of forest vegetation.
This woodland tract's famed Sana Ghagara waterfall and permanent stream enhance its natural beauty and draw numerous tourists all year long. It has rather pleasant summers and chilly winters.
4. Handibhanga Falls
Handibhanga Waterfall, located in the Bahalda village in the Keonjhar district, is a well-known waterfall and a significant source of tourism in Odisha.
This waterfall, which cascades from a height of 30 metres, is a popular picnic location in Odisha where visitors go to relax and revitalise themselves to the sound of the cascading water.
The mesmerising shape that this fall takes is enhanced by the nearby mountains and lush Keonjhar forest.
5. Sri Baladevjew Temple
Keonjhar is home to the Baladev Jewish Temple. Balarama is the primary deity in the well-known Baladevjew Temple in Odisha. But at the main temple's Ratna Sinhasan, Jagannath and Subhadra are also revered. After the sanctified seven stairs, there is also an image of Tulasi as a sitting goddess.
6. Bada Ghagara Waterfall
The breathtaking Badaghagra Waterfall, which is close to Keonjhar Town, is set among a verdant forest environment. The waterfall has a distinctive 100-foot height within a lush woodland environment.
The main source of water supply for the town of Keonjhar is the Badaghagra reservoir, which was built on the Machakandana River during the Kingdom era. The area is a rare location for studying tribal life and is rich in unusual flora and animals.
Best Time to Visit Khandadhar Waterfalls
The Khandadhar Falls are best visited between the months of October and February, although you may go there any time of year.
Travel Tips
Remember to pack an extra pair of clothes so you won't have to forgo taking a leisurely plunge beneath the waterfall.
Keep track of all the happy occasions. Keep your camera handy so you may record these events in excellent detail and save them for future reference.
Watch out for elderly people and children as they are more prone to injuries.
Don't litter the surroundings of the waterfall as it is harmful to both tourism and the environment.
Wear footwear that holds a strong grip on the ground as there is a risk of slipping.
Conclusion
Visitors from all over the state and outside are mesmerised by Khandadhar's breathtaking natural setting, which is surrounded by mountain ranges in three directions. The natural surroundings of this region are suitable for the area's diverse and plentiful flora and fauna, making it the ideal destination for nature enthusiasts.
Some of Odisha's Amazing Waterfalls
FAQs on Khandadhar Waterfalls
1. Where is Khandadhar Waterfall situated?
Khandadhar Waterfall is situated 20 km from Bonaigarh in the Sundargarh District of Odisha.
2. What is the best time to visit Khandadhar Waterfalls?
The best time to visit Khandadhar Waterfalls is from October to February.
3. What are the tourist attractions near to Khandadhar Waterfalls?
The nearby tourist attractions to Khandadhar waterfalls are Tensa valley, Gudguda Waterfall, Sanaghagara Falls, Handibhanga Falls, Sri Baladevjew Temple and Badaghagara Falls.
4. What is the distance between Bhubaneswar and Khandadhar Waterfalls?
Bhubaneswar is at a distance of around 253 Km from Khandadhar Falls.
Map of Khandadhar Waterfalls