This is a complete travel guide to Kitwad Waterfalls Kolhapur, Maharashtra. In this guide, we've mentioned location, things to do, best time to visit, how to reach, nearby attractions, travel tips, facts, maps, etc useful information.
Kitwad Waterfalls Kolhapur Overview
| | |
| --- | --- |
| Location | Kitwad Village, Kolhapur District, Maharashtra |
| Entry Fee | N/A |
| Timing | 24 Hours |
| Best Time to Visit | Monsoon Season |
| Nearest Town / City | Belgaum or Belagavi (26 km) |
| Nearest Railway Station | Sambre (35 km) |
| Nearest Airport | Belgavi Airport (38 km) |
| Famous for | Sightseeing, Picnic, Photography |
| Nearby Attractions | Nersa Hill Station, Amboli, Sawantwadi Palace, Dandeli, Dajipur Wildlife Sanctuary, etc. |
Are you in Kolhapur District and want to explore the best tourist attraction in this district? If you are and want to explore the tourist attractions present there, we would like to introduce you to one very amazing place that needs your attention.
Kitwad Waterfall, one of the best tourist attractions in the Kolhapur district, is the location that you should definitely visit. It is a location that will definitely blow your mind and give you a chance to enjoy one of nature's beautiful creations.
Kitwad Waterfall is one of Kolhapur, Maharashtra's beautiful waterfalls which is unfortunately not very popular yet. Due to less popularity, this beautiful waterfall is not as explored by tourists as it should be.
The waterfall is located in the village of Kitwad, Chandagad Tehsil, Kolhapur District of Maharashtra. The distance between this waterfall and Belagavi, Karnataka, is only 30 kilometers. It offers very mesmerizing views in the monsoon and post-monsoon seasons.
Suggested – Visit Kumbhe Waterfall, Maharashtra's one of most beautiful waterfalls.
Interesting Facts about Kitwad Waterfalls Kolhapur
The ability to take a plunge into the clean water at the waterfall gives it a particular advantage over other gorgeous waterfalls.
The explanation is that there isn't any kind of hiking required to reach this waterfall; it is just accessible by roadway.
The Waterfall, which is remarkably close to Belagavi, has long been a popular tourist destination.
The area is surrounded by verdant woodlands, and a short stroll will bring you to the waterfall.
Things to do at Kitwad Waterfall Kolhapur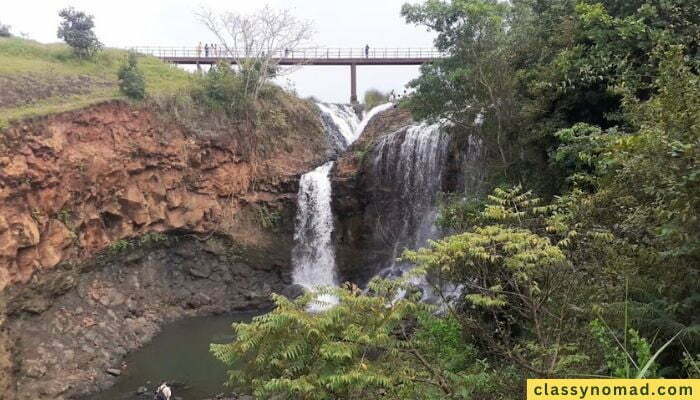 1. Sightseeing
As a result of this location's relative unexploredness, you can anticipate finding some serenity and calm amidst the wonders of nature rather than having to contend with massive tourist throngs.
2. Picnic
Enjoy a meal with your loved ones and friends while taking in the peaceful sounds of nature and the thundering waters of the falls.
3. Photography
A common pastime in the vicinity of the waterfall is nature photography. Take photos and memories with you so they'll last a lifetime.
Suggested – Get to Nanemachi Waterfall to enjoy a stunning creation of nature.
How to Reach Kitwad Waterfalls Kolhapur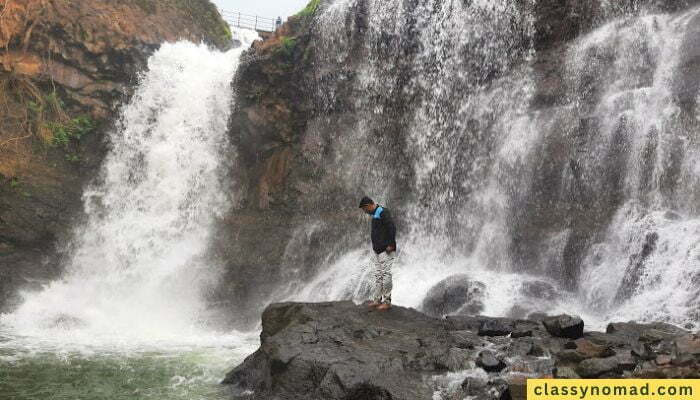 1. By Road
The surrounding towns of Kitwad that are connected to Kitwad by roads are Belgaum and Gadhinglaj. You can take a taxi or cab from there to the waterfalls.
2. By Rail
There isn't a railroad station within 10 kilometers of Kitwad waterfalls. The railway stations that can be reached from nearby towns include Sambre and Belagavi. Sambre is closer to Belgaum.
3. By Air
The only nearby airport to the waterfalls is Belgavi Airport, which is well connected to other cities through airlines. You can reach the airport and book a cab, taxi, or another vehicle to help you reach the waterfalls.
Suggested – Visit Bhaje Waterfall which is one of the best tourist attractions in Maharashtra.
Tourists Places around Kitwad Waterfalls
1. Nersa Hill Station
It is a charming little village in Karnataka that is situated on the border between that state and Goa. It is a wonderful vacation spot for anyone who enjoys adventure, the outdoors, and animals.
Nersa is a lush agricultural area with several sugarcane, paddy, and peanut farms. Thick green forests, abundant foliage, steep terrains, and an isolated mood all add to the picturesque surroundings.
Nersa is the perfect location to take in the vibrant turmoil of rural India. The rural culture, rural villages, peaceful festivals, and innocent citizens are some of Nersa's other well-depicting characteristics, in addition to its beautiful surroundings.
One may see what life is like without television, power, and other contemporary conveniences.
2. Amboli
Amboli is a beautiful hill station. It is the final mountain range before the coastal highlands of Goa, at a height of 690 meters, yet few individuals are aware that it exists.
Amboli is located in Western India's Sahayadri Hills, one of the world's largest Eco Hot-Spots, and as such is home to a wide range of very distinctive flora and wildlife.
One of the sources of the Krishna River lies in the hills surrounding the village of Amboli (also known as the Ganges of south India). The monsoon season's heavy rainfall, numerous waterfalls, and mist are the main draws for tourists.
A dozen of the 108 Shiva temples within and around Amboli have been found. It's peaceful and clean.
3. Sawantwadi Palace
King Khemsawant-Bhosle III erected Sawantwadi Palace in the year 1800. This magnificent mansion is home to an amazing collection of lacquer-made objects.
The exquisite wooden and clay work, as well as the "Ganjifa" paintings, can fill visitors' eyes. The artwork and paintings that can be seen inside the palace serve as compelling evidence that the royal family valued the painters' creations highly.
The Moti Talav, which is situated adjacent to the palace, offers boating facilities for visitors. The splendor of the fountains complements the lake's beauty.
4. Dandeli
It is a developing tourist attraction that offers a wonderful fusion of wildlife, outdoor activities, and visual beauty. It is situated against the backdrop of the Western Ghats on the Kali Kaveri riverbanks.
It is frequently described as a "little India" because the population is so diverse in terms of culture. The dense woodlands that cover the entire city are thought to be among the best native habitat for animals and birds.
It offers thrilling adventurous sports including hiking, rock climbing, mountain climbing, river rafting, canoeing, kayaking, and cycling in addition to its natural wonders.
It's a beautiful setting where you can relax and take in the beauty of nature.
5. Dajipur Wildlife Sanctuary
Dajipur Wildlife Sanctuary, formerly the Maharaja of Kolhapur's hunting grounds, was designated as a wildlife sanctuary in 1985.
The location, often called Bison Sanctuary, is well-known for its Indian Bison or Gaurs. In addition, one can see sloth bears, tigers, and leopards.
The sanctuary, which is surrounded by lush woodlands, is the ideal escape from the city.
Suggested – Explore Sawatsada Waterfall, one of the less-known waterfalls in the state of Maharashtra.
Best Time to Visit Kitwad Waterfall Kolhapur
Given that there would be many waterfalls during the season, monsoon season would be the ideal time to see them. Pack your luggage and head there at this time of year if you genuinely adore the rain.
Travel Tips
It is advisable to arrive at Kitwad village and then solicit assistance from the locals.
These waterfalls are not marked by any signs or markers.
Belagavi is roughly 30 kilometers away from Kitwad village.
The Kitwad waterfalls make no exception to the need to use the utmost caution when in close proximity to water bodies.
Conclusion
One must visit the waterfalls if one wants to experience one of the best waterfalls! Kitwad Waterfall is considered to be one of the most beautiful waterfalls in Maharashtra. The waterfall, which is frequently referred to as "the gift of nature," must be seen.
The waterfall gains an intimidatingly stunning image as a result of this surreal beauty, drawing hundreds of tourists. Although spending some time along streams and watching roaring waterfalls is a common activity, it should be done with extreme caution, particularly during the monsoon season when the water flow is relentless.
Map of Kitwad Waterfall Kolhapur