It is a complete travel guide to Krang Suri Falls Meghalaya. Here, we've mentioned location, things to do, how to reach, nearby attractions, etc information.
Krang Suri Falls Meghalaya Overview
| | |
| --- | --- |
| Location | Jowai, West Jaintia Hills district, Meghalaya |
| Entry Fee | N/A |
| Timing | 24 Hours |
| Best Time to Visit | All Around Year |
| Nearest Town | Jowai (27 km) |
| Nearest Railway Station | Guwahati Railway Station (178 km) |
| Nearest Airport | Lokpriya Gopinath Bordoloi International Airport (197 km) |
| Famous For | Camping, Trekking, Exploring Nature, Scenic Views |
| Nearby Attractions | Dawki River, Byrdaw Falls, India- Bangladesh Friendship Gate, Tyrshi Falls, Jarain Pitcher Plant Lake, etc. |
One of the most well-known, stunning, and unusual waterfalls in the state of Meghalaya is Krang Suri. Among the top five falls to explore in Meghalaya is also among the most well-liked and interesting destinations to travel in northeast India.
One of these well-known waterfalls is the Krang Shuri Waterfalls, which is situated in the West Jaintia Hills district around 27 kilometers from Jowai.
The mountains, which are also visible from a distance, are where the Krang Suri fall is renowned for being situated. Tourists must navigate a treacherous, extremely narrow trail that runs beside the mountains' edge in order to reach the waterfall.
You can now see how steep and tall the mountains are, which makes the journey toward the Krang Suri waterfalls much more exciting.
Interesting Facts about Krang Suri Waterfalls
Krang Suri is quite well-known due to its captivating deep blue (sulfate) coloring.
A captivating waterfall is just one aspect of Krang Suri. It also conveys a story and an unsolved mystery.
Krang Suri was the remote natural arsenal during the 335 years that the Jaintia monarchs ruled.
At Krang Suri, the Jaintia monarchs always kept their deadly weapons secret.
The devoted commanders used to go to Krang Suri to retrieve their weapons every time just before the war.
Suggested – If you are in Meghalaya, make sure to visit Phe Phe Falls and witness the beautiful nature creation.
Things to do at Krang Suri Waterfall, Meghalaya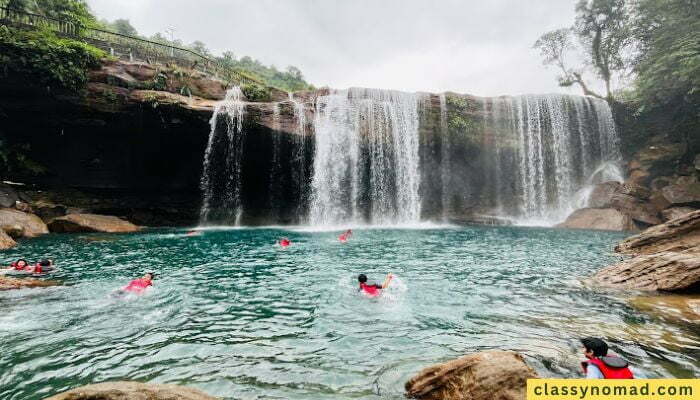 1. You can cool off in the enchanted greenish-blue plunge pool. You won't be able to prevent yourself from diving into the pool because it seems so alluring.
2. To appreciate the breathtaking sights, try to swim to the rock behind the waterfalls and sit down. For those who don't want to swim, there is also a brief drop to reach the area behind the falls.
3. Another outdoor activity that is available here is overnight camping, which is a totally different and thrilling experience. There is just one tiny eatery nearby that is managed by Khasi ladies from the area.
4. When you hit the peak of the waterfalls, you can see a row of small, brightly painted boats anchored along the riverbank. Take a boat ride through the magnificent scenery and brilliant vegetation of this area.
Suggested – Have you ever been to Delhi? As a tourist destination, Delhi has a lot of things to offer. If you are going to Delhi to explore, make sure to visit these places in Delhi.
How to Reach Krang Suri Falls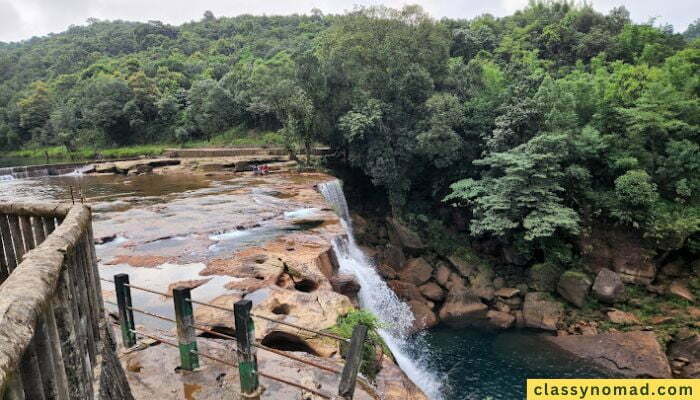 1. By Road
Krang Suri falls is connected by National Highway 44 which is a two-lane all-season motorable road. This route also connects Guwahati – Shillong – Jowai – Khliehriat – Silchar and other states in the eastern part of India. Tourist taxis are available from the State Capital, Shillong.
2. By Rail
The nearest railway station is Guwahati Railway Station located in Assam. It is about 178 km away from Krang Suri Falls.
3. By Air
Lokpriya Gopinath Bordoloi International Airport, located in Guwahati is the nearest International Airport to Krang Suri falls, roughly a 3-hour drive from the waterfall. It is connected with major cities like Delhi, Kolkata, Agartala, Aizawl, Bagdogra, Bangalore, Chennai, Lilabari, Silchar, and Mumbai.
Tourist attractions Near Krang Shuri Falls
1. Dawki River
The river, known as Wah Umngot, flows through the Meghalayan town of Mawlynnong, Dawki, at the foot of the Jaintia Hills, and is very close to the border between India and Bangladesh.
Shillong is located 100 kilometers away. Small-town Dawki is known for having one of India's cleanest rivers and eco-friendly travel.
Meghalaya is a region rich in natural beauty, with spectacular waterfalls, numerous lakes, truly majestic forests, stunning hills covered in pine trees, and an abundance of greenery.
2. Byrdaw Falls
Despite the lack of information about it, Byrdaw Falls is a popular tourist destination due to its attractive appearance, respectable behavior, and most significantly, its uniqueness.
It's interesting to note that some residents of the area where the falls are located rely on them for a living.
However, the number of visitors to this region is actually quite low because it is less well-known, has weak advertising links, hasn't received much government support, etc.
4. India- Bangladesh Friendship Gate
There is an India-Bangladesh Friendship Gate in Dawki, which is around 70 kilometers from Shillong.
Tamabil is located on the other side of a fence from Dawki, the Indian village that borders Bangladesh.
In February 2018, the India-Bangladesh Friendship Gate opened with the intention of holding a border ceremony analogous to the Wagah Border. People can still go there right now and witness the land border.
5. Tyrshi Falls
Another of Meghalaya's lesser-known gems is Tyrshi Falls. Alongside the Jowai-Shillong Road is where it is located. The stunning falls descend in a series of stairs while the water gushes quickly and resembles a vast white veil.
A bridge with an arch connects the falls, and it has more than 20,000 steps that descend to the base of the falls.
It offers you a stunning vista of the Pynthor Nein paddy fields as you travel. Similar to the Elephant Falls in Meghalaya, one may enjoy the thrill of being close to the fall and taking in the watery explosions.
6. Jarain Pitcher Plant Lake
The pitcher garden that encircles Jarain Pitcher Plant Lake gave it its name. The Meghalayan government constructed it (Soil and Water Conservation Department). The Jowai-Amlarem Road conveniently leads to the lake.
The predatory Nepenthes Khasiana pitcher plants cover an area of 50,000 square meters. Everything in the area, from the boathouse to the fountains in the lake's middle, has been designed to depict the pitcher plant, which improves the overall aesthetic.
Best Time to Visit Krang Suri Waterfalls
Here, the climate is fairly good all year long. Krang Suri Falls is a perennial waterfall, therefore you can visit it at any time of the year.
If you are living in Shillong, get going early and plan to stay the entire day. Swimming in the plunge pool's pristine waters can easily take a few hours.
Travel Tips
Using the plunge pool requires wearing a life jacket.
Bring spare clothing and swimsuits with you.
Put on reliable hiking boots or sports shoes.
Charges: Rs. 50 for admittance and Rs. 100 for each life jacket.
Anyone looking for a relaxing getaway from the craziness of the city might find it in a trip to these lovely falls.
Conclusion
Sunshine and glistening blue waves are a blessing for Krang Suri falls. Occasionally, a rainbow is known to form from this potent concoction of nature. This pool in the paradise of nature is undoubtedly wonderful.
It is without a doubt the most enchanted waterfall you will ever see. The tourist trail is shut off at Krang Suri waterfalls. It takes some time to travel there from Shillong, the state capital of Meghalaya, which is situated in the Jaintia hills.
Map of Krang Suri Waterfalls