It is a complete travel guide to Kumbhe Waterfall, Mangaon (Maharashtra). We've talked about location, timing, tips, things to do, nearby attractions, etc.
Kumbhe Waterfall Mangaon Overview
| | |
| --- | --- |
| Location | Kumbe Gaon, Mangaon Taluka, Mangaon, Maharashtra |
| Entry Fee | Free |
| Timing | 24 Hours |
| Best Time to Visit | Monsoon Season |
| Nearby Bus Stop | Mangaon Bus Stop (23 km) |
| Nearby Railway Station | Mangaon Railway Station (24 km) |
| Nearby Airport | Pune International Airport ( 126 km) |
| Famous For | Greenery, waterfall, Scenes |
| Nearby Attractions | Dharavi Slum, Prince of Wales Museum, Wildlife SOS Leopard Rescue Center, Bhimashankar Temple etc. |
Many people travel from miles away to view nature's majesty and beauty. The Kumbhe waterfalls, as well as the hills and rocks that surround them, are incredibly beautiful in their natural state.
Maharashtra is home to many beautiful waterfalls like Nanemachi Waterfall, Sawatsada Waterfall, etc and Kumbhe Waterfall is one of them. The Sahyadris is where this waterfall is situated. It is close to the settlement of Kumbhe.
It is a great location for hiking. To tour the area, a one-night and one-day car trip is required. It offers breathtaking vistas, a picturesque drive, and scenery. The best time to go there is in Monsoon Season.
A stunning waterfall concealed in the foothills is called Kumbhe Waterfalls. Very few are aware of it. It's a lovely waterfall, which makes it a great destination for a vacation or journey. It's a fantastic spot to chill out.
The waterfalls at Kumbhe are close to Mangaon. It is still undiscovered due to its distance from major cities and remote locations.
We love this Flamingo Safari in Mumbai tour.
Interesting Facts about Kumbhe Waterfalls
Locals who live nearby the waterfall frequently visit it to celebrate holidays with friends and family.
Hikers should visit this waterfall at least once because it is ideal for the activity.
When you reach the crest of the waterfall, you'll fall in love with the scene.
The waterfall is accessible to people because it is close to several significant cities.
The location is also extremely significant spiritually.
Things to Do at Kumbhe Waterfall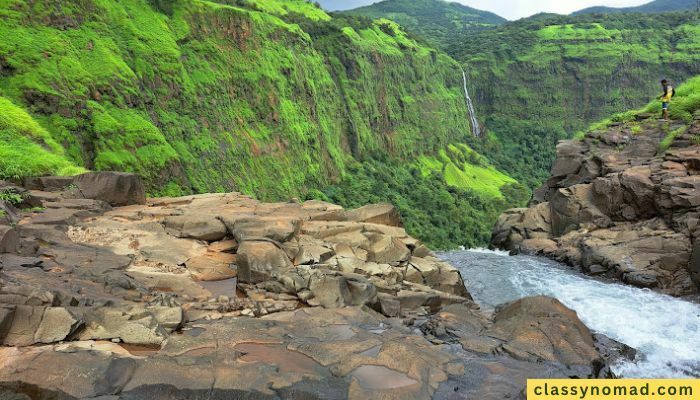 1. Trekking
The cascades, as you are aware, offer the ideal location for trekking. You may access the cascade after climbing a short, steep trail.
Tourists may have to drive quite a ways to get there due to the rocks and few roads, but they will unquestionably be rewarded with unrivaled majesty at the conclusion of this exhausting journey, making it absolutely worthwhile.
2. Picnic
A waterfall is a perfect location for a picnic. By sitting here, relaxing with family and friends, eating, engaging in various interesting activities, and much more, you can make the most of every minute.
On the weekends, locals who live close to the waterfall regularly come here to unwind and spend time with their loved ones.
3. Camping
The best activity you can engage in when you're in your 20s is night camping with friends. Here at the cascade, they might take pleasure in pastimes like stargazing, grilling, and sharing stories. You, your friends, and your family are welcome to camp nearby.
We recommend this 5-Hour Private Mumbai Sightseeing Tour.
How to Reach Kumbhe Waterfalls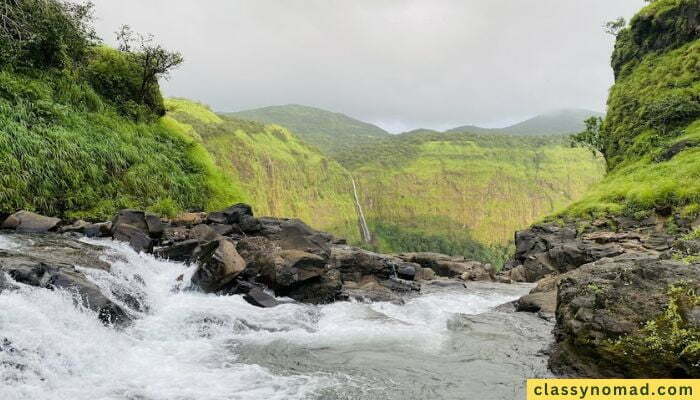 1. By Road
People mostly visit this place in their own vehicles, as the path there is not good and there are several holes in the road. People from Mumbai and Pune often visit this place with their friends and family on two-wheelers.
2. By Train
The nearest train station to the waterfall is the Mangaon railway station. Kumbhe waterfall is 23 kilometers away from the Mangaon. After arriving in Mangaon, one can take advantage of a variety of transportation options to get there.
3. By Air
Mumbai and Pune airports are the nearest to the Kumbhe waterfall. All you need to do is book a flight ticket to Mumbai or Pune, and from there, you can start your road trip to the waterfall.
Nearby Tourist Attractions to Kumbhe Waterfall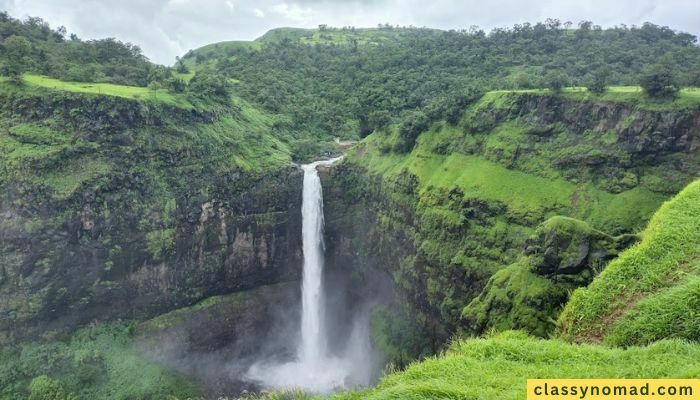 1. Dharavi Slum (153 km)
The notorious Dharavi slum, one of the biggest in the world, is situated in Mumbai, the commercial hub of India. It is a metropolis inside a city that is made up of an endless length of crowded huts, filthy alleyways, and dirty water.
Although the administration owns the property, private individuals are responsible for maintaining the homes. In 1884, the Dharavi slum was created.
2. Prince of Wales Museum (162 km)
The Prince of Wales Exhibition was founded in the early 20th century and is now more widely known as the "Chhatrapati Shivaji Maharaj Vastu Sangrahalaya".
Because of its stunning architecture, this institution is regarded as a landmark in Mumbai. One of the most important museums in India is the Prince of Wales Collection. In its halls, the museum displays a number of treasures, including historical paintings, carvings, and relics.
3. Wildlife SOS Leopard Rescue Center (200 km)
In 2007, the Manikdoh Leopard Rescue Center was built in Junnar, close to Pune, by Wildlife SOS and the Maharashtra Ministry of Environment.
The facility houses more than 30 leopards and offers either short- or long-term treatment for leopards hurt by peasants or caught in difficult circumstances.
Sophisticated man-animal confrontations involving leopards are brought on by human intrusion into the native environment of untamed leopards.
4. Bhimashankar Temple (207 km)
Among the 12 Jyotirlingas, Bhimashankar Jyotirlinga is one of them devoted to Lord Shiva. However, unlike lingas that were established by mankind, the above Jyotirlingas were personality manifestations of Lord Shiva.
These Jyotirlingas are supposedly where Shiva first manifested as a blazing tower of light. In the central sanctuary, the Bhimashankar Linga is situated at a lower level than the pavement.
5. Film City ( 166 km)
The Film City, which is situated in Mumbai's Aarey Nagar and spans a large 520 acres, contains roughly twenty inner facilities and is frequently referred to as the "birthplace of Bollywood."
The area is so large that 1,000 movie sets could be built there at once. It has served as the backdrop for several Bollywood movies over the years. Nearly 900 films and numerous television episodes have been filmed here.
Best Time to Visit Kumbhe Waterfall
The best time to visit Kumbhe waterfall is during the monsoon season, as at that time the beauty of the waterfall is at its peak. People from Pune and Mumbai often visit this place with their friends and do a lot of road trips.
Travel Tips
The path of the waterfall is quite dangerous, so people must carefully travel there on their bikes.
Pay close attention to what the locals say and what they suggest.
The hike to the cascade is challenging, so it's best to go in groups.
Be a considerate traveler and refrain from leaving the area dirty.
Only those who like to go on adventures should go to this waterfall.
Due to the slippery walk up to the waterfall, wear traction-enhancing footwear.
Conclusion – Kumbhe Waterfall, Mangaon
The Kumbhe waterfall is fascinating, and the view is mesmerizing. If you are planning a trip to any of the metropolises, such as Pune or Mumbai, this waterfall is a must-see. So, the article on the travel guide to Kumbhe Waterfall has come to an end. Now, I believe, almost your doubts might have cleared, right? If so, what are you waiting for? Pack your bag and get to Kumbhe waterfall.
Note – Some of the less popular waterfalls in India
FAQs about Kumbhe Waterfall
1. Where is Kumbhe Waterfall situated?
Kumbhe Waterfall is situated in the Kumbe Gaon, Mangaon Taluka, Mangaon, Maharashtra. Although it is an offsite tourist destination, people love to visit there.
2. What is the distance between Kumbhe Waterfalls to Mumbai?
Kumbhe Waterfall is approximately 150 km far from the Mayanagri 'Mumbai'.
3. What is the nearest railway station to Kumbhe Waterfalls?
Mangaon Railway Station is the nearest railway station to Kumbhe waterfalls which is situated almost 24 km far from the location of the waterfall.
4. What is the best time to visit Kumbhe Waterfall?
The Monsoon season is the best time to visit Kumbhe Waterfalls because, at this time, you can enjoy the scenic views of heavy water flowing from the cliff.
5. What are the nearby tourist attractions to Kumbhe Waterfalls?
Although there are so many tourist attractions near Kumbhe waterfall, some of the most popular are Raigad fort, Mahad, Mangad Fort, Harihareshwar Temple, Devkund waterfall, Pratapgad fort, Suvarna Ganesh temple Shrivardhan, Dharavi Slum, Bhimashankar Temple, etc.
Distance from Major Cities
| | |
| --- | --- |
| Mangaon | 23 km |
| Mahad | 50 km |
| Raigad | 50 km |
| Pune | 119 km |
| Mumbai | 150 km |
| Hyderabad | 668 km |
| Goa | 457 km |
| Delhi | 1534 km |
Watch the Video of the Kumbhe Waterfall
Map of Kumbhe Waterfall