This is a complete travel guide to Mainapi Waterfall Netravali, Goa. In this guide, we've mentioned location, things to do, how to reach, timing, nearby attractions, travel tips, facts, map, etc useful information.
Mainapi Waterfall Netravali Overview
| | |
| --- | --- |
| Location | inside Netravali Wildlife Sanctuary, Sanguem, South Goa district, Goa |
| Entry Fee | ₹ 100 (at the entry gate of Netravali Wildlife Sanctuary) |
| Opening Hour | 9:00 AM – 5:00 PM |
| Best Time to Visit | Oct, Nov, Dec, Jan, Feb, Mar |
| Nearest Town/City | Netravali (3 km) & Sanguem (31 km) |
| Nearest Railway | Loliem Railway Station (43 km) |
| Nearest Airport | Goa International Airport (73 km) |
| Famous For | Adventure, Photoshoot, Trekking, etc. |
| Nearby Attractions | Netravali Waterfall, Netravali Wildlife Sanctuary, Candolim Beach, etc. |
Goa is home to some of the most stunning waterfalls of the nation that includes Dudhsagar Waterfall, Arvalem Waterfall, Satrem Waterfall, Surla Waterfall, etc. Among these falls, Mainapi Waterfall is also an amazing waterfall that offers a mesmerizing view of nature.
The Netravali Conservation Sanctuary's territory includes the Mainapi Waterfalls. Tourists must hike through the thick woodlands from the entry gate of the sanctuary to get to the cascade.
The 4.5-kilometer trek into the woods is strenuous, but it is a tiny price to pay for the breathtaking view of the Mainapi cascade.
Visitors may enjoy a breathtaking view of the Mainapi waterfall in Goa due to its constant roaring water. If you enjoy trekking, you shouldn't miss the captivating journey to the base of a magnificent waterfall.
This territory is under the management of the Netravali Wildlife Reserve. Anybody who enjoys the outdoors will appreciate a trip to Mainapi Falls, including hikers and explorers.
Interesting Facts about Mainapi Waterfall Netravali
One can enjoy various activities near the Mainapi waterfall, such as trekking, camping, bathing, picnicking, and many more.
People who visit the waterfall fall in love with this place so much.
The waterfall is not only beautiful but also helps you explore nature.
You will see lots of leeches during monsoon.
Things to do at the Mainapi Waterfall Netravali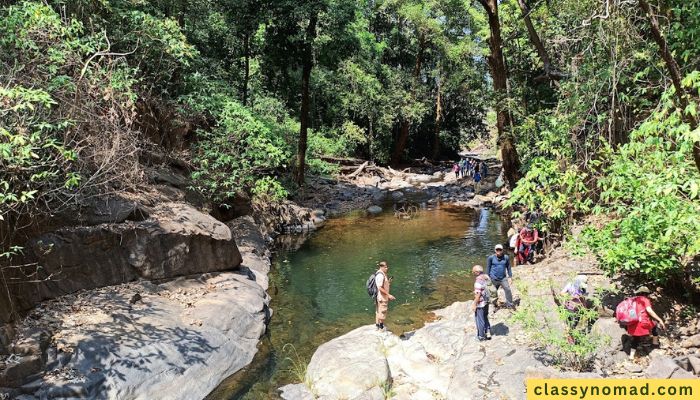 1. Photoshoot
Due to the scenic view of the Mainapi waterfall, people usually love to take pictures with their friends and family. When you visit the waterfall, you will see various people taking pictures and enjoying quality time with their loved ones.
The Mainapi waterfall is even great for pre-wedding photoshoots; you could see married couples doing their photoshoots there.
2. Camping
There are various agents who can provide you with tents and other facilities that are needed for camping. It would feel so amazing to sit in front of a waterfall, gazing up at the stars, and spend your whole night with loved ones sitting beside you.
4. Trekking
The Netravali sanctuary is the starting point where the hike to the waterfall starts. The journey to the magnificent waterfall, which involves navigating minor water bodies and traveling through rural areas, takes approximately 45 minutes.
The Netravali Nature Reserve, which is home to several kinds of insects, birds, and flora and fauna, is traversed during this hike.
How to Reach the Mainapi Waterfall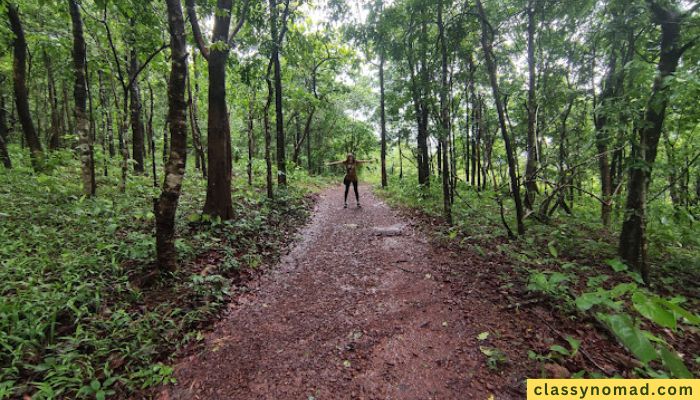 1. By Road
The Mainapi waterfall is only 80 kilometers from Panjim and takes approximately 2 hours and 30 minutes to reach. You can find various transportation facilities, such as cars, buses, taxis, and many more, that can take you to the waterfall via NH 66.
2. By Train
The Loliem railway station is the nearest to the waterfall at a distance of 43 km. There are various transportation facilities through which you can reach the waterfall.
3. By Air
The Goa International Airport is nearest to the waterfall. There are various transportation facilities through which you can reach the waterfall.
Tourist attractions near Mainapi Waterfall Netravali
1. Neturlem / Netravali Waterfall (Savri)
Few people are likely to be acquainted with the Netravali waterfall because of its placement inside the Netravali Wilderness Area. To reach the waterfall, you must go three kilometers into the reserve with a guide.
A waterfall can be found deep within a forest. It's a breathtakingly beautiful sight to witness the cascade slicing through the dense woodland and gently pouring into the lake at the bottom.
2. Netravali Wildlife Sanctuary
The Netravali Wildlife Sanctuary has numerous different varieties of wildlife, birds, and sometimes even uncommon butterfly varieties that call the refuge home. Prepare to come into contact with bulls and other animals.
The Savri and Mainapi fall in Netravali are two year-round waterfalls. The road splits as quickly as you approach the Netravali Wildlife Reserve; the tar road anywhere along uphill terrain is simpler to use.
3. Candolim Beach
Candolim Beach is in northern Goa. The distance to Panjim, Goa's capital, is around 14 miles. The beach at Candolim is a popular destination for most foreign tourists.
This beach is a portion of a broad swath of sand that runs all along the Arabian Sea from Castle Aguada to Chapora Beaches. Compared to Sinquerim Beach and Long Sand Beach, this beachfront is less congested and more serene.
4. Agonda Beach
Agonda is a small, isolated town situated in the southern area of Goa. Agonda Beachfront in Goa is the best place to go if you want to have a thrilling time in the water.
The crisp air and blazing summer sun surely help to reduce the stress imposed by the regular battle. Just go to Goa's Agonda Beach if you want some time to yourself to reflect on your emotions and the boundless sea in front of you.
In addition to the gentle sea breeze lapping at its golden brown shores, palm trees line India's Agonda Beach.
Best Time to Visit Mainapi Waterfall, Goa
The months of October through March are the ideal times to explore the Mainapi waterfall. You may see the entrancing fountain at this time.
This time of year is ideal for exploring flora and animals because of the bright skies and temperate temperatures. All during the year, you are welcome to visit this magnificent location. Nevertheless, it is possible to feel bliss.
Travel Tips
Keep water bottles close at hand. As you proceed towards Netravali, you will definitely pass by wayside shops.
Bring food with you so you can dine around the falls.
Always carry a power bank and additional chargers.
Conclusion
Once you get to Mainapi Falls, the environment will fascinate you. Each and every day, this cascade draws crowds of tourists. You may have fun here along with someone you love. You have all you need here to recharge in the great outdoors.
FAQs on Mainapi Waterfall, Netravali, Goa
1. Where is Mainapi waterfall situated?
Mainapi waterfall is situated inside Netravali Wildlife Sanctuary, Sanguem Taluka in the South Goa district. It is around 80 km away from the state capital Panjim.
2. What is the best time to visit Mainapi Waterfall?
The ideal time to see Mainapi Waterfall is during Oct, Nov, Dec, Jan, Feb, Mar months. You can come here even when it's raining if you want to. The stunning magnificence of the waterfalls during the annual rainfall will astound you.
3. What is the distance between Panjim and Mainapi Waterfall?
The Mainapi Waterfall is nearly 80 kilometers from Panjim and takes about 2 hours to get there.
4. What are the attractions near the Mainapi waterfall?
There are various tourist attractions near the Mainapi Waterfall, which are as follows:
Savri Waterfall, Netravali Wildlife Sanctuary, Candolim Beach, Agonda Beach, Ravna Dongar, etc.
Map of Mainapi Waterfall Netravali