This is a complete travel guide to Mankayam Waterfalls Palode, Kerala. In this guide, we've mentioned location, things to do, best time to visit, how to reach, nearby attractions, facts, travel tips, maps, etc useful information.
Mankayam Waterfalls Palode Overview
| | |
| --- | --- |
| Location | Palode, Thiruvananthapuram, Kerala |
| Entry Fee | Free |
| Timing | 8 AM – 4 PM |
| Best Time to Visit | Nov, Dec, Jan, Feb, Mar |
| Nearest Town | Palode (14 km) |
| Nearest Railway Station | Thiruvananthapuram Central Railway Station (47 km) |
| Nearest Airport | Thiruvananthapuram International Airport (50 km) |
| Famous For | Sightseeing, Journey Trekking, Picnic |
| Nearby Attractions | Trivandrum, Agasthyakoodam, Varayadumotta, Kallar Meenmutty Falls, etc. |
The Mankayam waterfalls are in the Thiruvananthapuram district, close to Palode. A tributary of the Chittar River is the Mankayam River.
This tributary is created by the Chittar River as it travels through the Brymore forest from its source in the Chemunchi highlands.
Two waterfalls are created by the Mankayam River during its course: Kaalakkayam and Kurissadi. There are thick forests all the way from the Mankayam waterfall to Kaalakkayam.
The State Forest Department is responsible for managing the Mankayam waterfall, which is currently being reviewed as an ecotourism zone.
Under the State Forest Department, there is a Forest Protection Group that can aid with hiking and other requirements. Trekking is quite suitable in the area.
Interesting facts Mankayam Waterfalls Kerala
It is a section of the Agasthyavanam-originating Mankayam stream.
Even though Kalakkayam waterfalls are surrounded by an evergreen forest, access to them requires traveling through roads and mountain trails.
This swimming hole is well-known for its purported therapeutic properties.
Trekking aficionados and bird watchers will both find the location intriguing.
Things to do at Mankayam Waterfalls Kerala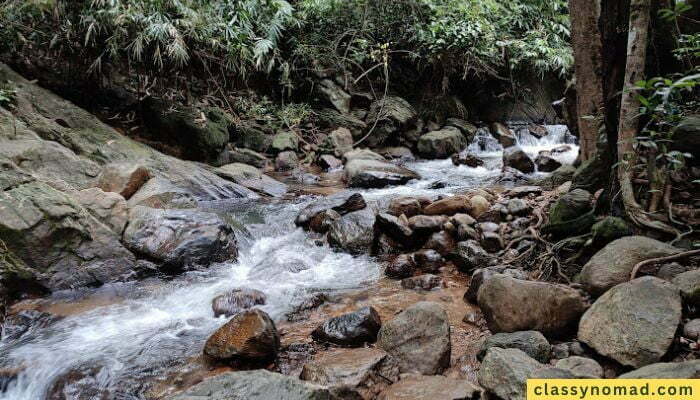 1. Sightseeing
It is possible to go on hikes here that range in difficulty from easy to strenuous. The ecotourism zone, which stretches for roughly 1 km from Mankayam to Kurisadi, is covered in lush flora from several forests kinds.
Here, evergreen and semi-evergreen grasslands are home to anything from little shrubs to enormous, high trees. Kurisadi Ghat, a great place for bathing, is only 20 meters from the main road.
2. Trekking 
Mankayam-Varayadin Mottai is yet another trek that offers a panoramic view of the grasslands, shola woods, and undulating valleys. The Nilgiri tahr, a threatened species of wild goat, is known for inhabiting the peak.
In machans, Varayadin Mottai offers camping amenities. To help the tourists on their journey, trained guides will be provided as well as camp supplies like kits and other items.
3. Picnic
You can reach upper falls by making your way through the forest and across big stones. You may reach the lower falls by walking for a short distance from the parking.
The waterfall is operational year-round, boasts cool, pure water, and is encircled by forests. You can take your friends and family here for a quick picnic.
How to Reach Mankayam Waterfalls Kerala
1. By Road
One must first travel 50 kilometers from Trivandrum to Palode before continuing on a forest trail to the Mankayam waterfall.
Ponmudi hills are 45 kilometers away from Thiruvananthapuram. The Peroorkada-Nedumangad-Vithura route to Mankayam is frequently serviced by buses.
2. By Rail
The nearest railhead is Thiruvananthapuram Central Railway Station which is 47 km from the waterfall. After arriving at the station you can book a taxi to reach the waterfalls.
3. By Air
The nearest airport is Thiruvananthapuram International Airport which is 50 km from the waterfalls. At the airport, you can rent a variety of vehicles to get to Mankayam Waterfalls. 
Tourist Places Around Mankayam Waterfalls Kerala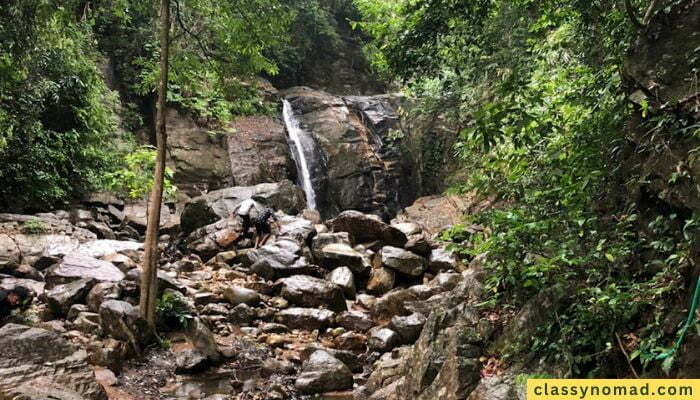 1. Trivandrum
As there are over a hundred licensed Ayurveda institutions in and around the city, Trivandrum is a well-known medical tourist attraction and attracts chartered flights for this purpose. Modern institutions in the City support medical tourism even more.
Nearby hill stations and five-star beach resorts offer rehabilitation services. Additionally, it is regarded as one of India's cleanest cities.
Onam, Attukal Pongala, and the Aaraat of Padmanabhaswamy Temple are the three most important festivals in the city.
The Attukal Temple in Thiruvananthapuram hosts the 10-day annual celebration known as Attukal Pongala every year.
2. Peppara Dam & Wildlife Sanctuary
The Peppara Wildlife Sanctuary takes its name from the Peppara Dam, which was built in 1983 to increase the amount of drinking water available to the city and surrounding districts of Thiruvananthapuram.
The region was originally a part of the Thiruvananthapuram territorial division's Paruthippally range. It was designated a reserve in 1983 because of the region's ecological importance. Elevations on the undulating landscape range from 100 m to 1717 m.
The area of the sanctuary is 75 sq. km of myristica marshes and tropical moist evergreen forests. It is made up of a 24 km2 portion of the Palode reserve and a portion of the Kottoor preserve.
3. Agasthyakoodam
Agasthyarkoodam, which is one of the top sites to visit in Ponmudi, is perched at a height of 6201 feet and is the second-highest mountain in Kerala after Anamudi near Munnar.
Both Buddhists and Hindus venerate the mountain because they both believe that it is the home of the sage Agastya, a follower of Lord Shiva, and the Bodhisattva Avalokitesvara.
When the Agasthyakoodam trekking season is in full swing, people will perform pujas at a small shrine on top of the mountain that contains an idol of Agasthya rishi.
The hill range has been designated as 23 sq. km. AgasthyaVanam Biological Park. km. It is also where River Kallar originates.
4. Varayadumotta
The third challenging trek in South India, after Meesapulimala and Agastyarkoodam, is Varayudu Motta. The difficulty of the trek varies from moderate to difficult. It's challenging for beginners, but they won't soon forget the experience.
The Palode Reserve Forest protects the ridge, thus prior authorization is needed to hike there. By making a payment for the trekking team, permission may be gained from the Mankayam or Ponmudi ecotourism businesses.
The trekking group will be accompanied by a forest guide. Trekkers typically ascend the mountain and descend to Mankayam or Ponmudi. Along the major Ponmudi road, it is also feasible to traverse the complete ridge and get to the Kallar valley. But this is a far more difficult journey route.
5. Kallar Meenmutty Falls
Meenmutty waterfall, a minor waterfall created over the Kallar River, is surrounded by the Western Ghats mountain ranges. Even though the waterfall isn't extremely tall, the area offers a taste of the natural beauty that draws many tourists annually as part of Ponmudi vacation packages.
Near this spectacular waterfall are a number of little natural lakes. In the pools, there are a lot of lovely, rounded stones and colorful pebbles.
You could only observe this peaceful scene of water flowing from Ponmudi, a golden peak in the Western Ghats, after taking a long journey through a tropical forest. Beginning downstream at Kallar Village, the 2-3 km hike takes about an hour.
Best Time to Visit Mankayam Waterfalls Kerala
The best Season to Visit Ponmudi is between November to March. While the Peak Season in Ponmudi is from December to February.
Travel Tips
Leeches are present here. Take common salt or a matchbox with you.
Swim below the falls with caution as it is too deep there.
There are restrooms and a dressing room.
Since there are no hotels nearby, bring food and water. Palode Junction is closest to you.
Conclusion
This beautiful tourist destination is traversed by the Mankayam River, a branch of the Chittar River. Visits to delicate, pristine, and frequently protected regions are included in ecotourism, a type of tourism meant to provide a low-impact and frequently localized alternative to conventional economic tourism. Many different picnic areas in the region are centered around Mankayam.
Suggested Read
Map of Mankayam Waterfalls Kerala