This is a complete travel guide to Maredumilli Waterfalls, Andhra Pradesh. In this guide, we've mentioned location, things to do, best time to visit, how to reach, nearby attractions, travel tips, facts, etc useful information.
Maredumilli Waterfalls Overview
| | |
| --- | --- |
| Location | Maredumilli, Andhra Pradesh |
| Entry Fee | N/A |
| Timing | 24 Hours |
| Best Time to Visit | Oct, Nov, Dec, Jan, Feb, Mar |
| Nearest Town | Maredumilli |
| Nearest Railway Station | Rajahmundry Railway Station (84 km) |
| Nearest Airport | Rajahmundry Airport (69 km) |
| Famous For | Sightseeing, Picnic, Camping |
| Nearby Attractions | Jalatharangini Waterfalls, Manyam Viewpoint, Sokuleru Vagu Viewpoint, Bhupathipalem Reservoir, Bhadrachalam, Polluru Waterfalls |
Incorporating rolling plains, evergreen woods, and a wealth of wildlife, Maredumilli is a region that is home to one of the nation's most prestigious eco-tourism initiatives.
Maredumilli Waterfalls in Andhra Pradesh's East Godavari district, which is renowned for its rivers, ravines, and lush greenery, is a haven for nature lovers, adventurers, and unconventional tourists.
Maredumilli Waterfalls is genuinely one of the best places to choose in Andhra Pradesh to spend a getaway away from the madding urban masses and the dullness of your everyday life.
The area is covered in dense woods, has a wild smell, an explosion of flora and fauna, dazzling waterfalls pouring down the mountains and crevices, and thrilling campsites to explore.
Suggested – Get to Kaigal Waterfalls to enjoy the breathtaking views of nature.
Interesting facts about Maredumilli Waterfalls
You will have the chance to see and visit some unusual sites while at Maredumilli waterfalls, which are uncommon and difficult to find elsewhere.
Nandanavanam Ethno Medical Awareness Center is at the top of the list.
Maredumilli waterfall is well recognized for its vast collection of medicinal plants. 
Here, you can locate the names of much more than 100 medicinal plants and herbs, both native to this area and imported from Orissa and the Western Ghats, that have outstanding healing qualities.
Things to do at Maredumilli Waterfalls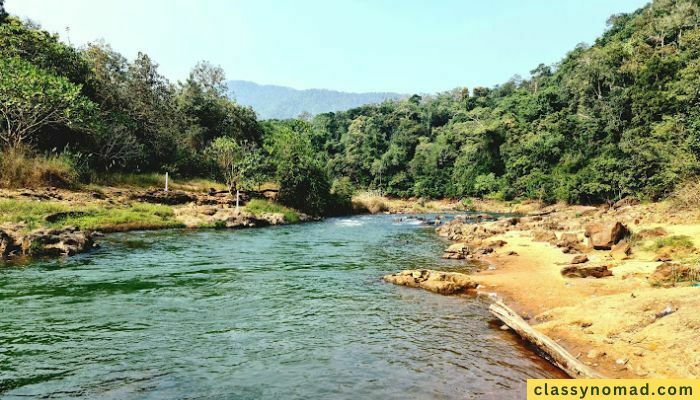 1. Sightseeing 
You may feast your eyes on animals like tigers, bison, panthers, wild bears, jungle fowl, peacocks, kingfishers, hornbills, and many other exotic birds here, as well as pine trees and clusters of golden bamboo among the flora.
2. Picnic
It is a great place to go if you want to spend the day unwinding and picnicking in the middle of nature.
3. Camping
The location offers not only a wonderful chance to spend the night in Maredumilli's deep woodlands, but also has historical and mythological value.
Suggested – Visit Rampa Waterfalls and experience some adventure at the waterfalls.
How to Reach Maredumilli Waterfalls
1. By Road
The Bhadrachalam Road, which connects it to other areas of the state, passes beside the Maredumilli Waterfalls. It has good public and private bus services.
2. By Rail
Rajahmundry is the closest rail station, and from there you can simply take a bus or a taxi to the Maredumilli waterfalls.
3. By Air
Rajahmundry, which is 85 miles from Maredumilli, has the closest airport. To get to Maredumilli Waterfalls, simply book a taxi for the entire day or take a bus to Bhadrachalam.
Suggested – Ethipothala Fall is one of the less-known waterfalls in Andhra Pradesh. You should definitely visit there.
Tourist Places around Maredumilli Waterfalls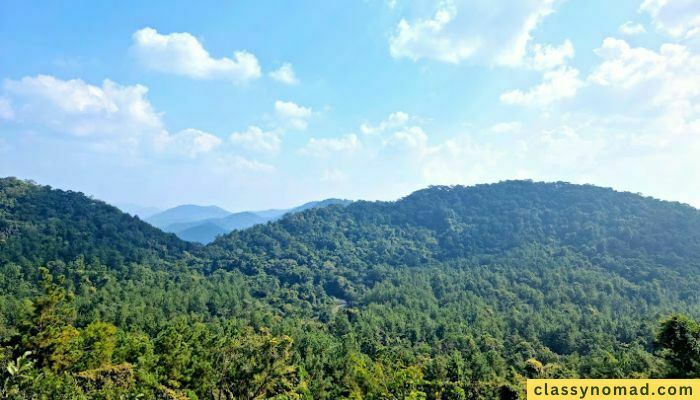 1. Jalatharangini Waterfalls
Water cascades down at the Jalatharangini Waterfalls, which are encircled by rainforests and boulders. There are multiple tiers to this waterfall.
This tiny waterfall, which comes alive during the monsoon, is a wildlife lover's dream come true. Since the waters have become so clear, one can bathe beneath the falls.
2. Manyam Viewpoint
One of the great spots to explore in Maredumilli for wildlife enthusiasts is Manyam Viewpoint. One can take some beautiful photos with the densely forested hills in the background from this vantage point.
3. Sokuleru Vagu Viewpoint
Tourists can view the Sokuleru Vagu in its entirety as it flows through lush forests and lovely slopes of the Eastern Ghats from this location.
For the convenience of the visitors, the tourism agency developed the platform. One can take some beautiful photos with the densely forested hills in the background from this vantage point.
4. Bhupathipalem Reservoir
The Bhupathipalem Reservoir Project, a medium-sized irrigation project, was constructed on the Seethapalli Vagu, a mountain river, and tributaries of the Godavari River.
Numerous evergreen and pine trees line the reservoir's exterior. A small island with trees underwater can be seen in the reservoir, which has massive peaks in the background.
5. Bhadrachalam
On the shores of the Godavari, Telangana State's Khammam district is home to the pilgrimage town of Bhadrachalam.
One of the top tourist destinations close to Hyderabad is Bhadrachalam, which is well-known for the renowned Sri Rama Temple constructed in the 17th century.
6. Polluru Waterfalls
This beautiful waterfall has several streams that flow in three phases. There are throngs of visitors there from near and far, especially on weekends.
The clear water at these falls makes a soak incredibly rejuvenating. When the falls are fully flooded during the monsoon, stay out of the water. Hiking in the nearby woods is another choice.
7. Rajahmundry
One of the oldest settlements in the Indian subcontinent is Rajahmundry. The Eastern Chalukyas were the early kings of the area. Rajaraja Narendra, the Chalukya ruler, constructed it in the eleventh century.
It was formerly a part of the Madras Presidency and became the Rajahmundry District in 1823, a time of British sovereignty.
8. Gudisa Hill Station
There is just one road between Maredumilli and Gudisa, and it is flanked on both sides by woodlands and little sources of water.
Due to its superb condition, riding on the road is simple. The next 12 km, neither of which will be simple, are made up of Gudisa Hill Ghat Road and also another 6 km after Pusiwada Village.
Suggested – If you are exploring Andhra Pradesh as a tourist, you should definitely add Dharapalli Waterfalls to your bucket list.
Best Time to Visit Maredumilli Waterfalls
The Ideal Season to Visit Maredumilli is from October to March. Peak Season in Maredumilli lasts from November to January.
Travel Tips
It's crucial to wear appropriate footwear. On a trek, you should never wear sandals or flip-flops. A fall or permanently damaging injury could result from the absence of traction and support.
Excellent traction and support are provided by hiking boots and shoes, which are essential on the slick rocks and pathways that surround waterfalls. 
Bring a bag to hold wrappers or leftovers from foods etc. so they don't wind up littering the paths.
Bring water! On a hot day, even a short trip to a waterfall can result in poorer outcomes due to dehydration.
Rough terrain and river crossings can be found on many pathways. When traversing rocky or treacherous terrain, a trekking pole can substantially improve stability.
Suggested – Do you know that Ananthagiri Waterfall is one of the most waterfalls in Andhra Pradesh? Make sure to visit there at least once in your life.
Conclusion
After the rain is when Maredumilli is at its most beautiful. This region experiences heavy rainfall during the monsoon, which could ruin your trip. The place will remain chilly at night throughout the entire year, but summer days may become hotter. Don't miss this location, and have fun!