In this blog post, you will get acquainted with the most famous food of Uttar Pradesh that every tourist visiting Uttar Pradesh should definitely try.
Uttar Pradesh, formerly known as the United Provinces of Agra and Oudh in the British era, is one of the largest and most populated states in the Indian Subcontinent. It is known for its varied culture and history.
Located in the heart of the country, Uttar Pradesh also is home to one of the seven wonders of the world, the Taj Mahal. It is also famous for its variety of food which changes as one travels every 100 kilometers.
Here is a list of authentic and traditional cuisines from Uttar Pradesh.
Most Famous Food of Uttar Pradesh
1. Aloo Kachori
Aloo Kachori is a very famous dish in Northern India that has its origin in Western Uttar Pradesh and Rajasthan. The best Aloo Kachori is made in Mathura.
Popularly known as the City of Temples, Mathura is a busy city located in Western Uttar Pradesh which shares its border with the state of Haryana.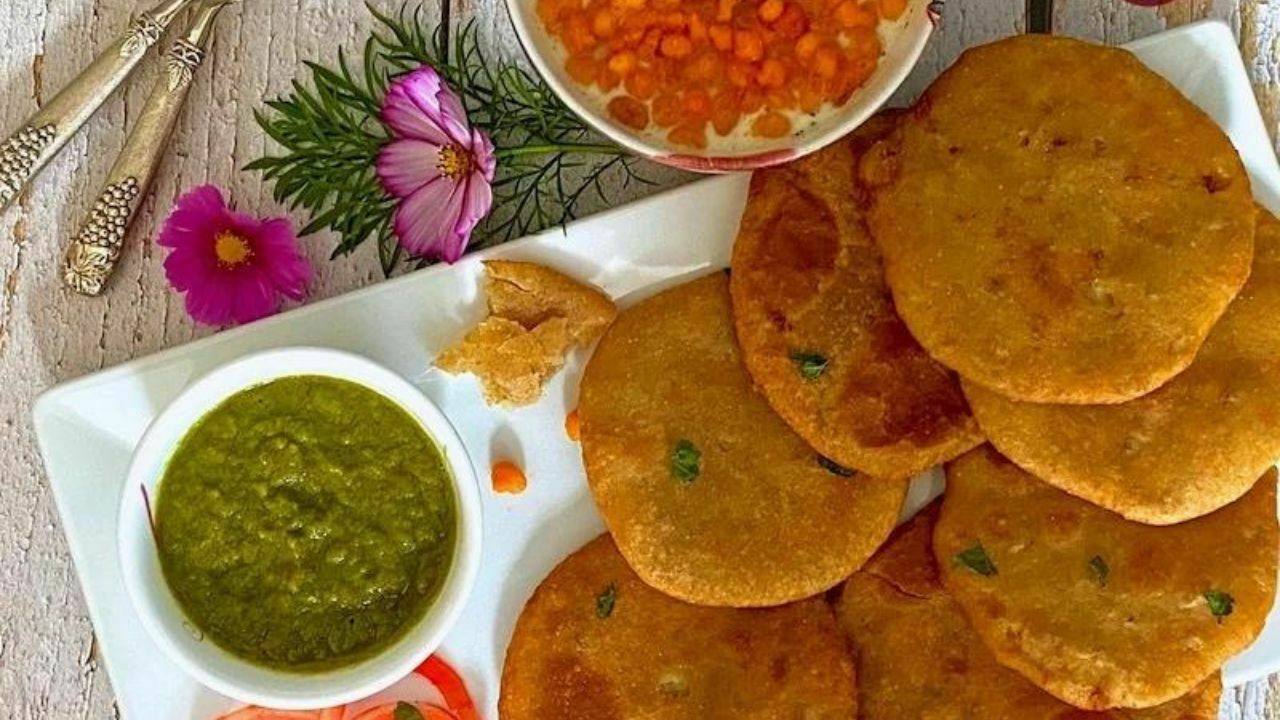 For the last few decades, Aloo Kachori has been the daily breakfast for the locals as well as for the tourists visiting the place.
Kachori is basically a puffed fried bread that is made up of all-purpose flour and plain flour. It is served with a tasty Aloo Curry which is a curry made of Boiled Potatoes and tomatoes.
Related: Uttar Pradesh Tourist Attractions
2. Chole Bhature
The most famous dish in India, Cholle Bhature has its roots in Eastern Uttar Pradesh. Also known as Puri Chana or Chickpea curry with Fried Bread, Chole Bhature is one of the most famous foods in Uttar Pradesh.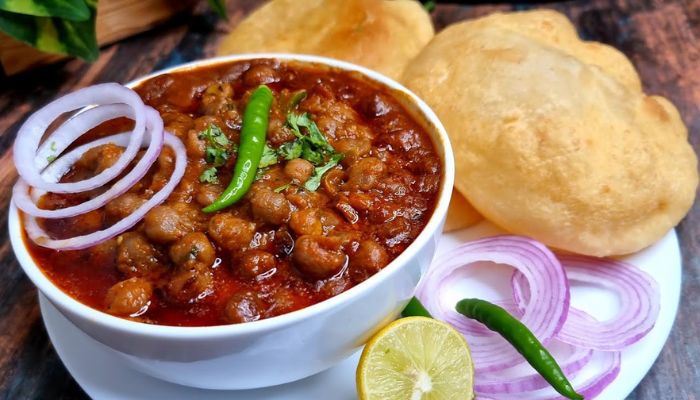 It is made up of Boiled Chickpea curry served with fried Bread made of all-purpose flour, carrot pickle, coriander chutney, and onions.
3. Bread
Since wheat is the staple food of the state, a huge variety of bread can be seen in Uttar Pradesh. The bread is made up of various types of flour and of various shapes and sizes.
They are both flat and raised. Cooked in a pan, Tawa, and tandoor. The most famous bread are Lacchaa parantha, Sheermal, Taaftaan, Rumali Roti, Tandoori Roti, and Poori.
You should definitely try out this one of the most famous foods in Uttar Pradesh.
4. Lucknowi Biryani
The next delicacy that we have for you is the famous Lucknowi Biryani which originated in the city of Nawabs, Lucknow.
Biryani is a mixed rice dish that was introduced in India by the Persians. Slowly and gradually, biryani spread to different regions of the country developing a variety of specialties.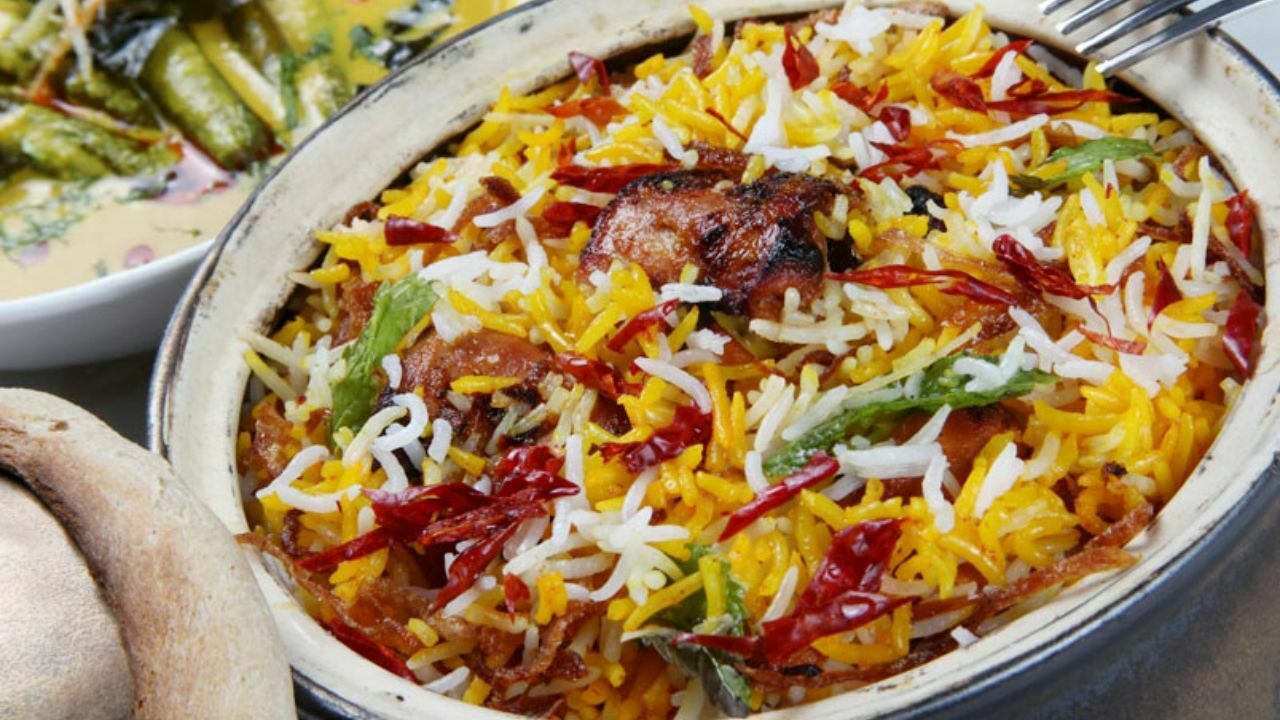 Lucknowi Biryani, the most famous of all biryanis in the sub-continent, is a mixture of meat marinated with curd, herbs, and oil boiled with fried onions and rice.
It is served with raita and onions. This is a very famous cuisine of Uttar Pradesh that you must taste.
5. Balushahi
Talking about the deserts, Uttar Pradesh has a large variety of sweet dishes, the most popular of them being Balushahi.
It is similar to donuts in terms of ingredients that it is made up of but has a different texture and taste. Balushahi is a royal food made of All purpose flour which is first kneaded with baking soda and then deep-fried in clarified butter.
After this, it is dipped in sugar syrup and is served hot.
Read: Tourist Places to Visit in Agra
6. Kulcha-Nihari
It is a delicate and feathery paratha that is served close by a rich meat sauce, typically lamb or chicken. Rahim's in Lucknow has been serving people for more than 100 years and is as yet continuing forward.
Kulcha-Nihari is legitimate Lucknowi solace nourishment for local people and anybody searching for their new most loved dish.
7. Nargisi Kofta
The Nargisi Kofta is a lamb ball gravy where the egg is loaded down with sheep keema and afterward profoundly dried.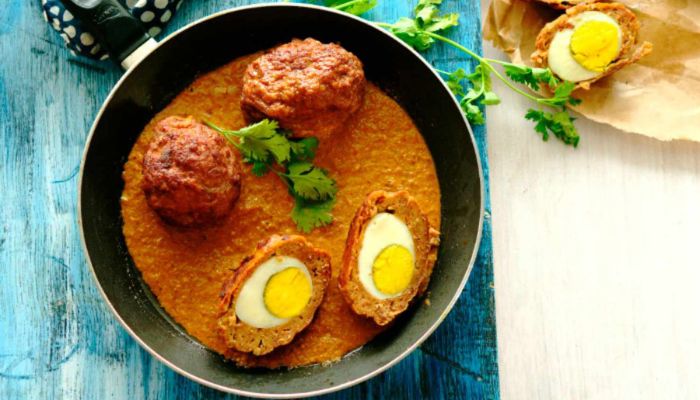 Tomato puree, dry fruit paste, and caramelized onions are added to the sauce which gives it a one-of-a-kind flavor.
It is customarily prepared during the hour of Ramzan and Iftar as a specialty dish. This dish is loaded with flavor and is a must-attempt assuming that you've never had it.
8. Boti Kabab
Boti Kebab is another most loved kebab dish in Kanpur. It has a more shortsighted recipe contrasted with the other kebabs, which comprises gram flour, yogurt, and lamb.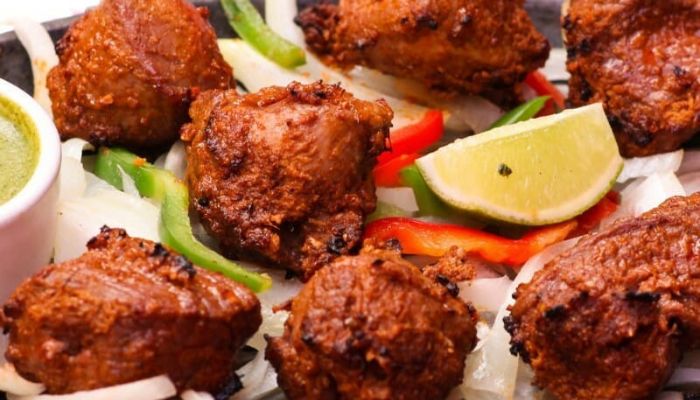 In any case, this dish doesn't think twice about flavor and the kebabs nearly dissolve in your mouth.
9. Paneer Pasanda
Paneer Pasanda isn't of the standard kind which is served across a large number of Indian cafés, however a class in itself; is there at the assistance of your taste buds.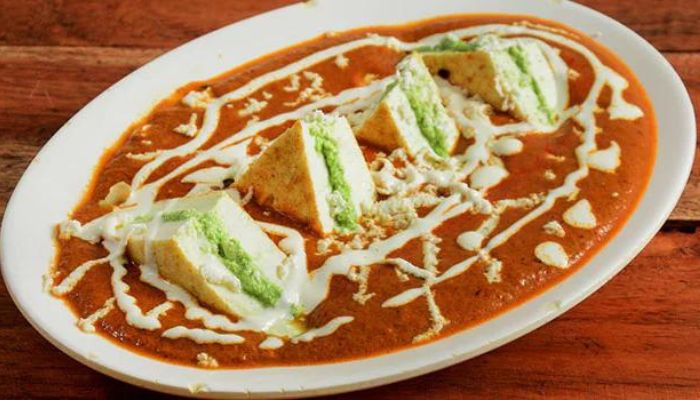 So presently you know where that marvelous dish came from – Uttar Pradesh!
10. Chaat
The well-known Kashi Chaat Bhandar at Godowliya in the old city should not be missed at any conceivable rate, for the heap assortments of 'golgappas' and 'chaat' that are, no question, the best.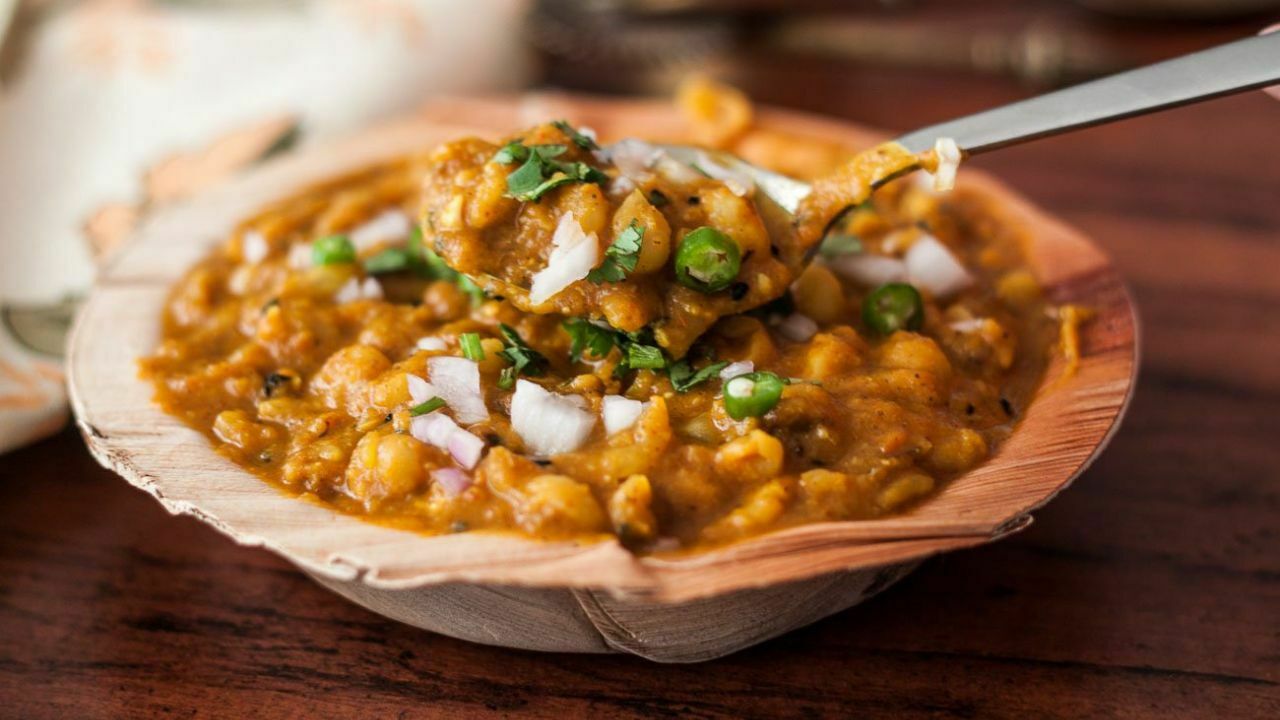 Chaat is the main thing of the food of Uttar Pradesh, and it is one of the most astonishing sorts of chaat that you'll at any point have in the country.
Kesri Chaat Bhandar in the Nichibagh area, albeit less famous, is not the slightest bit biased with regards to serving amazing Tomato chaat.
11. Banarasi Paan
The Banarasi paan comes in various flavors and tones. Generally, paan is basically maraschino cherries, Gulkand, and tutti fruiti all enveloped with a betel nut leaf.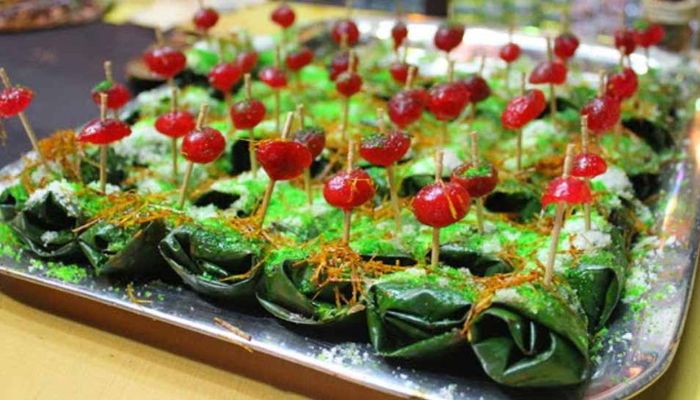 Here and there it is covered with silver leaf and best-served cold. It is an outright pleasure after a weighty feast.
12. Shahi Tukda
Shahi Tukda of Oudh district is a sort of bread pudding that is drenched in dense milk and embellished with dry leafy foods.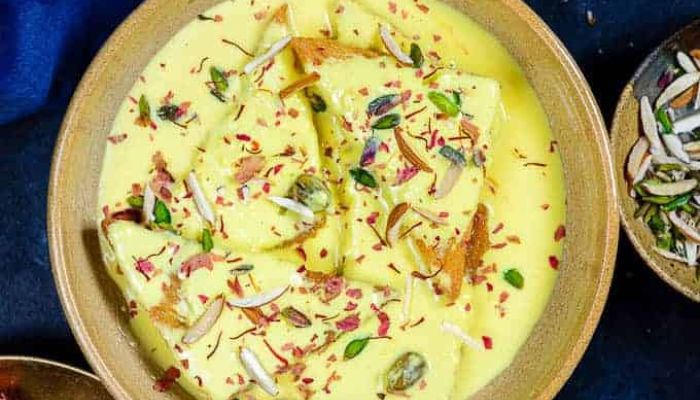 It is produced using bread, milk, saffron, cashew, green cardamom, and sugar. A simple sweet will fulfill your food cravings.
13. Zamindoz Macchi
It is a fish dish produced using the sole fish. The entire fish is loaded with flavors like ginger garlic glue, cloves, poppy seeds, bean stew powder, and peppercorns.
It is cooked in a customary manner i.e in a handi which is covered underground and cooked by putting a cow waste cake fire on the ground previously.
14. Kakori Kabab
Kakori, famous food in Uttar Pradesh is a sort of sheep kebab that is barbecued flawlessly until it liquefies in your mouth.
Dark pepper, cardamom seeds, bhuna channa, and crude papaya are blended into the kebab. The kebabs are marinated with ghee, showered with some lime, and afterward served up with a new chutney.
15. Kulfi Falooda
A typical mid-year sweet that brings back affectionate recollections of our experience growing up.
Kulfi Faloodas is ready by adding vermicelli noodles, energy natural product seeds, rose syrup, and dry organic products to frozen yogurt or kulfi.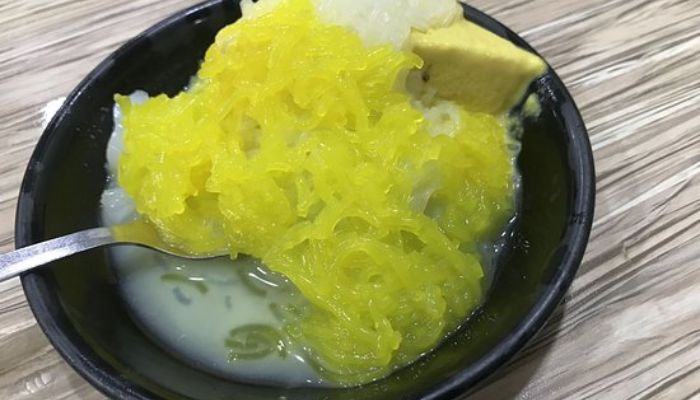 Prakash ki Kulfi in the clamoring Aminabad region, the Chandni Chowk of Lucknow, is the best spot to get kulfi faloodas.
FAQs – Most Famous Food of Uttar Pradesh
What is the famous food of Uttar Pradesh in veg?

Bread, Aloo Kachori, Chole Bhature, Chaulai Ka Saag, Allahbadi Tehri, Benarsi Ghugni, Dum Aloo, Aloo Badi Rasedar, etc are the famous food of Uttar Pradesh in veg.

What is the famous food of Uttar Pradesh in non-veg?

Tunday Kebab, Galouti Kebab, Pasanday, Awadhi Mutton Biryani, Awadhi Gosht Korma,  etc are the famous food of Uttar Pradesh in non-veg.

Which fruit is famous in Uttar Pradesh?

Uttar Pradesh is the third-highest fruit-producing state in India after Andhra Pradesh and Maharashtra. The most famous fruits in Uttar Pradesh are mango, guava, papaya, and banana.

Which is the famous sweet dish of Uttar Pradesh?

Balushahi and Jalebi are the most famous sweet dishes of Uttar Pradesh.
Conclusion – Most popular Uttar Pradeshi Dishes
These are the most popular cuisines in Uttar Pradesh that you must try. In Uttar Pradesh, Lucknow is well known for its cuisines, therefore, you should definitely visit Lucknow and enjoy the most famous foods of Uttar Pradesh.
I believe you've found the information you were looking for, haven't you? If you found this article helpful, kindly share it with your friends, relatives as well as family members so that they can too familiar with the most famous food of Uttar Pradesh.
Now, I'm going to wrap up this article, so, thank you for visiting our site.