It is a travel guide to Muthyala Dhara Waterfalls (aka Mutyala Dhara Waterfalls) which is located in Telangana. This guide will be helpful for you if you are planning to visit there.
Muthyala Dhara Waterfalls Overview
| | |
| --- | --- |
| Location | Barlagattugudem, Telangana |
| Entry Fee | N/A |
| Timing | 24 Hours |
| Best Time to Visit | Monsoon Season |
| Nearest Bus Stop | Venkatapuram Bus Stand (13 km) |
| Nearest Railway Station | Warangal Railway Station (160 km) |
| Nearest Airport | Warangal Airport (166 km) |
| Famous For | Waterfall, Natural Beauty, Adventure |
| Nearby Attractions | Kongala Waterfalls, Bogatha Waterfalls, Laknavaram Lake, Bhadrachalam etc. |
Telangana's Muthyala Dhara Waterfall is indeed a magnificent waterfall that is quite stunning to nature enthusiasts. However, not many people are aware that the Jayashankar Bhupalpally area has a concealed waterfall.
Some refer to it as Mutyala Dhara Waterfall, while others refer to it as Veerabhadram Falls, and other people refer to it as Mutyam Dhara Falls.
This majestic waterfall is too amazing to be seen with two eyes. To visit this waterfall, you'll need to take on a little expedition. This waterfall is quite huge and is located at the border of Telangana and Chattisgarh, inside the woods.
Interesting Facts about Muthyala Dhara Waterfalls
People living near the waterfall often visit this place with their family and friends to enjoy their weekends with them.
This waterfall is best for trekking; people who love trekking must visit this place once.
After reaching the top of the waterfall, you'll fall in love with the place.
As the waterfall is connected to various major cities, it is easy for people to access it.
This place is in a small village, which makes its environment pure.
Things to Do at Muthyala Dhara Waterfalls
There are several activities that you can enjoy at this place; some of them are listed below:
1. Trekking
About 8 to 9 kilometres separate the village from the trek. It's a nearly level stroll. In the middle, you had to traverse a brook. A two-wheeled vehicle can get here. Tractors will continue past this point and travel a further 2 kilometres to the waterfall.
This should take an additional 30 minutes of hiking through all the water after you get to the mainstream right close to the falls.
2. Bathing:
The water of the fall is very clear and cool; if you are visiting this place, then you must plan to take a refreshing bath after a long trek. Many people visiting the waterfall after covering 9 kilometres take a good bath in the waterfall and enjoy this place so much.
3. Picnic
This place is a picnic spot for many people living near it. Tourists also love to visit this place as a picnic spot to get over the stress of continuous travel. People living near the waterfall often visit the place with their friends and family to enjoy their weekends.
Nearby Attractions to Muthyala Dhara Waterfalls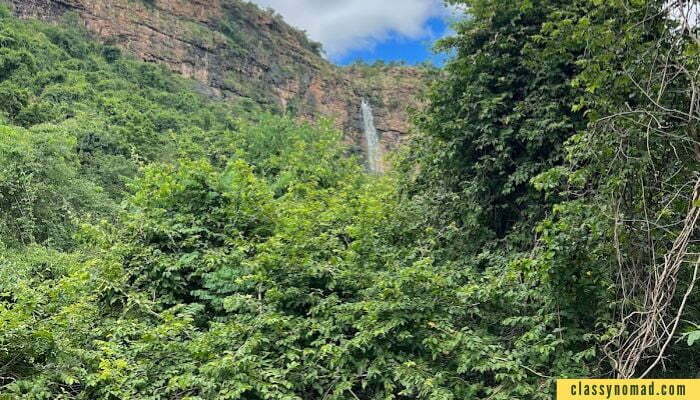 1. Kongala Waterfalls
Almost 31 km far from Muthyala Dhara Falls, Kongala Waterfalls is situated. Bogatha Falls is another waterfall which is located near Kongala falls. Bogatha falls is roughly a 10-minute drive away, and the hike takes 45 minutes. There are no travel instructions provided.
To get there, you would need the assistance of the neighbourhood people. It is a genuinely hidden waterfall, so there's a strong possibility you'll be there by yourself and have lots of time to relax.
2. Bogatha Waterfalls
Seeing this waterfall is a wonderful experience for people who enjoy trekking and want to participate in daring activities.
Even though water flows here all year, the best time to visit is immediately after rainfall, when the majority of the water pours.
Since there are no roads, tourists must walk a significant distance to reach the waterfall. It's a nice area to visit, with a watchtower nearby and a well-kept park nearby.
3. Eturnagaram Wildlife Sanctuary
One of the earliest animal sanctuaries in Telangana is the Eturnagaram Nature Preserve, which is around 110 kilometres from Warangal.
Due to its extensive biodiversity, the old Hyderabad Administrative Building became a wildlife sanctuary in 1953.
One cannot resist appreciating the sanctuary's distinctive characteristics that are dispersed over its length and breadth. The sanctuary is divided into two halves by the Dayyum Vagu River, which further adds to its beauty.
4. Laknavaram Lake
During the Kakatiya era, the hidden Lakhnavaram Lake was found, and the monarchs developed it so that it could serve as an irrigation supply.
The suspension bridge is another draw for this mysterious beauty. You may access the lakeside miniature island through the hanging footbridge.
5. Bhadrachalam
In Telangana's Khammam District, Bhadrachalam is a significant religious town. Bhadrachalam is a shrine town on the banks of the Godavari River.
Up until 1959, it was a part of Andhra Pradesh's Eastern Godavari Division. The community is known for its well-known Lord Rama Mandir.
How to Reach Muthyala Dhara Waterfalls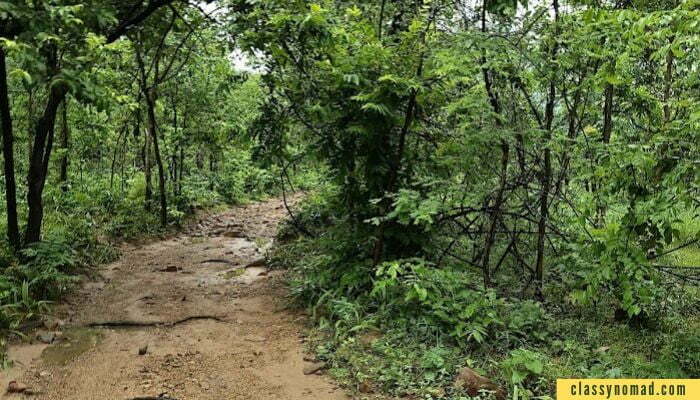 1. By Road
Only trekkers should visit this location, as it is accessible by road from connecting cities such as Hyderabad, Khammam, Warangal, Bhadradri Kothagudem, and many others. After that, you have to travel by foot for at least 2 hours before you can reach this place.
2. By Train
For reaching the place by train, you can book a train ticket to all the major cities that we have discussed above, and from there, you can book a cab or a bus to reach the place from where trekking starts.
3. By Air
For reaching here by air, you have to book a flight ticket to Hyderabad, and from outside the airport, you can book a cab that can lead you to the place from where trekking starts.
Best Time to Visit Muthyala Dhara Waterfalls
The best time to visit this place is during the monsoon season. This is the time when the waterfall is moving at its highest speed and gives you a glimpse of heaven. Most of the tourist activities at this place happen only during the monsoon season.
Travel Tips
There are no shops on the way, so you must keep some packet food and water for yourselves.
The path gets quite slippery, so one must make sure to wear shoes with good grip.
The path is not so good, and it's inside dense woods, so try to go with a group for safety reasons.
Keep extra clothes with you in case you are planning to take a bath in the waterfall.
Keep a first aid kit with you so that if any emergency occurs, you can take care of things.
Conclusion – Muthyala Dhara Waterfalls
After discussing all the things regarding the waterfall, it is clear that if you do not visit this waterfall once in your life, then you are missing a major thing. The place is so beautiful, and tourists love visiting places like this.
FAQs on Muthyala Dhara Waterfalls
1. Where is Muthyala Dhara Waterfall located?
Muthyala Dhara Waterfall, one of the less-known waterfalls in the state of Telangana is located near the border of Telangana & Chhattisgarh. The waterfall is situated in the Barlagattugudem village which lies in Venkatapuram Mandal of Khammam district in Telangana.
2. What is the best time for visiting Muthyala Dhara Waterfalls?
Monsoon Season is the best time for exploring the Muthyala Dhara Waterfalls. You can enjoy scenic views of nature during this period of time.
3. What is the nearest town to the Muthyala Dhara Waterfalls?
Venkatapuram which is about 13 km away from the location of the waterfall is the nearest town to the Muthyala Dhara Waterfalls.
4. What are the tourist attractions around the Muthyala Dhara Waterfalls?
Kongala Waterfalls, Bogatha Waterfalls, Eturnagaram Wildlife Sanctuary, Laknavaram Lake, and Bhadrachalam are some of the most popular tourist attractions near the Muthyala Dhara Waterfalls.
5. How far is Muthyala Dhara Waterfalls from Hyderabad?
Muthyala Dhara Waterfalls is nearly 300 km from Hyderabad, the capital city of Telangana.
Distance from Major Cities / Towns
| | |
| --- | --- |
| Nambi | 60 km |
| Mulugu | 105 km |
| Bhupalpally | 131 km |
| Warangal | 156 km |
| Venkatapuram | 173 km |
| Khammam | 210 km |
| Karimnagar | 215 km |
| Hyderabad | 300 km |
Suggested – Some Hidden Falls of the Country
Maps of Mutyala Dhara Waterfall