This is a complete travel guide to Nidan Fall Jabalpur, MP. Here, we've mentioned location, things to do, how to reach, best time to visit, nearby attractions, travel tips, facts, map, etc useful information.
Nidan Fall Jabalpur Overview
| | |
| --- | --- |
| Location | Katangi, Jabalpur district, Madhya Pradesh |
| Entry Fee | Free |
| Opening Hours | 24 Hours |
| Best Time to Visit | Monsoon & Post-Monsoon Season |
| Nearest City | Jabalpur (61 km) |
| Nearest Railway Station | Gosalpur Train Station (56 km) |
| Nearest Airport | Jabalpur Airport (73 km) |
| Famous For | Trekking, Picnic, Adventure |
| Nearby Attractions | Dhuandhar Fall, Bhedaghat Marble Rock, Jabalpur, Bargi Dam, etc. |
Nidan waterfall is located near Katangi in Jabalpur district, Madhya Pradesh. The waterfall is located on Jabalpur Damoh Highway Road. It is around 61 km away from the main city of Jabalpur, and you can reach it via bus or your own vehicle.
If you love adventure, you should reach there via bus, or you can go there in your own vehicle too. It is suggested to everyone that they visit the waterfall in a group as the location of the waterfall is in the woods, which might be dangerous.
After reaching the waterfall, you will be able to see a beautiful scenic view and find yourself surrounded by hills. This place is just like a little heaven on Earth.
Interesting Facts about Nidan Fall Jabalpur
One can easily see the waterfall from the highway.
The path to the waterfall is through the woods, which allows you to explore nature.
There are various tourist attractions near the fall.
The waterfall is surrounded by hills, due to which the beauty of the waterfall is enhanced.
Things to do at Nidan Fall Jabalpur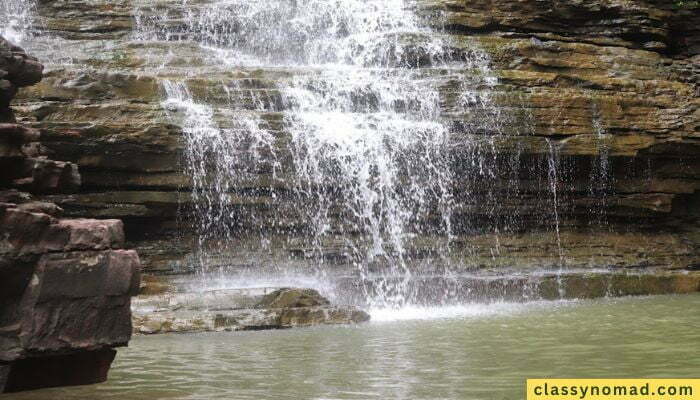 1. Trekking
If you are thinking of visiting the Nidan waterfall, you will have to trek a little bit. If you are planning on visiting there by bus, you will have to trek for more than 2 kilometers, and if you will reach there by your own vehicle, you will have to trek for around 1 kilometer.
You will have to cross a small river that flows from a waterfall while trekking. The trek route is breathtakingly beautiful.
2. Bathing
After trekking, the best thing you can do is take a bath in the cold water of the waterfall. The water of the falls is pure and blue in color.
Visitors should bring extra clothes with them to take a bath in the water of the falls. In front of the waterfall, there is a pond where you can swim.
3. Picnic
This waterfall is one of the most loved spots for people who visit here for picnics. On weekends, many people come to the waterfall for a picnic and to spend time with their friends and family.
You can bring your own food and enjoy the beauty of the fall while eating.
How to Reach Nidan Waterfall Jabalpur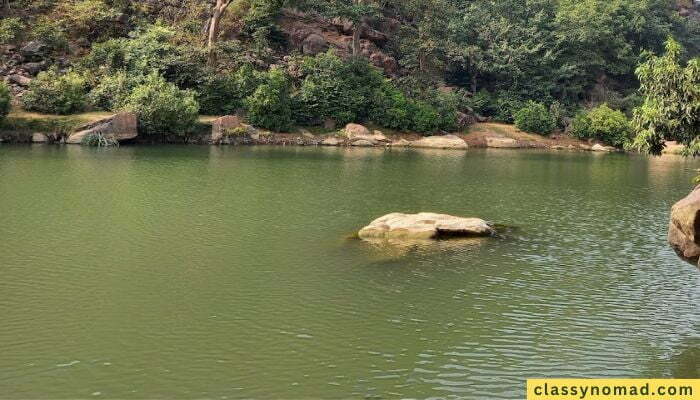 1. By Road
The very famous city near Nidan waterfall is Jabalpur which is nearly 61 km from the location of the waterfalls. Jabalpur is connected to major cities of the states. After reaching Jabalpur, you can book a taxi to get to the waterfall.
2. By Train
There are various railway stations near Nidan Falls, such as Sagoni train station (57 km), Gosalpur train station (56 km), and Jabalpur train station (60 km).
3. By Air
Jabalpur Airport is the nearest to the Nidan waterfall. All you need to do is book a ticket to Jabalpur, and outside the waterfall, you can find various transportation facilities to reach there.
Tourist attractions around Nidan Waterfall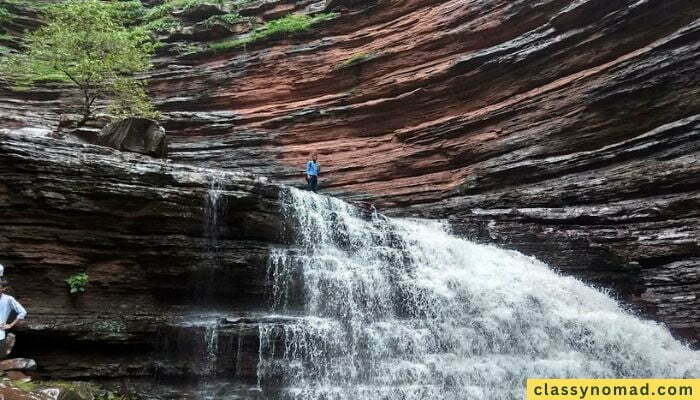 1. Dhuandhar Fall (65 km)
Madhya Pradesh's Jabalpur region lies the Dhuandhar Waterfall. The stunning cascades are among Jabalpur's top popular visitor destinations and fall 30 meters below.
The Narmada riverbed flows through the well-known marble-like falls before narrowing and tumbling violently into a cascade that culminates in the Dhuandhar falls.
2. Bhedaghat Marble Rock (65 km)
The granite stones at Bhedaghat rise to an elevation of 100 feet and span 25 kilometers; they are located 25 km from the major urban area of Jabalpur, just on the shores of the Narmada.
Magnificent marble rocks create a calm and mesmerizing atmosphere by reflecting light and casting shadows on the clear blue water of the Narmada. These travertine and magnesium limestone boulders reflect light differently and are especially lovely at night.
3. Jabalpur (61 km)
Jabalpur has a diverse range of tourist attractions that attract tourists from everywhere. If you love to shop, the city can be the best spot for you to shop. Other than that, Jabalpur is a contemporary city with a variety of malls to meet all sorts of shopping demands.
4. Bargi Dam (38 km)
The Bargi Dam, which was built over the Narmada River near Jabalpur in Madhya Pradesh, is a massive dam. In addition to watering and generating electricity, the dam is used for tourism.
Yachting as well as other water sports are performed on the lake that the dam's backwoods have been transformed into. Additionally, a stunning guesthouse has been built there.
Best Time to Visit Nidan Fall Jabalpur
The best time to visit the waterfall is during the monsoon and post-monsoon seasons. During this time of the year, the water level of the fall is high, which enhances the beauty of the waterfall even more.
If you visit the waterfall during the summer, you will be able to see a small stream of water, but the beauty of the waterfall will remain unchanged.
Travel Tips
One must visit the waterfall in a group for safety purposes.
There are no shops available near the waterfall, so it is suggested that you take some snacks and water bottles with you.
Wear shoes with good grip to avoid any kind of accident.
You must take extra clothes and an umbrella with you.
Keep a first-aid kit with you for emergencies.
Conclusion
If you have ever thought of visiting Jabalpur for any reason, then you must visit this beautiful Nidan waterfall. The Nidan cascade is so beautiful, and the path toward the fall is even more amazing. People living nearby usually visit the waterfall and love spending their weekends there.
More Waterfalls from Madhya Pradesh
FAQs on Nidan Fall Jabalpur
1. Where is Nidan Fall situated?
The Nidan waterfall is situated near Katangi, Jabalpur district of Madhya Pradesh. Jabalpur city is 61 km from the Nidan Waterfall.
2. What is the best time to visit Nidan Fall Jabalpur?
The best time to visit the Nidan Fall is during the monsoon and winter seasons.
3. What is the distance between Bhopal and Nidan Falls, Jabalpur?
The distance between Bhopal, the capital of Madhya Pradesh, and Nidan waterfall is around 326 kilometers, which might take 6 hours to reach the waterfall.
4. What are the tourist attractions near Nidan Falls, Jabalpur?
There are several attractions near Nidan Fall Jabalpur, such as Dhuandhar Falls, a boat ride to Bhedaghat, Bhedaghat's marble rocks, Jabalpur, and Bargi Dam.
Map of Nidan Falls, Jabalpur