It is a complete travel guide to Phe Phe Falls Meghalaya. You'll find the location, timing, things to do, how to reach, nearby attractions, tips, facts, etc information in this guide.
Phe Phe Falls Meghalaya Overview
| | |
| --- | --- |
| Location | Shkentalang, West Jaintia Hills, Meghalaya |
| Entry Fee | N/A |
| Timing | 24 Hours |
| Best Time to Visit | Sep, Oct, Nov, Dec, Jan, Feb, Mar, Apr |
| Nearest Bus Stop | Jowai (20 km) |
| Nearest Railway Station | Guwahati Railway Station ( 171 km) |
| Nearest Airport | Shillong Airport ( 84 km) |
| Famous For | Greenery, Camping, Trekking, Views |
| Nearby Attractions | Umden, Mawaphanlur, Nongkhnum Island, Sua Ludong Waterfall |
Everyone needs a break from their hectic lives, whether it be a brief respite or a longer vacation. India has a wide variety of captivating locations that can provide you with the ideal getaway in the midst of breathtaking scenery.
And one such secret location is Phe Phe Falls, also known as Phea Phea Falls by others, which is located in Shkentalang, West Jaintia Hills district of Meghalaya.
If you don't explore it in your lifetimes, you will be bitterly disappointed. One of the top locations to discover solitude is the waterfalls.
However, since Phe Phe Falls have just lately gained popularity, there aren't any or very less online reviews or articles about this specific location. It is a two-tiered waterfall, and the Jaintia term that means "paradise" inspired its name.
Interesting Facts about Phe Phe Falls Meghalaya
Because the Phe Phe waterfall is not well-known, there only a few visitors visit there.
The beauty of the waterfall is mesmerizing.
People often visit here to forget all their tensions and worries.
If you love nature, then this will be the best place you'll ever visit.
This place is a nice place for solo travelers.
Things to do at Phe Phe Falls, Meghalaya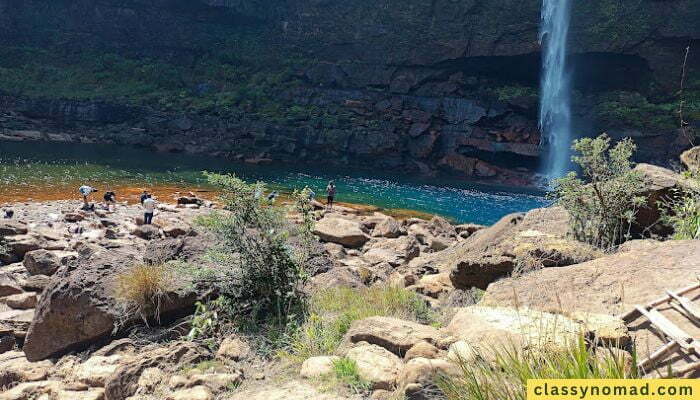 1. Exploring nature:
The Phe Phe Waterfall is an intriguing waterfall because of its location. This location is a well-liked tourist attraction in Meghalaya because of its spectacular beauty against the background of the strip of hills and the various colors of the blue sky.
A beautiful location for shooting is the two-tiered waterfall that plunges into the turquoise pool of water. You will enjoy dipping your feet into the pool's chilly water.
You could also end up spending the day with your eyes shut, taking in the cadence of the water's flow and softly experiencing the breeze brush against your face.
2. Camping
Twenty kilometers is the distance between Jowai and the Phe Phe excursion camp. The campground is beautiful, and you'll be given access to tents and other necessities so you can have a pleasant camping stay.
For a comfortable stay, you also have access to lodges, little houses, tiny shelters, and pitched tents. The cabins on the campsites have adjacent, sanitary bathrooms.
A tranquil little creek with a teal hue runs alongside the campsite. It's lovely to look at the water because it is so clear. Binoculars can be used to get a great panorama of the riverbed and the remote campsites. Camping is best enjoyed while gazing toward the night sky while savoring a campfire.
3. Trekking
You may travel to the Phe Phe Cascade from the campsites. The waterfalls are reachable in about 30 minutes.
Trekking will take you past stunning scenery, untamed flora, and tranquil lakes. To get to the campground's other side, you can also rent a kayak to cross the creek.
You will learn about a special carnivorous plant—the uncommon pitcher plant—that you have indeed read about in scientific books.
How to Reach Phe Phe Falls, Meghalaya
1. By Road
The stunning Phe Phe cascade is situated 20 kilometers outside Jowai. Take a rickshaw or cab to Jawai from one of Shillong's cab stations to get to the falls.
You can hire any car or cab after reaching Jowai to get to Phe Phe Waterfall. The path that connects Jowai and Dawki passes right beside the waterfall.
2. By Train
There are several train stations near Phe Phe Falls, such as Guwahati Railway Station, Longai Railway Station, and Karimganj Junction Railway Station.
All you need to do is book your ticket to the particular station, and from there you can get various transport facilities.
3. By Air
Shillong Airport is the closest to the Phe Phe waterfall which is early 84 km from the waterfall. Get there by flight, and outside the airport, you can find various transportation facilities to reach the waterfall.
Tourist Attractions near Phe Phe Falls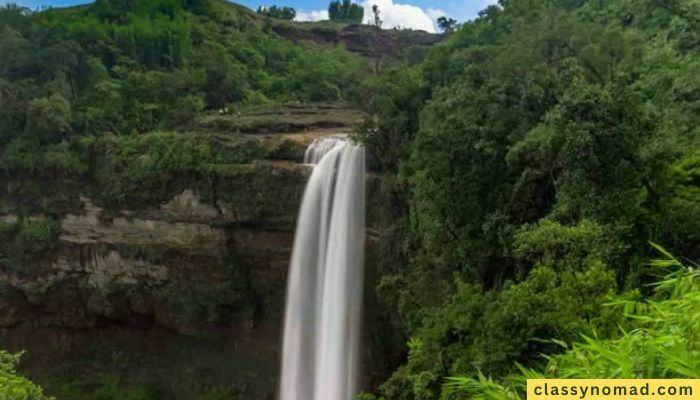 1. Umden (145 km)
Umden is nevertheless blessed with wonderful natural beauty, but it also has a fascinating history. The area is well known for its ancient handlooms and silk production.
A form of silk called 'Eri' and 'Endi' is produced by silkworms that eat mostly a particular kind of castor leaf. The spinners must not harm the silkworms during the silk extraction process, as is customary in sericulture. This is the "ahimsa" tradition of cultivation, according to the locals.
2. Mawaphanlur (140 km)
Mawphanlur resembles a fantasy land, with water that is perfectly clear around the community. It is definitely worth a trip.
The local waterways offer a wide range of opportunities for different water sports. Mawphanlur is an undiscovered place. In reality, it is so uncommon that only a couple of people visit there every day.
This comes to be a positive thing to maintain the tranquility of the town, and less crowding is also better for the surroundings' natural beauty. This may be the reason why it appears so captivating and energizing.
3. Raiwai Living Root Bridge (70 km)
A natural root bridge known as the Riwai Living Root Bridge has been situated in Meghalaya's Riwai village, close to Mawlynnong.
The distance from Mawlynnong Bus Station is roughly 3 kilometers. This area is in the beautiful state of Meghalaya and is among the best places to see in Mawlynnong.
4. Nongkhnum Island (174 km)
Without visiting Nongkhnum Island, India's second-largest river island, a trip to Meghalaya would've been meaningless. Majuli-like in this place, but far from human habitation.
The island does have a lovely beach made of sand, and there are many different things to do there, including hiking, sailing, swimming, and sunbathing.
All those who enjoy the outdoors and those who want to escape the busy city life will find it to be the ideal location. Overall, a visit is worthwhile due to the area's spectacular natural beauty and peacefulness.
5. Sua Ludong Waterfall ( 10 km)
Another stunning cascade in Jarain, Meghalaya, called Sua Ludong, lies around 10 kilometers from the Phe Phe falls. Since it is very close to the Phe Phe waterfall, you should definitely make a plan to visit there.
Best Time to Visit Phe Phe Waterfalls
Phe Phe Falls are best viewed from September to April. This period of time has beautiful weather. Nonetheless, it is open throughout the year. The Phe Phe Fall is a perpetual waterfall that never goes dry, unlike some other cascades in Meghalaya.
Travel Tips
Wear shoes with a good grip.
You must bring a camera with you to capture moments.
Bring food and water with you.
Keep a first aid kit for emergencies.
Be practical while traveling to the waterfall.
Conclusion
Because the location was only recently discovered, there are very few visitors on a daily basis. This place is one of the most beautiful places that you should visit for sure.
Suggested – Explore India's Beautiful waterfalls
Map of Phe Phe Waterfalls