This is a complete travel guide to Pykara Waterfalls Ooty, Tamil Nadu. In this guide, we've mentioned location, things to do, best time to visit, how to reach, nearby tourist attractions, travel tips, facts, map, etc useful information.
Pykara Waterfalls Ooty Overview
| | |
| --- | --- |
| Location | On the Ooty-Mysore route, Ooty, Tamil Nadu |
| Entry Fee | ₹ 10 |
| Opening Hour | 24 Hour |
| Best Time to Visit | July |
| Nearest Town | Ooty (21.3 km) |
| Nearest Railway Station | Udagamandalam Railway Station (23 km) |
| Nearest Airport | Coimbatore International Airport (108 km) |
| Famous For | Boating, Horse Riding, Sight-Seeing |
| Nearby Attractions | Boat House, Pykara Dam, Pykara Lake, Shooting Point, M & N Chocolate Museum |
A stunning waterfall in Ooty, Tamil Nadu, known as Pykara Waterfall is situated 2 km from Pykara Lake and 23 km from Ooty Bus Stand. This is one of the greatest waterfalls close to Bangalore and one of the most well-liked attractions in Ooty. It is located on the Ooty-Mysore route.
The Pykara River, which flows downstream from the Pykara Dam, creates Pykara Falls. The stream is given a special beauty by the falls, which descend into two portions with heights of 55 m and 61 m via several levels on the rocky bed.
Suggested – Explore these places in Delhi if you are planning your trip to Delhi.
Interesting Facts about Pykara Waterfalls Ooty
It's nice to observe the waterfall amid the lush forest.
 For honeymooners and anyone who enjoys the outdoors, it is a must-see location while visiting Ooty.
There is an entry ticket of Rs. 10 per person. 
Pykara waterfalls pass via the Glen Morgan, Pykara, and Murkurti dams.
In Pykara, there is a woodland rest house, and the area is quite beautiful.
Things to do at Pykara Falls Ooty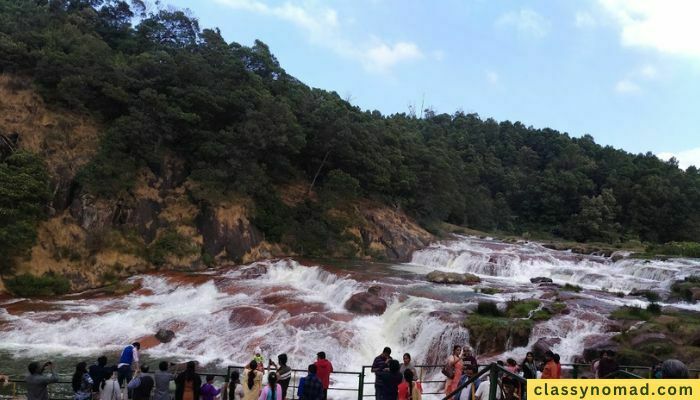 1. Boating
The Pykara lake region has a number of boats accessible. You may rent a motorboat or a speedboat. There are also autonomous boats. For one person, boating costs between Rs. 150 and 175. The boat excursion is available between 9:30 in the morning and 5:30 in the evening.
2. Horse Riding
Horseback riding is an exhilarating and daring activity that many tourists enjoy in Ooty. Horseback riding is available at locations like Shooting Spot. There is a price to enter the region, and there can be additional costs to raise the horse.
3. Sight-Seeing
The views at Pykara Waterfalls are marvellous with a picturesque location. You can come along with family and friends as the background will be largely photogenic at Pykara Waterfalls. 
Suggested – Visit Valara Waterfalls, if you are exploring Kerala.
How to Reach Pykara Waterfalls Ooty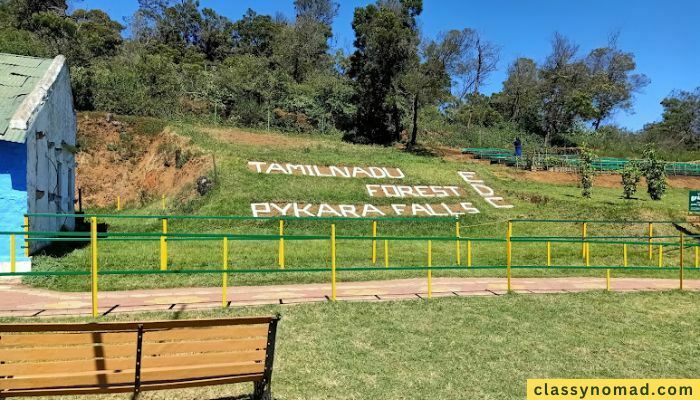 1. By Road
Pykara Falls is situated 2 km from Pykara Lake and 23 km from Ooty Bus Stand. It is located on the Ooty-Mysore highway. You can easily travel from Ooty Bus Stand to Pykara Falls by road as the distance is very short.
2. By Rail
The nearest Railway Station to Pykara Falls is Udagamandalam railway station, which is located at a distance of 23 Km from the falls. You can arrive at this station via rail and then travel to Pykara Falls via road.
3. By Air
The Coimbatore International Airport is located at a two-and-a-half-hour drive from Ooty where Pykara Falls are situated. You can land at this airport and then take a road route towards the beautiful falls.  
Suggested – Visit Marmala Waterfall, one of the stunning waterfalls in Kerala.
Best Tourists Places near Pykara Waterfalls Ooty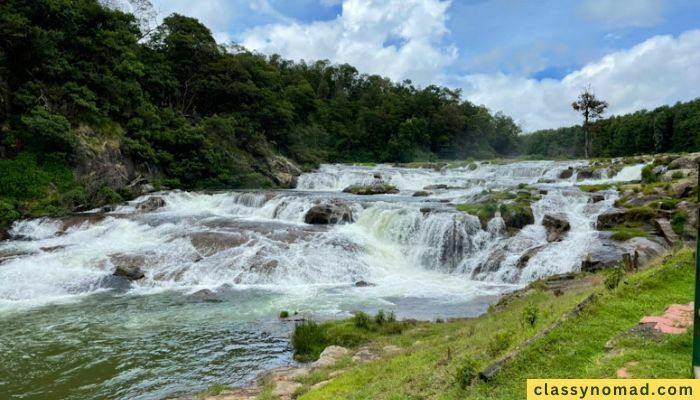 1. Boat House
Visitors are drawn to Pykara Falls by this additional feature: a boathouse with a restaurant inside. The Tamil Nadu Tourism and Development Corporation looks after it. There are several boats in there. Speed boats are permitted for 10 minutes and motor boats for around 20 minutes. It is a lovely setting.
2. Pykara Dam
The Ooty-Gudalur road is not far from the Pykara dam. The Pykara dam houses a power plant. One of the nation's first construction endeavours, this dam belongs to the era of influence of Lord Macaulay, the British viceroy. It continues to produce power. The Pykara dam is connected to a reservoir.
3. Pykara Lake
The Pykara Lake, which has been named a World Heritage Site, is a must-see location in Ooty. Either enjoy boating or lay down by the lake and soak up the sun. The Pykara Lake's atmosphere is really lovely and alluring.
The Pykara fall is just 2 kilometres distant from the lake. There will be less bustle here on weekdays. You will be in amazement at Pykara Lake, which is an extremely magnificent location. The lake is definitely deserving of admiration for its exquisite condition and cleanliness.
4. Shooting Point
It is around 3.8 kilometres away from the Pykara dam. It has been used to film a number of movies and documentaries. This location has also been used as the backdrop for several song sequences. There is luxuriant vegetation everywhere. Here, the breeze is quiet.
At the shooting location, horseback riding is another option. To gain a breathtaking perspective of the area, you may ascend the little hilltop.
5. M & N Chocolate Museum
This museum is incredible and well worth visiting. Pykara Falls are about 8.8 kilometres distant from the M & N Chocolate Museum. At the museum, you may also get free samples of chocolate. The museum charges an entrance fee of roughly 20 rupees.
You may pick up every little trick in the book when it comes to producing chocolates. When you leave the museum, a wafer with hot chocolate will be provided. Cane sugar and cocoa butter are used to make the chocolates; vegetable oil is not used.
Both domestic and international travellers frequent it. Even better, you may provide varied chocolate gift boxes for your loved ones. It's essential to experience the dark chocolate made here. Children will like it here.
Best Time to Visit Pykara Waterfalls Ooty
July is the ideal month to visit the falls. From the parking area, a short, moderate walk (5–10 minutes) along a well-maintained route will bring you to the falls. The waterfall is in full bloom when it rains. For the protection of the visitors, there are barricades around the waterfall viewpoint.
Travel Tips
Although swimming is permitted at the higher cascades, it is not advisable due to the path's abundance of jagged rocks and the water's shallow depth. Pykara Falls' lower swimming area is risky, and it is generally closed during the monsoon season to prevent mishaps.
You should avoid visits during weekends, due to the huge crowd.
Warm clothes should be carried along with you as the weather might get colder.
Kids and aged people should be taken special care of especially when climbing up and down the stairs.
Avoid getting inside the lake as it might result in harmful consequences
Conclusion
The Pykara falls are more than merely gorgeous, being bordered by luxuriant green forests, lofty pine trees, and a picturesque environment. There are a number of activities at this place that you just cannot miss, including long hikes among the pine trees and swimming in the water gathered at the base of the falls. For those who enjoy adventure and excitement, it is the ideal location.
FAQs on Pykara Waterfalls Ooty
1. Where is Pykara Falls situated?
Pykara Falls is located on the Ooty-Mysore route and is situated 2 km from Pykara Lake and 23 km from Ooty Bus Stand.
2. What is the best time to visit Pykara Waterfalls?
The month of July which is during the monsoon season is the best time to visit Pykara Fall.
3. What are the nearby tourist attractions to Pykara Waterfalls?
Boat House, Pykara Dam, Pykara Lake, M and N Chocolate Museum and the Shooting Point are some of the nearby tourist attractions to Pykara Waterfalls.
4. What is the distance between Ooty and Pykara Falls?
Ooty is around 21.3 Km away from Pykara Waterfalls.
Map of Pykara Waterfalls Ooty