This is a complete travel guide to Shrunz Waterfall Kashmir. In this guide, we've mentioned location, things to do, best time to visit, how to reach, nearby attractions, travel tips, facts, maps, etc useful information.
Shrunz Waterfall Kashmir Overview
| | |
| --- | --- |
| Location | Ningli creek, Baramulla District, North Kashmir, |
| Entry Fee | N/A |
| Opening Hours | 24 Hours |
| Best Time to Visit | Apr, May, Jun, Jul, Aug, Sep, Oct |
| Nearest Town | Baramulla (28 km) |
| Nearest Railway Station | Baramulla Railway Station |
| Nearest Airport | Sheikh Ul Alam International Airport (52 km) |
| Famous For | Sightseeing, Relaxing, Trekking, Picnic |
| Nearby Attractions | The Mughal Gardens, Chashmashahi, Dal Lake, Tosa Maidan, Hari Parbat, Pari Mahal, etc. |
Meadows, hill towns, rivers, lakes, and parks all play a significant role in the picturesque beauty of Kashmir. Sites like Gulmarg, Pahalgam, and Sonamarg are usually bustling with tourists, but while these locations are in the spotlight, many others have gone unnoticed. One such instance is Shrunz Fall.
The waterfall, which is situated on the Nallah Ningli near Nagbal Baba Reshi and is about 5 kilometers from the Baba Reshi Shrine, has long been a popular draw for visitors to Tangmarg and Gulmarg tourist destinations.
Suggested – Visit Aharbal Waterfall, one of the stunning waterfalls in J&K.
Interesting facts about Shrunz Waterfall Kashmir
A single vehicle can pass at a time on the narrow, steep roads that lead to Shrunz Fall, which is only 5 km from the well-known Baba Reshi shrine.
The roads are not well-maintained, and once you arrive there are no markets, hotels, restaurants, or hospitals like those found at other popular tourist destinations.
This is evident as you enter the pathway leading to the destination.
Things to do at Shrunz Waterfall Kashmir
1. Sightseeing
When you arrive, the fall scenery enthralls you, the whistling noises of the forests and water are pleasant to hear, the water is perfectly clear, and the weather is friendly. There is no bridge; you must cross the water to reach the edge of the fall.
2. Relax from Stress
The icy water will help you forget the city's heat. The setting is so stunning and entrancing that it helps you forget the pressures of everyday life.
3. Trekking
To reach the waterfalls, you can hike. The villages of Saterseeran, Nagbal, Dandoh, Nilsar, Chotipathri, and Baldaji are located in a magnificent woodland area next to the Shrunz waterfall.
4. Picnic
The natural waterfall adds to the location's attractiveness and picturesque appeal. Everyday enjoyment at the location is still a top priority for people, including schoolchildren. Additionally, a picnic may be enjoyed here.
Suggested – Drung Waterfall is one of the most picturesque waterfalls in Kashmir that is worth exploring.
How to Reach Shrunz Waterfall Kashmir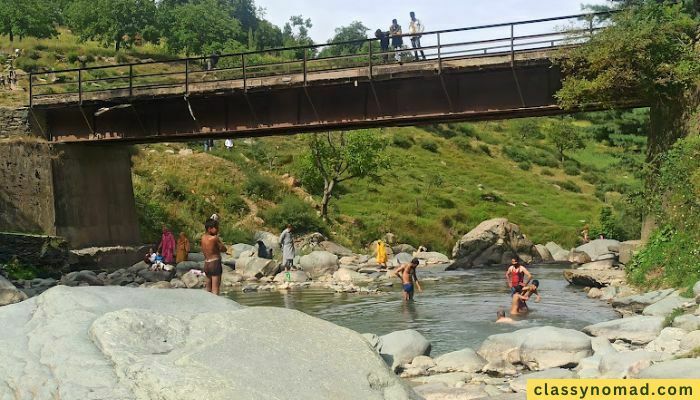 1. By Road
The closest place to the waterfalls for any significant economic activities is Baramulla, which is located around 25 kilometers distant. From Baramulla, you can travel to the waterfalls via bus or taxi.
2. By Rail
The nearest Railway Station is Baramulla Railway Station which is 25 km away from the waterfalls. Once you reach the station you can take a private cab or taxi to reach the destination.
3. By Air
The nearest airport is Sheikh Ul Alam International Airport which is 52 km far from the waterfalls. You can reach the waterfalls by taking a cab or taxi from the airport.
Suggested – Ganderbal Waterfall is not a very popular waterfall in J&K but offers very mesmerizing views of nature.
Tourist Places around Shrunz Waterfall Kashmir
1. The Mughal Gardens
The three gardens that make up the Mughal Gardens are Chesmashahi, Nishat, and Shalimar. Terraced lawns, cascading fountains, and vividly colorful flowers are just a few of the gardens' eye-catching attractions.
2. Chashmashahi
Of the three gardens, it is the smallest. When Shah Jahan was the Mughal Emperor in 1632, this garden was established. Its meaning is "Royal Spring."
The garden is 108 meters by 38 meters in size. Just above Nehru Memorial Park, it is located. Inside the garden is a unique type of rejuvenating mineral water.
3. Dal Lake
Dal Lake has been renowned for supporting aquatic life. The "Shikara" community resides aboard houseboats on the water. All throughout the lake, houseboats of all colors can be observed.
On the lake, houseboats sell groceries, physicians, tailors, and other services. For centuries, this village has maintained its way of life. There is no other ecosystem like it in the entire globe.
4. Tosa Maidan
A large meadow is known as Tosa Maidan. The nomads used to graze their cattle there. The terrain is now excellent for hiking.
Nearby locations include Poonch and Gulmarg. The location has therapeutic qualities. There is a pleasant and tranquil atmosphere.
5. Hari Parbat
According to folklore, Goddess Parvati created the "Hari Parbat" when she threw stones at a demon to kill it. It comprises a fort's ruins. Despite being abandoned, the fort was once a substantial building.
This hill has numerous temples erected around it. This peak, which sits on Srinagar's border, is significant from a religious standpoint in Kashmir.
6. Pari Mahal
Its name denotes a "Palace of Fairies." Dara Shiko discovered it for Mulla Shah, his Sufi instructor. Shah Jahan's eldest son, Dara Shiko, was a Mughal emperor.
The Pari Mahal offers an amazing view at night because of its radiant lighting. Dara Shiko later transformed it from a Buddhist monastery to an astrology school.
Best Time to Visit Shrunz Waterfall Kashmir
The months of April through October are the best for visiting Shrunz Waterfall. During this season, April or September would likely be the best times to visit.
In the closing days of November and December, you can still go outside, though the scenery might be slightly less interesting. If you want to see the waterfall covered with new snow, schedule your trip for January or February.
Travel tips
Pack drinks and snacks just in case, as there are no shops close to the waterfalls.
Bring a change of clothes if you feel like taking a dip in the waterfalls.
Because the region and surroundings of waterfalls are typically highly slippery, it is always recommended to bring comfortable footwear that isn't slippery and has a strong grip.
Carry bags to keep all of the leftover food and other goods.
Avoid throwing trash like paper or food scraps close to the waterfalls.
Enjoy the waterfalls responsibly and with awareness.
Conclusion
Many family-oriented guests that come here enjoy spotting themselves amongst hills. The roaring stream and waterfalls create a captivating scene and atmosphere. As you drop your toes into the frigid water in the summer, it makes a connection with your feelings, heart, mind, and spirit.
FAQs on Shrunz Waterfall Kashmir
1. Where is Shrunz Waterfall situated?
In the Baramulla District of North Kashmir, Shrunz Fall is situated along Ningli creek.
2. What is the best time to visit Shrunz Waterfall?
The best time to visit the waterfall is between April to October.
3. What are the nearby tourist attractions to Shrunz Waterfalls?
The Mughal Gardens, Par Mahal, Hari Parbat, Dal lake, Tosa Maidan, and Chashmashahi are some tourist places near the falls.
4. What is the distance between Srinagar and Shrunz waterfall?
The distance is 1 hr 14 min (48.3 km) from Srinagar to Shrunz waterfall.
Map of Shrunz Waterfall Kashmir