This is a complete travel guide to Soloka Dare Waterfall, Assam. Here, we've mentioned location, things to do, how to reach, best time to visit, nearby attractions, travel tips, facts, map, etc useful information.
Soloka Dare Waterfall Assam Overview
| | |
| --- | --- |
| Location | Near Chandubi Picnic Spot, Kamrup District, Assam |
| Entry Fee | Free |
| Opening Hour | 24 Hours |
| Best Time to Visit | Oct, Nov, Dec, Jan, Feb, Mar |
| Nearest City | Guwahati (56 km) |
| Nearest Railway Station | Guwahati Railway Station (65 km) |
| Nearest Airport | Guwahati Airport (44 km) |
| Famous For | Trekking, Adventure, Photography, etc. |
| Nearby Attractions | ISKCON Guwahati, Sri Sri Ugratara Devalaya, Chandubi Lake, Nehru Park, Sukreswar Devalay, etc. |
Soloka Dare Waterfall is one of the less-known waterfalls in the Indian state of Assam which is located near Chandubi Picnic Spot in Kamrup District of Assam.
Due to its vicinity to the Baragaon village, which is located on the border between Assam and Meghalaya, the Soloka Dare waterfall is also known as the "Baregaon waterfall" in popular culture.
A motorable road leads up to 500 meters from the fall and is located around 10 kilometers from Chandubi Lake.
Suggested – Explore the beautiful scenery while visiting Bheloghat Waterfall in Assam.
Interesting Facts about Soloka Dare Waterfall
Soloka Dare Falls, which are majestic and magnificent and are encircled by steep, rocky cliffs and dense vegetation, is a delight for nature enthusiasts and photographers. 
Due to its beauty and the neighboring picnic sites, the waterfalls are a popular tourist attraction in the area.
The waterfall is small and narrow, but the countless tiny streams tumbling down the rocks create an amazing sight and a lovely pool below the fall.
The short climb over massive rocks and other rocks required to reach the cascade adds to the entire delight of the excursion.
Suggested – Kakochang Waterfalls will make you fall in love with the awe-inspiring beauty of nature surrounding it.
Things to do at Soloka Dare Waterfall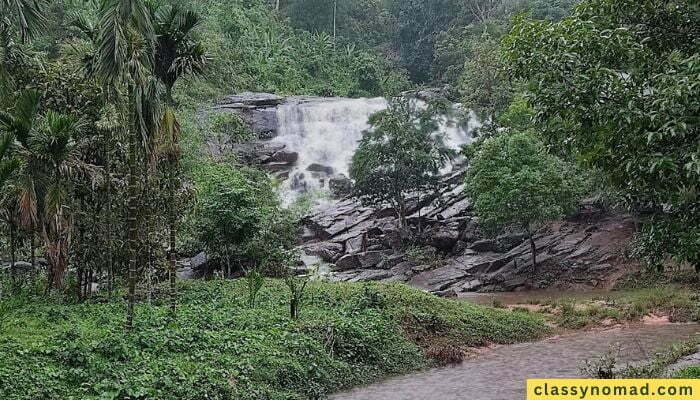 1. Sightseeing
The guests would be transfixed by the beauty of water streaming down from rock formations like white pearls. It is a breathtaking sight to witness as it flows down in three stages.
The creek at the base of the waterfall isn't very deep, therefore swimming or fishing there is safe. The water itself is really chilly. 
2. Photography
The spectacular view of the vegetation is enhanced during sunsets, enticing photographers as well as anyone visiting the area to grab your cameras and take images of the breathtaking scenery. 
3. Picnic
A day excursion with the family to the falls is amazing. Lush greenery and a small amount of woodland surround the region, so you can really enjoy the peace and quiet of the environment while you're there.
How to Reach Soloka Dare Waterfall Assam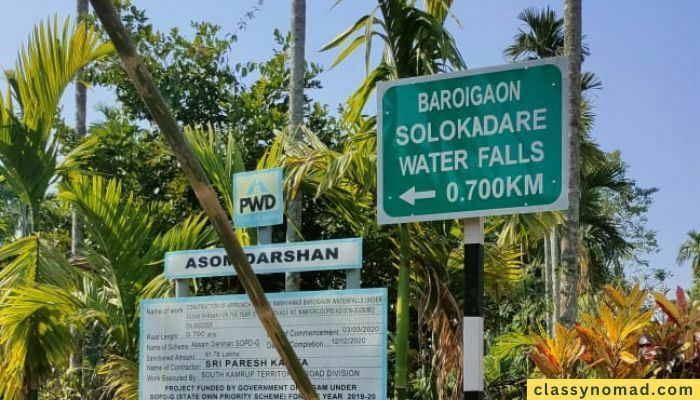 1. By Road
Anywhere else in the city, tourists can hire an autorickshaw, or book a cab. Taxi or cab reservations are the ideal routes to get to the waterfall. In the city, Uber and Ola are widely accessible. Additionally, self-driving cars like Zoomcar are simple to find throughout the city.
2. By rail
One may readily find shared taxis from Guwahati and Kamakhya railway stations, which are both 65 km and 61 km from the waterfalls, respectively.
3. By Air
The Lokpriya Gopinath Bordoloi International Airport (aka Guwahati Airport) in Guwahati, which is 44 kilometers away from the waterfalls, is the closest airport. All significant cities are well-connected to it.
Tourist places around Soloka Dare Waterfall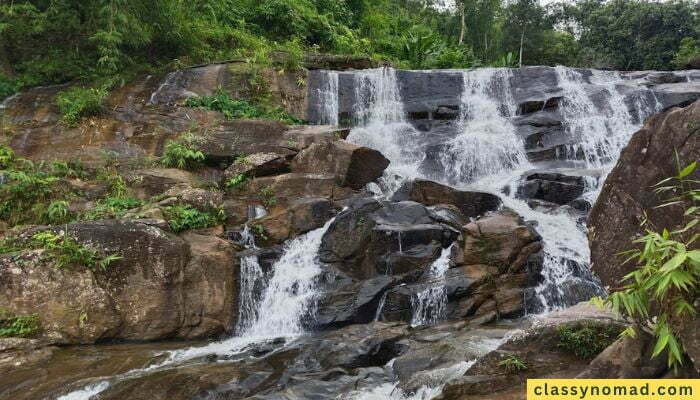 1. Srimanta Sankaradeva Kalakshetra
Sankaradeva Srimanta, a cultural center in the Panjabari neighborhood of Guwahati, Assam, called Kalakshetra was established in honor of the medieval poet-playwright as well as reformer Srimanta Sankardev. 
2. ISKCON Guwahati
One of the most well-known ISKCON temples in India and one of the top tourist attractions in Guwahati, it is also called Sri Sri Rukmini Krishna Temple. 
3. Sri Sri Ugratara Devalaya
In the center of Guwahati city, in the Lotaxil locality of Northeast India, lies the Ugratara Devalaya, a temple devoted to Ugratara. It is situated on the western side of the Jorpukhuri reservoirs.
4. Basistha Ashram and Temple
A temple called Basistha Temple may be found in the southeast corner of Guwahati, Assam, India. The Basistha Ashram, where the shrine is located, has a long history that stretches back to the Vedic era. 
5. Chandubi Lake
Chandubi Lake is a natural lake that can be reached by National Highway 37 and is situated 64 kilometers from the city of Guwahati in the Rabha Hasong Autonomous Council, Kamrup District, Assam.
6. Accoland
In Guwahati, there is a sizable water park called Accoland that is the first of its sort in the North East of India. The location immediately puts you in the atmosphere for a round of vivacious activities, as it is surrounded by Assamese undulating green slopes and lovely tea estates.
7. Nehru Park
It is one of the city's top tourist destinations and is situated in the center of Guwahati, the industrial capital of Assam. It was constructed in the 2000s and is dedicated to India's first prime minister.
8. Sukreswar Devalaya
In the Indian state of Assam, the Sukreswar Temple is a significant Shiva temple. Just on Sukreswar or Itakhuli mountain on the southern side of the Brahmaputra River in the Panbazar neighborhood of Guwahati city, the temple can be found.
Best Time to Visit Soloka Dare Waterfall
The best time to visit the waterfalls is between October and march.
Travel Tips
Use robust boots or shoes when walking.
Make sure to stick to well-traveled paths. Keep to the observation decks and platforms.
Pay special attention to any instructions or cautions posted near a waterfall.
Never attempt to circumvent or scale a waterfall.
Never jump out of or into a waterfall.
Take care of kids.
Never try to swim in the nearby creek or take pictures from the peak of a fall.
For the return trip, there should be a change of clothes accessible. Your clothes, especially your shoes and socks, are susceptible to getting wet.
It is typical to cross rivers and other minor, damp areas while hiking to a waterfall.
Conclusion
Waterfalls are a universal favorite, whether on vacation, during a picnic, or on any kind of instructional tour. Well, when it comes to waterfalls in the northeast, we can say that there are enough to choose from for a vacation.
However, when it comes to Assam, we must acknowledge that the state is gifted with rivers that burst into a stunning water display as they flow over the breathtaking scenery. Soloka Dare Waterfall is one of the stunning waterfalls in Assam. Do visit the waterfall to enjoy and make good memories with your friends and family. 
More Waterfalls from Assam
FAQs on Soloka Dare Waterfall Assam
1. Where is Soloka Dare Waterfall situated?
It is located in Kamrup District, close to Chandubi Picnic Spot, Assam.
2. What is the best time to visit Soloka Dare Waterfall?
The months of October to March are the best time to visit the waterfalls.
3. What are the nearby tourist attractions to Soloka Dare Waterfalls?
Srimanta Sankaradeva Kalakshetra, Sukreswar Devalay, Nehru Park, Basistha Ashram and Temple, Accoland, Chandubi Lake, ISKCON Guwahati, and Sri Sri Ugratara Devalaya are some of the tourist attractions nearby Soloka Dare Waterfalls.
4. What is the distance between Dispur and Soloka Dare Waterfall?
The distance between Dispur and Soloka Dare Waterfall is 70.1 km which takes 2hr 16 mins to cover the distance.
Map of Soloka Dare Waterfall Assam