This is a travel guide to Soochipara Waterfalls Wayanad. If you are planning to visit there, this guide will definitely be helpful for you.
Soochipara Waterfalls Wayanad Overview
| | |
| --- | --- |
| Location | Vellarimala, Wayanad, Kerala |
| Entry Fee | Free |
| Timing | 8 am – 4 pm |
| Best Time to Visit | Monsoon Season |
| Nearest Bus Stop | Kalpetta New Bus Stand (22 km) |
| Nearest Railway Station | Kozhikode railway station (92 km) |
| Nearest Airport | Calicut International Airport (100 Km) |
| Famous For | Waterfall, Adventure, Photography |
| Nearby Attraction | Banasura Dam, Wayanad Wildlife Sanctuary, Chembra Peak, etc. |
Soochipara Falls, a three-tiered waterfall near Vellarimala in Wayanad, is sometimes referred to as Sentinel Rock Cascades. This cascade is considered one of the great falls and is bordered by deciduous, coniferous, and highland woods. Some of the finest tea farms in Wayanad may be seen from the road as it travels between Meppadi and Sentinel Stone Waterfalls.
This beautiful waterfall is 200 metres high and features a rock-climber-friendly cliff face. Additionally, one can love swimming and taking a bath in the big pool formed by the waterfall's water flow.
Interesting Facts about Soochipara Waterfalls
To spend the weekends with their families and friends, locals who live close to the waterfall frequently go there.
Hikers should visit this waterfall at least once; it is the best one for the activity.
You'll fall in love with the location once you've climbed to the top of the waterfall.
People may easily access the waterfall because it is connected to several important cities.
Because it is located in a rural village, the environment remains unpolluted.
Some people are also referred to it as Soojipara Waterfalls.
Things to Do at Soochipara Waterfalls Wayanad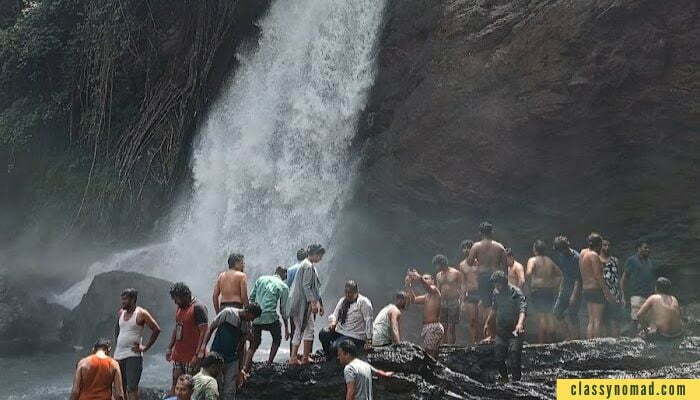 1. Trekking
If you love trekking, then this place will be quite good for you. There is a trek of around 50 to 70 staircases, which might give you a little taste of trekking.
2. Bathing
If you're visiting this location, you should consider taking a cooling bath after a strenuous hike in the clear, chilly water of the fall. After walking nine kilometres to the waterfall, many visitors appreciate the area so much that they take a nice dip in the water.
3. Picnic
Many locals use this area as a picnic location. Additionally, tourists enjoy coming here for picnics as a way to unwind after a long day of travelling. People who live close to the waterfall frequently go there on weekends with their friends and family.
How to Reach Soochipara Waterfalls, Wayanad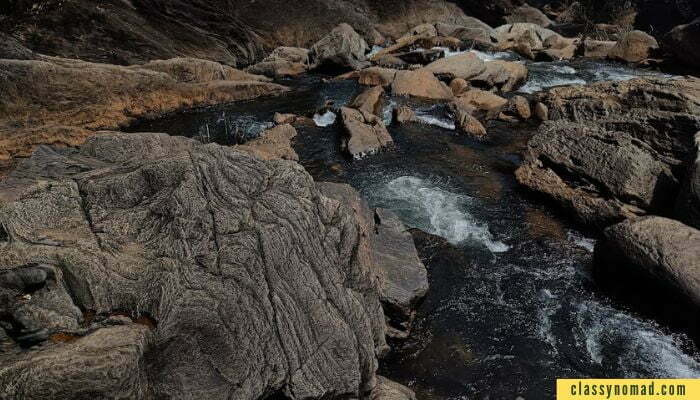 1. By Road
You should either hire a cab to drive you to the waterfall's entrance point or take a conventional bus up to a location close to the waterfall to get there. The waterfall is also reachable by car. No public transportation is, however, permitted up until the waterfall access point due to the poor condition of the roads.
Due to this, it will take you roughly 2 kilometres of walking or trekking to get there. To get to the cascade, you have to climb roughly 50 to 70 steps. Trekking is simple and just takes a half-hour.
2. By Train
The nearest railway station to the waterfall is Kozhikode railway station. The station is about 97 kilometres away from Sulthan Bathery.
All you need to do is book a train ticket to the Kozhikode railway station, and there you will be. You can find various vehicles outside the railway station that will lead you to Soochipara Waterfalls.
3. By Air
There are several airports near the Soochipara Waterfalls. Some of the airports are Calicut International Airport and Kannur International Airport at a distance of 100 km and 120 km respectively.
Just book your flight ticket to the airport mentioned above and reach your destination.
Nearby Tourist Attractions to Soochipara Waterfalls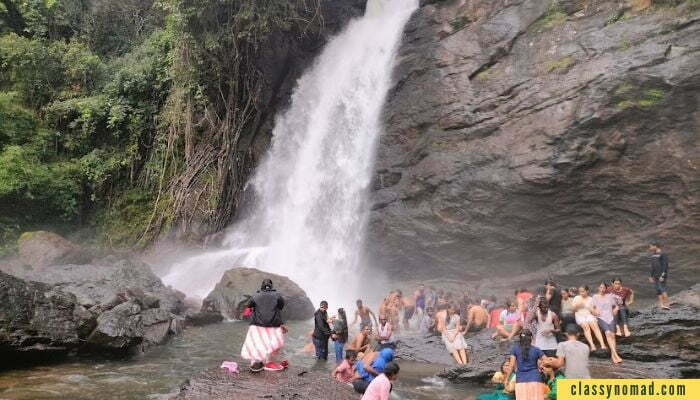 1. Banasura Dam
The charming Banasura Sagar dam is located near the village of Padinharathara in the district of Wayanad in Kerala, nestled within the Banasura Hills. Banasura Reservoir, the second-biggest mud dam in Asia, is the biggest in the nation. The expansive reservoir can be seen from the summit of the dam in stunning detail.
2. Wayanad Wildlife Sanctuary
Wayanad, Kerala's premier nature reserve, is home to rare and endangered species of both animals and plants. It is encircled by the conservation areas of Bandipur and Nagarhole in Karnataka, in addition to Mudumalai in Tamil Nadu.
The nature reserve was established in 1973 and is a crucial component of the Nilgiri Conservation Area, which would have been India's first of 14 biospheres.
3. Chembra Peak
The Chembara peak, at a height of 2100 m, is a popular camping and mountaineering location. There are numerous guided expeditions made to Wayanad's highest peak.
4. Edakkal Caves
The mediaeval Edakkal Caverns are two naturally occurring passageways situated in the Wayanad district of Kerala and are renowned for their magnificent rock formations and wall decorations.
The caves are enormous, measuring 1200 metres above sea level and 96 and 22 feet long and wide, respectively. Due to its perilous placement, it takes an additional 45 minutes to go from the cave entrance to the entrance, which is around 4000 feet away.
Best Time to Visit Soojipara Waterfalls Wayanad
The rainy season is the ideal time to visit this natural wonder because the waterfalls are barren during the summertime and closed to visitors from March through June.
The best time to witness Soochipara Falls occurs during the rainy season when visitors can also take in the area's abundant flora, animals, hills, and valleys.
Travel Tips
Since Cascade is one of the most environmentally friendly locations, visitors shouldn't bring plastic bags or other items that can pollute the area.
Alcohol and other similar substances are not permitted to be consumed by guests while they are visiting the waterfalls.
Obey the instructions and regulations put forth by the local guides.
If the necessary staff is notified in advance and is compensated extra for the activities, the tourists will also be given food and transport.
The waterfall is quite slippery, so wear shoes with a good grip to avoid any harm.
Conclusion
Situated on the outskirts of Wayanad, Soochipara Waterfall is arguably the most picturesque location in Kerala. The milky white torrent of water cutting through the steep outcrops and hanging trees on its journey to the streams is a sight to behold.
The Chaliyar River is joined by the cascade toward the end. Visitors must travel for approximately 30 minutes downhill to reach the main pool, where thrilling pastimes such as swimming, bathing, and other leisure pursuits are occasionally held.
Suggested – Explore some of India's Hidden Waterfalls
Watch Video of Soochipara Falls Wayanad
Map of Soochipara Falls Wayanad