Are you planning to explore Salinas as a tourist? In this article, we've shortlisted the 15 best things to do in Salinas, California that you should definitely explore while visiting the city.
Nice people, top-notch wines, pristine farms, historic landmarks, and a picturesque downtown area may all be found in the lovely city of Salinas. The place is well-known for being the birthplace of novelist and Nobel Prize winner John Steinbeck.
Both his boyhood home, The Steinbeck House, and the National Steinbeck Center museum, which has a variety of items related to the author, are open to visitors.
Interesting Facts about Salinas, CA
The city of Salinas, California, has earned the moniker "Salad Bowl of the World" due to its famed agricultural output.
Salinas is well known for having a wonderful temperature, which makes it the ideal location for vineyards and the floral business.
John Steinbeck was born in Salinas, California, a thriving agricultural hub. Around 30% of the lettuce consumed worldwide is produced in the Salinas Valley, a significant agricultural center.
The American Lung Association's State of the Air report lists Salinas, California, as one of the top ten American communities with the cleanest air.
Here are the 15 best things to do in Salinas, California that you should definitely explore to make the most of your trip to the city.
Best Things to do in Salinas, California
1. The Steinbeck House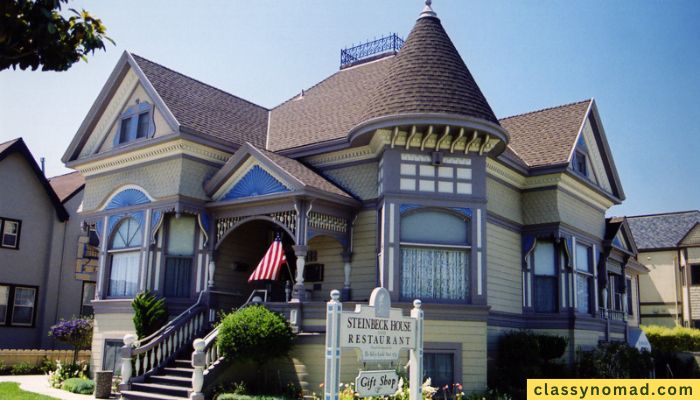 Visit The Steinbeck House to see where Nobel Prize winner and novelist John Steinbeck was born and raised. The Steinbeck family bought the 1897-built Queen Anne-style Victorian house in 1900.
Now, the location is a beautiful restaurant where guests may savor a sumptuous meal in the spaces where the renowned author grew up.
Every day of the week, informative tours are offered; throughout the tour, you'll witness numerous personal antiques in addition to the historical decor.
2. WeatherTech Raceway Laguna Seca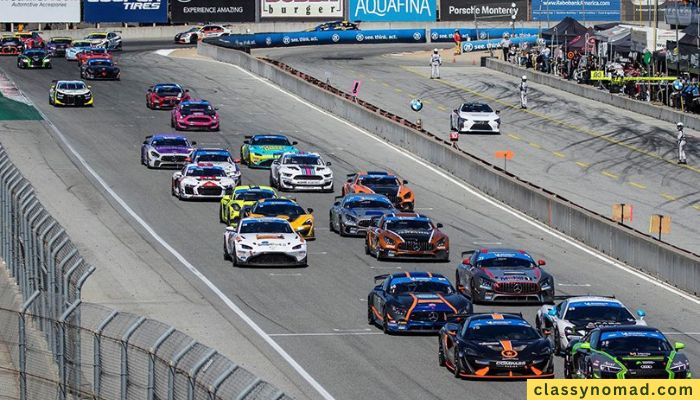 Despite the fact that the original Laguna Seca Raceway opened in 1957, the locals' passion for top-tier racing dates back far further.
Nowadays, one of the most popular destinations in Salinas is the 11-turn, 2.238-mile circuit that runs beside California's breathtaking central coast. Corners 8 and 8A, sometimes referred to as The Corkscrew, are a favorite among racers and fans worldwide at the WeatherTech Raceway Laguna Seca.
The hard-left, hard-right combo is stunning in part because of the 59-foot drop from the first turn's entry to its departure; this is equivalent to a 512-storey drop over only 450 feet of track.
3. Monterey Bay Equestrian Center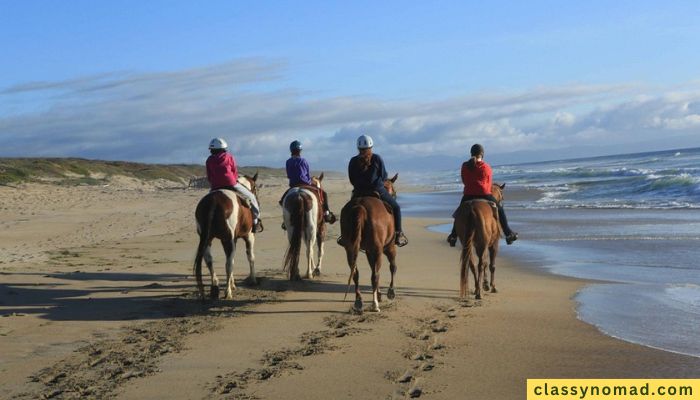 Whether you're looking for a leisurely beach ride or a romantic horse-drawn carriage, the Monterey Bay Equestrian Center provides a wide selection of thrilling equestrian rides.
The institution has been operating since 1981, and one of its most well-liked services is a horseback ride on the beach. You may stroll the Monterey Bay shoreline and enjoy the breathtaking scenery.
Whether you're an experienced rider or a novice, every ride is specifically customized to your needs and skills. Exploring this site is actually one of the best things to do in Salinas.
4. Toro County Park
Toro County Park, a few kilometers from Salinas' center, originally welcomed visitors in 1971. The park, which covers around 5,000 acres, is a sanctuary for the tens of thousands of locals and tourists that come here every year.
With the option to bring a picnic, the pastoral environment is the ideal spot to spend the day outside with your family.
A playground, two softball fields, volleyball courts, horseshoe pits, and more than 20 miles of hiking, mountain biking, and horseback riding paths are just a few of the amenities available to outdoor enthusiasts.
While visiting the park, you could see animals such as coyotes, deer, and golden eagles.
5. The Farm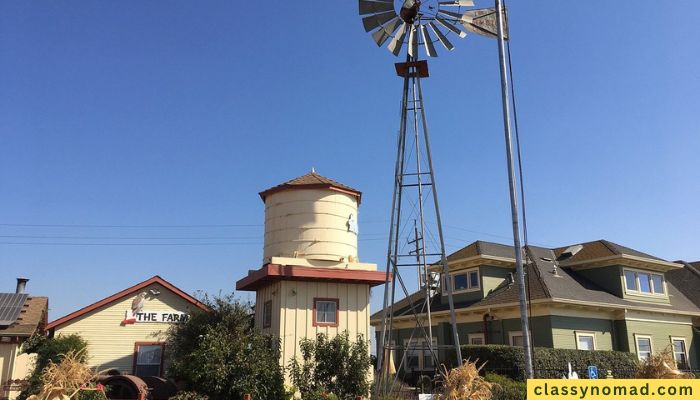 In Salinas, California, there is a local farming operation called The Farm as well as an agricultural teaching facility.
There are several things you may see and do while there, such as taking a farm tour, taking part in many of their events and activities, buying fresh organic food, and simply taking in the gorgeous rural setting.
They provide 45- to 1-hour-long group excursions that will give you an overview of ranch life and farming in the Salinas Valley. The trips also include a walk through the fields and a fun hayride.
6. Tatum's Garden
Tatum's Garden is a distinctive playground that was expressly created to be accessible to all kids with restricted mobility. Tatum Bakker, who is confined to a wheelchair owing to Spina Bifida, is named after it.
Tatum's Garden offers special needs kids a fascinating and secure place where they may play with their peers who are not disabled.
The impressive (and completely accessible) tree house with a variety of slides and other entertaining features is located in the center of the sizable playground.
7. Odonata Wines South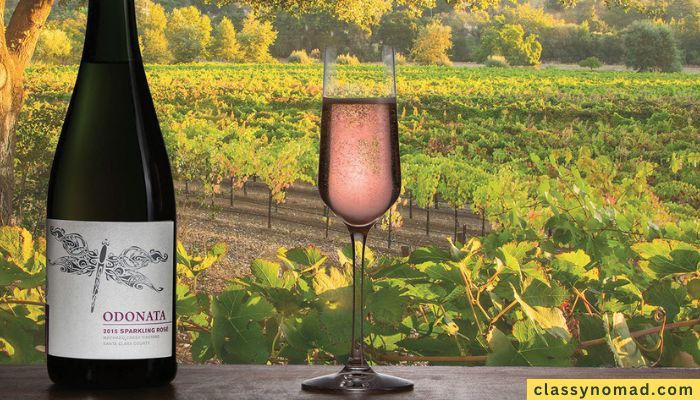 Odonata Wines South is a small, family-run winery that embodies the enthusiasm of owner and winemaker Denis Hoey.
To produce well-balanced, rich wines that are full of flavor and texture, he combines old-world traditions, which he learned through mentors and during his travels around Europe, with modern processes and premium ingredients.
Odonata Wines South's success is a result of the careful attention paid to every stage of winemaking, from fruit procurement and fermentation to barrel selection and aging.
A leisurely day spent exploring the winery and sipping their latest offerings makes no trip to Salinas complete. It is undoubtedly one of the best things to do in Salinas.
8. Salinas Valley Art Gallery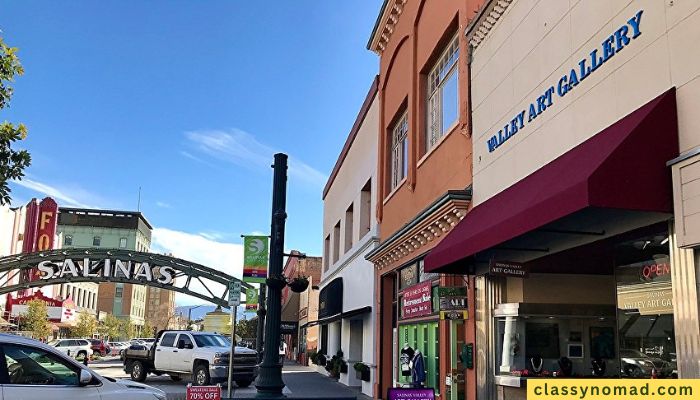 Since its founding in 1976, the Salinas Valley Art Gallery has played a significant part in the neighborhood.
The Central Coast's residents and visitors may experience a variety of fine arts thanks to the artist cooperative, which introduces fine arts to the region.
You may swing by the gallery during any of their regular hours or on special occasions like their Salinas First Friday Art Walk.
9. National Steinbeck Center
The National Steinbeck Center, which is devoted to the writings and legacy of Nobel Prize–winning author John Steinbeck, offers opportunities for participation, inspiration, education, and intercultural understanding.
The non-profit museum, which debuted in 1998, is home to a variety of materials related to John Steinbeck, including antiques, first-edition books, interviews, and newspapers.
The National Steinbeck Exhibition Hall was created to take visitors on a tour through Steinbeck's "Valley of the World," letting them see the locations he visited, lived in, and wrote about.
Along the way, you'll view exhibits of his books and other work and take part in a number of interactive activities.
10. Allen Berg Racing Schools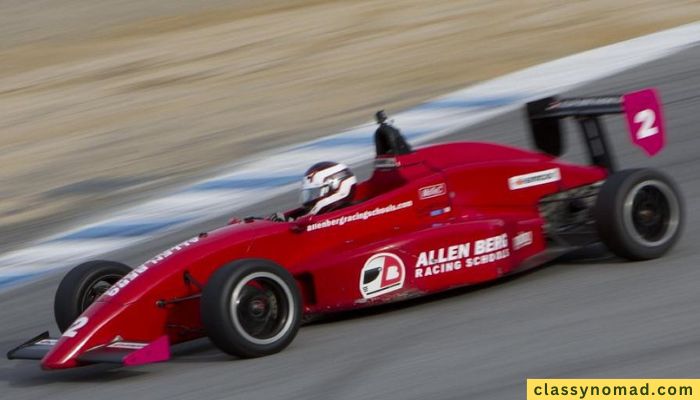 WeatherTech Raceway Laguna Seca is located at Allen Berg Racing School. The track is one of the most well-liked race venues in the country because of its extensive history, prime location, and magnificent course design.
The 2.238-mile circuit offers plenty of fast straightaways, high-speed banked bends, difficult technical corners, and significant elevation changes where you may satisfy your craving for speed.
The track's renowned "Corkscrew" turn, which descends six storeys from entry to exit, is a draw for racers and drivers from across the globe.
11. Salinas Sports Complex
An 80-acre horse racecourse known as the Salinas Sports Complex was first built in Sherwood Park in 1911.
Over time, the location transformed into a year-round sports complex with grandstands in addition to an equestrian stable with eighty stalls, two baseball diamonds, a practice soccer pitch, and five softball fields.
It is an essential component of the neighborhood and frequently serves as the setting for many festivals, concerts, and other events.
In keeping with its roots, the sports complex is renowned for hosting the California Rodeo Salinas, which includes a number of competitions like the PRCA/Professional Rodeo, horse shows, Miss California Rodeo, freestyle bullfights, and more.
12. Fort Ord National Monument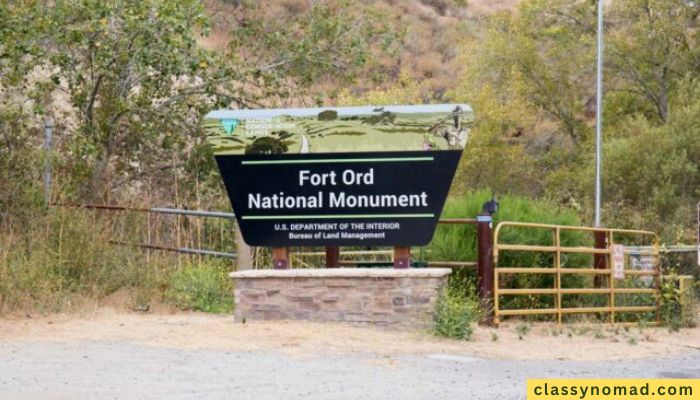 A former United States Army station that was shut down in 1994 is where the Fort Ord National Monument is located. The 7,000-acre park has some of the greatest trails in the region and is available to tourists all year long.
You may go horseback riding, mountain biking, or hiking on it, and you'll see beautiful flora and wildlife including wildflowers, coast-lives oak trees, and a variety of birds along the route.
Several tour companies provide Fort Ord excursions, giving you the chance to see various locations that are often off-limits to the general public.
13. Salinas River National Wildlife Refuge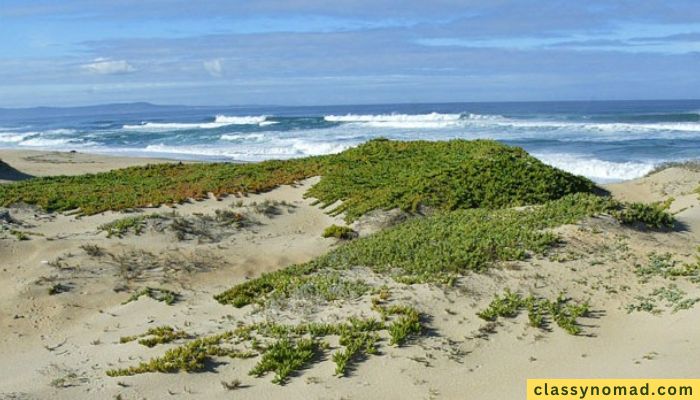 A 367-acre refuge comprising riparian habitats, grasslands, beaches, coastal dunes, salt marshes, and salty ponds is known as the Salinas River National Wildlife Refuge.
One of the few wetlands that are still present along the central California coast, it was developed in 1973.
Discover spectacular flora and fauna, including rare and endangered species like the western snowy plover, the Monterey spineflower, and the Smith's blue butterfly. You'll be able to view and explore so many varied ecosystems.
14. Boronda Adobe History Center
Jose Eusebio Boronda's 1846-built Spanish Colonial adobe, which is preserved by the Boronda Adobe History Center, served as his residence.
It is a must-see site in Salinas because it is both a California Historical Landmark and listed on the National Register of Historic Places.
The Little Red Lagunita Schoolhouse, a World War II Bataan monument, the Filipino Farm Labor Bunkhouse, which portrays the living conditions of Filipino farm laborers, and the Robert B. Johnston Archival Vault, which contains one million objects and more than 80,000 photographs, are just a few of the surrounding areas for you to explore.
15. Ventana Wildlife Society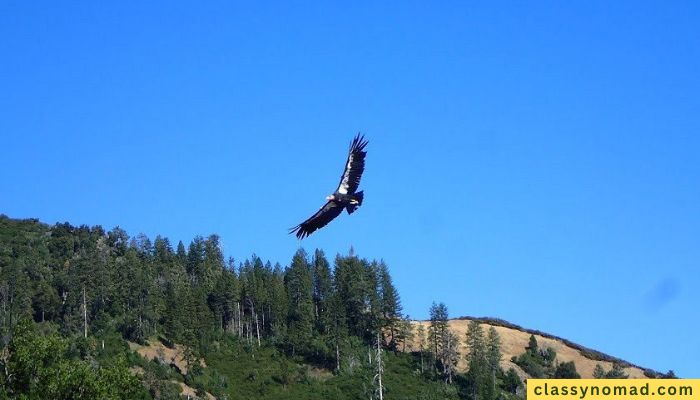 In 1977, the Ventana Wildlife Society was established as a nonprofit. The recovery and maintenance of wild condors that are present in central California are their primary concerns.
You'll appreciate taking one of their excursions, like the two-hour Condor Tour, which will take you down the coast to see the magnificent, endangered California Condors.
Depending on your luck, you might also get to see some other species along the route, including whales.
During your time with the professionals at the Ventana Wildlife Society, you'll discover a tonne of fascinating facts about these incredible vultures.
Where to Stay in Salinas, California
Today's Salinas, which is Spanish for "Saltworks," has a lot of things to offer. The beaches and dunes, marshes home to a wide variety of indigenous wildlife, and, yep, the National Steinbeck Center. Several fantastic places to stay are available if you want to stay there for a few days. 
The ones you can look up are listed below.
1. Overall Best Hotel in Salinas – Hampton Inn & Suites Salinas
The Hampton Hotel & Suites Salinas has an indoor pool and a fitness center and is situated in Salinas, only 25 minutes' drive from Monterey. Amtrak in Salinas is 2 miles distant. It takes 40 minutes to get from Cannery Row to the Monterey Bay Aquarium.
Location: 523 Work Street, Salinas, CA
Amenities: WiFi, Mini Market on site, Air conditioning, Lift, Family rooms.
Food Information: Fruits, Restaurant
2. Best Luxury Hotel in Salinas – Residence Inn by Marriott Salinas Monterey
The Steinbeck House, a historical home museum, is located 4.8 miles from this Salinas hotel. Tennis and volleyball courts are available at the hotel. The suites come with cable TV and complimentary Wi-Fi.
Location: 17215 El Rancho Way, Salinas, CA
Amenities: WiFi, Air conditioning, Family rooms
Food Information: Grocery Deliveries
3. Best Cheap Hotel in Salinas – Super 8 by Wyndham Salinas
This Salinas, California hotel has an outdoor pool and is 1.6 kilometers from the John Steinbeck Center and less than 40.2 kilometers from Pebble Beach Golf Course and Monterey Bay. There is free WiFi available in every accommodation.
Location: 131 Kern Street, Salinas, CA
Amenities: WiFi, Designated smoking area, Air conditioning
Food Information: Cafe.
Where to Eat in Salinas
Salinas, a city in central California renowned as the "Salad Bowl of the World," is well-known for its agricultural sector. As a result, it provides enticing restaurants of different ethnic backgrounds with some of the freshest farm-to-table cuisine. We give the top three restaurants in the region.
1. First Awakenings
It is renowned for its traditional, homey American cuisine, which includes but is not limited to, favorites like the roasted Portobello burger, eggs Benedict, and California crepe. 
Location: 171 Main St, Salinas, CA
2. Salinas City BBQ
It is renowned for its extensive menu of barbecue alternatives, which includes everything from the actual barbecue to sandwiches, steaks, and barbecue combination meals.
Location: 700 W Market St, Salinas, CA
3. Elli's Great American Restaurant
The menu even includes a section dubbed the "Melting Pot" that offers various flavor fusions from places like Italy and Mexico.
Location: 1250 S Main St, Salinas, CA
Conclusion – Best Things to do in Salinas, California
Salinas, a small but prosperous city on the Central Coast of California, lies adjacent to Monterey Bay. The Salinas Valley has been a farming community for many hundred years, and many of John Steinbeck's books are set here.
Salinas is quite versatile due to the variety of activities to do there and nearby: Sports enthusiasts may see a rodeo event or a race at Laguna Seca, while foodies can bite into the region's organic wines and veggies.
Yet, almost everyone will fall in love with the untamed beauty of the Pacific coast and the verdant countryside inland.
So, now, the guide on the "best things to do in Salinas" has come to an end. Hope, it will help you in making the most of your trip.
Suggested – If you are interested in exploring more cities in California, we have also created a travel guide on the best things to do in Monterey, Inglewood, San Mateo, Santa Monica, Santa Clarita, Sonoma, Pasadena, Hayward, Redwood City, Riverside, and Needles.
FAQs – Cool Things to do in Salinas, California
1. What are the top attractions to visit in Salinas?
The top attractions in Salinas are The Farm, Tatum's Garden, Odonata Wines South Allen Berg Racing Schools, and Ventana Wildlife Society.
2. What are the best restaurants in Salinas?
Mangia- Eat on Main, Patria, The Village Restaurant, The Steinbeck House Restaurant, and the Black Bear Diner are the best restaurants in Salinas.
3. What are the best accommodation options in Salinas?
Chateau Coralini, Hampton Inn Suites, The Sanctuary Beach Resort, Bernardus Lodge & Spa and Holiday Inn Express & Suites Salinas are the best accommodations in the city of Salinas
5. Is Salinas worth visiting?
The city of Salinas is very happening and has a lot to offer for every kind of tourist. So, you should definitely give it a visit to the city.