In this blog post, we will discuss the 10 best things to do in Tashkent for every tourist visiting Uzbekistan.
Tashkent, formerly known as Chach in the past, is Uzbekistan's capital province and the most populated city in Central Asia, with a populace of 2,694,400 people (2021).
It is located in northeast Uzbekistan, close to the Kazakhstan boundary. Tashkent was affected by the Sogdian and Turkic civilizations until Islamic dominance began in the mid-eighth century AD.
It was reconstructed after Genghis Khan demolished it in 1219, and it benefited from the Silk Road. The city was an autonomous city-state from the eighteenth to the nineteenth centuries until being disappointed by the Khanate of Kokand.
Tashkent was captured by the Russians in 1865, becoming the headquarters of Russian Turkestan. Subjected to forced emigration from all around the Soviet Union, it saw a strong increase and demographic shifts during the Soviet era.
Uzbekistan is undoubtedly a destination worth visiting for travellers from all over the world.
But before visiting Uzbekistan, we highly recommend you read our two blog posts that are interesting facts about Uzbekistan and reasons to visit Uzbekistan as a traveller to understand the country perfectly.
Best Things to do in Tashkent
The best things to do in Tashkent are discussed below. Let's start the list.
1. Visit Khast Imam
The world's oldest Qur'an is said to be kept at this grouping of masjids and religious schools in the heart of Tashkent.
Although the little exhibit where the manuscript is preserved is interesting, it is only a minor part of the larger structure. The nearby tiny lanes are ideal for taking a stroll and getting a glimpse of ancient Tashkent.
The mediaeval Islamic building of Khast Imam, one of Tashkent's most renowned tourist destinations, is breathtaking.
Everyone is awestruck by its enormous splendour! Khast Imam is located on Karasary Street and its opening time is from 9 AM to 9 PM.
2. Take a stroll through the Chorsu Market
The tangle of shops, outdoor food kiosks, and wholesalers is just what you'd anticipate from a Middle Asian market at the crossroads of the old silk route.
Booths and food vendors spread for what seemed like an eternity, sometimes thought to be contained inside this blue dome image beneath.
Bread and low-cost Chinese-made goods abound in the neighbourhood surrounding the railway station.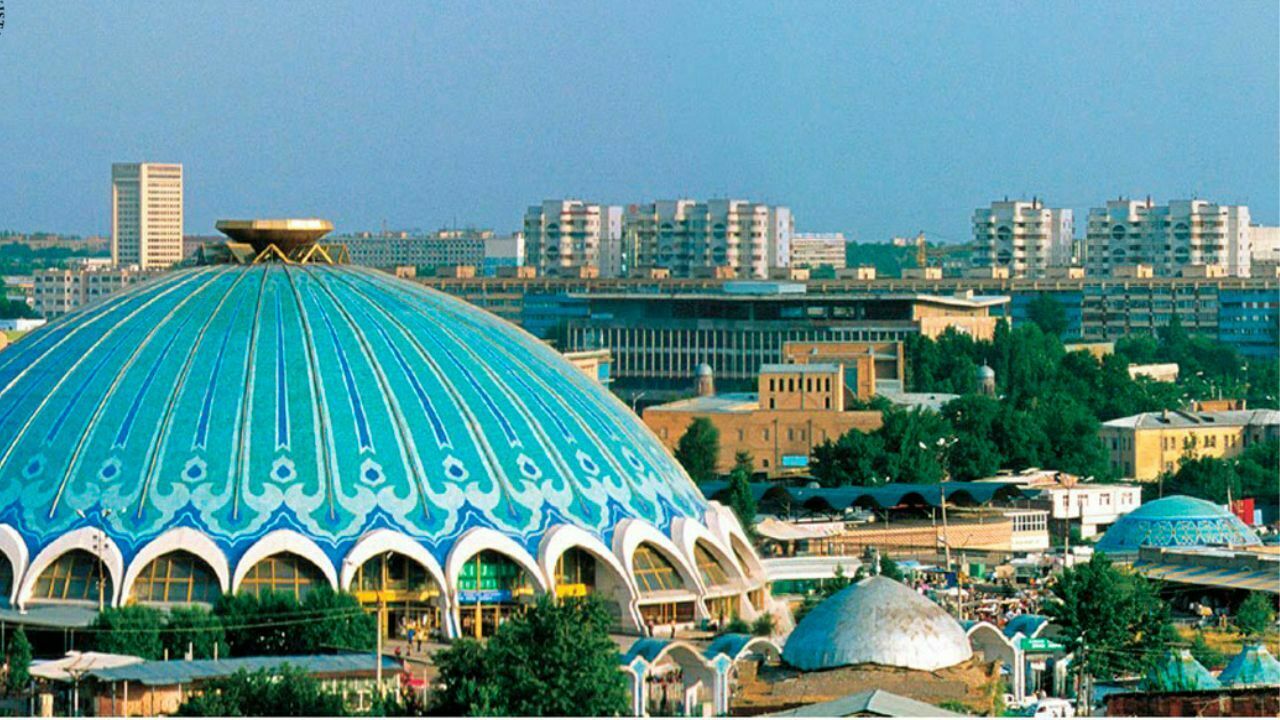 The dome and neighbouring regions are brimming with fresh fruits, vegetables, and meat, as well as open-air dining halls and tapestries.
Don't be shocked if folks are frank and forthright because this is a functioning market.
Markets are among our favourite places to visit while exploring a new nation since they allow us to mix with people, sample local cuisine, and purchase unique gifts.
3. Marvel at the Soviet Mosaics
Tashkent has some outstanding Soviet architecture, but Shota Rustaveli Avenue, just south of the Grand Mir hotel, is home to a large number of historic Soviet-era high rises with some amazing mosaics. Undoubtedly, It is one of Tashkent's most fascinating and intriguing sights.
You can find restaurants there where you can taste the traditional dishes of Uzbekistan.
4. Check Out the Minor Mosque
The nation's then-leader, Islam Karimov, ordered the construction of this massive white marble masjid between 2013 and 2014.
A stunning structure on the banks of the Ankhor river appears to belong in Ashgabat's white granite jungle rather than Tashkent. Late nights are typically calm, making them a good time to go exploring.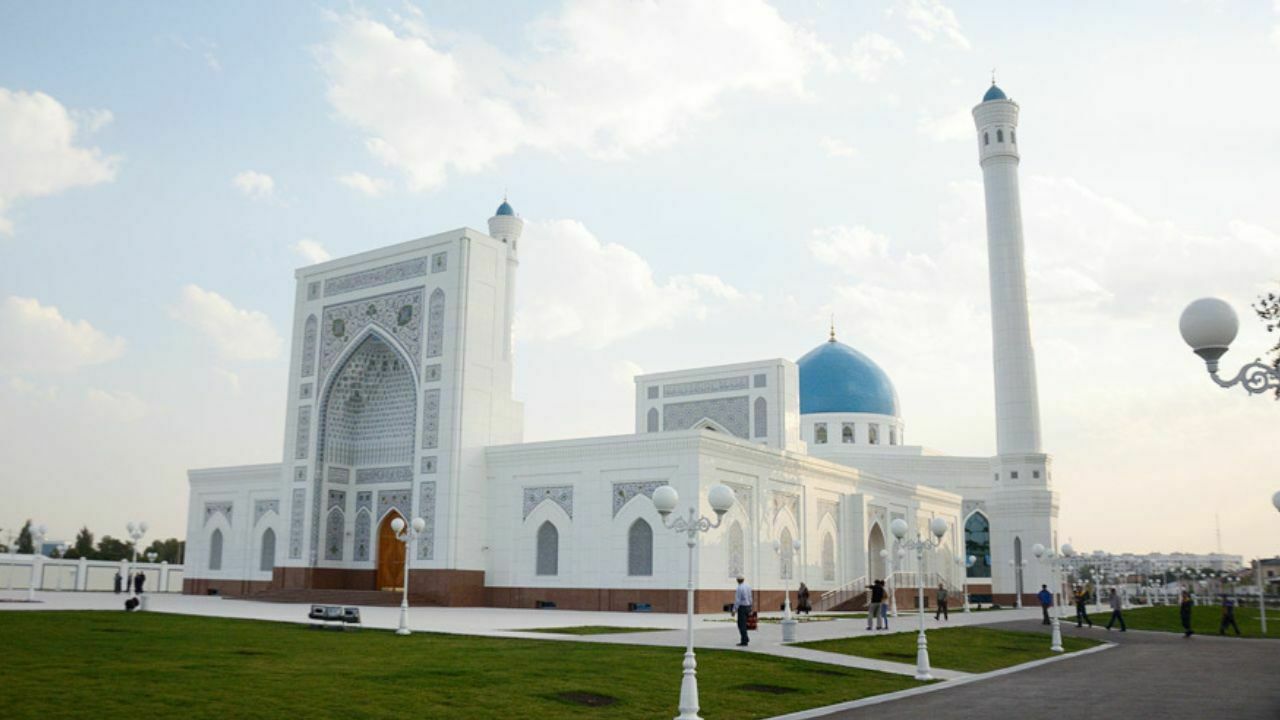 It is located on Little Ring Road and is open 24/7. You can visit this place free of charge.
5. Kolkouz Canal
This canal goes from Chitagay Bazar to Khast Imam, passing by the Tinchlik metro station. This is a fantastic spot to visit and learn about ancient Tashkent, with tiny passageways ornamented by antique Ladas and creeping vines.
This is undoubtedly among the most intriguing things to see in Tashkent, and it's definitely a place to escape the masses.
The residences in this neighbourhood are encircled by tall walls with large gates, which are generally locked. When you go through, anticipate seeing eyes peeking over the tops of the ramparts or via the gate.
Expect individuals to welcome you in after a cup of joe or simply a chat at their houses.
6. Spend some time around Amir Timur Square
The most renowned Middle Asian invader in antiquity was Amir Timur. The empire spanned from West China's boundaries to Turkey's boundaries at its peak.
According to some histories, he came dangerously close to conquering Xinjiang, China's westernmost region.
With the collapse of the Yuan kingdom and the advent of the Ming, China was undergoing a period of immense upheaval, and many believed that if he had done so, he might have captured a vast amount of land.
The Uzbekistan guesthouse, a great example of Soviet architecture, is located behind the Amir Timur monument. Restaurants, cafes, and the occasional disco may be found in the neighbourhood around the square.
The neighbourhood comes to life at night with straight skating and carnival booths where you may win a variety of cuddly toys. Check out the pubs and nightclubs in the region for Tashkent's entertainment alternatives.
7. The Navoi Theatre is hosting a performance
In Tashkent, the Navoi Theater is the ideal place to see a ballet performance. A timetable is placed on the windows of the modest ticket booth outside the theatre.
It's important to keep in mind that the ticket salespeople are unable to comprehend English. Thankfully, I knew enough Russian to do the task.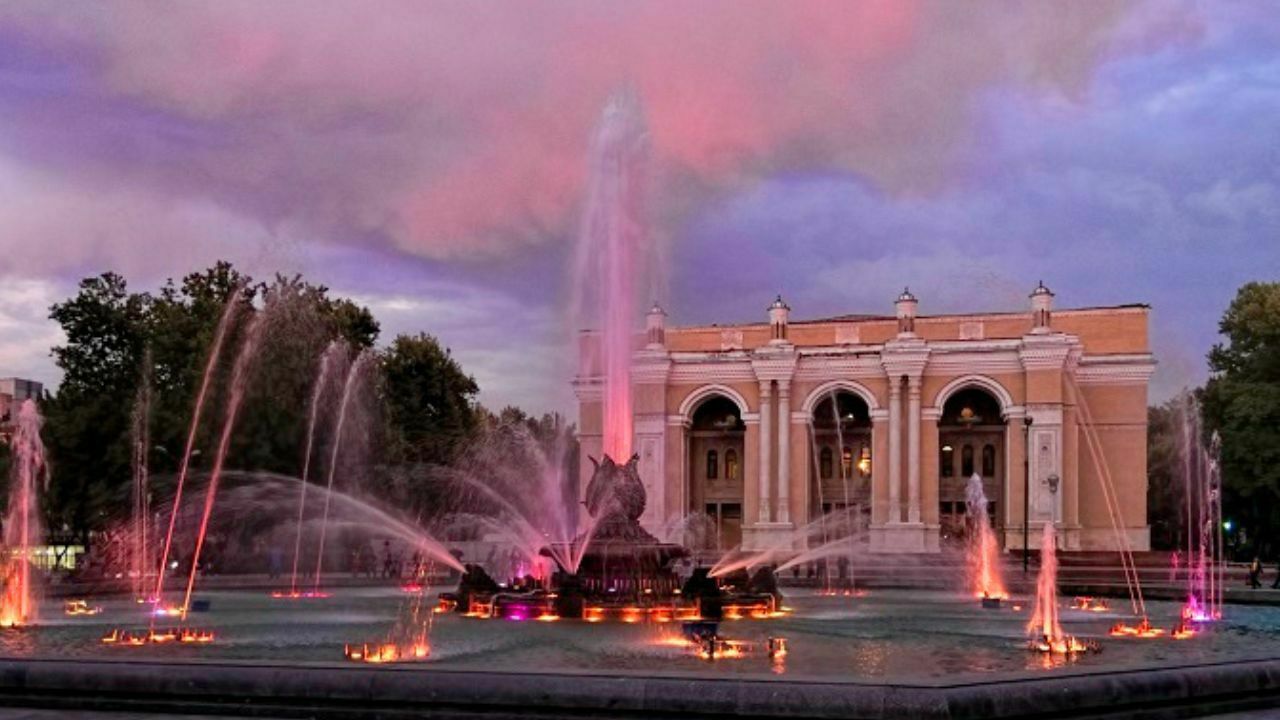 If it doesn't work, a mixture of gesturing and machine translation should do the trick. We had hoped to see a ballet presentation but were advised upon booking our tickets that the dance had already been substituted.
8. At Tashkent Islamic University, see the shrines
A trip to Druzhba Narodov & Navoi Park may easily be coupled with a trip to this portion of Tashkent. The Sheikhantaur Monument Site is located on the campus of Tashkent University.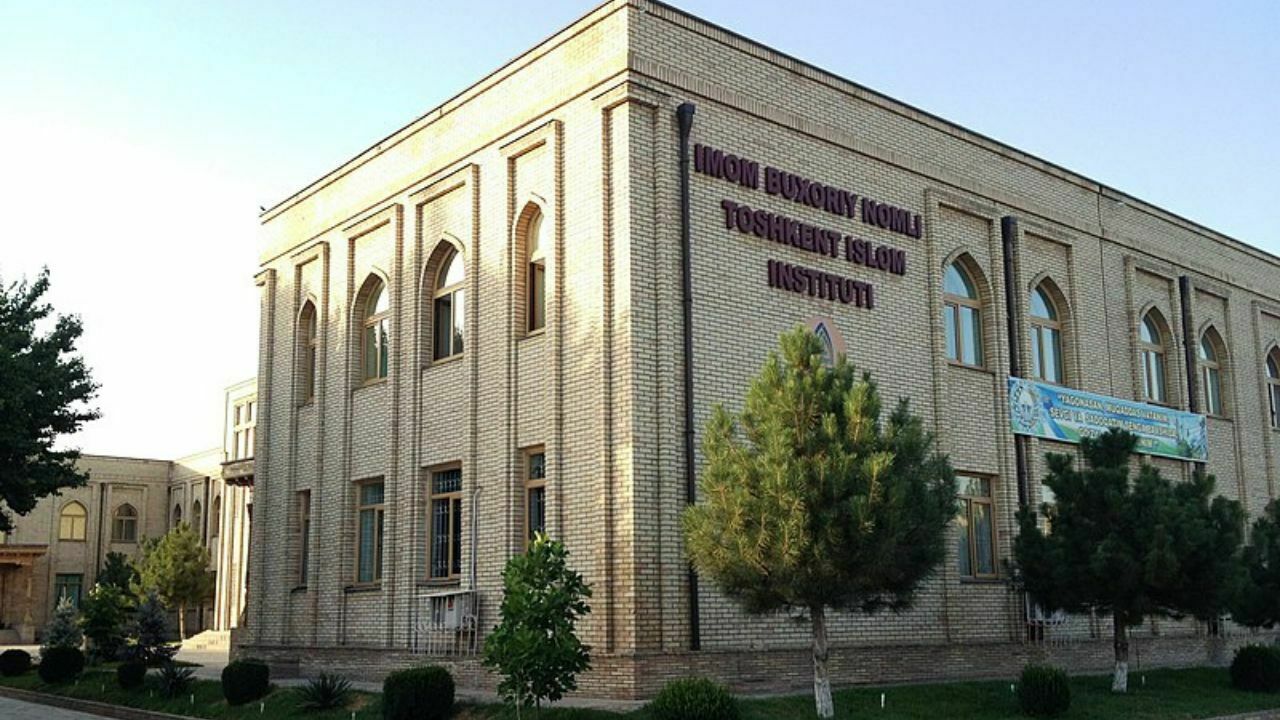 Once within the university, the three extant mausoleums (there were previously 16) are simple to find. There are even a couple of tapchan couches to provide some relief from Tashkent's scorching heat.
9. Visit Druzhba Narodov Square
This massive area on the outskirts of Navoi is home to several unusual monuments and Soviet-era structures, as well as a good view of the ring along the leafy boulevards.
It is here that the compulsory "I adore Tashkent" sign may be found. The breathtakingly gigantic Istiqlol Saroyi stands behind the square.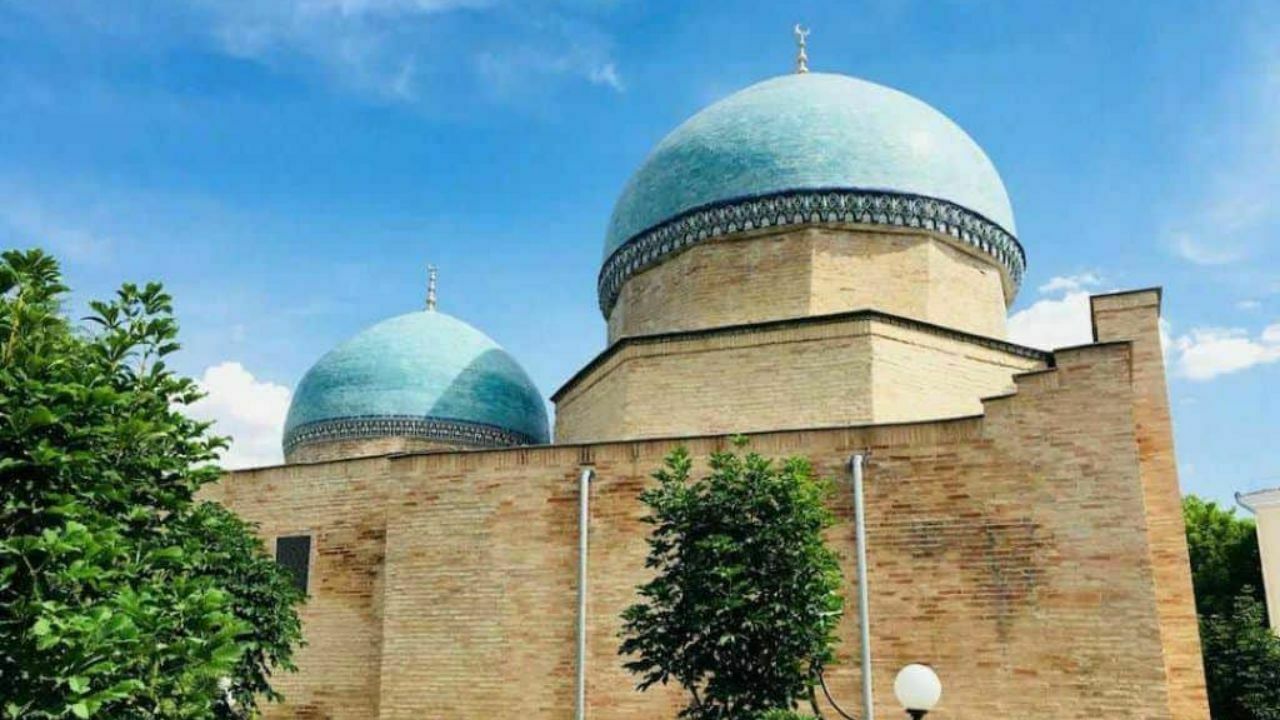 The artists that perform at this massive musical arena have evolved dramatically since the Soviet era; in 2018, the German rock titans Scorpions performed here.
Combine the plaza and music hall, which are immediately near Navoi Park.
10. Navoi Park is a great place to unwind
To avoid Uzbekistan's severe heat, the vast stretch of green contains many shaded spaces and trees. There will be several sculptures of Timur and also monuments to notable Uzbek poets, singers, and authors.
If you wish to snag more manti & shashlik and enjoy a picnic in the shelter, there are various eateries, stores, and food vendors on the park's outskirts.
The Navoi Field is one of the destinations to visit around Tashkent if you really want to enjoy a relaxing afternoon.
Conclusion – Things to do in Tashkent
Tashkent, the contemporary metropolis of Uzbekistan, is overshadowed by the more picturesque Silk Road towns of Samarkand, Bukhara, and Khiva.
It's a pity since Tashkent is a fun place to live and spend time if you look in the right places. The city of Tashkent, which boasts several lovely historical landmarks, might be considered an entrance to the gorgeous Islamic buildings—undoubtedly the purpose for which you're travelling to Uzbekistan.
It is also a highly contemporary city with several parks and waterfalls, as well as gorgeous monuments, lovely cafés, and dining options.
Tashkent is an excellent starting point for exploring the remainder of Uzbekistan. It's extremely easy to get from Tashkent to other attractive locations by bus or rail.