This is a complete travel guide to Vattayi Waterfalls Thrissur. In this guide, we've mentioned location, things to do, best time to visit, how to reach, nearby attractions, travel tips, facts, maps, etc useful information.
Vattayi Waterfalls Thrissur Overview
| | |
| --- | --- |
| Location | Kundukad village, Thrissur district, Kerala |
| Entry Fee | N/A |
| Timing | 24 Hours |
| Best Time to Visit | Monsoon & Post Monsoon Season |
| Nearest Town/City | Thrissur (13 km) |
| Nearest Railway Station | Thrissur Railway Station (15 km) |
| Nearest Airport | Cochin International Airport (59 km) |
| Famous For | Sightseeing, Picnic, Photography |
| Nearby Attractions | Guruvayurappan Temple, Athirapally Falls, Thiruvambadi Krishna Temple, Vadakkunnathan Temple, Cheraman Juma Mosque |
Your heart may be captured by the entrancing splendor of the Vattayi Waterfalls. This area is blessed with stunning natural beauty and a beautiful love-infused touch.
Vattayi Waterfall is a secret waterfall in Kerala's Thrissur district. It is situated in Kundukad village, about 13 kilometers from Thrissur, close to Mangalyappara. It is a tiny waterfall that will be more attractive and lively in the wet season.
Spending time with family and taking a bath at the waterfalls is safe. The neighboring locations of Mangalyappara, Cheppara, Poomala Dam, Pathaazhakundu Dam, etc. can be visited in addition to this waterfall.
Suggested – Explore Mankayam Waterfalls, one of the less-known waterfalls in Kerala.
Interesting facts about Vattayi Waterfalls Thrissur
Both hikers and those who love the outdoors should visit this place.
Spending time with family and taking a dip at this waterfall are both safe.
When it rains, the waterfall is at its busiest.
The Thrissur district has a few secret waterfalls like this.
Things to do at Vattayi Waterfalls Thrissur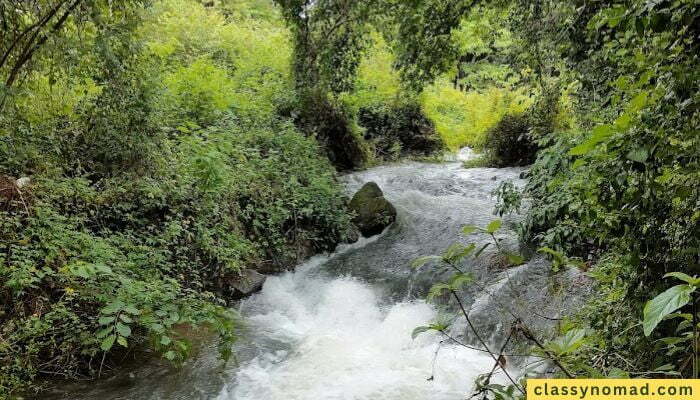 1. Sightseeing
Jeeps can get to the waterfall even though it is concealed by a thick forest. It's exciting to travel through the deep bush.
The locals take care of the roads and the region around the waterfall. From the entrance, a short hike will lead you to the waterfall.
2. Picnic
This brief climb is made more enjoyable by the numerous little cascades and the gushing river that lies to your right as you rise.
You can take your relatives and friends here for a quick picnic.
3. Photography
The location's main advantage is that the flow is low, making it easy to take a quick shower. It is known for having one of the best waterfalls in the state.
You can take pictures of those beautiful moments and remember the moments later.
Suggested – Visit Marmala Waterfall, one of the most beautiful but not very popular waterfalls in the state of Kerala.
How to Reach Vattayi Waterfalls Thrissur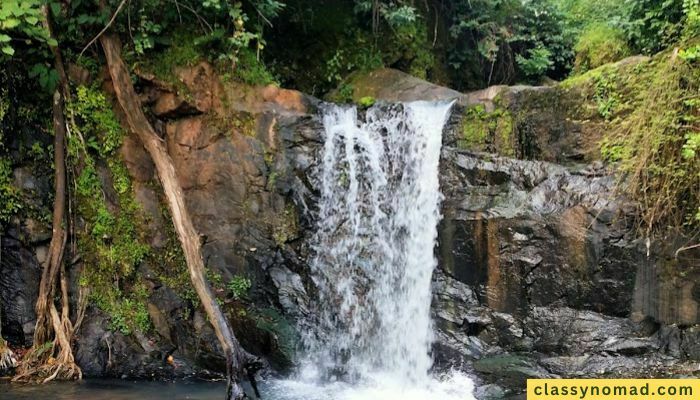 1. By Road
Strong road connections to main towns like Kollam, Aluva, Alappuzha, Ernakulam, Shertallai, Arur, Chalakudi, and many more make up the Thrissur route.
KSRTC offers regular bus services between Thrissur and Thiruvananthapuram. To get to the waterfall from the bus stop, you can order a taxi or cab.
2. By Rail
The large cities of India and Kerala are connected to the city through the Thrissur Railway Station.
Numerous direct trains, including Express Trains, Super Fast Trains, and Mail Trains, arrive at this train station from cities including Delhi, Mumbai, Thiruvananthapuram, Chennai, and Bangalore. 
When you arrive at the station, start looking for different taxi services that may take you to the waterfalls.
3. By Air 
Despite the fact that Thrissur lacks an airline of its own, all the important cities in India and throughout the world have flights to the city's nearest airport.
The Cochin International Airport, which is situated about 59 kilometers away from Thrissur, is the closest airport. 
Approximately 80 kilometers from Thrissur, at Kozhikode, there is another convenient airport. To get to the waterfalls from the airport, you can reserve a cab or taxi.
Suggested – Wanna do some adventure? Go to Valara Waterfalls and experience an adventurous activity.
Tourist Places Near Vattayi Waterfalls Kerala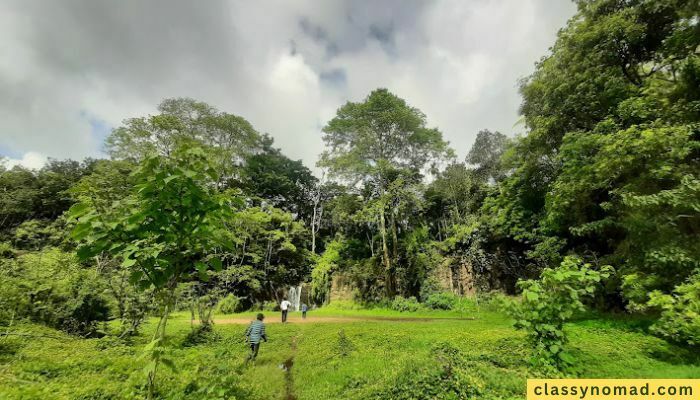 1. Guruvayurappan Temple
It is one of South India's most popular and well-known Hindu pilgrimages. Bal Gopalan, also known as Lord Krishna, is the temple's presiding deity.
It is the busiest temple; thousands of worshippers pour into it daily to offer prayers and eagerly participate in daily Darshan.
Mural paintings adorn the temple's walls, which are exquisitely adorned. These paintings show Lord Krishna's life as it appears in the Krishna Leelakal, along with intriguing tales from his early years.
It is a popular location for conducting weddings and chorunnu (offering the first solid meal to children).
In this temple, more than 200 marriages take place every day. An impressive celebration is a Shiveli procession, which involves temple elephants carrying an icon of Lord Krishna.
2. Athirapally Falls
It is 78 kilometers from Cochin and a well-liked picnic location. The 80-foot length of the roaring waterfalls is impressive.
The wildlife and flowers are abundant. The best way to revive the spirit is to gaze at the cool waterfalls' serene and seductive beauty.
The experience of bathing among waterfalls is demanding, and wild, yet serene and lovely. 
3. Thiruvambadi Krishna Temple
It is a revered Lord Krishna temple that is both old and well-known. This temple's origin is unknown, but according to many legends, it dates back many centuries.
Processions are carried out during the Thrissur Poonam festivals, mostly from two temples. They both hail from this area, one from Paramekkavu.
4. Vadakkunnathan Temple
Vadakkumnathan! In the Indian state of Kerala, the city of Thrissur, Lord Shiva is known by this name.
The first temple built by Lord Parasurama is the Vadakkunnathan temple. The temple, which occupies a space of around eight acres in the center of the city of Thrissur, is surrounded by enormous stone walls,
Four Gopurams within the temple's grounds serve as indicators for the directions East, West, North, and South. In addition to the four Gopurams, the temple's center contains a complex of many shrines.
Lord Shiva, Lord Rama, and Shankaranarayana are honored in the temple's three principal shrines, which are together known as the Vadakkunatham.
5. Cheraman Juma Mosque
There is no sign of the Cheraman Juma Masjid's tremendous antiquity as it sits alongside a quiet semi-rural road.
You might find it strange at first glance because it doesn't look like the classic image of a mosque with a dome and minarets. Including its thatched roof and beautiful wooden doors, it actually resembles a tharavad, a typical home that can be seen all over Kerala.
However, once inside, you'll notice a qibla pointing in the direction of Mecca and prayer mats, much like in many other mosques. However, the dangling lamps, which are a distinctive aspect of the Keralan house and temple design, are also there.
According to legend, one of the lamps was fueled by oil that worshipers brought and kept burning for a thousand years without going out.
Suggested – Go to Soochipara Waterfalls to experience adventure while traveling in the state of Kerala.
Best Time to Visit Vattayi Waterfall Kerala 
Although Vattayi Waterfalls can be visited year-round, the optimum times are from June to September after the rainy season or from March to May before the summer.
Travel Tips
It is suggested that visitors spend the entire day at the Vattayi Waterfalls. It's difficult to approach them. To reach the falls, you must take a short stroll through the forest. 
During monsoon season, the waves are quick and rough, and the pebbles are quite slick. Visitors are recommended to use additional caution when exploring the Waterfalls, even during the rainy season. 
If you intend to visit the water pool nearer to the falls, it is advisable to pack extra clothing.
There is no food available here. Don't forget to bring some food with you from the town or city where your journey begins.
Conclusion
The picturesque collection of hillocks, valleys, and beautiful waterfalls that make up Vattayi Waterfalls make it the perfect hideaway for travelers. Yes, the Vattayi Waterfalls are the best and safest location for all types of travel.
Map of Vattayi Waterfalls Thrissur