It is a complete travel guide to Vindam Falls, Mirzapur. We've mentioned location, things to do, how to reach, nearby attractions, tips & facts in this guide.
Vindham Falls, Mirzapur Overview
| | |
| --- | --- |
| Location | Gortutwa, Mirzapur district, Uttar Pradesh |
| Entry Fee | Free |
| Timing | 6 am – 6 pm |
| Bets Time to Visit | Monsoon Season |
| Nearest Bus Stop | Mirzapur Bus Stand (15.4 km) |
| Nearest Railway Station | Mirzapur Railway station (15 km) |
| Nearest Airport | Lal Bahadur Shastri International Airport, Varanasi (87 km) |
| Famous For | Adventure, getaway, photography |
| Nearby Attractions | Sirsi Dam, Tanda Falls, Kal Bhairav Temple, Chunar Fort, etc |
Before starting this travel guide, let me inform you that People spell this waterfall in various ways like Wyndham Falls, Wyndom Falls, and Vindham Falls.
Mirzapur, especially in Uttar Pradesh, is filled with a plethora of beautiful locations. Wyndham Falls is however one naturally beautiful that is adjacent to Mirzapur, which itself is known for becoming one of the most attractive holiday spots.
Nearly 15 kilometers beyond Mirzapur, the Wyndham Waterfall is usually filled with tourists. The cascade that cascades down the rocky slopes have a significant flow. It was given the name Wyndham Falls after the British hunter Wyndham.
There is a perspective close by in which you might obtain a thorough understanding of the entire valley, giving you a captivating responsibility to think for. It frequently appears that the surrounding region is covered in vegetation since there is a tremendous amount of it.
Interesting Facts about Vindham Falls
The waterfall attracts a large number of visitors, so weekends can be busy.
The waterfall has a low level, which gives it a different look and makes it different from other waterfalls.
You can also find a zoo near the waterfall, which is quite small but entertaining at the same time.
It is a good picnic spot visited by several people.
The waterfall looks so beautiful during the monsoon season, and people love to visit this place at that time.
Things to Do at Vindham Falls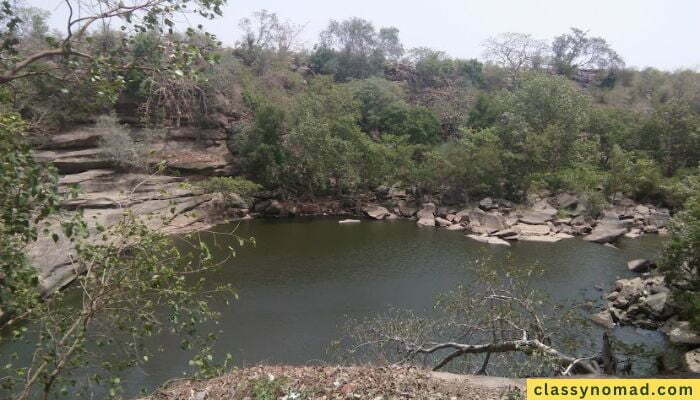 1. Trekking
Trekking is the best thing that you can do while traveling to Vindam Falls. The trek to Vindam Falls is around 1 km, which might take 1 hour to reach there.
2. Exploring Nature
If you are planning on visiting a waterfall, the best thing you can do is explore nature and learn more about the environment.
3. Picnic
People often visit this place during weekends, and the sole purpose of most of the people's visits is to enjoy some time with their family and friends. The best thing that you can do is have a small get-together with your family and have lunch.
How to Reach Vindam Falls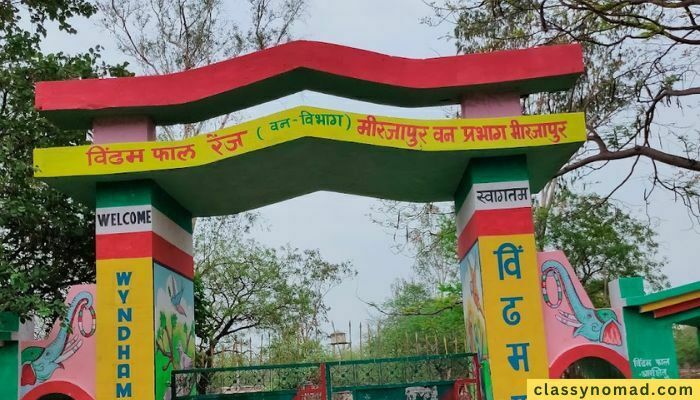 1. By Road
If you are planning on visiting Vindam Falls via Varanasi or Ghazipur, then the path is from NH 19, and the place is 14 km away from Mirzapur.
2. By Train
Mirzapur railway station is the nearest to Vindam Falls. All you need to do is book a ticket to Mirzapur, and outside the station, you can find various transportation facilities.
3. By Air
The nearest airport to the waterfall is Lal Bahadur Shastri International Airport, Varanasi, which is 87 km away from the Vindam waterfalls.
Nearby Tourist Attractions to Vindam Falls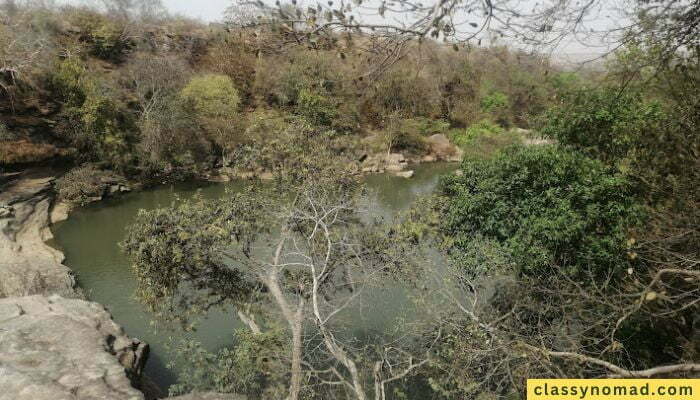 1. Sirsi Dam
Around 45 kilometers separate Mirzapur from Sirsi Lakes as well as Sirsi Falls. The well-built dam, which acts as a pumped hydro vault, is close to Tanda Waterfalls.
This place was amazing, the water pouring down from a great elevation. A visit is enriched by the lush vegetation and stunning scenery.
2. Tanda Falls
Tanda Falls, located close to Mirzapur, is amongst the most beautiful picnic spots in the region. Due to their tranquil environment and abundance of attractiveness, groundwater sources, torrents, and storage tanks are popular tourist destinations.
The waterfall is about 14 kilometers southeast of Mirzapur's city center and is easily accessible by road.
The natural vegetation and wildlife are at their best during heavy rainstorms. The falls provide a welcome respite from the commotion of the metropolis.
3. Kal Bhairav Temple
The ancient temple known as the Kal Bhairav Mandir can be found in the southern part of Vindhyachal Municipality, Mirzapur.
It is consecrated to Lord Kaal Bhairav, sometimes referred to as Kshetrapal, who has been thought to be the temple's protector.
During the holy holidays, the locations draw throngs of worshippers. The Bhairav Kund, or pond, that is next to the shrine is revered.
Tourists who engage in herbal remedies frequently seek out the water because it is also thought to have therapeutic benefits.
4. Meja Dam
For its abundant wildlife, Mirzapur's Meja Dam is renowned. Ornithologists, who flock here in droves to observe the various species of birds, both permanent and migratory, also enjoy the location.
The aquifer, which would be about 50 miles outside Mirzapur, is the ideal location for a short vacation.
5. Chunar Fort
A historic and well-known fort called the Chunar Fort may be found there. For his brother Royal Bharthari, Maharaja Vikramaditya, the Monarch of Ujjain, built it in the sixteenth century.
According to legend, Raja Bharthari attained Mahasamadhi in just this fort before passing away. Babur, the leader of the Mughal emperors in India, paid a visit there a very long time later, although during the Mughal period.
It passed through several hands over the years before being taken by either the British East India Company or the Indian government.
Best Time to Visit Vindam Falls
The best time to visit the waterfall is during the monsoon season because at this time the view of the waterfall is quite mesmerizing.
During the rainy season, people frequently visit Vindam falls and spend their weekends with their families and friends.
If you are planning on visiting the waterfall, then the most favorable time period is from 6:00 a.m. to 6:00 p.m.
Travel Tips
The path leading to the waterfall might be slippery, so it will be a good idea to wear shoes with a good grip.
While visiting the waterfall, there is a high chance you might face a little rain, so it is better to keep rain protection on your belongings.
Keep a first aid kit for emergencies.
Be careful while bathing in a waterfall because some places inside the waterfall could be slippery and can hurt you.
Do not carry a lot of things with you. You have to cover a path by walking, and carrying a lot of stuff could be a burden for you.
Conclusion
Wyndham Falls is a popular day trip destination near Mirzapur. The cascade shoots out of the rocky surface. This volume of water is also surrounded by a well-known lookout point nearby that offers views of the lowlands from the viewpoint of feathery creatures.
The Vindam Falls is a must-see since they may be the best site you have ever visited. Residents who live close to the waterfall frequently come here on the weekends for recreation.
Maps of Vindam Falls, Mirzapur