This is a complete guide to choosing the best hotels in Almaty, Kazakhstan. Here, we've shortlisted the top 5 hotels for different kinds of travelers.
Almaty, the largest city in Kazakhstan, was the country's capital until 1997. It is tucked away in the Trans-Ili Alatau mountain range's foothills. The Central State Museum, which houses thousands of ancient Kazakh artifacts, is located in Almaty, the center of trade and culture.
Your eyes are drawn to the city's center by the vivid yellow towers of Zenkov Cathedral, which also aids in helping you find your way about the area.
Traveling in a strange city can be intimidating if you don't find the best stay options. But fortunately, Almaty has a number of fantastic hotels that are prepared to make you feel at ease while you enjoy everything that Almaty has to provide.
For having a relaxing and reasonably priced holiday when you're in Almaty, we've listed the top five hotels in Almaty along with some of their best features.
Book these must-do tours in Kazakhstan to make the most of your trip.
Consider the Following Factors while Selecting the Best Hotels in Almaty
1. Price
By simultaneously analyzing the costs of many hotels, you can select one. It is absolutely acceptable to request discounts and other profitable offers.
All you're doing is trying to get the most for your money. You can do research on the value-added services that hotels offer.
Today, many of Almaty's three-star hotels create new, alluring offers and plans to draw guests. In general, hotels with premium experiences cost between $60 – $120 per night.
2. Location
Make sure the hotel in Almaty should be close to major tourist attractions if you are traveling for leisure. If your hotel is centrally placed in the city or town, you can quickly visit all the popular attractions.
If you are traveling for business, pick a hotel close to the city's major business districts or industrial areas.
The hotel should be close to the airport or train station, as well as medical facilities and shopping centers. Not only will it save you time, but it will also improve the quality of your journey.
3. Amenities
In contrast to conventional businesses in the industry, modern ones recognize the value of services and various facilities to their customers.
In a cutthroat market, tourists favor hotels that offer great services and amenities. For instance, if you are visiting for a business trip, your rooms must have internet access and Wi-Fi.
To avoid any deception or trickery by unscrupulous locals, several hotels in Almaty provide professional tour services for foreign visitors. After acquiring the necessary details regarding the hotel's services, check in.
4. Staff
The staff in Almaty's hotels are always alert, aware of their surroundings, and prepared to help guests if necessary. They take a sympathetic interest in their visitors. They give the visitor their whole attention and do not rush them.
Additionally, the staff suggests hotel services to the visitor and offers a brochure or other information as needed. The staff is generally cordial and helpful.
Price Legend ($ Per Night)
$ = Below $100
$$ = $100 – $200
$$$ = Above $200
This Kolsai and Kaindy lakes tour is our favorite.
From Boutique to Luxury: 5 Best Hotels in Almaty
Let's go deeper into the article.
The spa and wellness center at the Ramada by Wyndham Almaty includes a sauna, an indoor pool, and a fitness center. On-site amenities include free private parking and WiFi.
The rooms have cable TV, a flat-screen TV, a minibar, an electric kettle, a hairdryer, and air conditioning. Some accommodations include access to the executive lounge.
The hotel's restaurant serves Turkish, Italian, Indian, and fusion food and guests can also request room service. A bar, tour desk, concierge service, and a front desk open around the clock are additional amenities.
The property is located 2 kilometers from Zhibek Zholy Metro Station. The Ramada by Wyndham Almaty is 3 km from Almaty Train Station and 16 km from Almaty International Airport.
Ramada by Wyndham Almaty Hotel at a Glance
Price: $
Room Types Offered: Double Room, Deluxe Double Room, King Suite, and Business King Suite Available
Food Information: 1 Restaurant On-Site, Indian, Turkish, and Russian Cuisine available, Local, Asian, International, European, Grill/BBQ
👉👉 Check Price 👈👈
2. Best Luxury Hotel in Almaty – Rixos Almaty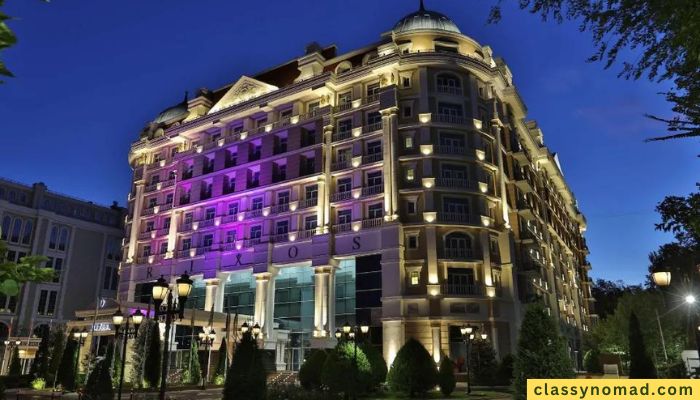 The Rixos Almaty is the best luxury hotel in Almaty. You will be met by a magnificent exterior that screams 5-star luxury as you enter the building. With a magnificent lobby and public area, the interior attempts to match, if not beyond, the outside.
Modern rooms with plush beds are available. They include a workstation, large TVs, high-speed internet, and air conditioning. During the booking process, you can specify whether you'd want a view of the city or the garden.
The accommodations at Rixos are excellent, and there is a sizable spa and fitness area with a full gym, a gigantic pool, and Turkish baths. The hotel provides a sizable breakfast buffet each morning as part of the accommodation charge.
There is a lovely restaurant that serves a variety of international cuisine in the evenings, or you may visit the on-site bar, which serves drinks until the wee hours.
Rixos Almaty Hotel at a glance
Price: $$$
Room Types Offered: Double Room, Deluxe Double, Presidential Suite Room Available
Food Information: 2 Restaurants On-Site, Cuisine-International, Asian and European
👉👉 Check Price👈👈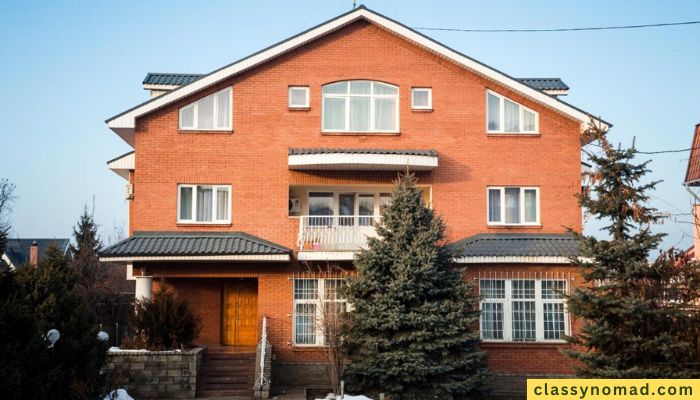 Interhouse Almaty is the best budget hotel in Almaty that has a restaurant, garden, communal lounge, and terrace. Airport shuttles, a communal kitchen, a 24-hour front desk, and free WiFi are all provided by the lodging.
A laptop is provided in each dorm room at the hostel. Each room at Interhouse Almaty has air conditioning and a communal bathroom. At the lodging, a continental breakfast is offered each morning.
At Interhouse Almaty, table tennis, darts, and bike rental are all offered.
The hostel is located 2.6 kilometers from Atakent-Expo and 4.2 km from the First President of Kazakhstan Park. Interhouse Almaty is 22 kilometers from Almaty International Airport, the closest airport.
Interhouse Almaty Hotel at a glance
Price: $
Room Types Offered: 6-8 Mixed Bed, Standard Double Room Available
Food Information: Shared kitchen, Tea/Coffee maker in room, Shared bar.
👉👉Check Price👈👈
4. Best Hotel in Almaty for Solo Travelers – Kazakhstan Hotel
One of Almaty's most well-known instances of socialist modernism is the Kazakhstan Hotel. The massive structure has a regal front with a big crown motif on top.
The majestic features of the exterior structure make room for a chicer, albeit antiquated architecture, as you approach the spacious foyer.
One of Almaty's best bars is located on the hotel's top floor, just for the view. The appropriately called BarFly offers a panoramic view of the city, and at night you can enjoy the city's sparkling lights from a great height.
A substantial breakfast buffet with properly cooked eggs and other delectable breakfast fare is included in the hotel cost.
The well-known hotel is well situated, and you can get to the cable cars which will transport you to Kok Tobe within a short stroll.
If you don't want to eat in the hotel, there are a tonne of places nearby where you may have a delectable supper. The Kazakhstan Hotel provides free wifi throughout the facility, a 24-hour front desk, and luggage storage.
Kazakhstan Hotel at a glance
Price: $$
Room Types Offered: Double Room, Deluxe Double Room, Presidential Suite, and King Suite Available
Food Information: 2 Restaurant On-Site, Cuisine- Asian, American, Chinese, French, Indian, and Italian.
👉👉 Check Price👈👈
In Almaty, Namaste Shalle 2000M offers a restaurant, a bar, a patio, and a communal lounge. In addition to offering room service, this establishment has a grill for visitors.
A communal kitchen, airport shuttles, a 24-hour front desk, and free WiFi are all provided by the lodging. All rooms come equipped with a kettle, a private bathroom with a shower and complimentary toiletries, and some even include a kitchenette with a fridge.
The guest house's rooms are furnished with towels and bed linens. Every morning, the resort offers an à la carte breakfast that is either American or Asian.
A hot spring spa is available at Namaste Shalle 2000M. The hotel offers table tennis, while skiing and hiking are both popular in the neighborhood.
Namaste Shalle 2000M is 2.2 kilometers from Shymbulak, and Kok Tobe Mountain is 18 km away. Almaty International Airport, which is 32 kilometers from the guest's home, is the closest airport. In the end, it is the best hotel in Almaty for couples.
Namaste Shalle 2000M Hotel at a glance
Price: $
Room Types Offered: Standard Room, Suite, Double Room, Deluxe Double Room Available
Food Information: One Restaurant on site, cuisine- Russian and local.
👉👉 Check Price👈👈
Conclusion
So, these are the best hotels in Almaty. These hotels are prepared to assist you in making your trip one that will provide you with a wealth of amazing tales to tell your friends and family. Make use of one of these hotels in Almaty to turn your ideas to visit Almaty into a reality without wasting any more time.
You will definitely go back home with a multitude of priceless experiences, and it is far more doable and economical than you might initially think.
Book these interesting tours in Kazakhstan.
FAQs – Best Hotels in Almaty
1. What are the top attractions to visit in Almaty?
Central State Museum of Kazakhstan, Ile-Alatau National Park, Almaty Tower, Almaty Zoo, Medeu, and Ascension Cathedral are some of the top attractions to visit in Almaty.
2. What is the best time to visit Almaty?
The summer months of June through September are the greatest for traveling to Almaty since the temperatures are moderate, averaging 20 to 30 degrees Celsius.
3. What are the best restaurants in Almaty?
Gosti, Wine Cafe & Shop (My Cafe), Tandoor, Venezia, Manga Sushi, Korean House Family Restaurant, Daredzhani Kunaeva, and Beefeater Almaty are the best restaurants in Almaty.
4. What are the most popular foods in Almaty?
Kazy, Samsa, Uzbek Plov, khachapuri, Shashlik, and Langhman are the most popular foods in Almaty.
5. Is Almaty safe for tourists?
Numerous overseas students and ex-pats are drawn to Almaty, the nation's former capital, every year. Because of the mountain areas, the ultra-modern building, and then of course its degree of security, foreigners, and students fell in love with Almaty. Almaty is a very secure city. Almaty is actually safer than the majority of cities in Europe or America. Almaty has substantially lower crime rates than the national average.