This is a complete guide for choosing the best hotels in Astana, Kazakhstan for a perfect vacation experience. These hotels are best in terms of facilities, amenities, staff, location, price, etc.
Astana, formerly known as Nur-Sultan, was introduced as the new capital of the nation in 1997. It underwent incredible development before becoming the modern city it is today. Alongside the Ishim River, the "new" town is an artistic haven with a scattering of Norman Foster works, whilst the "old" town is still a maze of deteriorating Soviet-era buildings.
Astana's top hotels capture the ambitions of this showplace metropolis. There is a lot to see and do in this city, from the Bayterek, a 97-meter-high structure tower that depicts a tale from traditional Kazakh folklore, to the Norman Foster masterpieces of the Khan Shatyr as well as the Palace of Peace and Reconciliation.
Our top picks for Astana's best hotels are all well-situated to let you make the most of your trip, whether it's for business or leisure. So, without further delay, let's get started with our list of the best hotels in Astana.
Consider the following factors while selecting the Best Hotels in Astana
1. Price
Of course, everyone would like to stay at a five-star hotel, but if you can't afford it, your fantasy will remain just that—a dream. Therefore, it is crucial to seek out the best value you can afford.
In general, hotels with more stars offer superior accommodations, although this isn't always the case. Some 4-star accommodations have fallen short of 3-star standards. Because of this, even if cost is a crucial consideration when picking a hotel – given the current state of the economy – there are other aspects that can help to make your stay more enjoyable.
A typical hotel in Astana costs between $60 – $85. The cost can change according to your need and preferences.
2. Location
When selecting a backpacker hotel in Astana, location is among the most crucial considerations. Having a hotel that is conveniently situated allows you to save on travel time. You will spend a lot of time exploring or unwinding if all the destinations you would like to visit are far from your lodging.
Additionally, if you intend to travel by public transportation, it may not be operating at late or early hours of the day, allowing you an additional chance to become lost. For instance, it is preferable to stay somewhere close to the city center in Astana because it is both central and has a nearby public transportation stop.
3. Amenities
To avoid unpleasant surprises, be sure everything you want is covered or at least available before making your hotel reservation. When inspecting the amenities, be careful to look at the images to ensure that they meet your expectations.
For instance, when breakfast is offered as part of the package, it is frequently so meager as to be insignificant. Check out images from visitors as well as those the hotel has published on its website.
These are available on Google Maps and several travel blogs. Reading the reviews is especially crucial if you're staying in self-catered lodging. In this manner, you can obtain a sense of what is really in the kitchen and decide what to carry.
4. Staff
Verify the hotel staff's friendliness and assistance to you. Rude individuals destroy the atmosphere, making you want to return home. In order to ensure that your stay is as enjoyable and comfortable as possible, make sure the staff is hospitable.
Ensure they meet all of your wants and criteria as well. Therefore, it's crucial to search for hotels with excellent employees.
5. Price Legend ($ Per Night)
$ = Below 50
$$ = 50 – 100
$$$ = Above 100
Suggested – Looking for gifts to take from Kazakhstan? Know what you should bring as a souvenir from Kazakhstan.
Uncovering the Best Hotels in Astana for a Memorable Stay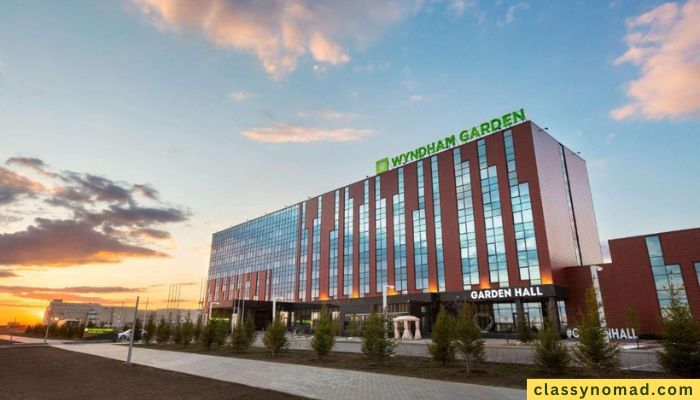 The Wyndham Garden Astana is the overall best hotel in Astana that offers lodging with complimentary WiFi access throughout the resort. The hotel features conference rooms, a fitness center, and a spa.
Visitors can eat in the restaurant or have a drink in the bar. The hotel's contemporary-styled rooms include a king-size bed, a table, a flat-screen TV, a secure storage box, and an ironing station.
Relaxation aids have included a marble shower, intelligent climate control, and free tea and coffee. A cash machine, luggage room, and front desk are all available around-the-clock. Additionally offered are dry house cleaners and a business center.
This hotel offers billiards, as well as free bicycle rentals. Wyndham Garden Astana is 15 minutes drive from Bayterek Monument, and Astana Nursultan Nazarbayev International Airport is 7 minutes drive from the hotel which makes it easy to access.
Wyndham Garden Astana Hotel at a glance
Price: $$
Room Types Offered: Double Room, Deluxe Double Room, King Suite, and Business King Suite Available
Food Information: 1 Restaurant On-Site, Indian, Turkish, Russian Cuisine Available, Local, Asian, International, European, Grill/BBQ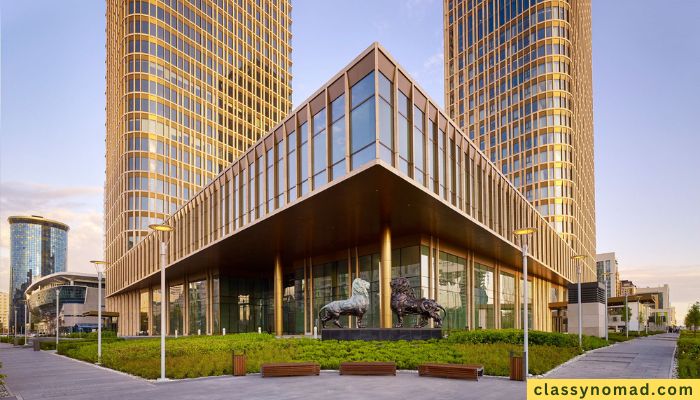 The Ritz Carlton Astana is located in Talan Towers in the center of the city. It is the best luxury hotel in Astana that offers on-site cafes and expansive city views. Each of the hotel's rooms has air conditioning, a flat-screen TV, and a minibar.
There are sitting areas in certain rooms where you may unwind. Private bathrooms are provided in each of the rooms. For your convenience, you can find a hairdryer, robes, slippers, and free toiletries.
The Ritz Carlton Astana's spa center provides a selection of massages, saunas, and beauty services. The on-site fitness room allows visitors to rejuvenate. There is a commercial area on site, and the hotel also provides car rentals.
The Ritz-Carlton, Astana is located 600 meters from the Bayterek Monument and 300 meters from Nurzhol Boulevard. Astana International Airport, located 13.5 kilometers from the property, is the closest airport that allows travelers to travel quickly to and fro from the hotel.
The Ritz-Carlton Hotel Astana at a glance
Price: $$$
Room Types Offered: Double Room, Deluxe Double, Junior suite, Presidential Suite Room Available
Food Information: 3 Restaurants On-Site, Cuisine-Local, International, Asian, Grill, BBQ, and European
3. Best Budget Hotel in Astana – Inn OZZ Astana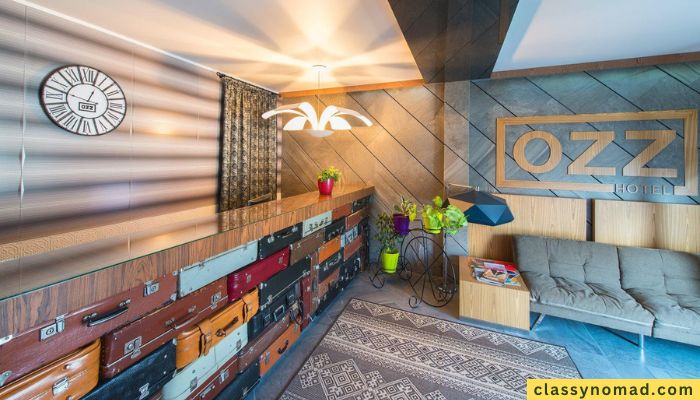 Inn OZZ Astana is the best budget hotel in Astana that provides amenities that include a restaurant, room service, a 24-hour front desk, and free WiFi access throughout. The hotel offers a continental breakfast as well as a breakfast buffet.
Inn OZZ Astana is located 3.1 kilometers from Kazakhstan Sports Palace, and 3.3 km from Otan Korgaushylar Monument so tourists can easily visit these places without traveling and spending a lot of their time.
Nursultan Nazarbayev International Airport, which is 20 kilometers away from the lodging, is the closest airport to the hotel.
In Ozz Astana Hotel at a glance
Price: $
Room Types Offered: Standard Double Room, Standard twin room, and Junior suite Available
Food Information: Restaurant on site, Cuisines – Russian, Local and European.
4. Best Hotel in Astana for Solo Travelers – Comfort Hotel Astana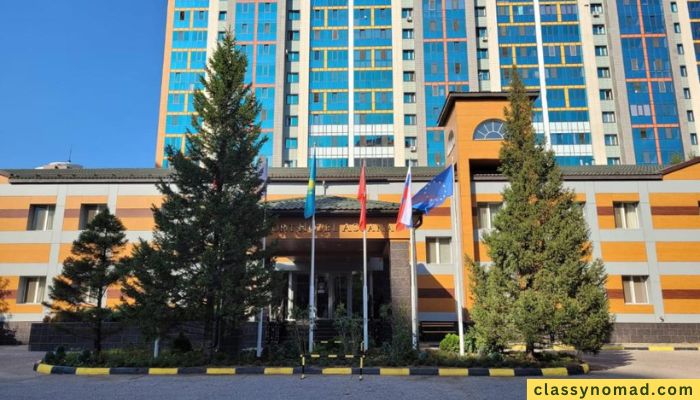 This 4-star hotel in Astana's Chubary neighborhood provides a shuttle service, free parking, and a free gym with a sauna and is best for solo travelers. The Comfort Hotel Astana offers air conditioning, satellite TV, and a kettle in every room.
A hairdryer, a bathrobe, and slippers are included in your bathroom. Every morning, a breakfast buffet is available. The restaurant of the Comfort serves both regional and international cuisine, and the lobby bar has cozy sofas.
More than 15 embassies, corporate centers, and expo centers are close to the hotel. The city center is 3.5 km away from the hotel which is directly accessible by tram.
The Comfort Hotel Astana is 13 kilometers from Astana Airport and allows travelers for easy travel from the airport to the hotel. The City Circus and the Ishim River may both be reached on foot in 5 minutes from the hotel which are the attractions of the city.
Comfort Hotel Astana at a glance
Price: $
Room Types Offered: King Room, Twin Room, Superior King Room, and Family Studio Available
Food Information: 2 Restaurant On-Site, Cuisine- European.
5. Best Hotels in Astana for Couples – The St Regis Astana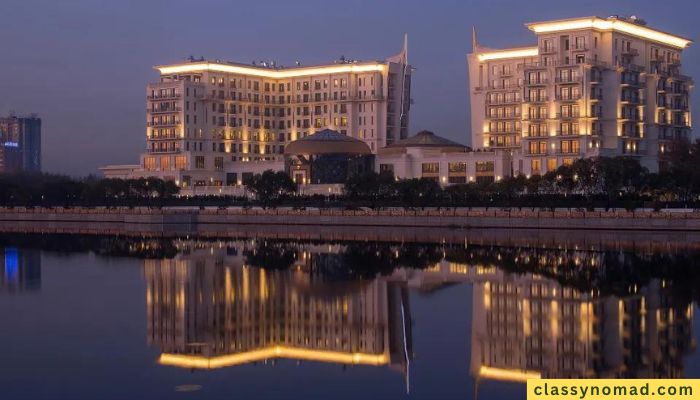 In the center of Kazakhstan's capital's Central Park, on the banks of the Ishim River, is where you'll find The St. Regis Astana. The hotel's interior decor combines contemporary elements with nods to the nomadic past of the Kazakh people and this hotel tops in the list of best hotels for couples in Astana.
There is a flat-screen TV with television channels and an iPod docking station. Each room has its own sitting area and the famous St. Regis Bed. There is a private bathroom with a bath and a bidet, as well as bathrobes, slippers, and complimentary toiletries.
Visitors can use the sauna, swimming pool, and exercise center on-site at the St. Regis Athletic Club. Additionally, there is a conference room on the premises, and visitors to the St. Regis Astana can take advantage of the hotel's round-the-clock concierge and butler services.
The hotel also provides automobile rentals. The St. Regis is located 8 kilometers from the Expo 2017 Exhibition Complex. The St. Regis Astana is 17 kilometers from Astana International Airport, the closest airport to the hotel which can be easily accessed by tourists. A 15-minute drive will take you to Bayterek Tower.
The St Regis Astana Hotel at a glance
Price: $$$
Room Types Offered: Standard Room, Suite, Double Room, Deluxe Double Room Available
Food Information: 3 Restaurants on-site, cuisine-International, grill, BBQ. 
Suggested – Must try these kazakhstani cuisines while exploring Kazakhstan as a tourist
Conclusion – Best Hotels in Astana
So, these are the best hotels in Astana for different kinds of tourists. Wyndham Garden Astana is the overall best hotel in Astana. You should pick The Ritz-Carlton for a Luxurious experience, Inn OZZ for a budget stay, Comfort Hotel for a solo travel experience, and The St Regis for a romantic stay.
With its distinctive blend of contemporary design and Kazakh flair, Astana is an attractive location thanks to the city's billion-dollar investment in foreign architects. There are numerous remarkable government structures there, including the Supreme Court, Parliament House, and the Presidential Palace.
Astana will eventually serve as both the national and Central Asian capital, according to Kazakhstani officials. It is true that Astana has a lot of things to offer to its visitors. So, plan your trip and experience the amazing Astana.
Suggested –
FAQs – Best Hotels in Astana
1. What are the top attractions to visit in Astana?
Bayterek Tower, Khan Shatyr, Nur Alem Museum, Saken Seifullin Museum, Old Square, Hazrat Sultan Mosque, and Palace of Peace and Reconciliation are top attractions to visit in Astana.
2. What is the best time to visit Astana?
Nur-Sultan (Astana) experiences the most pleasant weather in May, June, July, and August. The hottest months are typically June, July, and August. It gets chilly the most in January and February. The rainiest month is July.
3. What are the best restaurants in Astana?
Marrone Rosso, Line Brew, Astana Nury, Barley, Ali Baba, Tiflis, and Alasha are the best restaurants in Astana.
4. What are the most popular foods in Astana?
Kebabs, pilaf, shashlik, stroganoff, beef tongue with horseradish, mushroom julienne, Baursak, and Qazı sausage are the most popular foods in Astana.
5. Is Astana safe for tourists?
Astana is one of the safest cities to go in because to of its superb infrastructure and low rate of crime directed at tourists.