In this travel guide, I will discuss the most famous waterfalls in Uttarakhand where you should definitely visit.
Uttarakhand, also known as Uttaranchal, Devbhoomi, or the Land of the Gods, is an Indian state located in the extreme North of the country which is popular because of the existence of the Himalayas, Bhabar, and Terai regions in the area. Uttarakhand also comprises the Garhwal and Kumaon regions which are renowned across the globe for their lip-smacking food.
Uttarakhand is a major tourist attraction for both domestic and international travelers owing to its spectacular beauty. India's biggest river, the river Ganga also originates from Uttarakhand. The state is also famous for adventure sports and an enrapturing variety of flora and fauna. Uttarakhand is also famous for its waterfalls.
Are you in hurry? Check out the given story.
Before diving into depth, let's have a quick look at the best waterfalls in Uttrakhand.
| | |
| --- | --- |
| Waterfalls | Location |
| Kempty Falls | Ram Gaon (13 km from Mussoorie) |
| Vasudhara Fall | Badrinath |
| Tiger Falls | Chakrata |
| Chineshwar Waterfalls | Garaun |
| Komona Falls | Chakarta |
| Patna Waterfalls | Patna |
| Bhatta Falls | Mussoorie |
| Corbett Falls | Jim Corbett |
| Neergarh Falls | Rishikesh |
| Purthi Falls | Tejam |
| Moigad Falls | Dehradun |
| Shikhar Falls | Dehradun |
| Phool Chatti Falls | Rishikesh |
| Barati Rau Falls | Ramnagar |
Most Famous Waterfalls in Uttarakhand
The most famous waterfalls of Uttarakhand are:
1. Kempty Falls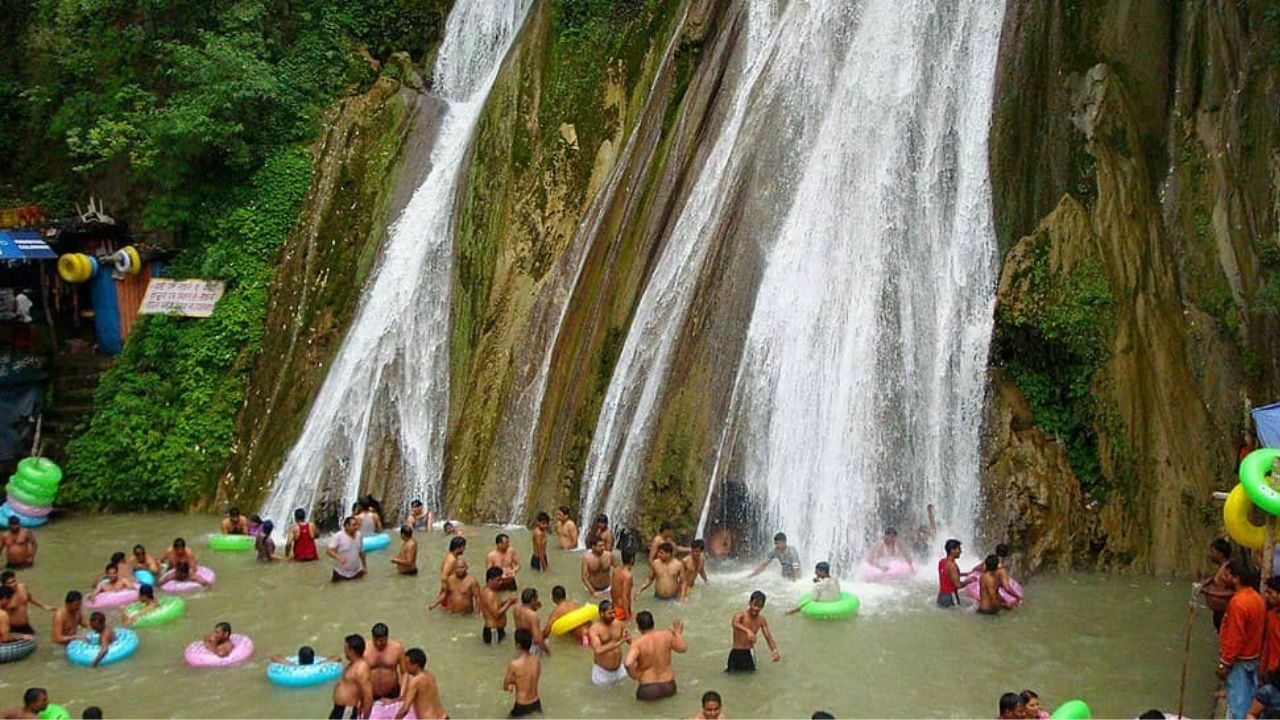 The most famous waterfall in the region is Kempty Falls. It is located approximately 13 km from the Queen Of Hills, Mussoorie in Ram Gaon in the Tehri Garhwal district of Uttarakhand. It is located at an altitude of 1400 meters above the main sea level.
Kempty Falls offers a beautiful view and is one of the best spots for rejuvenation in the valley. Developed by a British officer as a place for having parties, Kempty Falls is known for its milky streams which offer a majestic view to visitors.
Location: Ram Gaon (13 km from Mussoorie)
Timings: 10 AM to 6 PM
Entry fee: Free
Related: Tourist Attractions in Mussoorie
2. Vasudhara Fall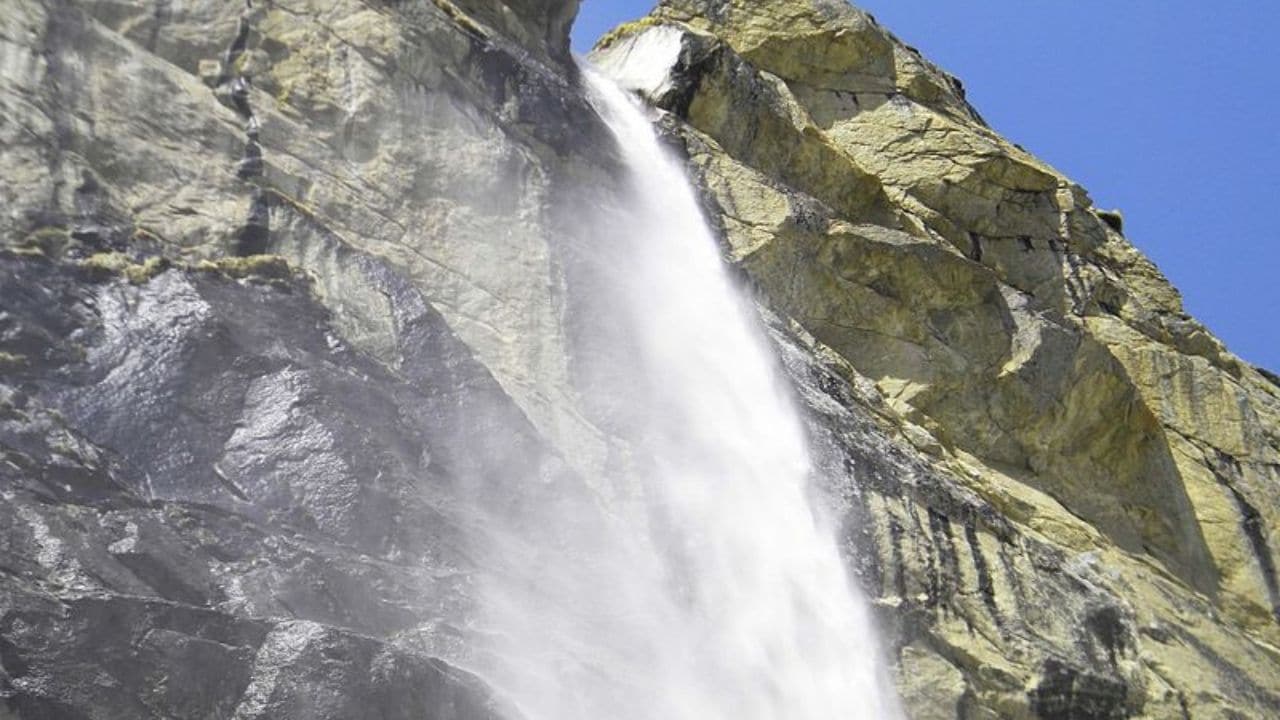 Located within close proximity to Badrinath, Vasudhara falls makes an astonishing spot to observe staggering perspectives around and absorb the serenity that goes with the climate. Dropping from a level of 400 feet and 122 meters above ocean level.
Despite the fact that it is said that the genuine excellence of this spot must be appreciated by the people who are righteous, it is generally really smart to visit cascades to restore your faculties. It is one of the best waterfalls in Uttarakhand and offers a majestic view to travelers.
Location: Badrinath
Timings: 6 AM to 6 PM
Entry Fee: Free
3. Tiger Fall
Tumbling from a level of 50 meters, the godly Tiger falls offers a loosening-up shower in the lake underneath. You can have a short trip to this magnificent fall by having a short drive of approximately 1 km on the Chakrata – Lakhamandal highway.
The route to Tiger Falls offers you a beautiful view of the valley and has pleasant weather with a cool breeze flowing all the time. Watch out for the tight and harsh streets that are utilized to arrive at this spot and they're just reasonable for SUVs and Bikes. You should definitely visit this best waterfall in Uttarakhand.
Location: Chakrata
Timings: 9 AM to 7 PM
Entry Fee: Free
4. Chineshwar Waterfall
With a level of 160 ft, the Chineshwar waterfall is one of the most lovely and famous waterfalls in Uttarakhand. Situated in the Kumaon region, Chineshwar Waterfall is encircled by pine trees and lavish vegetation.
In the event that you are enthusiastic about journeying, you can travel your direction to this waterfall from Garaun town. Prepare to be hypnotized by the dazzling vistas embracing the cascade. You can set up a camp close to the waterfall and partake in a tomfoolery outing with your friends and group here.
Location: Garaun
Timings: 7 AM to 7 PM
Entry Fee: Free
5. Kimona Falls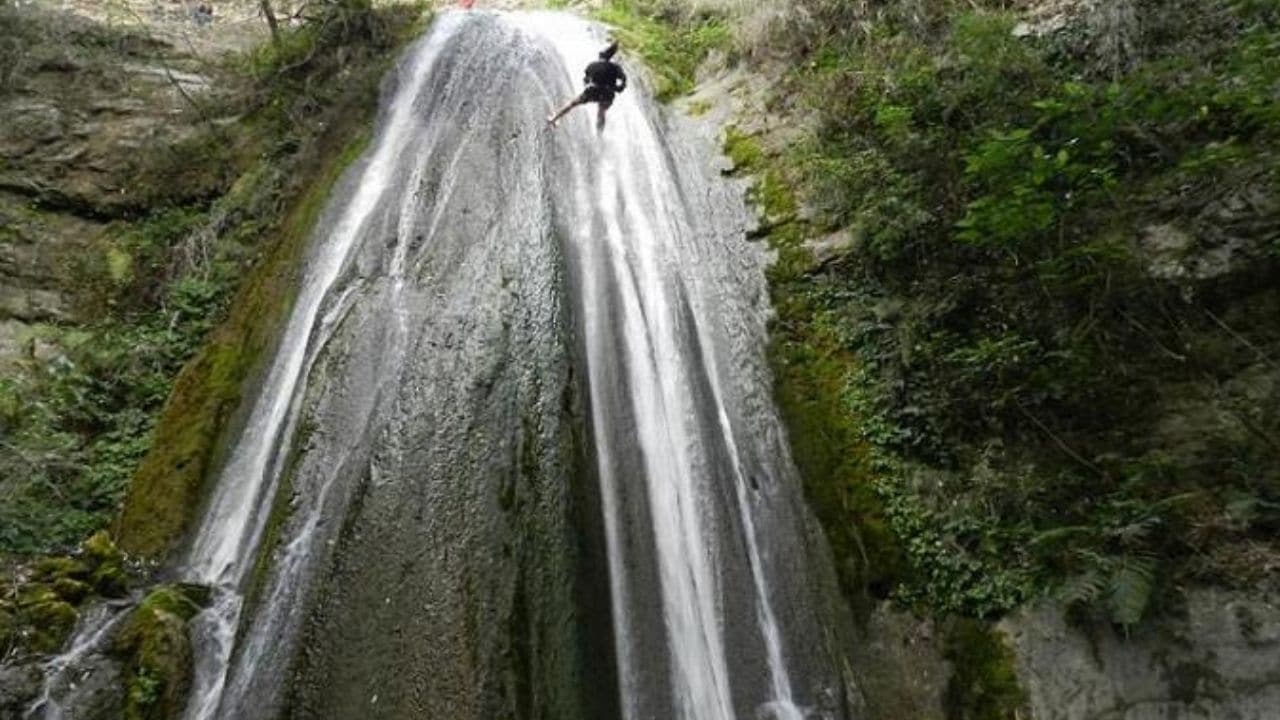 Situated in the quiet town of Chakrata, Kimona Falls will entrance you with its magnificent beauty. Not known to many, Kimona falls is an ideal spot for everyone the individuals who are making arrangements for a quiet departure in the laps of nature.
For brave spirits, rappelling is an excellent movement coordinated at this cascade. While you are en route to this Waterfall, you will cross Oak woodland and the entire view is eminent. The best opportunity to visit Kimona falls is during gentle summers. You can plan your visit either in March and April or in September, and October.
Location: Chakarta
Timings: 8 AM to 5 PM
Entry Fee: Free
6. Patna Waterfalls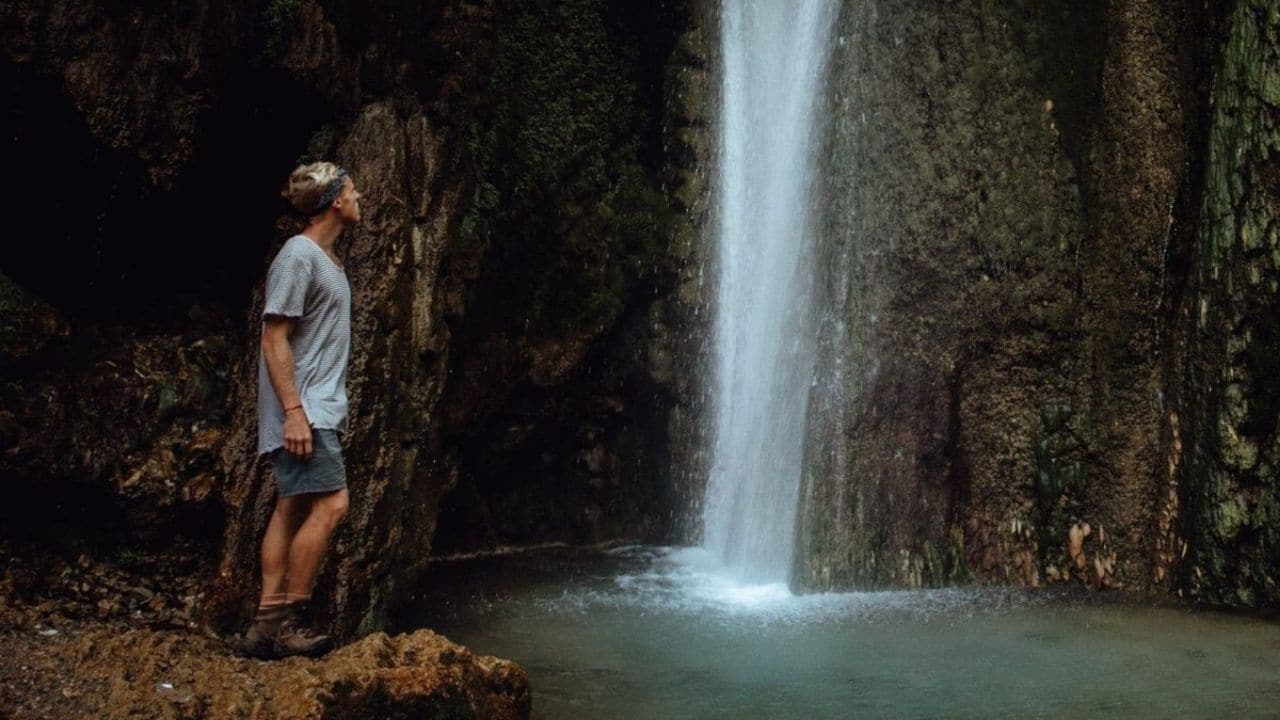 Patna Waterfall is a well-known waterfall in Rishikesh where nature lovers like to come and invest some energy in isolation in the midst of nature. It is named after the Patna town located close by and is additionally notable for limestone caves situated close to the Waterfall.
It also has some historic significance and is a must-visit. Homestays can be found easily near the waterfall and the people are welcoming too.
Location: Patna
Timings: 24 Hours
Entry Fee: Free
7. Bhatta Falls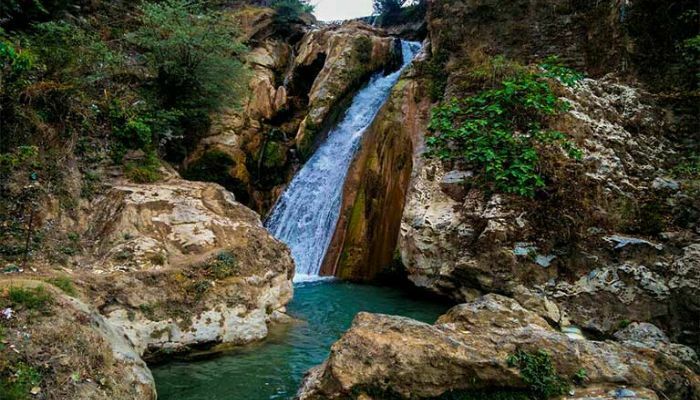 Earlier a less popular spot, this enchanting waterfall in Mussoorie has acquired prevalence lately and is unquestionably not to be missed while you're arranging an excursion to Mussoorie.
You can undoubtedly arrive at this spot by transport or a vehicle in Bhatta town and have a good time excursion with your family and friends.
A fairly steep fall, that comes straightforwardly from the slopes above, hitting the stones around, individuals having a place of various age bunches visit this spot to wash and partake in the serenity of this spot.
Location: Mussoorie
Timings: 8 AM to 6 PM
Entry Fee: Free
8. Corbett Falls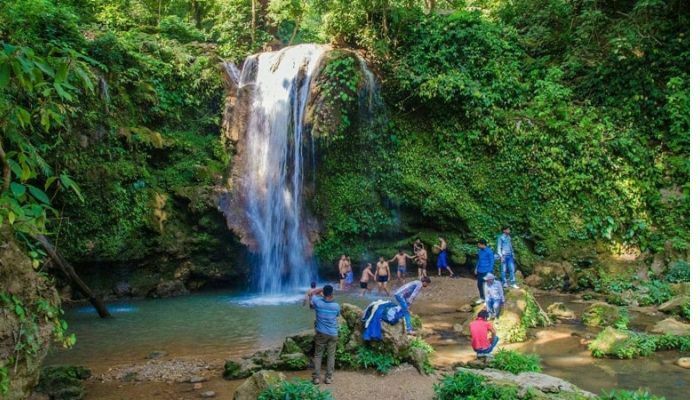 With a short distance of about 25 km from Ramnagar, you can easily arrive at Corbett falls in Uttarakhand for a road trip and to enjoy the calmness of nature.
The thick teak wood timberland adds more to the appeal of this spot and the resonant trilling of the birds in this area will make it a tad longer.
You can either remain for the time being and set a camp close to these cascades or simply have a cookout supper with your number-best buddies. This is certainly among the most renowned waterfalls in Uttarakhand that you should visit!
Location: Jim Corbett 
Timings: 8 AM to 5 PM
Entry Fee: INR 50 Adults / INR 25 Children 
9. Neergarh Falls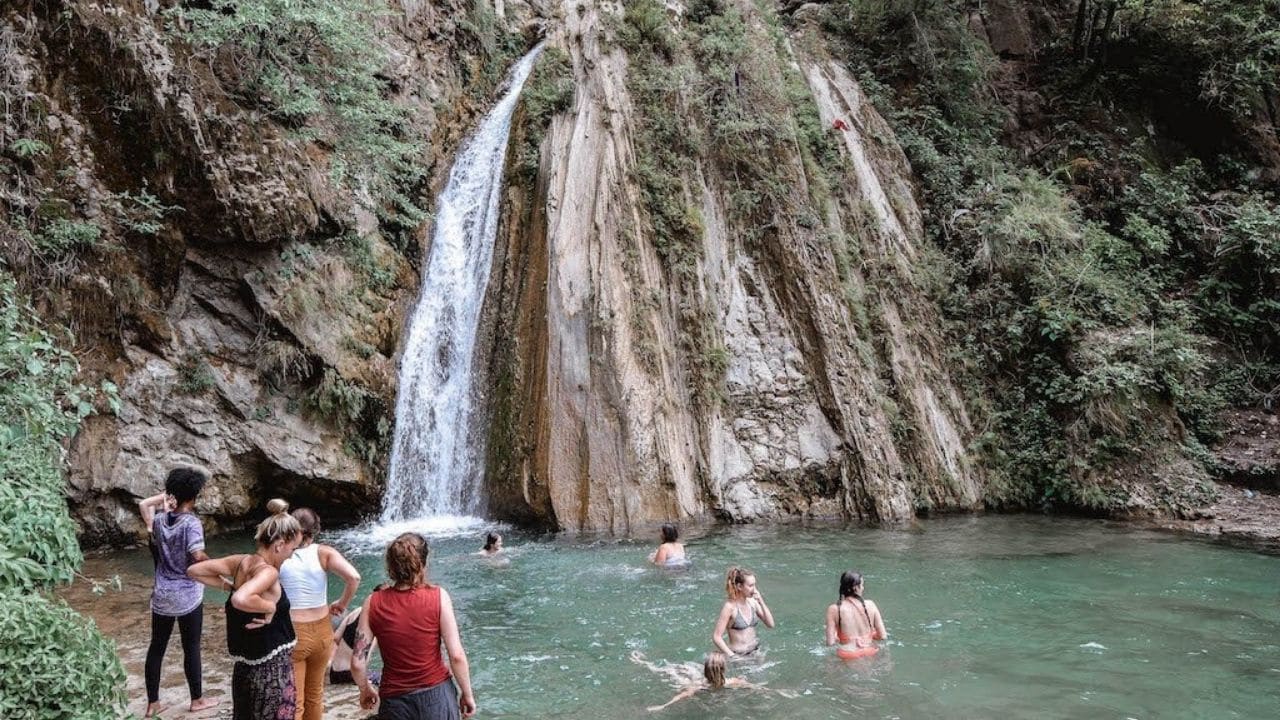 You can undoubtedly reach Neer Garh waterfall from Rishikesh rail line station, as it is just a good way off of 9 km. Among the most famous spots to visit in Rishikesh, this waterfall is known for having some good journey habitation.
In the event that you're not in that frame of mind to work out, then without a doubt, a dunk in the cool waters of this spot will be ideal for you. There are additionally two scaffolds on this waterfall and the brilliant butterflies found here to add more excellence to this spot.
Location: Rishikesh
Timings: 8 AM to 6 PM
Entry Fee: Free
10. Birthi Falls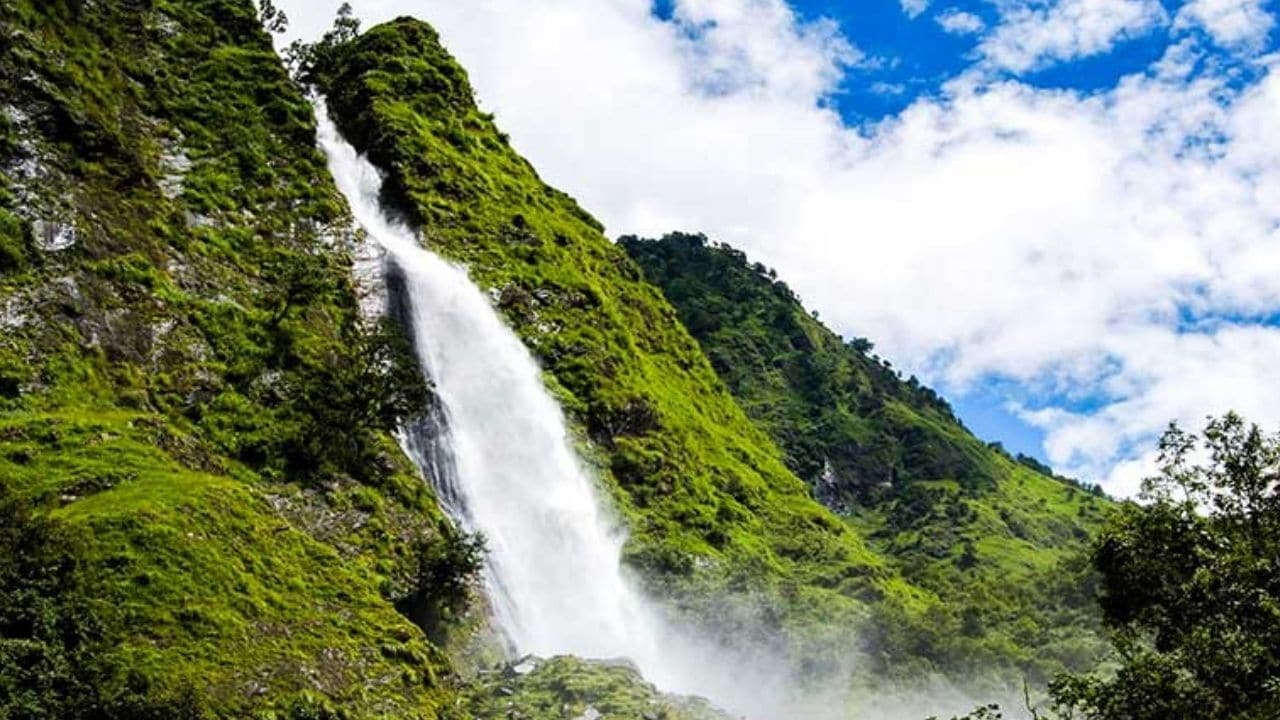 Covering a simple 14 km distance from Tejam will allow you to encounter the awe-inspiring site of Birthi Falls in the Pithoragarh region of Uttarakhand.
400 feet above ocean level, the moving water sprinkles on the shore with an unrivaled perfect view that is all that could possibly be needed to fill your heart with joy.
You could decide to journey to this spot and have a thrilling trip with your buddies at this site without a doubt!
Location: Tejam
Timings: 8 AM to 5 PM
Entry Fee: Free
11. Moigad Falls
Dehradun is a faultless city in Uttarakhand. Moigad Fall is viewed as one of the most incredible cookout spots close to Dehradun.
Situated a ways off 69 Km, Moigad Fall is visited by numerous areas and voyagers that have faith in investigating obscure spots.
From partaking in a shower under the Moigad Fall to clicking social media commendable pictures, there are plenty of things that you can try here.
Sit close to the Waterfall and partake in the all-around flawless view or spot a couple of bird-animal varieties with the assistance of your optics to take full advantage of your unforgettable excursion.
Location: Dehradun
Timings: 9 AM to 7 PM
Entry Fee: Free
12. Shikhar Falls
Considered one of the most visited vacation destinations in Dehradun, Shikhar Fall is a fantastic spot for all trekking fans. Shikhar falls, one of the best waterfalls in Uttarakhand will enter you with its dreamlike environmental elements.
All photographic artists will unquestionably partake in their visit as Shikhar Falls is a lovely place where they can click pictures of butterflies, bird species, and lavish green woodland.
Wear an agreeable set of traveling shoes to arrive at this cascade and prepare to partake in the grand view that you will go over on your journeying undertaking.
Location: Dehradun
Timings: 24 Hours
Entry Fee: Free
13. Phool Chatti Falls
A fantastic spot for all stream boating fans, Phool Chatti Waterfall is one of the most visited cascades in Uttarakhand. Situated close to the Neer Gaddu waterfall and Garud Chatti waterfall, this waterfall draws a ton of experienced addicts consistently.
Vacationers visit these three waterfalls together so they can draw nearer to nature and witness all that Uttrakhand brings to the table.
Lakshman Jhula is found 7 km away from this Waterfall and you can travel your method for visiting this work of art.
Location: Rishikesh
Timings: 24 Hours
Entry Fee: Free
14. Barati Rau Falls
The last waterfall in the rundown is an exceptionally secret waterfall. An unexpected, yet invaluable treasure inside timberland, The Barati Rao waterfall is situated in Chunakhan, a little town around 5 km from the well-known Corbett fall close to Kaladhungi and 20 km from Ramnagar.
The fall is a couple of kilometers from the ticket counter and along these lines, it additionally incorporates a delightful 1 km journey across the timberland till one arrives at the waterfall.
It is an incredible home base with a perspective on the cascades and the encompassing woods. Immaculate by the Humans, not very many people are familiar with this spot and henceforth, it is actually an entrancing encounter visiting Barati Rau Fall.
Location: Ramnagar
Timings: 9 AM to 5 PM (entry closed at 3:30 PM)
Entry Fee: Free
FAQs – Best Waterfalls in Uttarakhand
Which is the highest waterfall in Uttarakhand?

The Tiger Falls having a height of 312ft is the highest waterfall in Uttarakhand. It is located in  Chakrata town of Uttarakhand.

Which location in Uttarakhand has the maximum number of waterfalls?

The majority of waterfalls in Uttarakhand are located a few km far around Dehradun.

Is kempty fall artificial?

Not at all, but due to a lot of construction, Kempty falls looks like artificial falls rather than natural falls.

When was Kempty Fall discovered?

The Kempty Fall was discovered by British Officier John Mekinan around 1835. Later, it was developed as a picnic spot by him.

Where does water come from in kempty Falls?

The water comes in kempty Falls from the southwest of the village Bangalow ki Kandi which is the origin of the stream of water.

Where is it snowing in Uttarakhand?

Chopta, Tungnath, Chakrata, Pauri, Chamba, Nag Tibba, Mussoorie, Auli, Nainital, Dhanaulti, Munsiyari, and Harsil are the places where you can enjoy the snowfall.
Conclusion – Best Waterfall Places in Uttarakhand
So, these are the most famous waterfalls in Uttarakhand that you must visit. The beauty of nature is worth seeing in these places. There are many beautiful places where you can take selfies and pictures for your social media profiles. Believe me, these pictures will add to the beauty of your social media profile.
If you have come to Uttarakhand then definitely visit these best waterfall places in Uttarakhand. You will have a wonderful experience after visiting there.
Want to explore Uttar Pradesh? Check out our travel guide on Uttar Pradesh tourist sites.