This is a complete travel guide to Kakochang Waterfalls Assam. In this guide, we've mentioned location, things to do, how to reach, best time to visit, nearby attractions, tips, facts, etc information.
Kakochang Waterfalls Assam Overview
| | |
| --- | --- |
| Location | Bokakhat, Golaghat, Assam |
| Entry Fee | N/A |
| Timing | 8 AM – 5 PM |
| Best Time to Visit | Oct, Nov, Dec, Jan, Feb, Mar |
| Nearest Town | Bokakhat (7.4 km) |
| Nearest Railway Station | Jorhat Rail Station (77 km) |
| Nearest Airport | Jorhat Airport (78 km) |
| Famous For | Sightseeing, Photography, Picnic |
| Nearby Attractions | Kaziranga National Park, Panbari Reserve Forest, Tea Gardens, Deoparbat Ruins, Kalyani Mandir, etc. |
The gorgeous Kakochang Waterfalls in Assam are located close to the village of Naharjan Gaon. It is one of Assam's nicest waterfalls, in my opinion. It is also one of the top destinations nearby Kaziranga National Park.
This gigantic waterfall, known locally as Keipholangso Falls, is set amidst dense tea and coffee plantations. It falls into a pool of pristine clarity from a height of around 40 meters.
One can unwind by the pool and take a refreshing dip in the chilly water. The Kakochang Waterfalls provide the ideal vantage point for viewing the nearby tea fields.
Visitors must hike for roughly 3.5 km from Naharjan Gaon, the last motorable point, to the falls. The journey to get there is just as divine as the destination itself.
Bamboo trees, a few little bridges, and a lot of tiny lakes serve as security. Although the walk is simple, children may find it exhausting. 
The nicest views of tea gardens including Difanu, Hathkhuli, Behora Borchapori, and Methoni can be found at this location, which is fantastic. You can schedule a family vacation to a state between October and March to spend some quality time together.
Suggested – Visit one of the less-known waterfalls, Phe Phe Falls in Meghalaya.
Interesting Facts about Kakochang Waterfalls Assam
Geographically, it belongs to Assam's Karbi Anglong district.
However, this waterfall is conveniently reachable from Bokakhat, a small town located in Assam's Golaghat district.
From here, you can see the historical ruins of Numaligarh as well.
The intriguing aspect of this well-liked picnic area is that you can always combine or team up your vacation itinerary when visiting the world-famous Kaziranga National Park.
Things to Do at Kakochang Waterfalls Assam
1. Sightseeing
The distance from Kaziranga is about 30 km, and the drive is beautiful. Near Kaziranga, it is a well-known tourist destination and picnic area for residents.
From here, you may see medieval Numaligarh's ruins as well. To get here, one must hike for about 15 minutes over a kilometer.
2. Photography
This brief climb is made more enjoyable by the numerous little cascades and the flowing creek that is located on your right as you rise.
You can take your friends and family members here for a quick picnic.
3. Picnic
When visiting the world-famous Kaziranga National Park, one unique aspect of this well-liked picnic area is that you may always incorporate or team up your vacation itinerary.
While touring the Deoparbat old Numaligarh ruins, you can also schedule a day trip to the Kakochang Waterfalls. Kaziranga National Park and Bokakhat are barely 23 kilometers apart.
The two events, however, cannot be planned on the same day: Kakochang and Kaziranga. The reason for this is that a day is required to thoroughly experience the Kakochang hike.
Suggested – Want to visit Delhi to explore the city? Visit these places in Delhi to make your trip more interesting.
How to Reach Kakochang Waterfalls Assam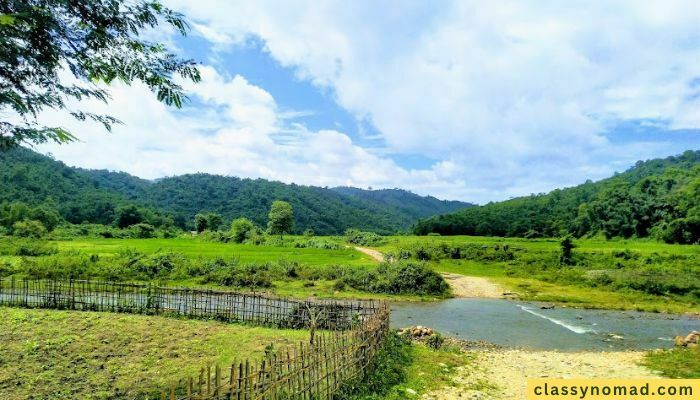 1. By Road
The Kakochang waterfalls are around 47 kilometers to the east of Kaziranga National Park. Using the NH715 would take around one hour and ten minutes. 
These waterfalls are also located 13 kilometers to the east of Assam's Bokakhat district. Visitors can choose from any of these options when traveling by cab, taxi, car, or bus.
2. By Air
Jorhat Airport is about 78 kilometers from Kakochang waterfalls and can be reached there in about 2 hours via NH715.
3. By Train
By using the same highway, it would take around two hours to go 77 kilometers to the closest railway station, Jorhat Railway Station.
Tourist Places near Kakochang Waterfalls Assam
1. Kaziranga National Park (56 km)
Kaziranga National Park is one of Assam's best features. In contrast to being a tiger reserve since 2006 and having the biggest tiger population in the world, it is also the habitat of the threatened species Indian one-horned rhinoceros.
The national park is a World Heritage Site by UNESCO. It is a sizable park with a roughly 429.93 sq km area. Golaghat as well as the Naogaon regions of Assam are where it is located.
2. Panbari Reserve Forest
The Golaghat district has the Panbari Reserve Forest, which is close to Kaziranga National Park. The Panbari Reserve Forest is home to many rare birds, including the Crested Goshawk as well as the Great Indian Hornbill.
Within the forest, there are a number of unexplored locations that visitors can access with the aid of forest rangers and guides. It is necessary to hire a guide from the Kohara base. The entire forest can be seen in about two hours.
4. Tea Gardens
The glory of Assam is its tea gardens. Renowned for its flavor and taste is Assam tea. Travelers should consider it a priority to visit a few tea estates nearby while seeing the Kaziranga National Park.
So least once in a lifetime, everyone should experience the green hills covered in lush green tiny plants. And most of these tea gardens extend a warm welcome to visitors and allow visitors to tour the estates.
The Methoni, Hathkhuli, Difalu, Borchapori, and Behora tea gardens are among the most well-known tea plantations close to the national park.
5. Deoparbat Ruins
Ruins of Deoparbat, Kaziranga in the Golaghat District, 5 km from Numaligarh, are the Deoparbat Ruins, which are also adjacent to Kaziranga National Park.
The ancient ruins located on a hill are what is known as the Deoparbat Ruins, also referred to as Deopahar (two hills).
There is an old shrine having damaged sculptures all across it at the top of the hills. The age of the temple might be inferred from these damaged statues. It is rather exhausting to climb the Deopahar, particularly on a warm day. But once there, the view is breathtaking.
6. Kalyani Mandir
The Kalyani Mandir is situated in the Golaghat District's Dipora. Halem Revenue Circle governs Dipora. It's a shrine to the goddess Kalyani.
This modest yet fortunate temple is thought to have been constructed by King Arimatta in homage to Goddess Kalyani, an incarnation of Goddess Shakti, a kind version of Goddess Durga. 
The temple's architecture is ordinary and unremarkable. It appears pretty straightforward and nondescript. The temple has an Assamese Namghar appearance.
Best Time to Visit Kakochang Waterfalls Assam
The months following the monsoon are ideal for visiting the Kakochang waterfall. After a period of intense rain, the waterfalls are in full flow during these months. The best time to travel is from October to March.
Travel Tips
Sunscreen is a vital requirement, especially in the summer.
It is advised that visitors carry their sterilizers. In the area of this waterfall, there is a great risk of injury.
It is best to dress in athletic gear and lightweight, quick-drying clothing.
Since this area is covered in rubber plantations and can therefore be slippery, visitors are recommended to wear shoes and floaters with support.
A must-have accessory is a cap and sunglasses, especially on a bright day.
Food and drink are available for guests to bring. Do not leave trash around.
Conclusion
Congrats! Because you've found the ideal retreat for a relaxing vacation. Would you like to spend your vacation in Assam? Explore Kakochang waterfall if you want to add some novelty to a fantastic trip. Plan a visit now that you are fully informed about the attraction. What are you still waiting for? Plan your trip to Assam right away.
Maps of Kakochang Waterfalls Assam