This is a complete travel guide to Netravali Waterfall Goa. In this guide, we've mentioned every possible information that you may need before getting to the waterfall. It includes location, things to do, how to reach, best time to visit, nearby attractions, travel tips, facts, map, etc information.
Netravali Waterfall Goa Overview
| | |
| --- | --- |
| Location | Netravali, Sanguem Taluka, South Goa district, Goa |
| Entry Fee | – |
| Opening Hour | 8:00 Am – 4:00 PM |
| Best Time to Visit | Monsoon Season |
| Nearest Town/City | Netravali (2 km), Sanguem (30 km) |
| Nearest Railway Station | Canacona Railway Station (33 km) |
| Nearest Airport | Goa Airport (73 km) |
| Famous For | Adventure, Trekking, Exploring Nature |
| Nearby Attractions | Candolim Beach, Palolem Beach, Agonda Beach, Cotigao Wildlife Sanctuary, etc. |
Netravali Waterfall is a beautiful tourist attraction located in Netravali, Sanguem taluka, South Goa district in the state of Goa. Due to its location within the Netravali Nature Reserve, not many individuals would be familiar with the Netravali Waterfall. You will need a guide as you trek 2 kilometres through the reserve to get to the waterfall.
It lies in the heart of a deep forest. The waterfall cutting through the lush forest and softly emptying into the pond at the bottom is an incredibly lovely sight to see. The lake's waters are somewhat greenish but quite clear and ideal for taking a bath, swimming, or a dip.
The area surrounding the waterfalls is serene, cool, and inviting. But keep in mind that the waterfall is really referred to as "Savri Waterfalls" rather than "Netravali Waterfalls" natively.
Suggested – Also visit Arvalem Waterfalls while exploring Goa's beautiful tourist attractions.
Interesting Facts about Netravali Waterfall Goa
Netravali Waterfall is also popular as Savri Waterfall.
The wildlife sanctuary where the waterfall is located is home to a variety of flora and fauna.
The waterfall is present in a dense forest, which makes this place even more beautiful.
You must have heard local people saying that there is a danger of wild animal attacks, but no incident has been reported so far.
Things to do at the Netravali waterfalls Goa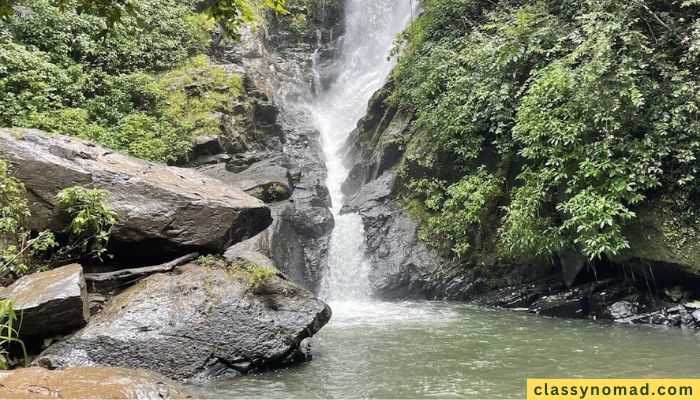 1. Bathing
The next enjoyable activity is taking a relaxing dip at the waterfall after a demanding day of trekking and sightseeing. Take a dip in the spraying waters that are near the waterfall as well as the dams, which collect additional water from a higher level.
Locals that reside close to the waterfall frequently congregate here on break to go swimming because of the cold, calming water.
2. Exploring Nature
You may learn more about the environment and fauna by travelling further into the woods. The area is gorgeous and full of undiscovered natural surprises. If you enjoy being outside, you will enjoy witnessing and experiencing nature's wonders.
You will have a greater understanding of both yourself and the universe as a result of examining your surroundings. The calm environment helps you focus and identify your true feelings.
3. Picnic
Bringing a picnic is one of the enjoyable activities people engage in when visiting a waterfall. Many families that come here carry their own meals and eat their supper while admiring the magnificent surroundings because there are no conveniences nearby.
Suggested – Satrem Waterfall is one of the most stunning waterfalls located in the North Goa district of Goa state.
How to Reach Netravali Waterfall Goa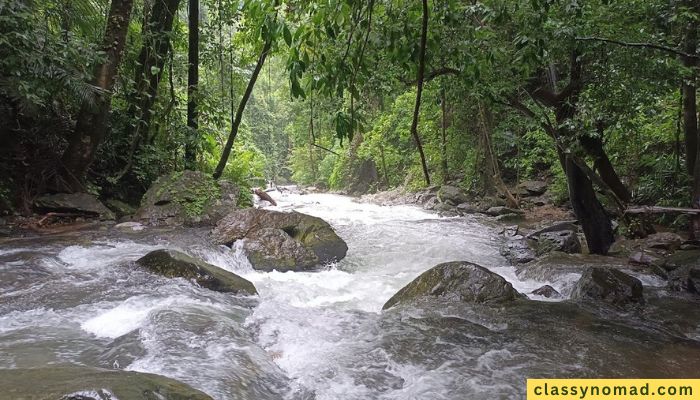 1. By Road
You must first enter Netravali Nature Reserve through the security gate, which is around 45 minute's journey from Sanguem town, in order to get to this cascade.
After enting the reserve, you have to trek for 15 to 20 minutes to get to the waterfalls. One of Goa's finest and most stunning waterfalls is seen after a short trek.
2. By Train
The Netravali Cascade site is accessible by Goa's rail system and is a well-known tourism destination. Canacona Railway Station (33 km) and Savard Train Station are indeed the closest train stations to the Netravali Cascades.
3. By Air
Among the most popular methods to go to Netravali Falls in Goa is via air. Dabolim Airport, also known as Goa Airport (73 km), is the city's primary servicing airport. It is connected to major cities of the nation.
Suggested – Surla Waterfall is another amazing tourist attraction that should be explored by every adventure lover visiting the North Goa district.
Tourist Attractions around Netravali Waterfalls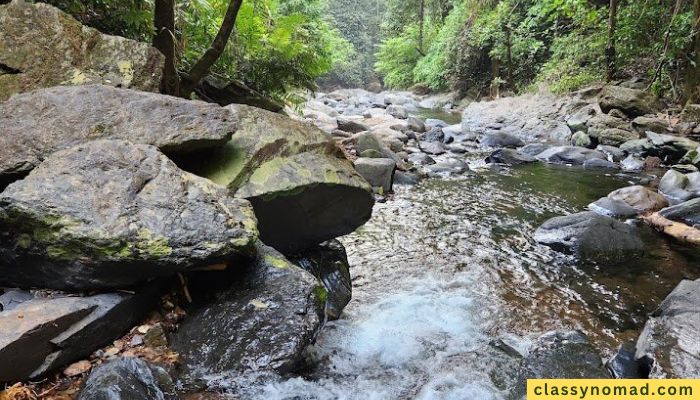 1. Candolim Beach
North Goa is home to Candolim Beach. It is approximately 14 miles from Panjim, the nation's capital. The majority of international visitors like to hang out at the beach in Candolim.
This beach is part of a long stretch of sand that stretches from Fort Aguada to Chapora Beach anywhere along the Arabian Sea. This beach is less crowded and more tranquil than Sinquerim Shore and Calangute Beaches.
2. Palolem Beach
In south Goa, Palolem is an extremely popular and stunning beach. Palolem Beach is bordered by tall palms and runs across two stunning cliffs.
Palolem is a small, white-sand beachfront among two coastlines that faces a turquoise bay. You may try to convince one of the fishermen to take you over by saying that the coastal towns on the north peninsula seem enticing and that this is also a fishing beach.
3. Agonda Beach
Agonda is a tiny, remote settlement. located 37 kilometres south of Margao and 10 kilometres north of Chaudi in the southern region of Goa. Goa's Agonda Beach is ideal for those seeking an exhilarating time in the ocean.
The tension brought on by the daily struggle may undoubtedly be relieved by the fresh wind and bright summer sun. If you wish to be alone with your thoughts and the endless sea ahead of you, head to Goa's Agonda beach.
The palm trees dot the golden brown beaches of India's Agonda Beach, which is also gently lapped by the sea breeze.
Best Time to visit Netravali Waterfall
The best time to visit the Netravali waterfall is during the monsoon. During this period of the year, the waterfall looks amazing and fascinating. People living near the waterfall usually visit the waterfall during this period of the year.
If you visit the waterfall in any other season, it will still be amazing. No one would be disappointed even after visiting in any other season.
Travel Tips
Keep bottles of water with you.
Bring some food with you to eat on the way to the waterfall.
Keep extra chargers and a battery pack with you.
There may be a network issue, so be prepared for that.
Conclusion
If you are planning on visiting south Goa, then you must surely visit the Netravali waterfall. This waterfall is so beautiful and will be one of the best experiences of your life.
FAQs on Netravali waterfalls
1. Where is the Netravali waterfall situated?
Netravali waterfall (Savri Waterfall) is situated inside Netravali Nature Reserve in Netravali, Sanguem Taluka, South Goa district of Goa state.
2. What is the best time to visit the Netravali waterfall?
The best time to visit the Netravali waterfall is during the monsoon season.
3. What is the distance between Sanguem and the Netravali waterfall?
Sanguem is nearly 30 km from the Netravali waterfall.
4. What are the attractions near the Netravali waterfall?
There are several attractions near the Netravali waterfall, which are as follows:
Candolim Beach, Palolem Beach, Agonda Beach, Cotigao Wildlife Sanctuary, Polem Beach, etc.
Map of Netravali Waterfall Goa