This is a travel guide to Bhoora Khon Waterfall Shivpuri, Madhya Pradesh. In this guide, we've mentioned location, things to do, best time to visit, how to reach, nearby tourist attractions, travel tips, facts, map, etc useful information.
Bhoora Khon Waterfall Shivpuri Overview
| | |
| --- | --- |
| Location | Mamoni, Shivpuri District, Madhya Pradesh |
| Entry Fee | N/A |
| Opening Hours | 24 Hours |
| Best Time to Visit | Oct, Nov, Dec, Jan, Feb, Mar |
| Nearest Town | Shivpuri (9 km) |
| Nearest Railway Station | Shivpuri Railway Station (10.3 km) |
| Nearest Airport | Gwalior Airport (118 km) |
| Famous For | Trekking, Bathing, Picnic |
| Nearby Attractions | Sakhya Sagar Lake, Survaya Ki Garhi, Pawa Waterfalls, Shivpuri District Museum, Chhatri, etc. |
You may find a beautiful ecological environment at the Bhoora Khon waterfall in Shivpuri, which is close to the Madhav Sagar Lake.
Despite its diminutive size, this cascade is gorgeous and beautiful to the eye. Because it has an antique Lord Shiva statue at its cascade, the waterfall combines nature and spirituality.
A short distance away, a waterfall plunges to the ground and mixes with a local river. This waterfall provides a restorative respite from the busy city, surrounded by beautiful vegetation.
Suggested – If you want to explore tourist sites in Uttar Pradesh, you should definitely these places.
Interesting Facts about Bhoora Khon Waterfalls
The waterfall is 25 meters in height.
The place has a nice ecological environment.
The place is quite near the city, which makes it accessible to everyone.
Visiting the waterfall during weekends is a leisure activity done by people living nearby.
This is a great place for a picnic with friends.
Things to do at Bhoora Khon Waterfall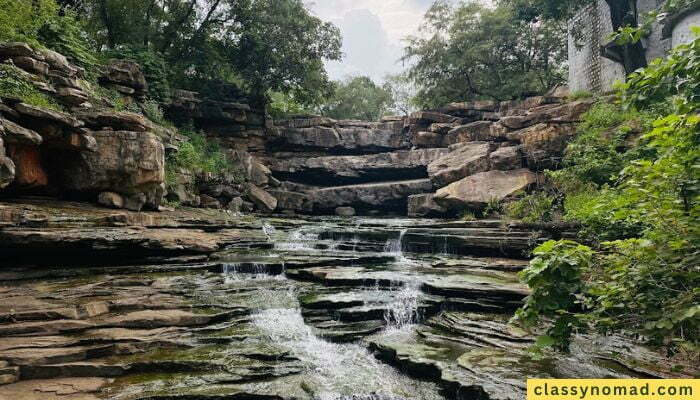 1. Trekking
It is a little bit challenging to reach Bhoora Waterfall despite the path's small size and location within the trees. People who visit the waterfall frequently trek and traverse the entire route.
2. Bathing
After making the long journey to get there and hiking for a while, people frequently enjoy taking a bath beneath the waterfall in the pond.
The locals who live close to the waterfall frequently come here to take baths and even advise visitors to do the same so they may enjoy the cool, soothing waters of the fall.
3. Picnic
People often gather here for family gatherings. Many families that come here frequently offer snacks to themselves, and they eat lunch while taking in the beautiful scenery of this location.
Even a group of acquaintances that gather together to take in the scenery may be found here.
Suggested – Explore the best tourist attractions in Delhi while visiting the city.
How to Reach Bhoora Khon Waterfall
1. By Road
To reach the waterfall, one has to take NH 46 from Bhopal. The nearest highway to the waterfall is NH 32. The time taken to reach Bhoora Khon waterfall is around 6 hours.
2. By Train
The nearest railway station to Bhoora Khon waterfall is Shivpuri Railway Station. All you need to do is book your ticket to the station, and outside the railway station, you can find various transportation facilities to reach the waterfall.
3. By Air
The nearest airport to Bhoora Khon waterfall is Gwalior Airport. All you need to do is book your ticket to the airport, and outside the airport, you can find various transportation facilities to reach the waterfall.
Tourist Attractions near Bhoora Khon Waterfall
1. Sakhya Sagar Lake
Inside the Madhav Nature Reserve, Sakhya Sagar is an artificial wetland on the borders of Shivpuri township. The site includes a variety of landscapes, such as a deeper ocean, nearby marshes, woodlands, and a small plot of arable land.
2. Survaya Ki Garhi
Shivpuri is located around 20 kilometres from Survaya ki Garhi. It is well recognised for its cultural and archaeological value and was constructed in the ninth or tenth century for spiritual instruction.
Three shrines and a monastery may be found at Survaya's Garhi. The whole structure of Survaya ki Garhi is made of stones that have been artfully stacked one on top of the other.
While this location's design and architecture are breathtaking, the Garhi is undoubtedly a spectacle to behold.
3. Pawa Waterfalls
The numerous waterfalls situated in and around Shivpuri, Madhya Pradesh, now include Pawa Waterfalls. Pawa Cascades is a special holiday destination that is both spiritual and fun.
4. Shivpuri District Museum
One endeavour to conserve human existence and the artefacts he has left is the Shivpuri District Gallery.
Shivpuri's early history may be appreciated by looking at the numerous landmarks, temples, and remains from prior eras that can be seen all across the district, as well as the variety of items on display in the divisional museum.
5. Chhatri
The Chhatri is among the well-known structures that exhibit a great fusion of both Mughal and Hindu cultures. It was built under the reign of the Scindias and therefore is situated in a traditional Mughal garden.
Suggested – If you are planning to visit Uttarakhand, you should definitely include these places in your bucket list.
Travel Tips
Since there are no stores close to the waterfall, you must carry some drinks and snacks with you.
Use particular caution if you're travelling with children since the level of water might be high.
To prevent accidents, put on traction-enhancing footwear.
Just in case, you ought to have a first-aid package.
You must always bring additional garments with you if you plan to take a swim in the fall.
Conclusion
Considering the pool's depths, more daring visitors may even jump in and bathe in Mother Nature. The religious inclination of mind that blossoms with the falling streams of Bhoora Khon Cascade are fostered by the historic statues of Lord Shiva that are housed in little temples all over the waterfall.
The Bhoora Khon waterfall is an amazing place, and people visit the fall with their families and friends. One can feel really connected to the environment while visiting the waterfall. The place is mesmerizing, and in my personal opinion, one must really visit this place.
FAQs on Bhoora Khon Waterfall Shivpuri
1. What is the best time to visit Bhoora Khon Waterfall?
The best time to visit this amazing place is from October to March. The waterfall is open 365 days a year, but during this period of the year, the place looks amazing.
2. Where is Bhoora Khon Waterfall situated?
The Bhoora Khon waterfall is situated near Shivpuri town, Mamoni, Madhya Pradesh. There are several tourist attractions in Shivpuri that can be explored by tourists. The town is well known for its cultural heritage.
3. What is the distance between Bhopal and the Bhoora Khon waterfall?
The Bhoora Khon waterfall is 325 km away from the capital of Madhya Pradesh, which is Bhopal. It may take around 6 hours to reach the waterfall from the capital, and there are no direct train routes from Bhopal to the waterfall.
4. What are the tourist attractions near Bhoora Khon Waterfall?
There are various places near the waterfall that one can visit such as Sakhya Sagar Lake, Pawa Waterfalls, Survaya Ki Garhi, Shivpuri District Museum, Chhatri and many more.
Map of Bhoora Khon Waterfall